We're psyched to be a part of Mrs. Limestone's "Junk Drawer Overhaul" series, where a few bloggers will be sharing how they're kicking off the new year right by re-organizing their messy kitchen junk drawers. We bent the rules a little bit and shared how we organized our tool drawers (which are also located in our kitchen). But it wasn't really a drawer re-organization since our tools had just been piled in the corner of our office after we moved. Nice, right?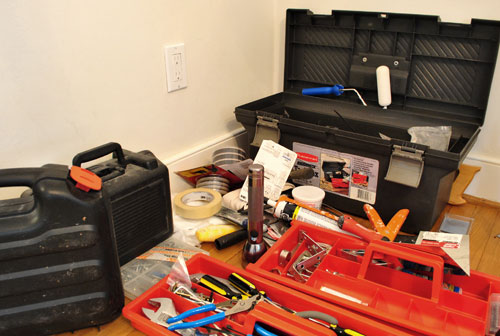 You can read more about how our screwdrivers and hammers went from "yikes" to "that works" over on A Brooklyn Limestone In Progress. And an interesting thing happened while organizing our tools. In an act of "taking inventory," we found ourselves spreading each and every item out on the floor. This was the result. A fun little grid of our DIY arsenal: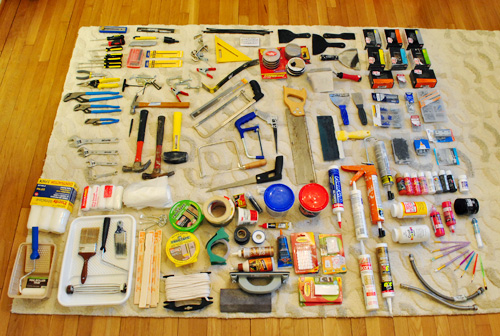 Since this sort of tool full monty wasn't likely to happen again anytime soon, we thought we'd steal the opportunity to give you guys a peek at our little collection. This smorgasbord is comprised of our go-to tools for tackling all sorts of projects and quick-fixes, as well as a few miscellaneous supplies that we've subconsciously accrued over the years (why we have two spare toilet supply lines I'll never know).
Here's a closer look at each quadrant of our tool-covered rug (yes I said quadrant- I like math, ok?). This one shows most of "the basics" like hammers, screwdrivers, wrenches, pliers, a crowbar, and a few saws. I realized after snapping the pic that our old scratched up yellow Stanley tape measure was playing hooky in Sherry's purse.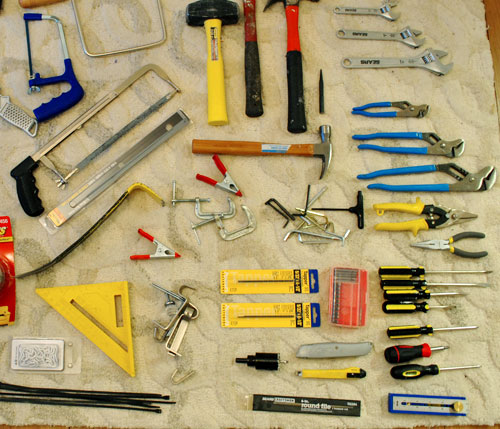 Next we've got our ever-growing and always-diverse collection of nails and screws, as well as putty and spackle knives.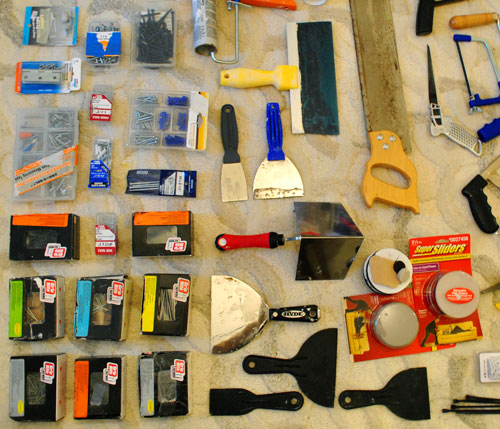 And of course then there are the painting supplies like brushes, rollers, paint trays, stir sticks, paint can openers, drop cloths, and tape. And no, that bundle of rope isn't a paint supply – it just happened to fit on that part of the rug.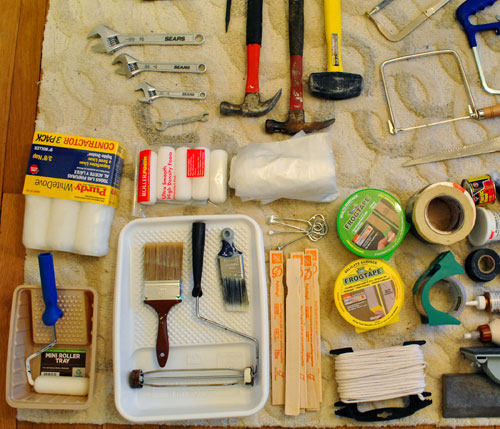 Lastly we've got our various tapes, glues, putties, caulks, and even some 3M command hooks. We've also got craft paints, brushes, Mod Podge and even a little tube of glitter leftover from making Christmas ornaments a couple of years ago. And those mysterious toilet pipes.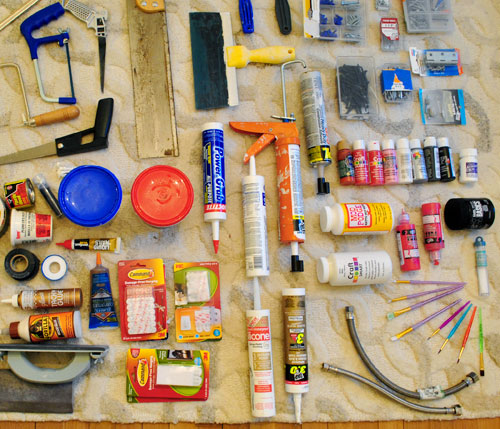 These pictures don't show our bigger tools like the mouse sander, electric drill/driver, power saws, Kreg Jig, Dremmel, and a whole slew of garden and yard equipment. But hopefully you get the point, because we're not about to lay those down on the rug.
The funny thing is that our personal collection is by no means a be-all, end-all tool collection. In fact, since snapping this pic a few weeks back I've already purchased a $4 set of hex wrenches since a towel-bar-removal project required a size that I didn't own. And we were out of sandpaper so we had to restock that. We've also got some things we could probably get rid of since they've been sitting around untouched since the one time we needed them a few years back (this means you glitter tube). But who knows- it might just come in handy again someday…
You can read more about how our tools went from the rug to our kitchen drawers in a semi-organized fashion over on A Brooklyn Limestone. And we'd love to know what your tool collections look like. Are we missing something that's a major must-have for you? Have you also acquired some pretty random items thanks to that a project that you tackled a while back? Is there Mod Podge in your tool drawer? Do you store your tools in the kitchen? Are there random glitter tubes and toilet supply lines? Let's talk.
Psst- It had to happen sometime. Last night on an autopilot trip home from (where else?) the hardware store, we accidentally drove to our old house. It was fun to see it and also kind of weird to find ourselves in our old stomping ground.