We're back to reveal more about our photoshoot for The Nest magazine (which actually took place five months ago). Back then we had to keep our lips sealed about the actual name of the magazine, but now we can finally share a few pictures from that crazy day of posing, puppy wrangling, and pure chaos!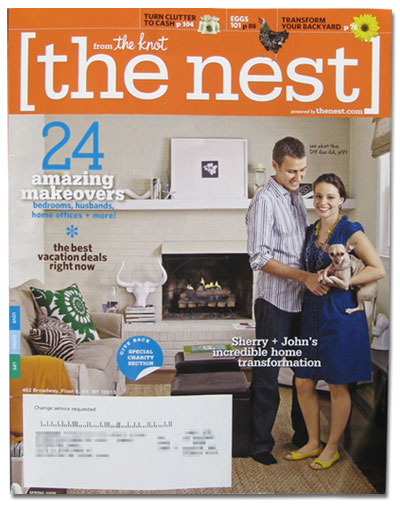 Unlike our Do It Yourself magazine photoshoot (which you can read about here and here), this shoot was only one day long. But instead of the 9am-3pm days that we clocked with DIY, this one was 13 hours long. Yup, from 8am to 9pm. But it never felt long- on the contrary, it whizzed by. And we happily snagged a few behind the scenes photos throughout the day to document what it's like to have a crew of ten people (a hair & make-up lady, a wardrobe stylist, an assistant to the wardrobe stylist, the photographer, his two assistants, the creative director, the prop stylist, his assistant, and a videographer) styling and shooting their way through your home.
Here are two of the three people who were in charge of making sure we look good enough to grace the cover (I know, insanity!!!). Color was the name of the game (since the mag came out just in time for spring), so they dressed us up in festive and bright clothing and piled on the accessories for a much-swankier-than-we-really-are effect.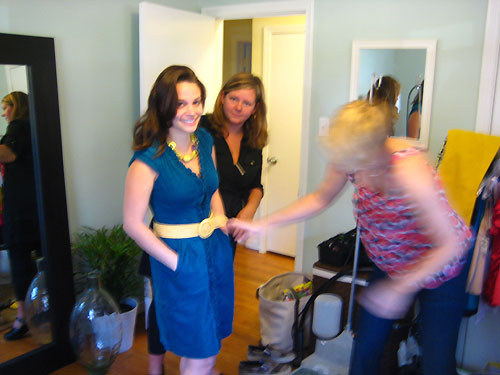 And although we cleaned our house within an inch of its life before the crew arrived, of course all that went out the window when they started setting up. Wardrobe, hair and make-up supplies took over our bedroom (check out the yummy spread below) while every other room (not exaggerating) was stocked with everything from food for the crew to lighting and computer equipment.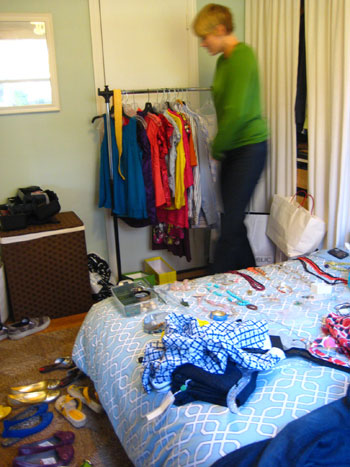 Sometimes it was a pretty form of chaos, like this gorgeous stack of pillows and props that they had on hand to brighten things up and add some spring zing: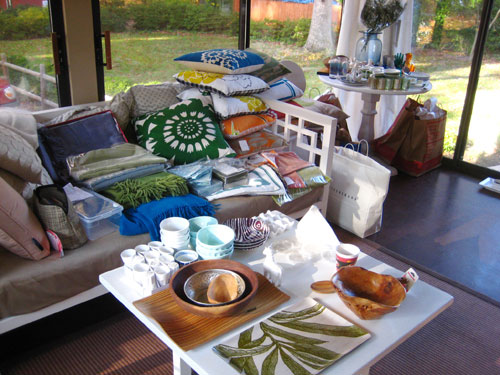 As for what they brought in beyond the pillows and platters that you see above, it seemed like no detail was too small for the prop stylist and his assistant. From laundry detergent (for the storage shelf above the dryer) to olive oil (for the kitchen counter), no item or object was overlooked. And we definitely had fun seeing our house all "dressed up" for the occasion! We've learned (from our Do It Yourself shoot as well as this one) that the thing about having your house professionally photographed is that it's actually someone's job to arrive with truckloads of pillows and accessories to restructure and refresh each room for the camera. It never bothers us because it's always entertaining to see what tickles a pro decorator's fancy (we love options, and seeing how punches of orange or dark green look on our couch is actually fun for us). You just have to be cool with tons of people in your house moving stuff around… and we're happy to say that we're totally down!
Of course there were also the monstrous machines and expensive equipment in every nook and cranny to capture each room in perfect light (while no one's the wiser that there's a giant umbrella flash just out of frame when they pick up the magazine). Here's photographer David A Land checking out a few shots on his tripod-mounted-computer-contraption. And you can see everything from clamps to gaffer's tape and even some fruit salad on the kitchen counter below. So many tools, so little time.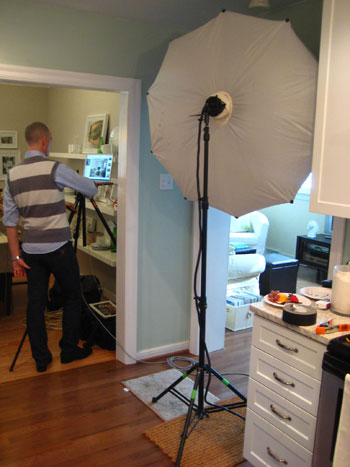 To continue our shots-of-the-crew-from-behind series, here's the videographer panning around our freshly styled kitchen (a few herbs in the window and some brightly colored bowls got this room ready for action). Do you remember this video house tour over on thenest.com? That's what he was here for. We filmed it while the photographer worked in other rooms, and occasionally stopped the video tour to pose for still shots for the magazine (which is why we ran out of time on the video tour and had to shoot the sunroom in the dark!).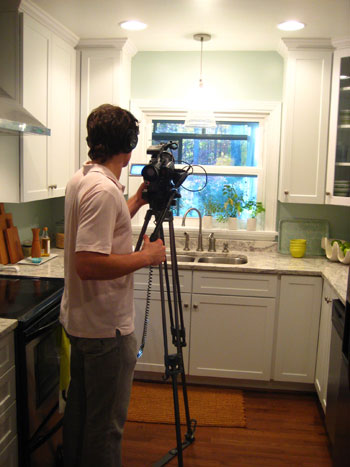 And speaking of the sunroom, we were actually super shocked when we saw the cover of the magazine because everyone was talking about the sunroom being the big shot for the story the day they were here. In fact, they rearranged all of our furniture in there (the daybed got turned 180 degrees to face the sliding doors) to create a scene that could be shot from the top of a van in our driveway. The reason? To hide the fact that it was clearly autumn and not spring (which was easily accomplished by shooting into the sunroom instead of out of it). Here's David on top of an SUV trying to get the shot!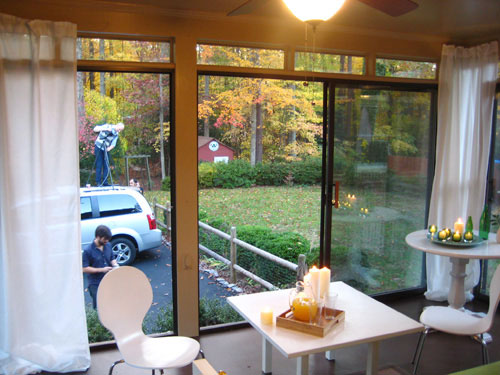 And here's the sample sunroom cover shot that they so graciously left behind for us to admire (they print them out with a fake header and some subtitles so they can roughly see how it'll look on the cover).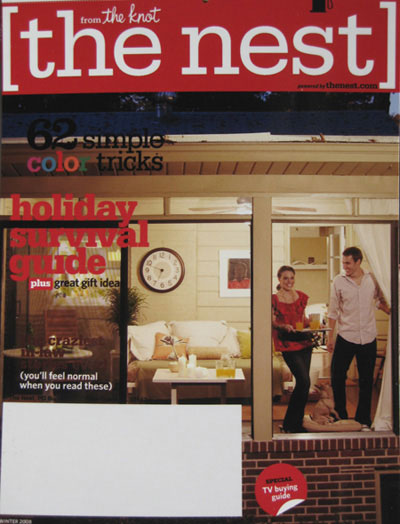 We loved the look of our sunroom in the shot and were actually kind of bummed when we didn't see it in the magazine. And of course we thought Burger looked adorable on the floor pillow staring up at his dad (who was actually standing on his leash to make sure he didn't bound out of the sunroom and onto the ground below). But at least we have this photo to remember it by.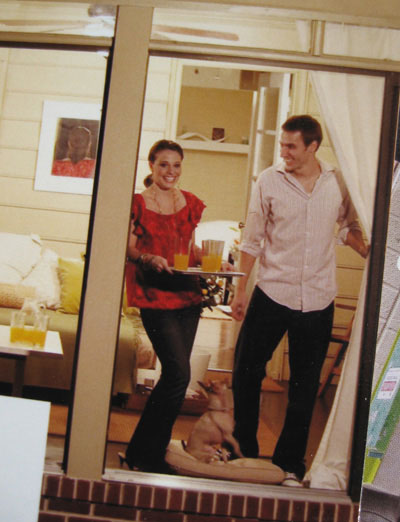 They actually ended up using one of our own photos of the sunroom for the story (with green trees in the background) so it all worked out in the end. And that instance wasn't the only time the camera equipment escaped our home's four walls. Oh no, it routinely popped up outside in some of the funniest places. Here's one of the photography assistants among our azaleas placing lights and flashes just outside the den to create optimal lighting conditions inside. I bet you never think about this sort of set up when you glance at glossy home magazines, huh? We certainly didn't until now.
A few other extremely entertaining moments occurred when we happened upon one of our living room chairs on the front porch and when we stepped into the bathroom only to be greeted by one of the cameras in the bathtub. Well hello there.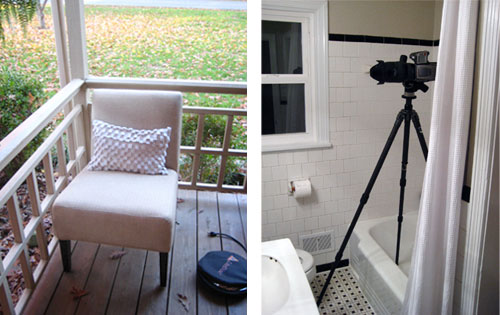 And because the shoot lasted until 9pm, the crew created faux sunlight well after the stars came out. Now when we see a sunny kitchen feature we'll think twice about whether it was even shot during the day. Oh the tricks of the trade.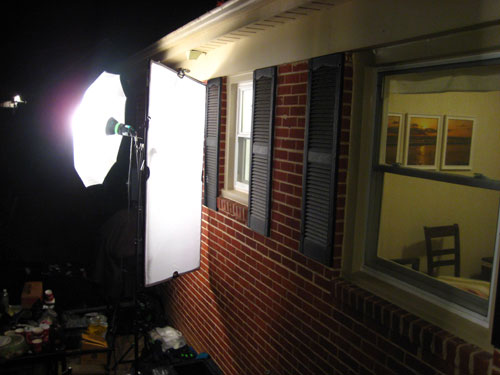 And perhaps one of our favorite memories of the shoot was when we snagged this pic of ourselves with our "butt mics" as we affectionately called them. Who knew a crew could photograph your entire house and film a video tour in 13 wild and crazy hours?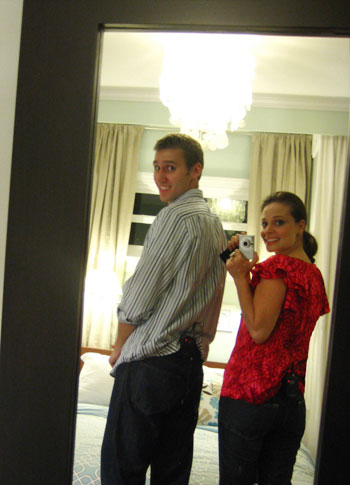 Of course this was taken on hour 13, so that's relief that you see in our eyes (the house didn't burn down, the shots seemed great, and we were somehow able to string together full sentences for the video- whew). Thanks so much to our friends over at The Nest for the glossy feature (we're actually on their home page today!) and the fun video tour. We always love showing people around our house, and their crew was no exception! And now we'll wrap things up with a JPEG of each page of the article at a readable size as promised (here's spread 1, spread 2, spread 3, and spread 4 – just click on each one to zoom in). In the meantime, we'll just go back to pinching ourselves…
To learn more about the behind the scenes tricks of the trade, click here for some other juicy photoshoot details. And to check out a reader's awesome bathroom makeover (also pictured in the same issue of The Nest magazine) click here for a pic.