About Us
Hey there. We're Sherry and John, and we live in Richmond, Virginia. Here's where we chat about transforming our house, living in it, and all the random bits in between. We spend our days doing projects, photographing them, writing posts, and raising our four year old daughter Clara and our newborn son Teddy – along with writing and shooting our second book, designing products (like lights and hooks), and a whole bunch of other things we never imagined we'd end up doing in a million years.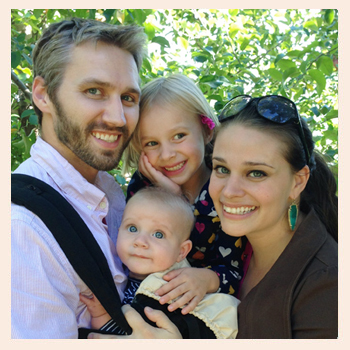 Our obsession with DIY & all things home started back in 2007, when we got married in the backyard of our first house. Then we turned our attention to the house itself, and four and a half years later the dust cleared and it was totally transformed, which meant it was time to move and start all over again. Especially because our family grew to include the best DIY project we had tackled to date: a sweet little girl named Clara (who made a pretty dramatic entrance into the world) and a cute pooch named Burger.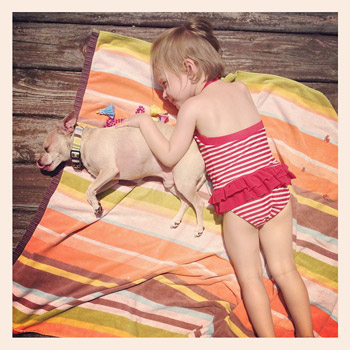 We had just as much fun making over our second house, and when an intriguing fixer-upper popped up in our dream neighborhood that was actually within our budget, we totally played it cool. Just kidding, we jumped on it like a spider monkey.
Somewhere along the way we also wrote our first book (called… wait for it… Young House Love) which came out in November of 2012 and somehow became a New York Times Bestseller. To say that we're holy-schnikies-excited-about-it doesn't even do it justice.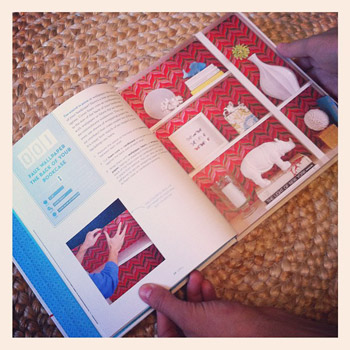 The following year we shared our lighting collection, and a year after that came our line of hooks and rails, which somehow (we still can't quite wrap our heads around it) ended up being sold exclusively at Target.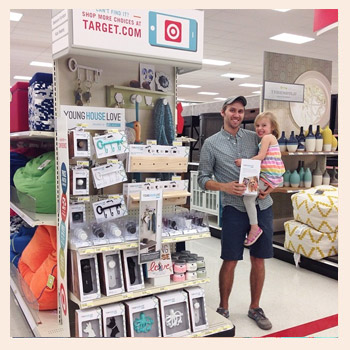 Capping things off in the middle of April was the birth of our son Teddy, who stole our hearts the second he came into the world.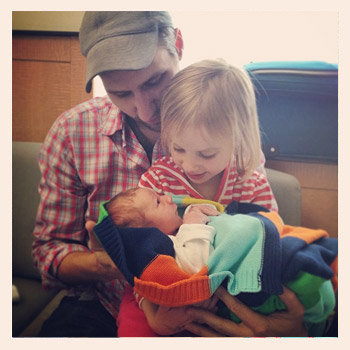 Now it's just a matter of finding enough hours in the day to keep up with our ever growing to-do list on this little slice of the internet that we call home. So come on in and make yourself comfortable. Wait, actually can you grab a paintbrush? We'll pay you in pizza.

Domino

Real Simple

Forbes: 100 Best Websites

BBC

HGTV Mag Feature

HGTV Network

HGTV Magazine

HGTV Magazine

HGTV Magazine

The Nate Berkus Show

The New York Times

CNN

Country Living

Huffington Post

Jessica Alba's Book

New York Times Bestseller

Washington Post Bestseller

USAToday Bestseller

Wash. Post Design Books

B&N: Best Books of 2012

Amazon: Best Books of 2012

The Nest Magazine

Washington Post Feature

R.Home

Apt Therapy Homies Winner

London Times: Best Blogs

People.com

Oprah.com

MarthaStewart.com

CountryLiving.com

Ben. Moore Collection 2012

Ben. Moore Collection 2013

Global TV's Morning Show

House Beautiful Best Books

Slate Best Books

CasaSugar

The Nest TV

Canadian House & Home

West Elm

Family Circle

Cooking Light

Baby Talk

CBS6 Live Interview

Richmond Magazine

Richmond.com

Do It Yourself Magazine

Do It Yourself Magazine

Do It Yourself Magazine

Do It Yourself

BHG Big Style, Small Rooms

BHG Getting Organized

BHG – Australia

BHG – China

Kitchen & Bath Makeovers

ReadyMade

Fresh Style Magazine

American Baby

The Washington Post

The Washington Post

Tacoma News Tribune

Canada's National Post

Dallas Morning News

Houston Chronicle

Washington Post Express

San Francisco Chronicle

RedEye Chicago

KSL Studio 5 Feature

NBC12: Radon Dangers

FOX5: Blogging For Bucks

MSN

Pro Blogging for Dummies

HGTV Design Happens Blog

USA Today Home

Reader's Digest: Asia

Singapore Home & Decor

USA Weekend

Richmond Times-Dispatch

Nesting Newbies

Minted Magazine

Skirt Magazine

Remodeling My Space

Unstuck Book

A Priceless Wedding

Stye Me Pretty Magazine

Stodgy Is Sexy Documentary

Real Simple

Do It Yourself Column

Do It Yourself Column

Do It Yourself Column

Do It Yourself Column

Do It Yourself Column

Do It Yourself Column

Do It Yourself Column

Do It Yourself Column

R.Home Magazine Column

R.Home Magazine Column

R.Home Magazine Column

R.Home Magazine Column

Southern Flourish