Shopping & Thrifting
After over a year of living without one, another bedroom has been upgraded to have a ceiling light fixture – and this time it's Teddy's room. Woo to the hoo guys. It's the best thing ever. I know that sounds like an overstatement, but you don't know how convenient ceiling light fixtures are until you buy a house without any in all of the rooms upstairs except for the bathrooms.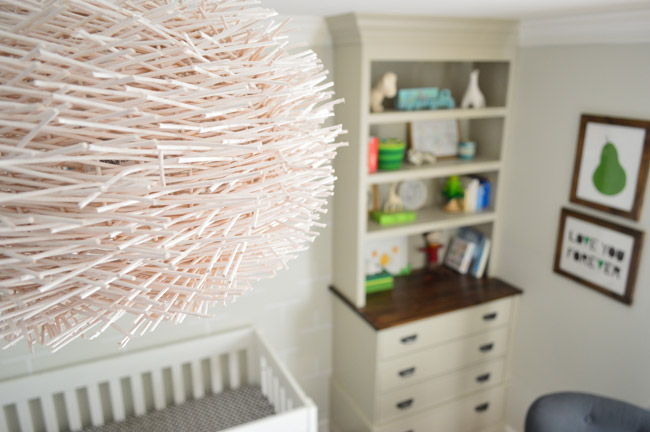 When I saw this stick light on Joss & Main I thought it was fun and beachy-yet-geometric. And call me crazy, but I immediately looked at it and saw a ceiling pendant. To make sure I wasn't being weird, I ran the idea of converting this plug-in table lamp by John. Thankfully he was right there on the stick light train with me.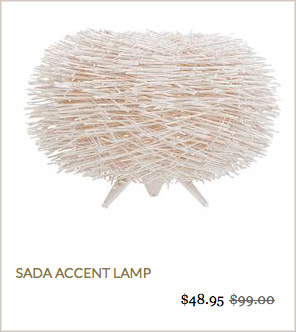 When it came, we turned it over to see what we were working with. There was essentially a small screw that held the cord down so it could sit on a table, so that was the first thing I removed.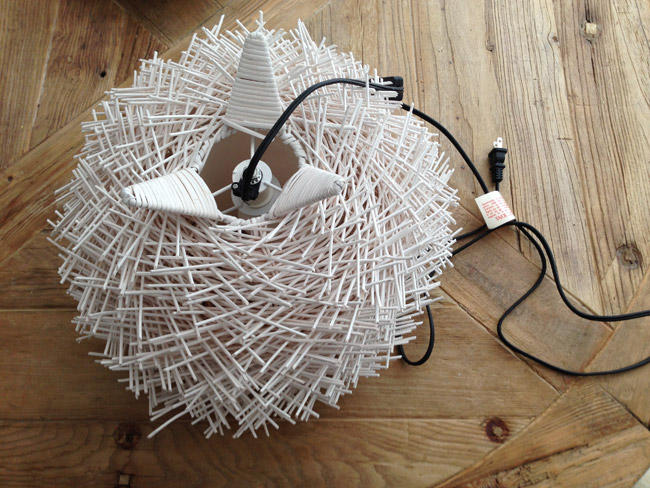 Once that was out of the way…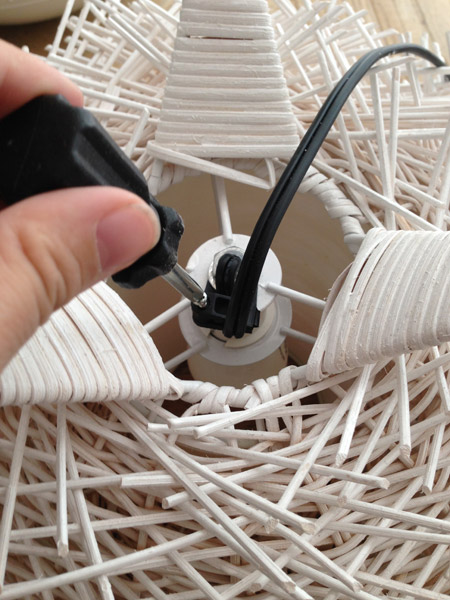 … it allowed me to gain access to this bolt that held the existing cord kit and shade on. We debated just keeping this plug and turning it into a ceiling fixture (often you can cut the cord of a plug-in fixture to expose the inner ones you need to hardwire it), but it happened to have one of those very small bulb sockets – you know for teeny bulbs? We wanted a little more light and a standard sized bulb in there, so off it came.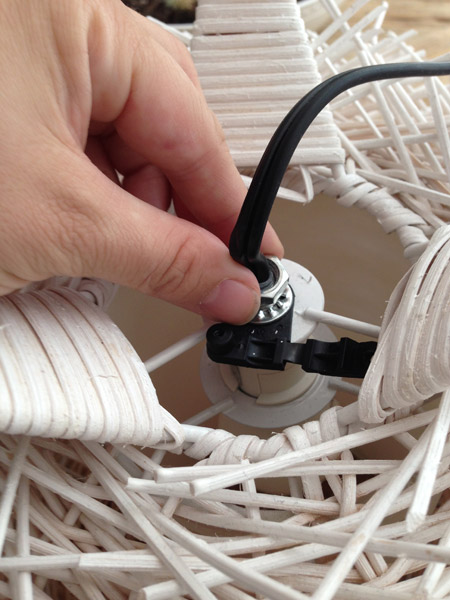 To remove the rest of the original wiring, we were able to unscrew the socket from below…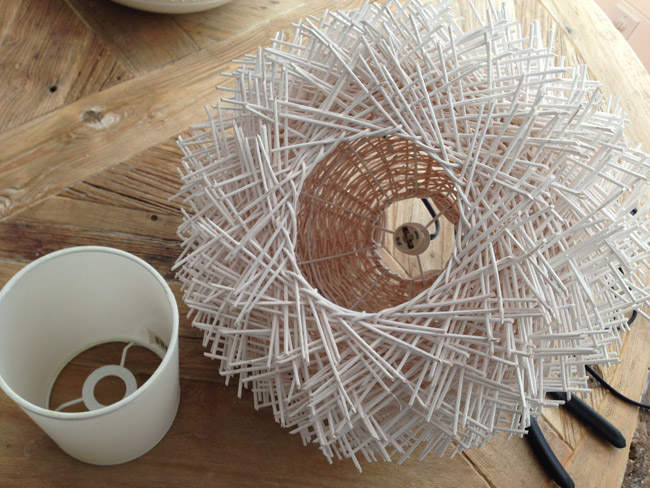 … which freed it up.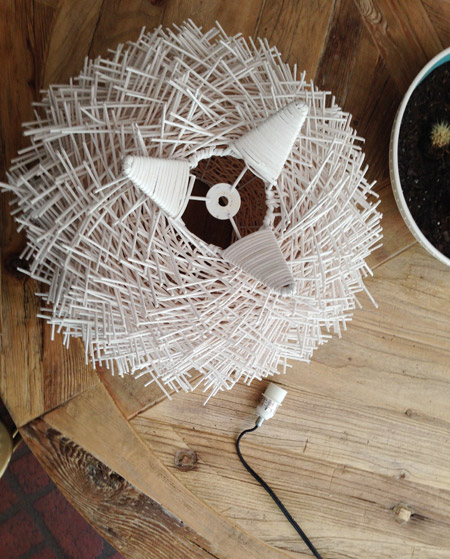 Finally, we were left with just a shade, which we could convert into a hanging fixture thanks to the ring on the bottom which would easily hold a standard light kit (with a standard sized bulb).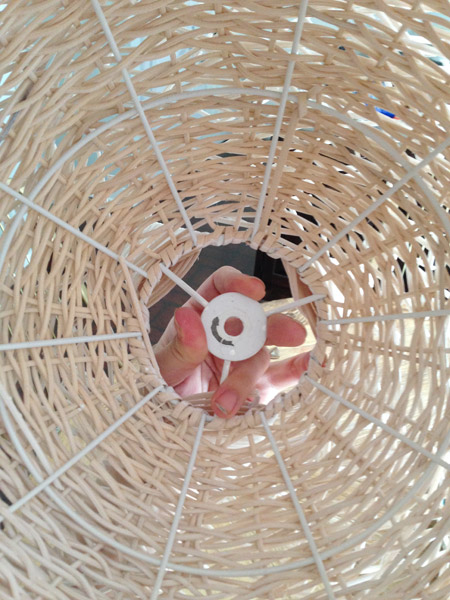 So all that was left was to grab one of these white pendant light kits from Home Depot.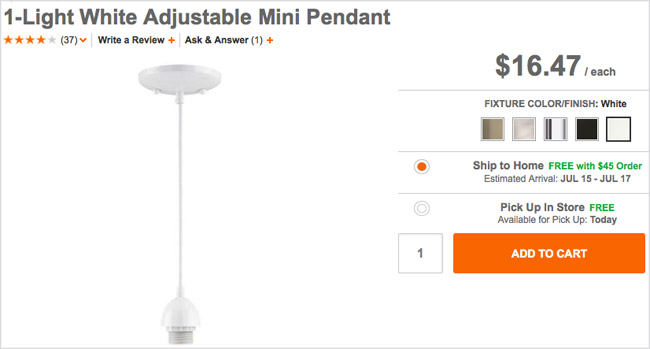 All we did to make it work with the shade was to thread the pendant cord up from below the shade (through that little white ring of the top of the shade) so that rests on the curved white bulb holder, which puts the light bulb right in the middle of the arched stick shade.
But wait, isn't something made of kindling with a light in it a giant fire hazard?! Glad you asked. Paper lampshades and lanterns (as well as basket shades) are commonly used, so there's no fire hazard as long as heat can escape out the top and bottom of the shade, and the bulb has ample clearance (i.e., it isn't super close to or pressed up against the shade). And even though a normal bulb should work in this arrangement, we used an LED bulb which doesn't cause as much heat buildup as an incandescent bulb (it still needs ample ventilation though!).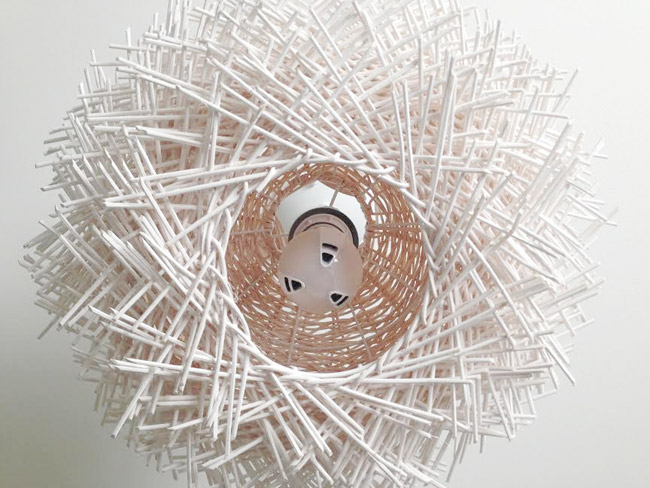 So Teddy's room is now all hooked up with a warm white LED that should give us about 25,000 hours before it needs to be replaced. Also, it looks like a robot eagle is holding the bulb. John digs that part the most.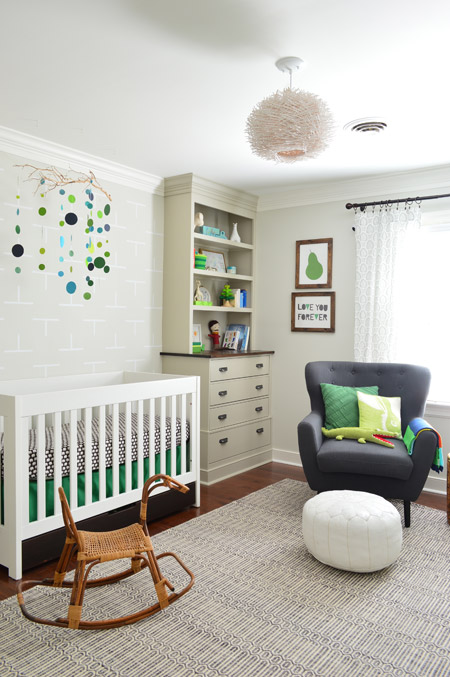 It's nice to finally have something up there. And the sticks even subtly reference the driftwood mobile and the white lines in our T-wall.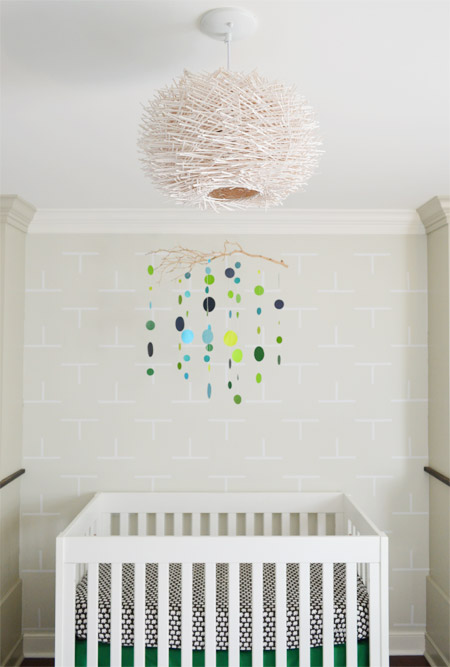 Here it is all lit up. So glowey (say that the same way The Soup says "so meaty").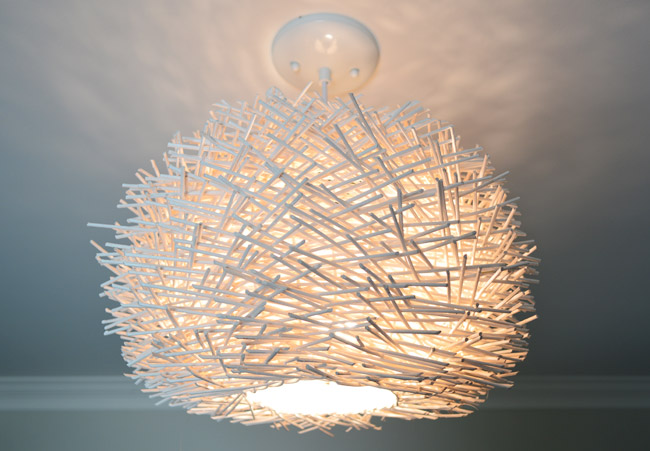 And if you're observant you might have noticed a little side table action going on, thanks to this yard sale find.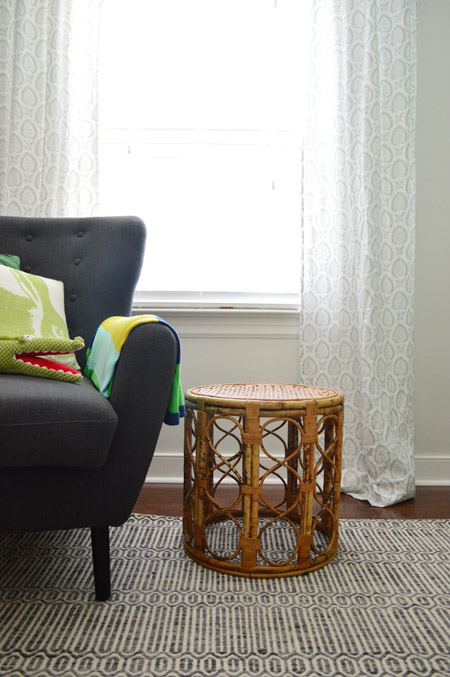 The $1 price tag was too good to resist.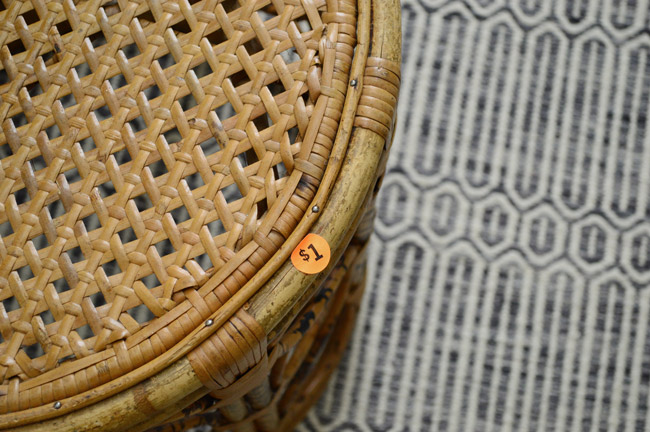 Especially since it's the exact same color as our old school rocking horse (another secondhand find of ours). So Teddy's room is pretty much done for now, I think.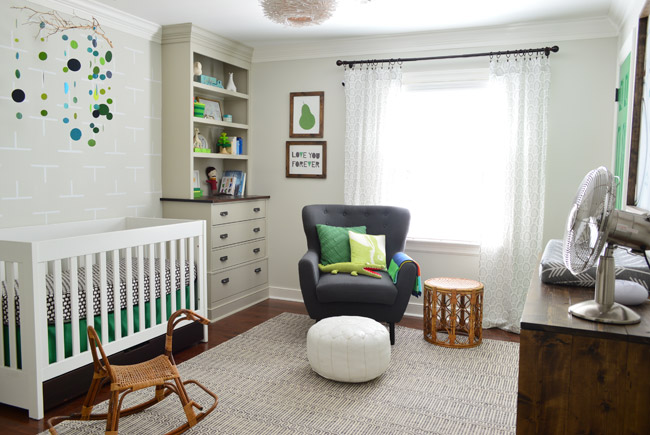 Also, Clara is in here way too much. But it's sweet. That girl can make that rocking horse look like it's going to catapult her right out the window, but so far there have been no rocker-related injuries. Now I have to go knock on wood.
Oh wait, and speaking of lights, there were requests to see our bedroom fixture all lit up and glowing at night, so here you go.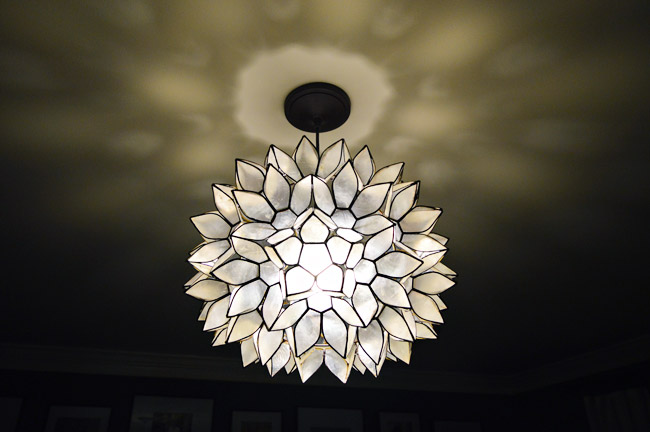 We love that it tosses out soft shapes on the ceiling.
Psss – As many of you have noticed, our collection at Target is now on sale (in stores). There's about a week left of it being sold, so whatever's left on the shelves is getting the ol' mark down. Thanks so much to everyone who has picked up something from our collection. We've loved seeing all the pictures, and still feel so in awe that this whole thing happened. 
&nbsp&nbsp&nbsp
There's nothing like having a newborn to make you appreciate having a nice spot to do laundry. Ours functions just fine, but I'd say it still falls a bit short of "nice" in the looks department. So we've decided it's major overhaul time.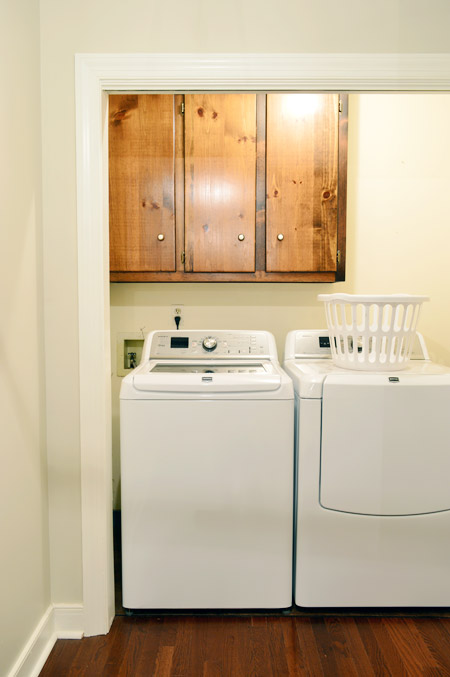 Things have made minor progress since the beginning. Blue trim was painted. Old blue bi-fold doors came off. Flooring was replaced. Hallway walls were painted. And, oh yeah, we unexpectedly had to buy new appliances.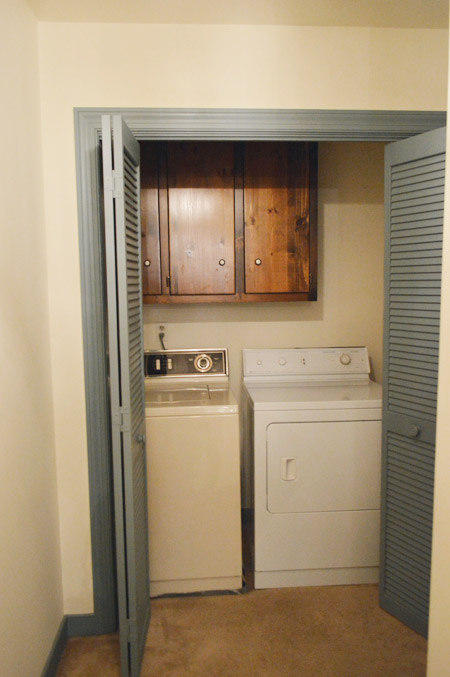 I actually bothered to spray those bi-folds white back when we painted the trim and doors upstairs and they've been living in the storage room ever since. Once every few months Sherry and I talk about re-hanging them and always end up in the same place: "but it's so nice to just have it open and not have them in our way." I think we're just fans of small spaces that are open as opposed to small spaces that are closed off (with the exception of bathrooms of course). Heck, in our first house we even demo'd out the bi-fold wall in favor of a more open laundry setup.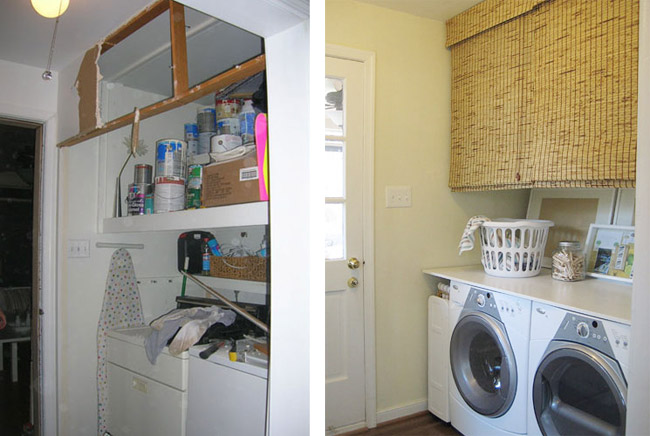 We often rely on Phase 1 updates to inexpensively improve rooms like bathrooms and kitchens while we save up & plan, since they can be a lot pricier to fully redo (and can call for tons of function/layout/material decisions that we like to think through) but this small laundry corner should be a lot more affordable, especially since we already have new appliances. So as long as we can both get to a place where we're 100% sold on our approach, we're ready to get down to business right now.
But getting to that 100% sold place isn't always easy. There has been a fair amount of debate about what we really want from our laundry area since deciding it would be our next project. Sometimes I think the most important part of DIY is thinking. Not to the point that you never do anything and keep re-hashing everything until your house stops moving forward at all and you're frozen for a year in place – but enough thinking so that you're not rushing into the whole "doing" part without being sure about your approach/materials/layout/etc. So this weekend we had fun with the family, went to the best neighborhood party ever, and did a whole lot of thinking. Not an ounce of doing. Unless you count tile shopping, but we'll get to that in a minute.
First we heavily considered this:
Option #1: Why not take some inspiration from our first house's laundry makeover for our current laundry situation? Sure, the cased opening is more nicely finished in this instance, but it still cuts off a lot of the laundry area and creates lots of a dead space beside the appliances (since they have to stay centered in the opening). Plus getting rid of it and shifting things over will give us room for more storage both on the wall and below. Here's a rough idea of what we considered: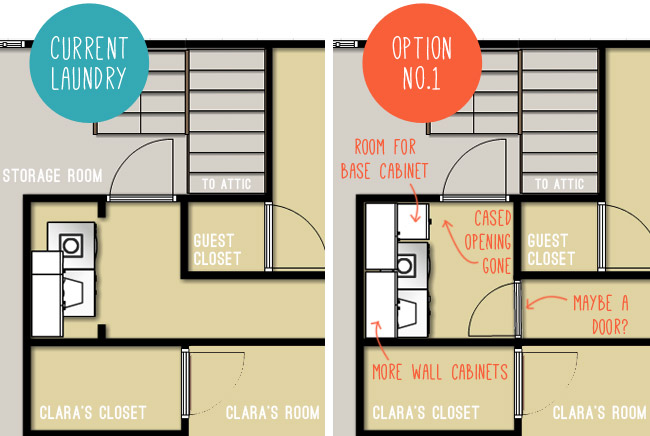 Having that wall out of the way would also be a good invitation to pretty-up the space. We really want to add a tile backsplash to bring in some texture and bounce around more light in this dark end-of-the-hallway, and a floating shelf along with some upper cabinets and a nice light fixture could go a long way.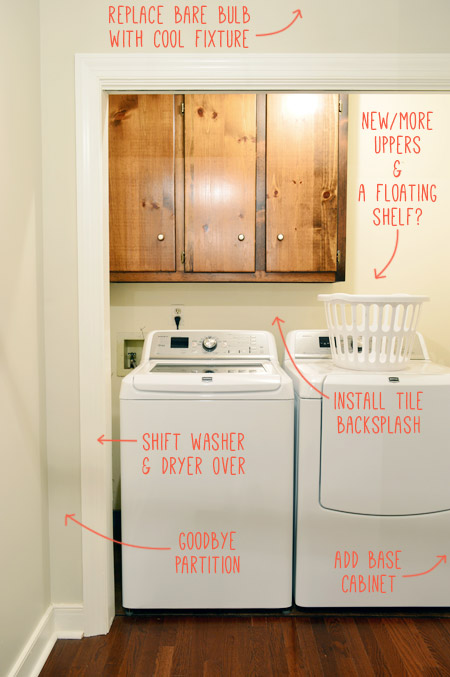 Here's a shot of the other corner, which is where we were thinking a base cabinet with drawers would go after everything shifted over. It would add more storage, plus we could top it with a small piece of countertop (maybe remnant granite?) for more surface area.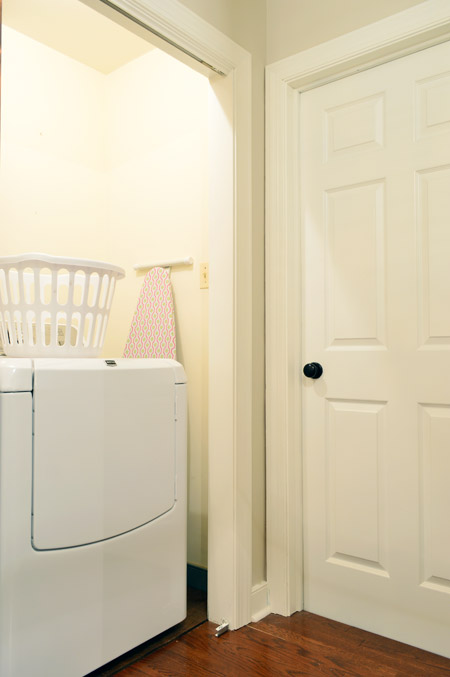 In the floor plan we noted the possibility of a door. We thought a pretty door with a large frosted pane in the middle like this would still let light in (and could be left open for a nice breathable feeling while doing laundry) and it could be closed to dampen sound and seal off the room when things are running. We both like the idea of making it more of a laundry room and not just a laundry spot-at-the-end-of-the-hallway.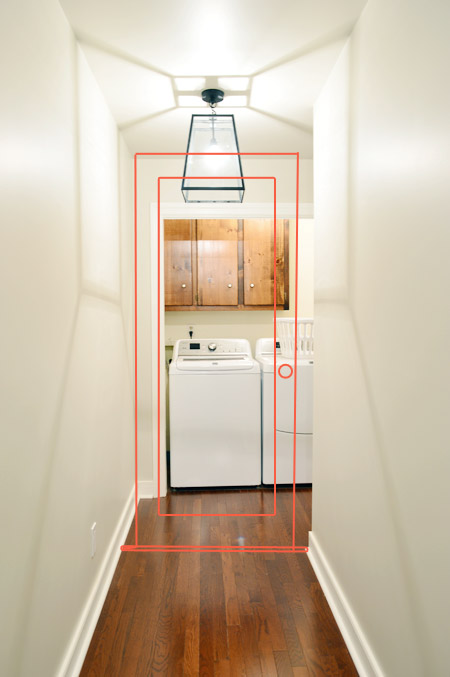 We also think it would help that long part of the hallway feel less cavernous, but we aren't 100% sold on adding it yet. For one, we may end up liking the look of the finished laundry wall so much that it seems silly to pay money to hide it behind a door. And the sound of the washer/dryer haven't bothered us since upgrading them, hence our resistance to rehang those old bi-folds.
The big vote against this idea is…. we're both grappling with the idea of having two doors to pass through to the storage room – especially once that space becomes a finished TV room/bunk room. Right now as it stands, you'd walk down the hall and open a door at the end of the hall to enter the bunk room/TV room, but if we added a frosted door in the hall to make the laundry nook into a bona-fide laundry room, you'd have to walk through the laundry room to get to the room beyond it. That could be weird, right?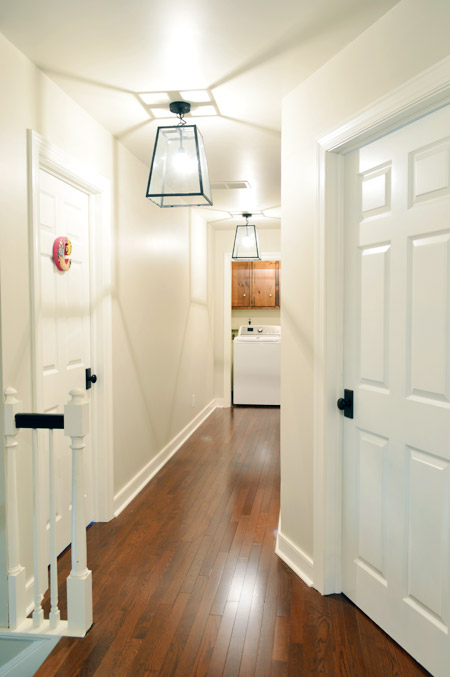 Which brings us to…
Option #2: Leave the cased opening as it is right now, and work on the back wall (add tile, floating shelves/cabinetry, update the lighting, etc). We can always add nicer bi-fold doors down the line to close things off if we'd like, and even if we don't, it'll have more of a finished nook-look than just being an open laundry area at the end of the hall (we think the framed out trim feels more polished than something that's all open might). The nice thing about choosing this option is that we're not tied to anything until we're sure. We can work on that back area, and if we suddenly have a moment of clarity about removing the cased opening and adding a frosted door in the hallway down the line, we can (meaning Option #2 can easily morph into Option 1). And if we just want to re-hang some nicer bi-folds later, we can do that too. Or leave it open. The world is our oyster.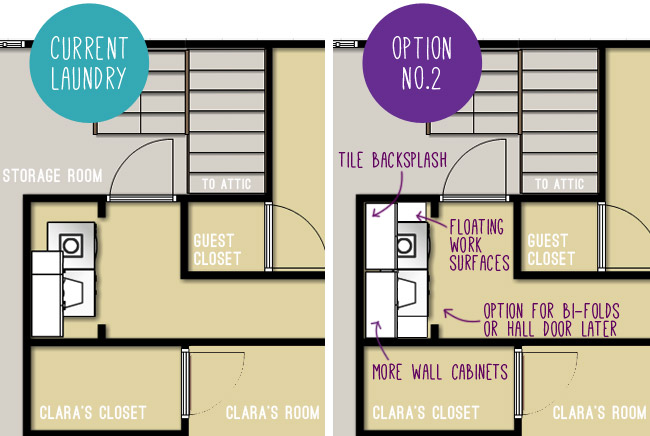 And seeing inspiration rooms like this one (found here) confirmed that choice. If a little laundry nook with bi-folds can look this good, well, that's pretty convincing.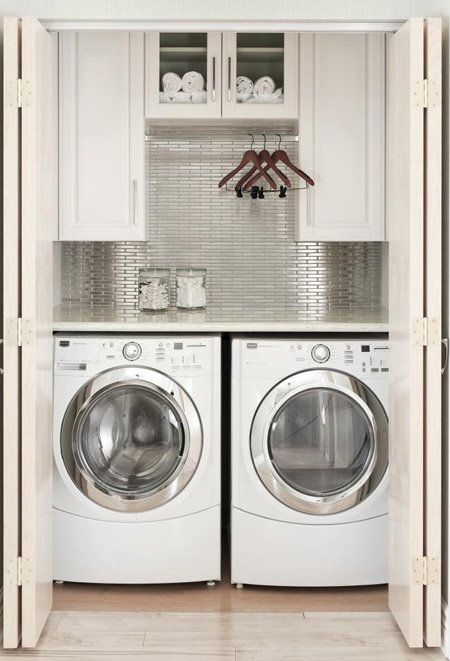 UPDATE: There have been a bunch of questions/suggestions for everything from adding a pocket door behind the guest room or stealing the guest closet completely to moving the washer & dryer to where the current storage door is and adding a new door where they currently sit (or adding a barn/sliding door), so check out the comments for explanations on all of those possibilities. 
And since I mentioned tile-shopping, here's what Sherry rubbed her face all over we debated. Even though it won't really be a wet area (other than damp clothes – we don't have a sink or anything) we both were inspired by the room above and a few others that we've seen with tile. After thinking about other alternatives (like painting a stencil or hanging some wallpaper) tile felt like the more "luxe" option – and it's something we know we can DIY pretty easily. Not only will it add polish, it'll bounce more light around, which is definitely what this dark alley at the end of the hall needs. And since we'll only need a small amount, we can splurge on some slightly fancier options, like…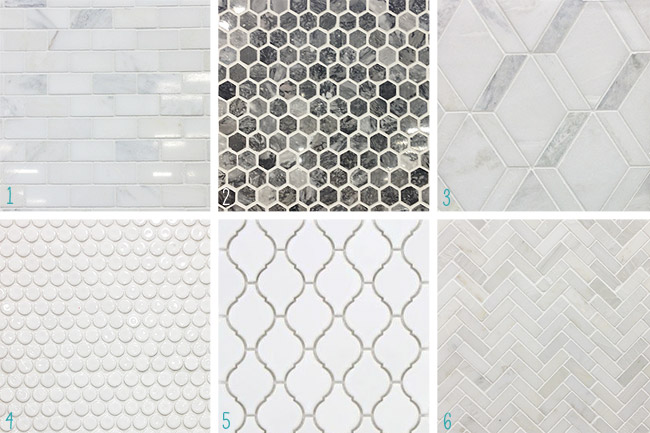 1. This mini-subway look in marble was really elegant and classic looking, but we both wanted to try something a little less basic.
2. We liked this fun small scale hex tile, but the deep colors made us worry that the laundry room would feel darker instead of brighter.
3. This one was amazing in person, but at $20 per square foot it was the priciest one we looked at by a long shot, and we thought the scale might be a bit large for such a small area (it would be amazing on the back wall of a giant shower though).
4. You know we love penny tile, and this shiny milk-colored option was really charming, but we wanted to try something new since we did penny tile in our last kitchen.
5. We always like white lantern tile (we had fun using something similar in a showhouse bathroom) but the bright white color wasn't exactly the same as our washer/dryer, so it made them look off/clash by comparison.
6. We really loved this herringbone patterned tile, and the light marble looked like it would reflect a lot of light without being too shiny (the finish felt extra luxe in person). We also liked the scale (larger than #4, smaller than #3) and we also liked that it had a variety of tones and looks great next to our white washer & dryer.
Spoiler alert: That's is the one we got. It felt really high end, the price was right (after the 10% off YHL10 coupon code it was around $12.50 per square foot), and they only had a few boxes of it left, so we were so lucky to get to it before it went out of stock.
So that's what's going on with the laundry room. Here's hoping we can figure out the whole shelves/cabinetry thing, and get started on tiling. What did you guys do this weekend? Family stuff? Travel? Tons of thinking? It's kind of an important DIY detail, right?
&nbsp&nbsp&nbsp