Our office continues to creep towards the finish line (tortoise style) with the addition of an overhead light…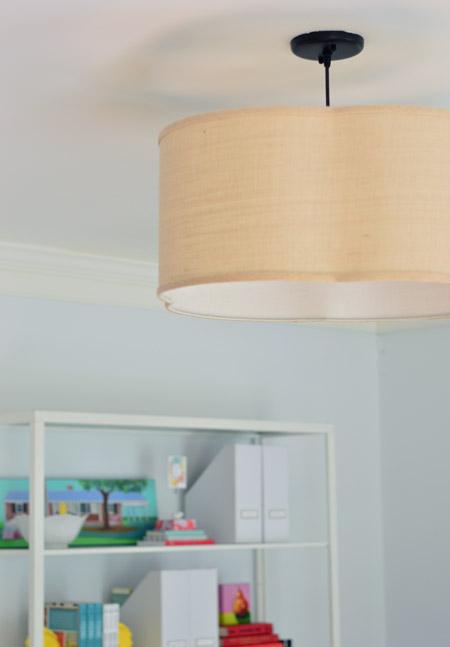 … and new desk chairs.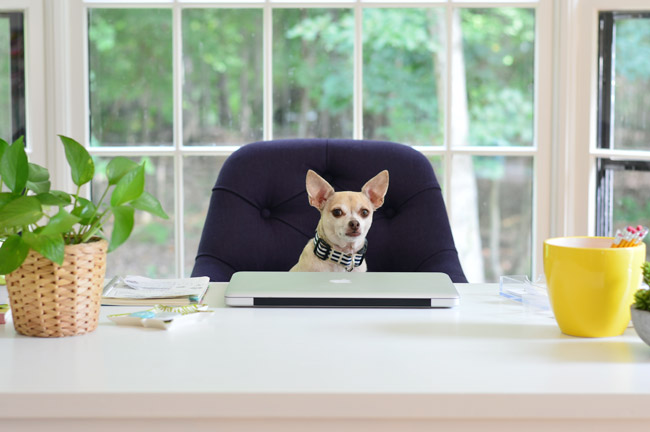 You might recognize the light because it's none other than the one we used to have hanging in our kitchen (loosely meeting both the "old" and "borrowed" criteria from this post's title). We loved the light itself, but mentioned a few times in the comments that after living with it for a little while, we weren't sure we loved it as much as we initially thought we would in the kitchen. So we figured we'd try it in the office.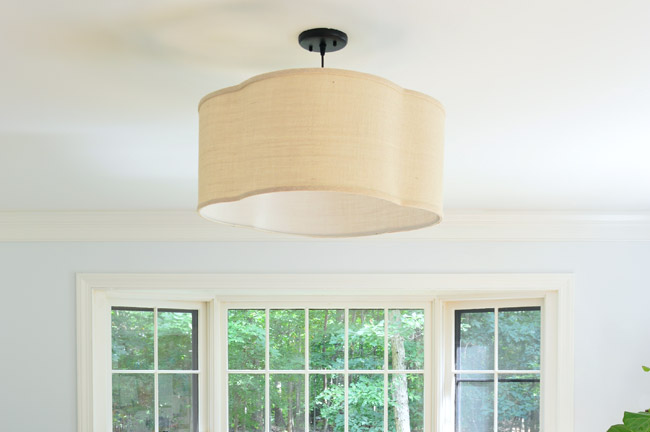 The second it was up, we were sold. It feels polished and traditional to us, so it's a nice mix with the clean-lined furnishings and colorful art (the more modern counterparts of the room) and the paned bay window and thick crown molding (the other more traditional elements that are already present). Functionally speaking, it's nice and bright (it's a two-bulb fixture) and we're both soaking up the luxury of finally having a ceiling fixture to flick on when we enter the room. We've even talked about going to a glass place (or a lighting place) and having them cut a quatrefoil-shaped diffuser to fit it, so we'll keep you posted if we get around to that.
Of course now that we stole that light from the kitchen we just have a bare bulb dangling in there, but we're glad to have found our big quatrefoil shade a more permanent home.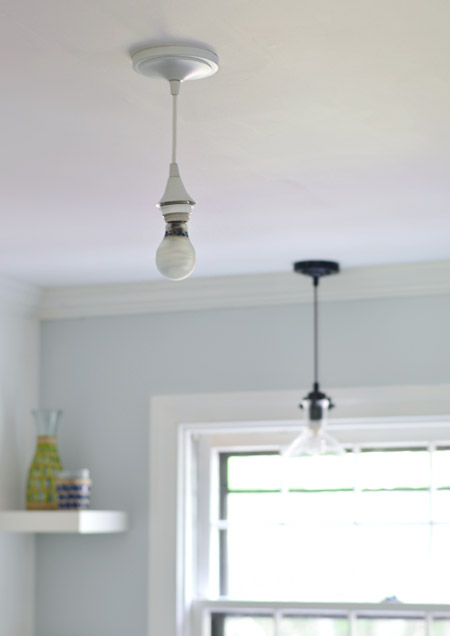 Now for the chairs. Don't you remember them from our kitchen too?
Just kidding, they're new. And blue.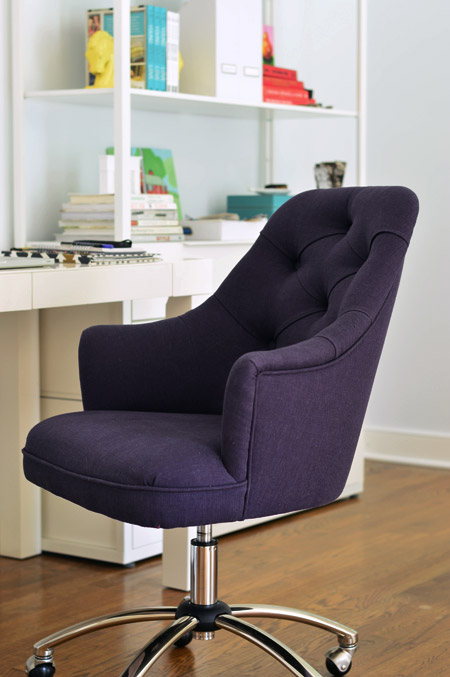 It all started when a reader named Sabrina tipped me off to a big sale going on at PB Teen and mentioned they had some pretty nice stuff. Lately I've noticed a bunch of designers using stuff from PB Teen in adult spaces. In other words, don't let the name scare you. Oh and check out PB Kids too (they have some gorgeous lights right now). In fact, Real Simple had an awesome living room a few months back and the thing I loved most and swore was probably super expensive ended up being like $150 at PB Teen.
But I digress. These chairs caught my eye the second I headed over to the site – especially because of the awesome button tufting and curved arms (traditional) and those sleek legs with wheels (the more modern counterpart). Although the light gray and teal one were completely charming, the navy one screamed my name the loudest (less worry about stains, and a nice dark/rich color to ground our light and airy office) so I showed John and held my breath. John is somewhat of a chair diva. He wanted our new office chairs to be adjustable (check), have arms (check), be on wheels (check), and not have a ton of cumbersome levers and handles under them (we looked at a lot of prior chair options looked like an oversized eight-armed spider lived under them). These actually checked all of his chair diva boxes. BIIIIIG SIGH. He was in.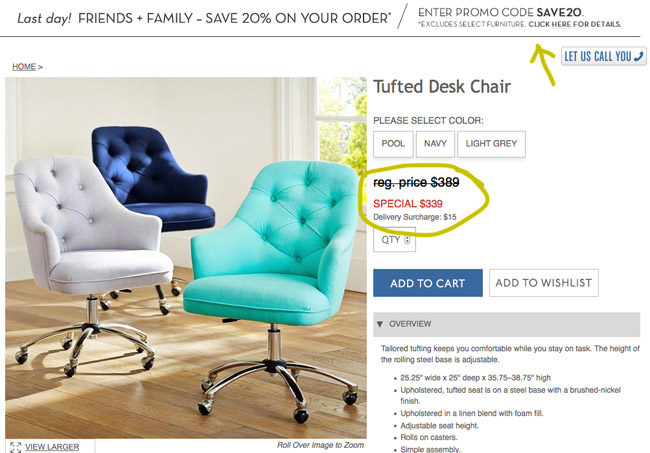 Actually, I loved them enough to pull the trigger, but it wasn't until I called a local Pottery Barn store to check if we could return them there (instead of having to pay to ship them back if we didn't like them) that Practical John was completely with me on the whole "add to cart" step. They still weren't cheap, but we certainly appreciated that they were marked down by $50 each and their friends & family sale got us 20% off on top of that (we ended up saving $118 per chair).
We did that obligatory worrying thing until they arrived on our doorstep. Would they be comfy? Would they tilt at a weird angle? Would they feel scratchy? Would they come with a nicely labeled empty box in the packaging? Turns out they did.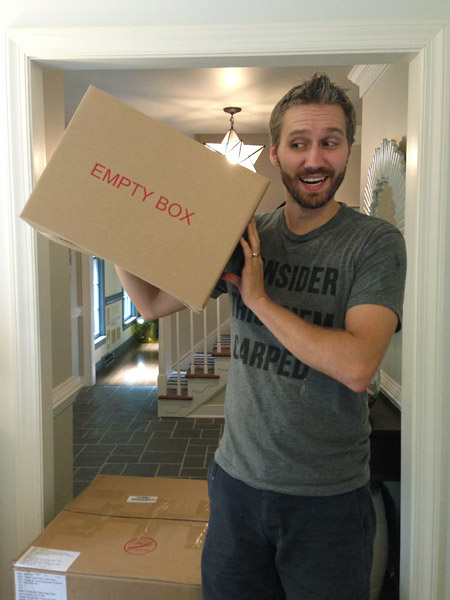 The good news is that they're also comfy, they adjust so we both can have them at the height we like, the wheels glide like butter, and the sloped arms are really nice. You're probably wondering "how does it feel to breastfeed in this desk chair?" Well, I can tell you in all sincerity that it's quite cozy indeed.
The fabric feels almost identical to what's on the armchair in Teddy's room, which has lived through both food-related abuse (remember it was in the corner of our last house's kitchen by the fireplace for a few years?) and baby-related projectiles, so we have high hopes for their durability.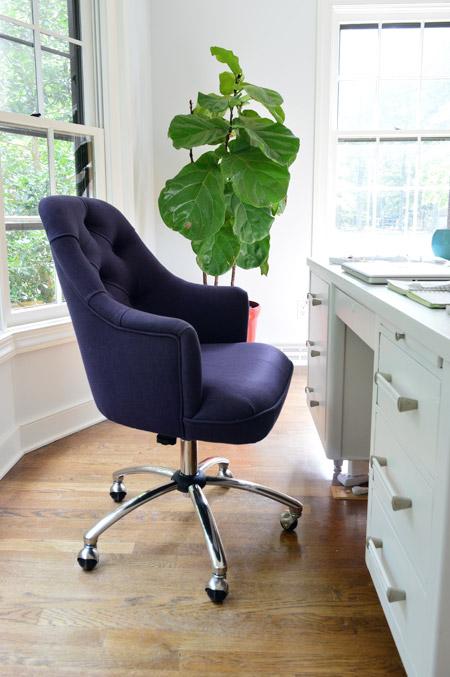 Our only slight surprise was that they looked a little less blue in real life to us (they're definitely navy, but the website photo looked almost cobalt, so we expected a little more intensity I think). But the art, the plant, and the items on the bookshelf in the office are pretty colorful, so we figure some handsome tufted navy chairs are nice classic "foundation" pieces to ground the room and balance out all the light/modern/happy stuff. Since they're not these super bright focal points we figure that frees us up to have fun with curtains or a rug in a bolder color or pattern if we want. So although they look a little whoa-those-are-dark-chairs-in-a-light-room now, I think they'll make more sense when we bring in those other items.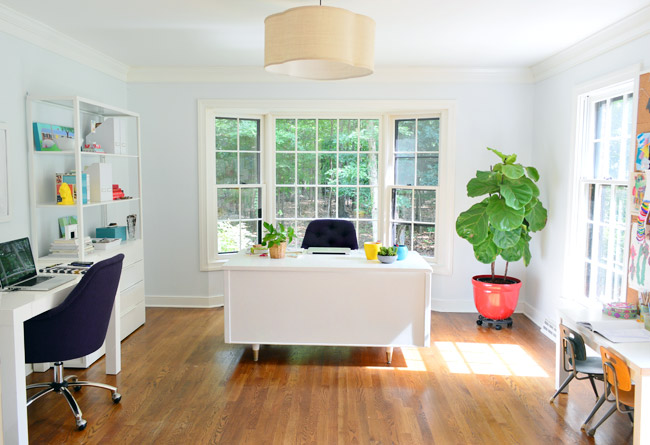 Maybe something like this? Depends on what we find. But this is a good example of how something that might look out of place in an unfinished room (the cream color of the light or the deep tone of the chairs) can sort of "gel" more as the room fills in (the tone of the light is also in the West Elm rug, and the dark curtain rod and bold curtains seem to balance out the deep color of the chairs).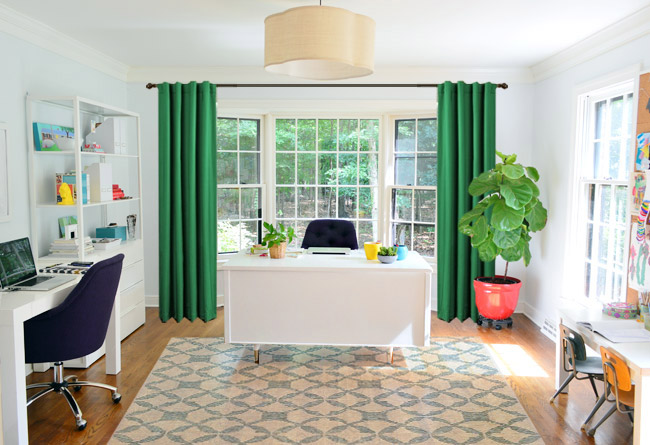 So our few remaining items on the office list are those aforementioned window treatments and a rug along with getting a frame for Clara's monster and possibly adding that diffuser to the light along with a desk lamp or two and then we should be finished in here.
It's pretty exciting to be creeping towards a mostly-completed space since the only other rooms that are worthy of that description might be Teddy's room and Clara's room along with our sunroom-turned-veranda. The funny thing is that I'd bet the laundry room will be a pretty finished-looking space in a few more weeks, which is hilarious since it came out of nowhere while some other rooms we've been slowly upgrading for over a year still feel SO FAR from being done. Houses like to keep you on your toes like that I think.