As our laundry room adventures continue (priming, painting, and tile prep are in progress!) I thought it might be fun to share some virtual options that we tried on in the office (we tested out some wall ideas in Clara's bedroom last fall and checked out a few looks for Teddy's room about five months ago). Remember when I photoshopped some curtains and a rug into the last picture of this post about our new light and chairs? And I mentioned in the comments that West Elm had a rug sale (making the one we liked $100 off) so we pulled the trigger on it?
Well, said rug has shipped and is on its way to our house as I type this (cue the celebratory rug-welcoming drum line!) – which got me all hyper about nailing down a window treatment idea. Especially since you guys had some fun suggestions (everything from roman shades and other colored/patterned curtains to no window coverings at all but a deeper accent color on that back wall). So let's play around with a window fashion show for a second, shall we?
This is the original rendering from the end of that post: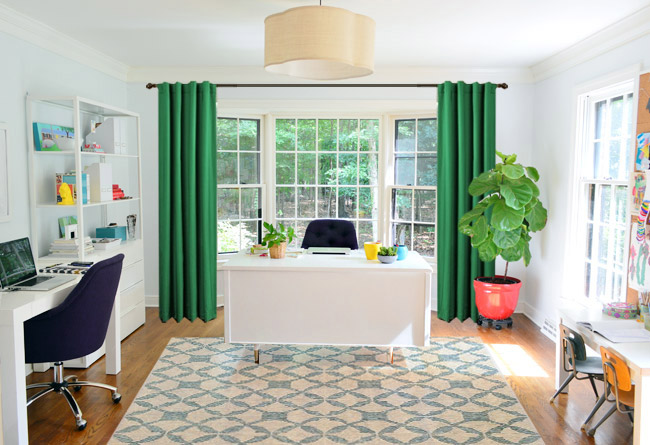 Next I tried curtains that are less emerald and more leafy green.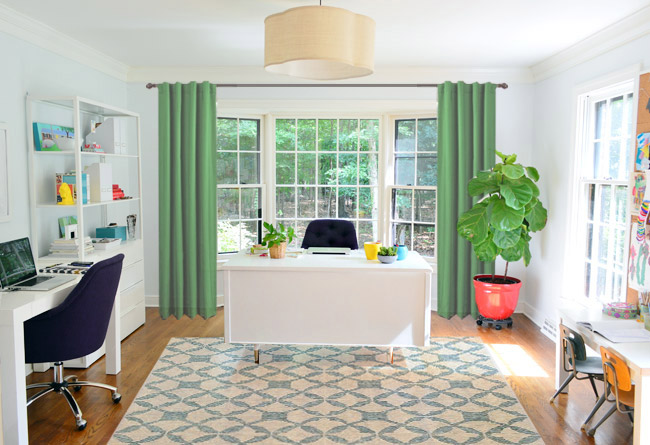 Then I went sort of taupe-gray with them, just to see how that would look.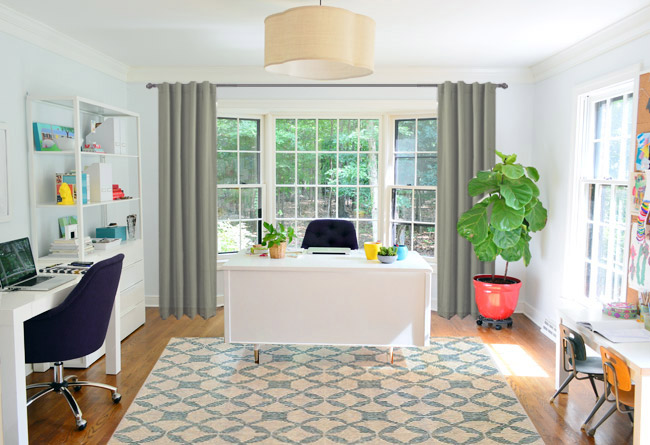 Next I tried a soft blue-gray color to tie into the rug.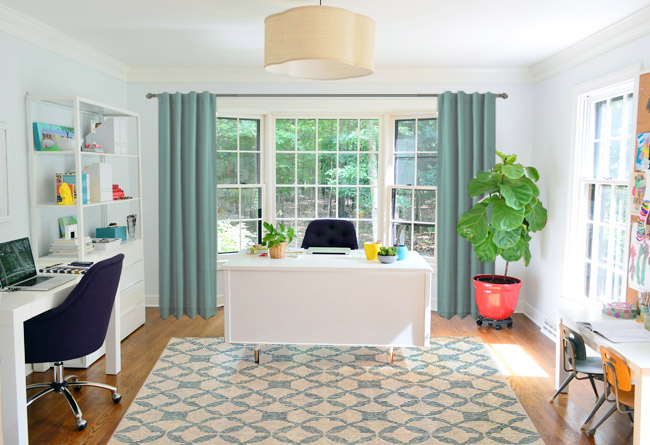 Then I added subtly patterned roman shades (found here), which I thought I would LOVE but they seemed a little busy with the rug.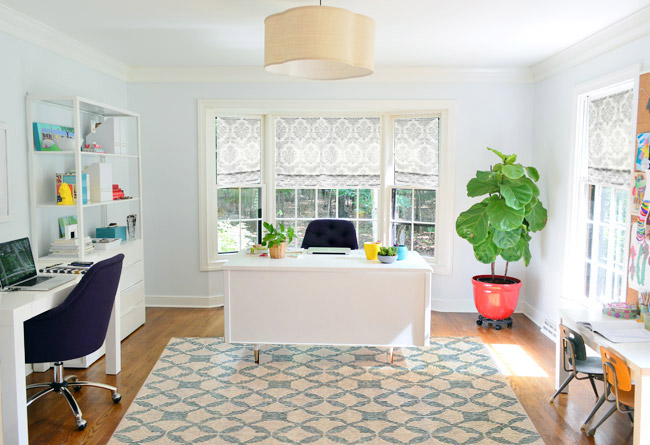 Next I tried making that back wall a deeper color while leaving the windows completely bare.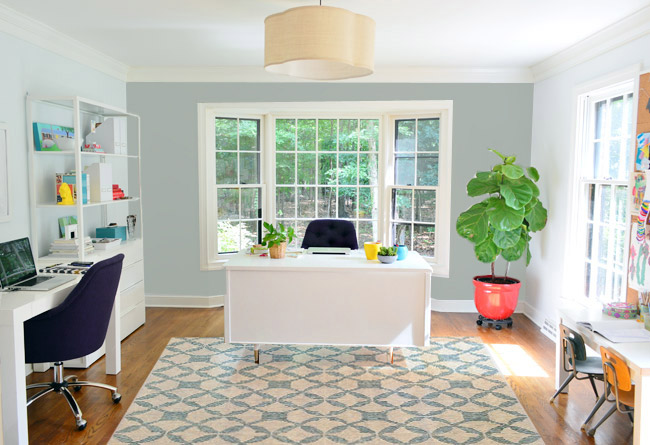 Then it was back to roman shades, but I tried to make them look more like simple white ones to get an idea of how those might feel.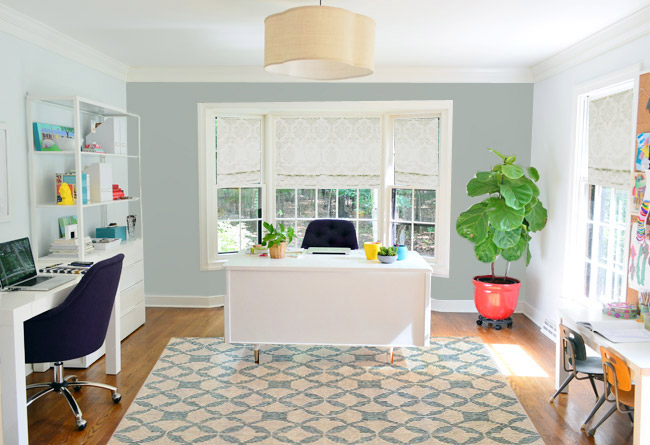 I also tried on some curtains against the deeper back wall, but that felt like too much going on.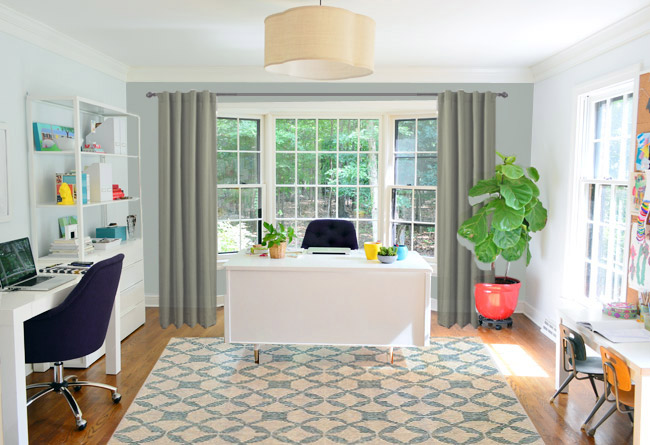 So I took the back wall back to its original color, left the curtains, and added bamboo blinds. Ooh. Something started tingling. It felt layered and warm (the blinds tied into the cream light in a nice way).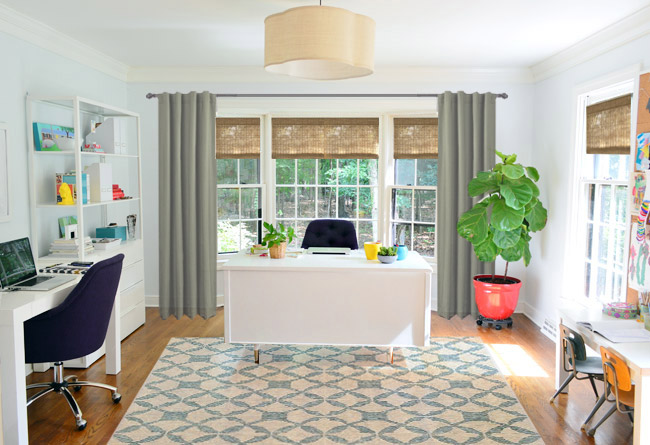 See how much of a difference just a rug and some window treatments can make?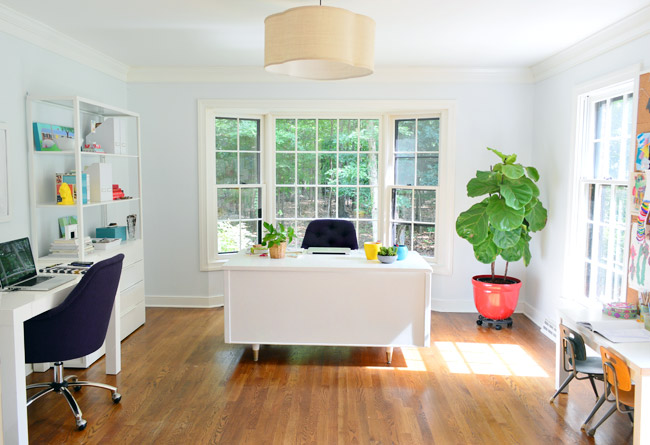 I also tried the same bamboo blinds + curtains combo with blue curtains instead of gray ones. We like both options (we might lean slightly more towards the gray ones, but aren't 100% sure) so the deciding factor might be what kind of fabric we find.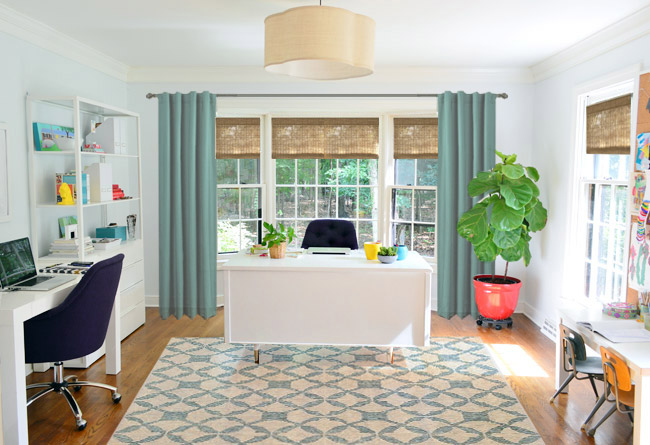 We're going to wait to pick the fabric until the rug is actually here and rolled out on the floor, just so we can compare them in person, but we definitely feel closer to a solution than we did a few days ago when roman shades, curtains, and dark back walls swirled through our heads.
Do you guys have any tricks for envisioning things in your house? Do you use Photoshop or a free service like Gimp? Do you just slowly bring things in that you love without much planning beforehand? Do you make mood boards? Sometimes we'll fall in love with a piece of furniture or a wall color (in person or in an inspiration image) and we're 100% sold, and other times I find myself making a mood board or virtually trying things in the room if we just can't picture something well enough to commit.