There were TONS of sales this weekend – in fact nearly everything in our house that's still being sold was majorly marked down. And I thought "it'd be awesome if I could get my act together and alert anyone who's been hankering for something in our house" – but we were getting back from spring break and Easter/family stuff was going on and I just couldn't make it happen. But then, many of the sales mysteriously kept going (even though they all said they were ending on Sunday)… so here I am, writing this quickie post for all my sale loving compadres out there. Oh, and if you were wondering how something in our house has been doing / wearing / holding up – I've tossed those updates in here too.
First, we have our kitchen stools, which we have been SO HAPPY with (and which were a steal – even at full price) – but they're currently running free shipping on them with the code SHIPFREE. The backs are nice for support if you're a grown up and extra nice if you have kids that occasionally act like their pants are full of ants.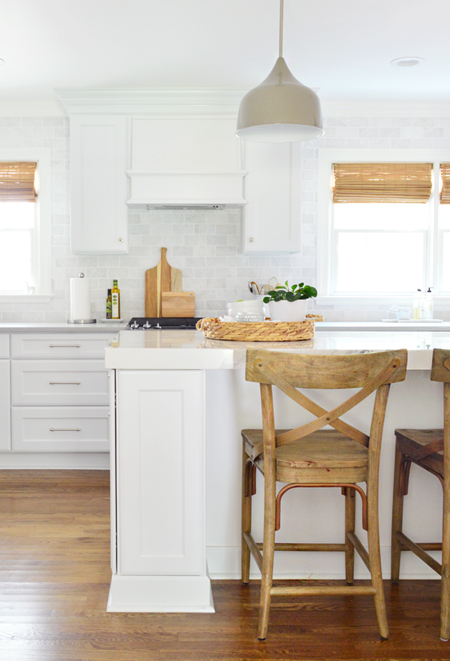 Next is our dining room chandelier, which is $75 off. It's over two feet in diameter, so $303 for something that big with multiple bulbs feels like a good deal. It's SO NICE to have a three-bulb fixture over the dining table (we have it on a dimmer switch so we can make it moody for grown up meals and super bright when kids fling food and we need to see where it landed).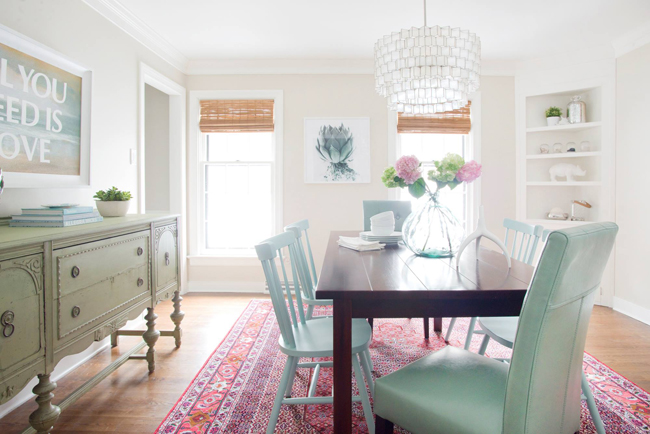 Our blue wooden side chairs were a Craigslist find that we spray painted for our second book, but if you want to get pretty much the exact same look, these guys are on sale at Target (two for $104!). I LOVE the mint and gray ones the most, although the white and black ones would be really pretty and classic too.
Next we have our tufted desk chairs in the office, which we've been using for years – so we can confidently proclaim them "ridiculously comfy." We popped the wheels off ours (more on that here) but otherwise, they pretty much look just like they did the day we got them, and we sit in them for hours each week without any complaints. They're currently running a free shipping promo plus 25% off with the code YAY25OFF. We got the navy color, but they also come in a bunch of other options.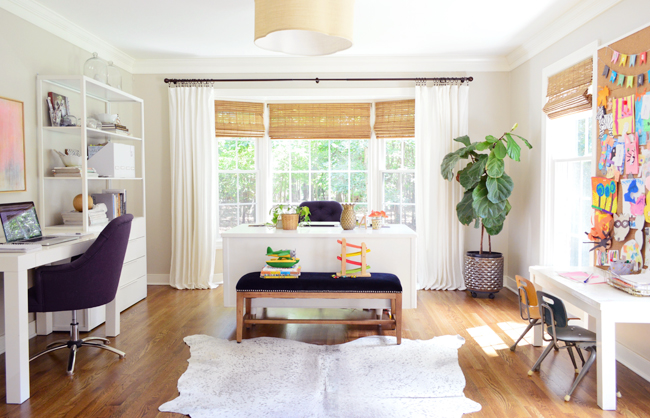 Our metallic rug in here is 62% off with free shipping (this thing withstands EVERYTHING – seriously, it laughs in the face of Play-Doh). And our bench is 26% off plus there's free shipping. The navy velvet paired with the wood legs is so beautiful in person – pics don't do it justice.
Our exact star light in the foyer is no longer sold, but this one from Pottery Barn is similar and on sale for $143. The PB one is a little smaller in size, which means it could be awesome pretty much anywhere (hallway, bathroom, foyer, laundry room, office or even over a breakfast table).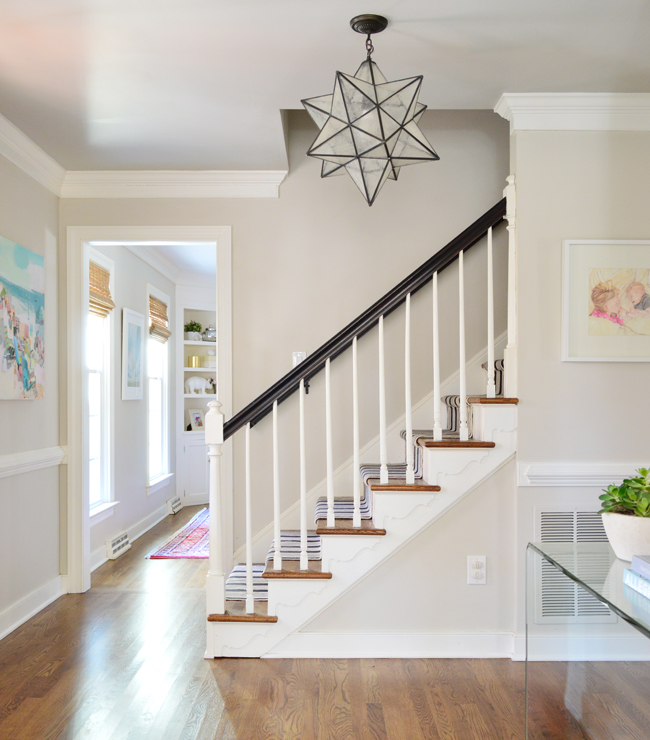 Our stair runner also has a free shipping promo running for it right now (we ordered two runners for this makeover and you can read all of the step-by-step tips for installing them here). As for how it's holding up with two kids and a dog over three years later: A+. Not a single stain we couldn't get out just by spot treating it with mild soap and water, and it still looks new after years of use. This thing is made for a house with lots of action (and crushed up graham crackers).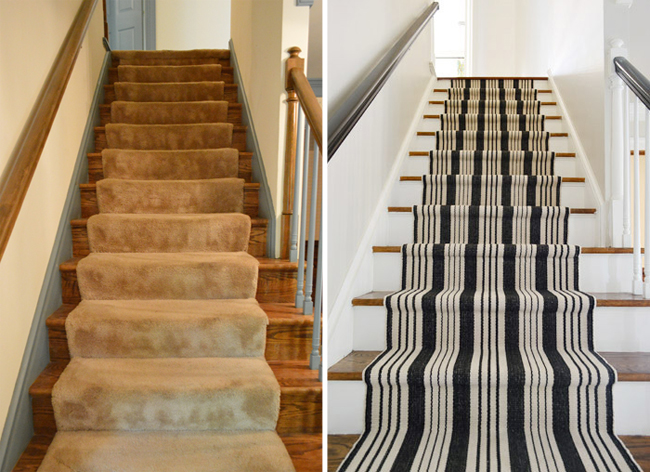 My favorite faux fiddle leaf figs are on sale at Target, so it might be the last chance to grab 'em before they're gone. You know I have like five in the attic being hoarded for the beach house, right? You can see them photographed side by side with a real fiddle leaf fig and read more gushing about them from yours truly right here.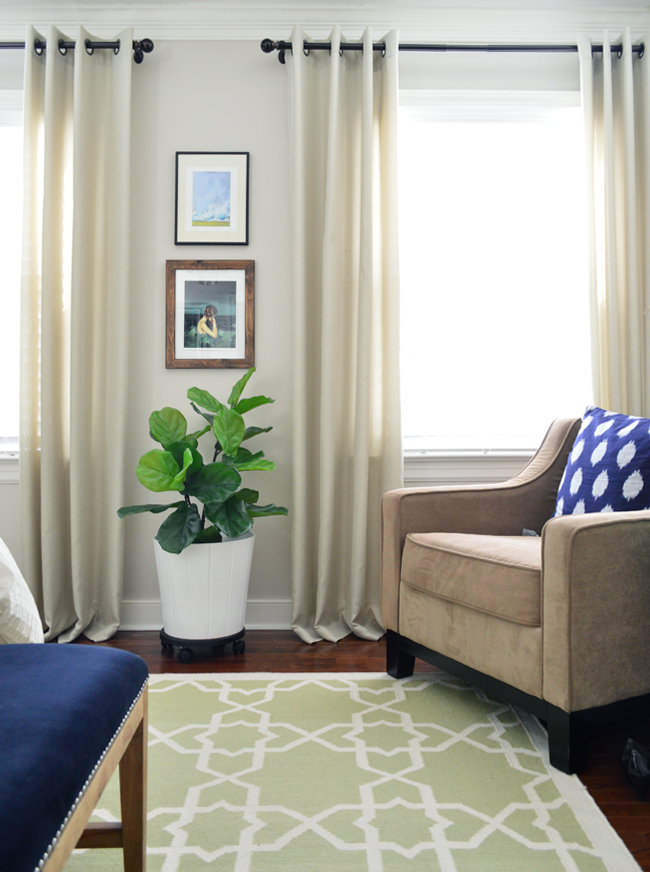 While we're in the bedroom, our side tables are 35% off with free shipping right now too. They're still not cheap but I love how they appear to have nine drawers (there are actually three nice and functional ones) and they have this covert plug thing with a strip on the back that you can slap to turn your lights on and off from bed. And we all know how lazy John and I are about reaching bedside lamps (Exhibit A) so these have been awesome. When I'm on vacation I shake my fists at the sky whenever that I have to reach up into a lamp and turn them off like a normal person. Life is hard, guys.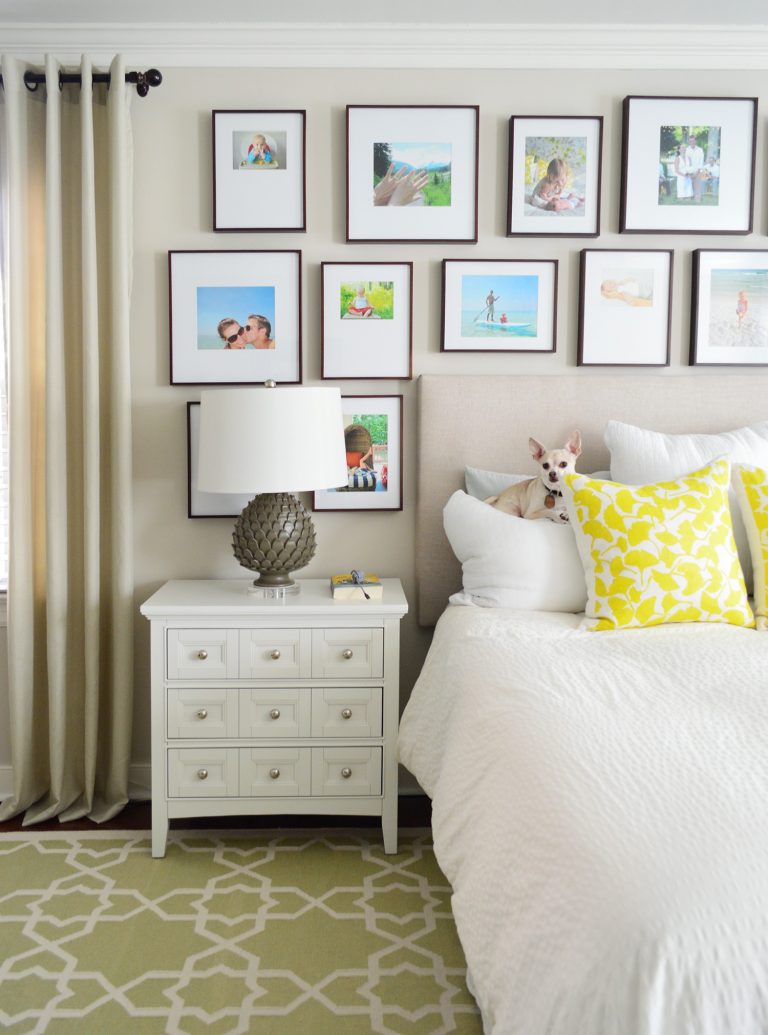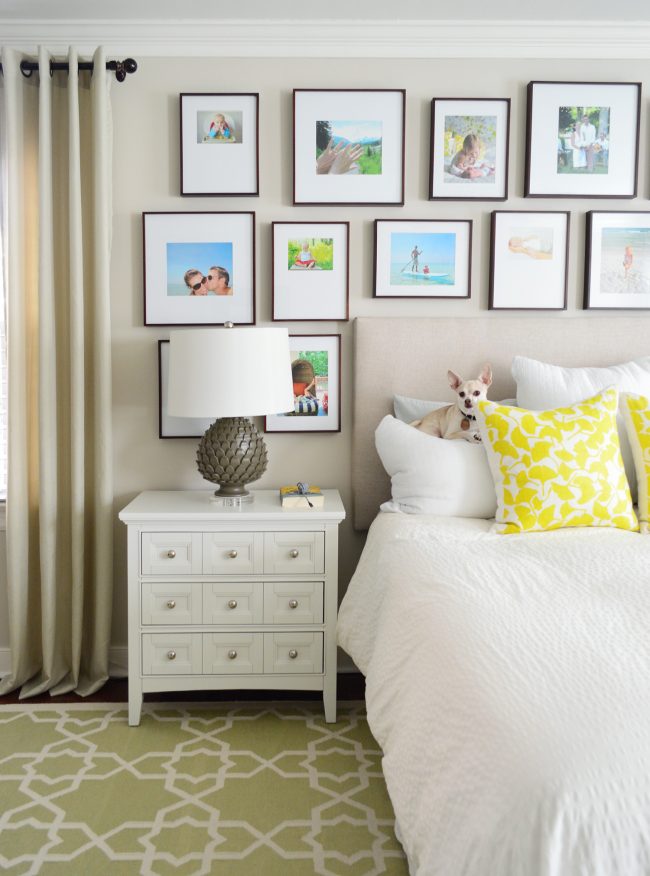 Also, our hallway lights have free shipping going on too if you use the code SHIPFREE. And since everyone asks, we have standard 8′ ceilings and tall John (he's 6′) has no issue walking under them, in fact there's around 5″ of wiggle room above his head. So they're great for any standard hallway or bathroom or foyer. WM also has some pretty good decor items right now (this pillow gives me the feels).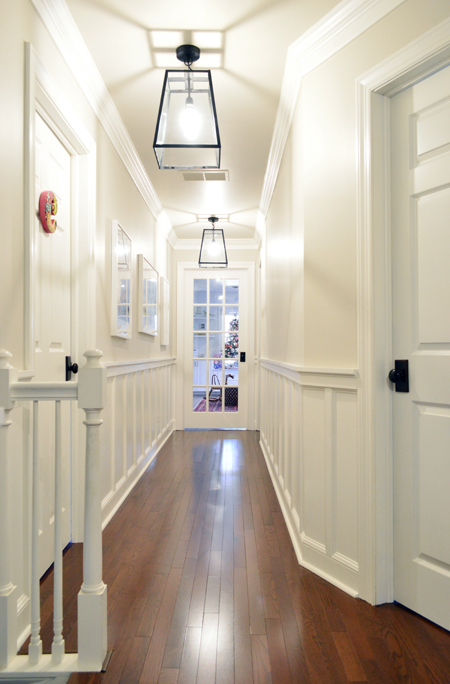 The rug in our daughter's room is officially on final sale clearance, so you'll get it for hundreds less. We've had it for years, without any complaints – it hasn't pulled or unraveled or gotten stained, even though it's pretty light in color – which makes it awesome for a living room, bedroom, basically anywhere but the kitchen. Oh and see that pretty inlay pink mirror over the dresser? It's sold out in that color but the blue version (which I also LOVE more than anyone should love a mirror) is almost $100 off, plus free shipping.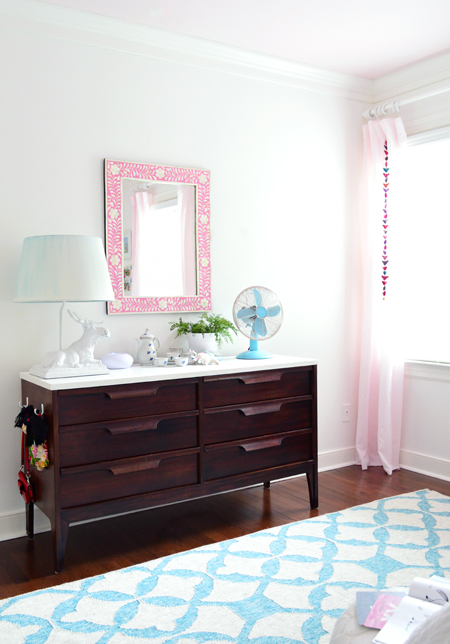 Ok, moving on to our son's room – you can't see it in this pic, but we have this light in his room as well as our guest room. We love that it has a clean quatrefoil shape and multiple bulbs so it makes those rooms feel nice and bright. It's 33% off plus there's free shipping, and it's such a good light we are heavily weighing it for some beach house usage as well. The pretty brass/bronze color of the hardware makes it look a lot pricier than it is. His rug is one of my favorite finds ever, and although it's no longer sold, this super similar one is really affordable and there's a free shipping promo running right now, so if you're searching for a bedroom or living room rug, this one is neutral and interesting without being too busy.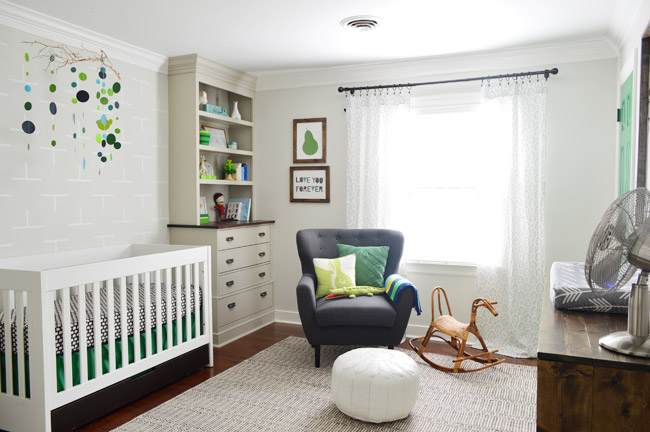 Our bathroom mirrors, which we get a ton of questions about, are 26% off plus they have a free shipping promo running right now too.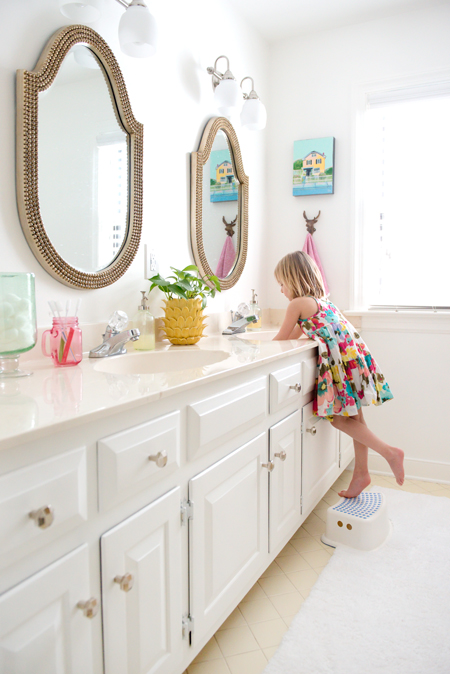 In the laundry room, my cute mint garbage can (which is awesome for lint and all of the weird papers that go through the wash in kids pockets and come out fuzzy) and the little mint caddy (which we use for the dryer balls, lint rollers, and a few other laundry-related things) aren't specifically on sale alone, but there's free shipping with the code SHIPFREE. I'm partial to lots of lights from WM, so it's pretty easy for things to jump into my online cart over there. Not quite as easy as walking into Target for two things and leaving with ten bags and a $140 receipt, but it's a similar concept.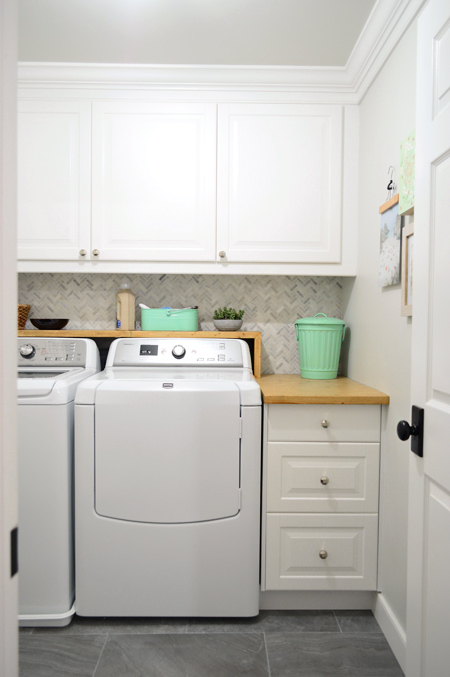 So whoop, there it is. Lots of things we've bought and lived with and loved. Hope you enjoyed this little random house tour / update post about how things are doing / sale scope-out for the deal-minded peeps out there. Gotta save that paper so you can hire someone to turn your lights off from bed while you're on vacation. Just kidding. That would be weird. But I would pay for someone to adequately sunscreen my kids for seven days straight while we're away because that is a serious combat-meets-tickle-fight scene. Every. Single. Time.
Psst- Wondering where we got other items in our house? This page has a full rundown with source links and all of our paint colors too.
*This post contains affiliate links*