Moving, Selling, & Buying
Holy cow did you guys have questions about the whole selling/moving/buying process since yesterday's little announcement! So we decided an FAQ post would answer as many as we could. We originally planned to share it tomorrow but you guys are still sending questions our way so furiously that we decided to share this guy today and our regularly scheduled DIY post will go up in the morning. So heeeeeeeere we go! #warningitslong
Q: Will you sell your current house by owner like you did with your first house?
Since it worked out so well for us last time, we'd love to! So other than possibly paying a few hundred dollars to have it listed on MLS again, we're planning to market it and show it ourselves (we've actually already had three showings, so our fingers are crossed). We don't even have a For Sale sign out front yet since we have been doing private showings to realtors and interested locals who are contacting us directly, so it's kinda weird. Haha!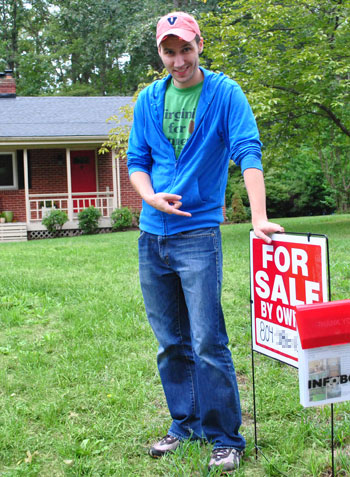 Q: Did you consider renting out your current house instead of selling it? We did! But we talked to a few realtors who said that a few homes in our neighborhood that were for rent were having a hard time holding tenants since the lots were so big (renters in our area typically want very small yards so there's less for them to mow/maintain). So we shifted our focus to selling since things in our neighborhood seem to be picking up in that department (many homes are selling fast nearby, so we're hoping ours follows suit).
Q: When will you move in?
We have to sell our current house first and think showing it with furniture will help that process (plus we don't want to move all of our furniture to the new house and then have the sale fall through). So our best guess would be that we'll (hopefully) move into our new house in June, although it really all depends on when we sell and when our closing date is. But we're already working on the new house as well as finishing things up around here, so along with all the staging/showing/selling posts about our current house, there will definitely be new house projects, plans, and pictures working their way into the mix. Ahhh, it gets me so excited to type that!
Q: Wait, are you selling your current house fully furnished!? Sorry! I made a comment about wanting to keep our furniture here in order to sell it faster on yesterday's post and it sounded like we were selling it furnished but I quickly updated it in the hopes of squashing that self-started rumor. Haha! We're not selling it furnished, we just want furniture in the house when it's for sale (since empty houses traditionally sell slower and for less money) – but although we're bringing our furniture with us a lot of things will be in different places in the new house since the layout is so different, which should be fun to play around with!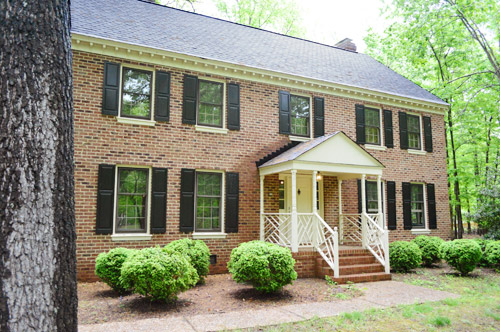 Q: How many square feet is it? How can it be the same square footage as your current house when it looks so much bigger?! It's almost exactly the same square footage of our current house, which we love (it's around 2,500 square feet). It's just that our current house has an 1,000 square foot addition hiding in the back that you can't see at all from the front, so that's why it looks almost as small as our first house (which was half the size). Meanwhile the new house doesn't have anything hiding in the back and instead has a second floor that's in plain sight from the street, which makes it look a lot bigger.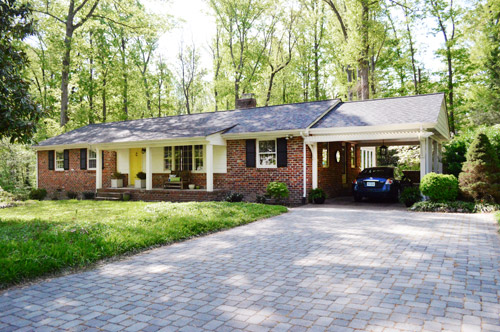 Q: Your new house is so pretty on the outside you won't have a thing to do to upgrade it! That's the funny thing about cropped photos.  Below is a panned out shot that shows that there's definitely work to be done. So we think the outside will keep us nice and busy too…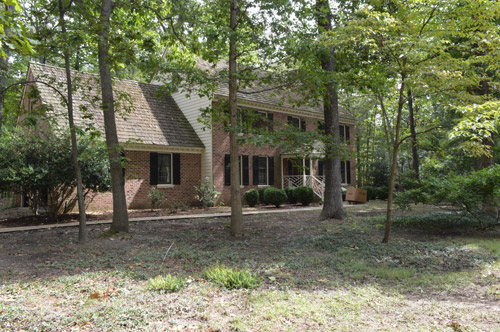 Q: Tell me more about what made you love this house in this neighborhood. Would you have taken any house in that area, or did it have to be the right one? We definitely wouldn't have just taken anything in our budget because we always want a house that works for our family (right house in the wrong neighborhood is sort of the same womp-womp as the right neighborhood but the wrong house). So the sweet spot was finding both. And when we pulled down the street and saw this baby at the end of the cul-de-sac (zero through traffic! a spot for Clara to ride a bike! a bug-hunting mecca for Burger!) we were completely smitten. And when the layout inside didn't disappoint, we practically lunged for the offer papers. She might not look like much right now, but we think she's going to clean up real nice :)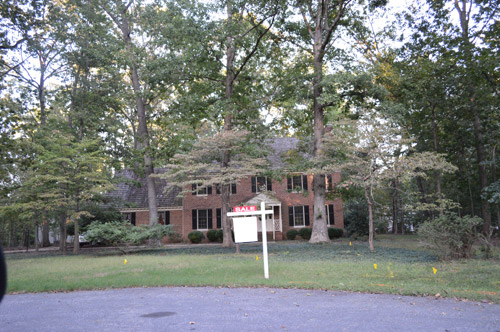 Q: How did you keep this a secret?! This was BY FAR the hardest part for us! There were so many moments I wanted to over-share every detail with you guys as we went! This house sort of came out of nowhere, very quickly. We were very casually looking since we anticipated not needing something 'til this summer (or later). Then we saw it we had that moment of "we either go for it or be okay with losing it!" And we realized we weren't okay with losing it. We actually closed on it in the fall (now can you see how hard this secret was to keep?!?!?) but we had a million balls in the air (a book tour in progress, a bunch of projects for our current house that we wanted to finish before we announced/sold, and a few immediate upgrades to deal with in the new house like a leaking roof, a bad furnace, an alarm install and an opossum in the crawl space (all of which we can't wait to post about in detail for you guys).
We actually debated spilling the beans about things a lot sooner but we worried it would make us feel torn in half (wanting to stay focused on finishing and selling our current house, but knowing many of you would've mentally "moved on" to the new house). We also had to think about things like safety (we just weren't comfortable telling the entire internet that we had a new house that would be unoccupied for a big chunk of time). So we made the call that waiting, as challenging as it was, was best for our family, this blog, and our new house's safety. And that way we could focus and knock out what we needed to do here before shifting into "new house mode" when we were ready. Boy does it feel good to be in that mode now. I ran around the house singing this song.
Q: Last time you closed on your current house on the same day that the new owners closed on your old house, but this time it you bought the new house before selling your current house. What went into that decision? Once we were 100% sure that this was The House, we knew putting in a bid with a contingency that we had to sell our current house would weaken our offer. And we didn't want to lose that house! There was actually another offer on it, so we knew we needed to have a strong and compelling offer to get it and we didn't want to offer over asking price, so we decided that going into it without a contingency to sell our house would make for a compelling offer. We were so glad that the bank finally recognized us both as full time self employed people (we've been doing this blog thing full time together for nearly 3 years), which was a very different situation then when we bought our first and current house (more on that here) – and it was amazing to get the "you guys got it!" call.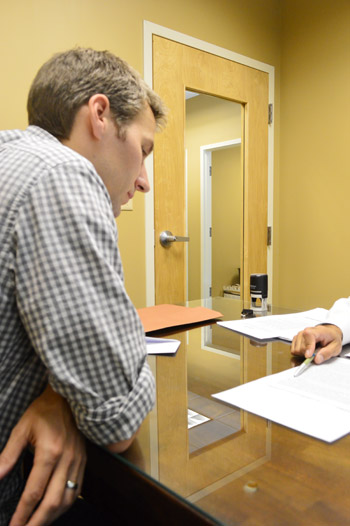 Obviously carrying two mortgages for any period of time isn't fun. But we triple-checked our savings before bidding to make sure we could handle it and found other ways to save. For instance, if we're able to sell our current house by owner like we did for our first house, we stand to save ourselves more than all the extra mortgage payments that we've been making combined (since we won't have to pay a seller's agent commission). Plus, those overlapping mortgage payments are helping us pay down our loan (yay equity!), so it's not like money going out without a return (like renting or writing a seller's agent check).
Q: I need more details! We know, and we're itching to give them. But please understand that we won't be discussing certain identifying details on our blog (like what neighborhood it's in or specific info about our closing) because we want to keep some semblance of privacy intact, so we're resisting the urge to over-share in that regard this time! We know that you guys understand that we need to keep some personal details private and we appreciate all of you who respect that. We'd be naive to think someone couldn't dig up the info if they really wanted to (real estate is public record), but we're not going to hand anyone anything on a silver platter over here. Haha! Thankfully our current address was leaked even before we moved into this house back in 2010 and we haven't had a single issue and our alarm system gives us amazing peace of mind (let's just say it talks to us and has eyes for us). And then there's our ferocious guard dog…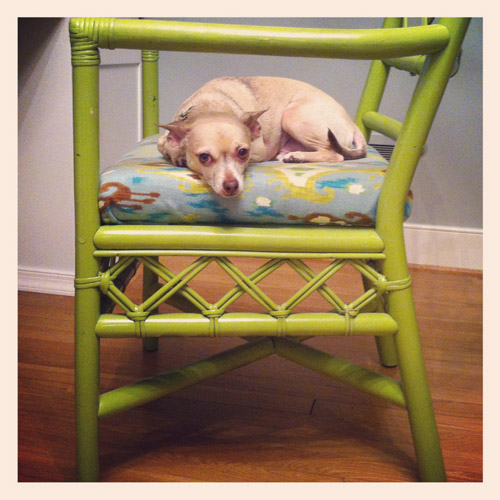 Q: When was it built? How many bedrooms and bathrooms does it have? It was built 32 years ago and it has 4 bedrooms and 2.5 bathrooms (so there's actually one less tub for me to clean). The main bathroom on the first floor is a half bath, which I'm already dreaming of redoing… once we strip all the wallpaper!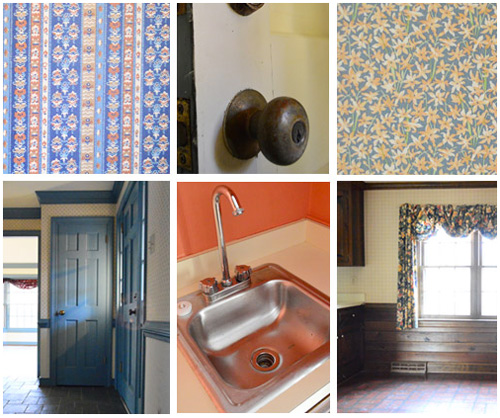 Q: How much do you think you'll make selling your current house thanks to all the improvements you put into it? That would make a fun post! Just like this post that we shared when we sold our first house, we're definitely excited to see how it all pans out and spill all the details about how much we put into this house in home improvements vs. how much those upgrades affected the sale price. Based on the interest in our current house (we've had three showings!) realtors seem to think that our listing price is good so we're hopeful there might even be a smidge of profit in there this time!
Q: Is it sad to leave Clara's big girl room without her moving in? From the moment we moved in back in 2010, we always intended for that room to be a playroom (even though it somehow turned into a junk room for 2 years, oops!) so it has been awesome to finally enjoy that space and use it the way we always intended. Even if Clara isn't quite ready to sleep in there yet, she has logged lots of play-time in there and if she had moved in there we'd have an empty nursery, so either way we knew she couldn't sleep in both spaces so one would be a playroom while the other serves as her bedroom. The nice thing is that everything comes with us except for the walls, so since we didn't do anything structural in there (like add a built-in accent wall or bunk-bed system) or cover the walls with anything fancy that stays behind (ex: cool wallpaper or a big wall mural) it can all end up at the new house with us.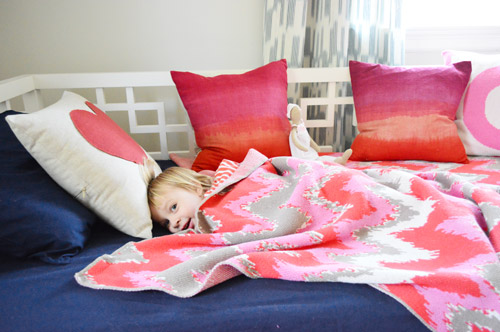 Q: What about all the things that you did to this house that you can't take with you? Like the penny tile and the new fireplace and the pergola? We love love love those things, and will definitely be sad to leave them, but we did them ourselves – which means we can always tackle them again (and alter them in new ways) for the new house if we want them there. We're just suckers for showing a house some love, so we would never want to live anywhere and "hold back" on doing things just because we can't take them with us (for us, doing them is half the fun sometimes). So it's nice to spend the time that we have with those beauties while we live in the house, and know that they'll live on. I'm deeply comforted by the fact that we can always drive by and wave at the pergola. Yeah, that's definitely going to happen.
Q: I'd love to see a post talking about which of your recent projects you did for resale value and why you chose them. Nearly everything we've done recently has been on our  to-do list for over a year. So they weren't things we added to our roster for resale – they were just things we knew we'd love to tackle, many of them from the day that we moved in. So it was less about which projects we chose to do for resale (none really) and more about which projects from our to-do list that we decided to move ahead with. For example, converting a storage room into a useful playroom and upping the curb appeal wouldn't hurt, but double siding the fireplace (which would involve a mason and a contractor since it's load bearing) felt like more of an "if we were staying longer we'd love to do it" item. So there were a few things that we didn't think made financial sense to do right now but we did pretty much everything else on our to-do list that we hoped to do. We'll share a final rundown of Listy McListerson with everything checked off, and at the bottom we're planning to put all the "would have been nice" items that we skipped – but secretly hope the new owners end up doing so we can house crash them. Haha!
Q: Will you guys miss the convenience of a ranch and having everything on one floor? We think it'll be fun to try out a completely new house layout since our first and second house were pretty similar to each other. And I'm sure there will be tons of things that we miss about having a ranch, but we're excited to see how a two-story house works for our family. We love that the laundry room is on the second floor with all of the bedrooms, which was one thing we really liked about ranches (not taking piles of laundry up and down stairs).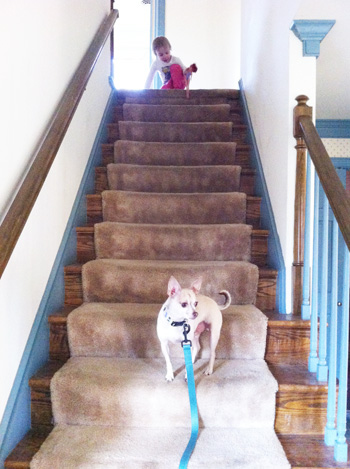 We also secretly hope that the upstairs will help us with separating work from family stuff, so we think we'll institute a no-laptops-upstairs rule. Since we're only twenty steps from our office when we step out of bed in our current house, it'll be nice to be a whole floor away from it in our new house. And it'll be awesome not to have to clean the whole house when people come over (if they'll just be on the main level, we can shut the bedroom doors upstairs and ignore the mess like we did when we grew up in two story houses, haha).
Whew! So that should do it! Hope that helped guys. And we can't wait to share a floor plan and all the crazy wallpaper-and-blue-trim-laden before pics with you guys while we finish things off at our current house and get this baby sold. Fingers crossed…
&nbsp&nbsp&nbsp
So, funny story about the house below. We bought it and we're moving in.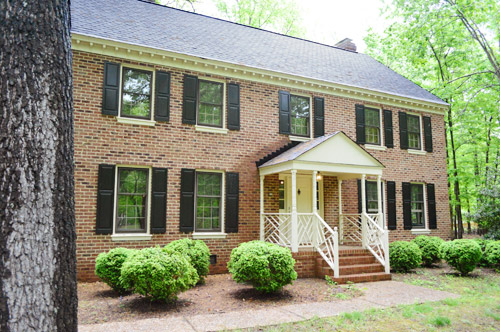 We know this news probably evokes a whole range of reactions. Excitement for new makeovers. Sadness for leaving our current house. Curiosity about all of the logistics. Confusion. Anger. The inexplicable urge to do The Carlton.
Starting this story requires rewinding seven years, back to our first house hunting experience in Richmond in the spring of 2006. We had just moved from New York City and Richmond real estate felt very spacious and very cheap by comparison. It made dreamers out of us. We checked out a bunch of neighborhoods, and fell for an awesome old area with nice big wooded lots, great schools, charming tree-lined streets, and kids on scooters.
But none of the sweet old character-filled houses in that neighborhood were in our price range, especially because the bank had no faith in us. The issue was not our savings, but the fact that I was less than 2 months into my new job and Sherry was just as deep into her career as a freelance copywriter. In the eyes of the bank, Sherry was unemployed since she was a newbie self employed person (even though she was earning more than me!) so I ended up being the only name on the loan – basically cutting our buying power in half. Goodbye dream neighborhood, hello this looker.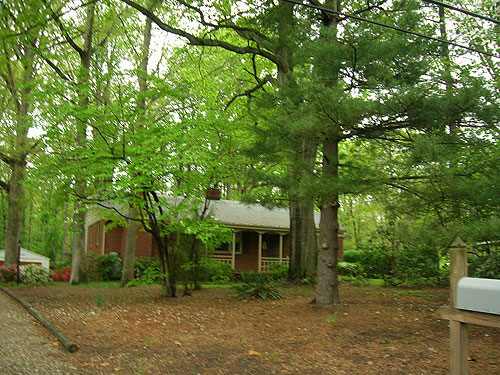 As deflating as that financial reality check was, it turned out to be one of the biggest blessings. Had we not been steered towards a fixer upper, we might not have ever started this blog or learned the advantage of buying a home that's well within our means. By not stretching financially, we could stash away a lot more project money and build up our nest egg – because we hadn't lost sight of that neighborhood we first fell for, we had just put that dream on hold.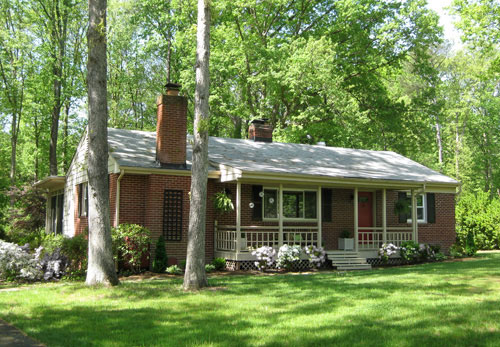 Fast forward 4.5 years, past a new puppy, a wedding in the backyard, Clara's birth, and me coming home to work full-time. Our beloved little 1,250 sq ft ranch (with only one full bathroom) was suddenly feeling cramped and we found ourselves house hunting again. Dream neighborhood here we come, right? Try again, compadre. This time I was the financial deadweight (having just left a salaried job six months earlier to come work at home – great timing, right?). So once again we found ourselves approved for something far below our actual mortgage-paying abilities thanks to the bank's you-haven't-done-this-self-employment-thing-long-enough-for-it-to-count doubt.
But it dropped another gem of a fixer upper in our laps. And this time we knew that an affordable needs-work home meant even more projects and more money squirreled away for our "maybe someday" neighborhood.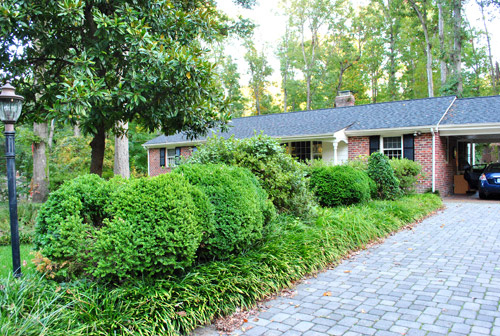 Now, I wouldn't say we ever consciously thought of these homes as "stepping stones" or rungs on a property ladder that we were itching to climb. Even though we always loved that dream neighborhood from afar, Sherry was fully convinced our first house would be our "forever home" (we even have that statement on video). When we fall in love with a house, we fall hard. But the experience of outgrowing and leaving our first place made us realize that we enjoy the process of loving an old house back to life way too much to stop at just one.
So when we moved into this house, we went into things with a more open attitude. Knowing we'd soak up every second of living here (you know we're nuts about the journey) but no longer making bold declarations like "we'll stay here forever." Admittedly, at halfway through year three of living here, the end came a bit sooner than we expected, but our time here since 2010 has been jam-packed. We've celebrated three Christmases in this house, created a book from start to finish here, and enjoyed countless Clara milestones (crawling, walking, talking, Gangnam Style-ing). So this place is by no means a blip on the timeline of our family history. It has been "home" through a heckova lot, which makes leaving it that much more bittersweet.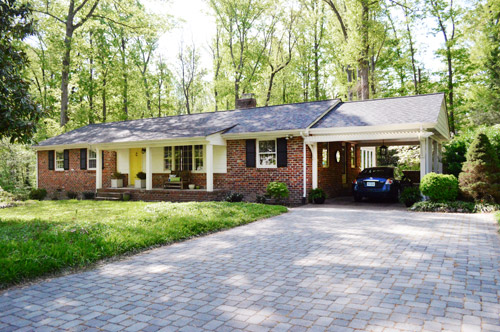 We just knew we didn't want our current place to be our last fixer upper (it's not only what we love to do, it's our livelihood), so when we felt ourselves tackling the last few untouched rooms on our list we started casually keeping one eye open for a deal that could be a potential rental or even a future Casa Petersik. We'd occasionally flip through real estate listings and drop in on open houses. We always hoped that something would come up in our price range in that dream neighborhood so we could jump on it like a velociraptor, but after two house-hunting experiences that didn't lead to us ending up there, we weren't very confident.
And then it happened. Pretty much out of nowhere, we found the sweetest needs-lots-of-love home in that old charming neighborhood that we've driven through at least five times a year just to stare creepily since 2006. Yes, this is a seven-years-in-the-making house coup of ours. We would have loved to take you guys on the house hunting adventure with us like last time, but it all happened so fast and before we knew it we were closing on it.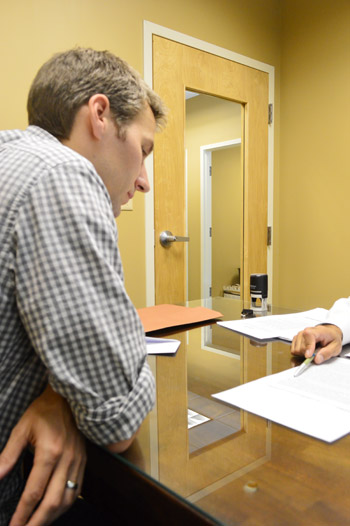 And thanks to putting some of that saved-for-years cash down at closing, our new house's mortgage amount is almost exactly the same as our current house's – but our interest rate is even lower. We both spent closing day waiting for Ashton Kutcher to jump out and scream "you got punked!" but all went well and the house is officially ours. We've even had it long enough to fix some first-priority issues like a leaking roof, a broken furnace, and even hooked up the alarm system.
The house hasn't been updated since it was built around 35 years ago, and knowing that its interior might scare off others trying to buy in a mostly turn-key community, the sellers priced it way under assessment. It was over $100,000 less than another house of the same size that was for sale down the street. A low-priced fixer upper in a neighborhood that we've dreamed about for almost a decade? Yes please. 70's wallpaper, blue trim, lumpy carpet and all…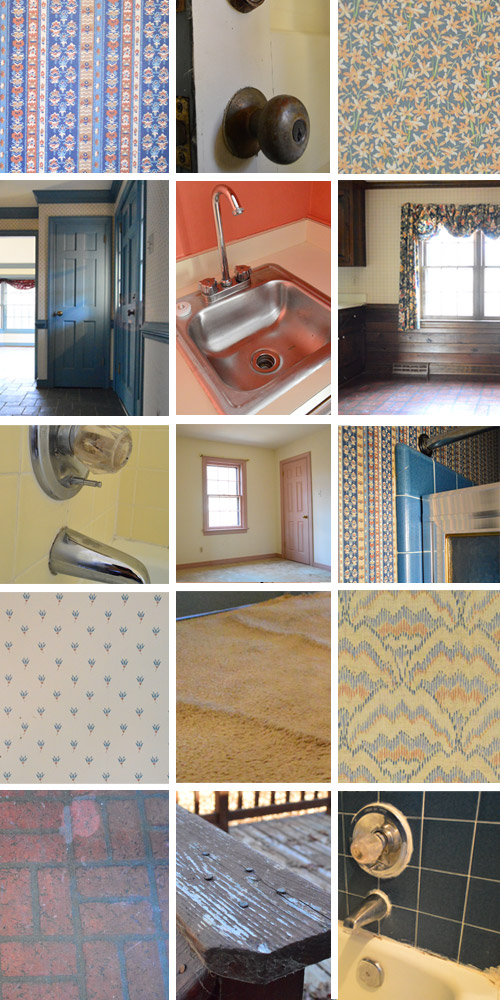 Beyond the price, neighborhood, and glaring need to be rescued – this place is perfect for us in so many other ways. It's nearly the exact same size as our current place (huzzah, no more extra square feet to clean). The street is beautiful and quiet (perfect for someday teaching Clara to ride a bike). It's still just as close to our family (maybe they can watch Clara while we strip wallpaper). And it presents us with so many new design challenges and opportunities that our minds are spinning with ideas. I mean, hello, we have stairs for the first time in seven years of home-ownership!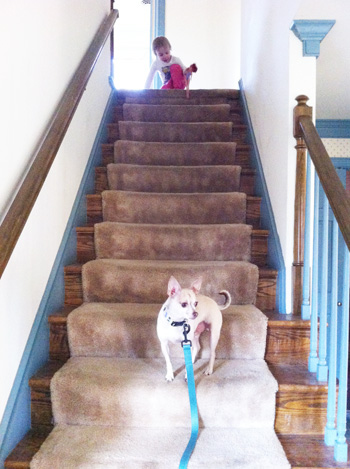 Perhaps the funniest thing is that at our age, my parents were moving into their third house, which was where they stayed for over three decades. So apparently it's in the Petersik blood.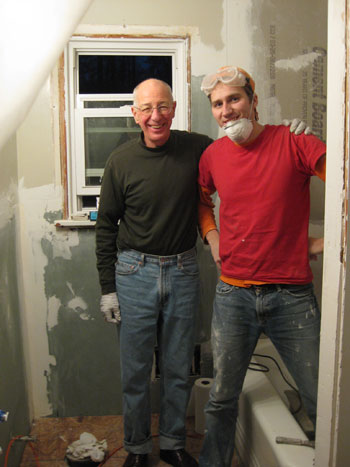 We know that you guys probably have dozens of questions – When are we moving in? (Don't know yet) When can you see more pictures? (Soon) What does Clara think? (She already picked out her room… based on the closet size. Is she 16?) But this post would be ten thousand words if we tried to cover everything, so we'll get to those things in time. We also have a few things to finish around here to get our current house sold (anyone interested?) so in an effort to keep our own minds focused on those to-dos, it won't be all new house posts all the time. We'll just be moving at our usual real-time pace and sharing a little bit of everything that's happening (selling, packing, planning, moving, and diving into our new house adventure).
Did I mention these two are the most excited of all? Okay, three if you count Ariel.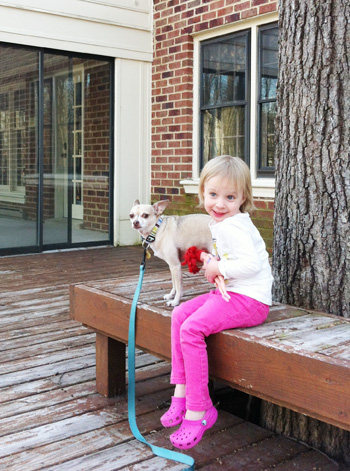 We can't wait to continue sharing the good, the bad, and the ugly with you guys. Seriously, who wants to come paint some mauve trim with us? And if there were a moral to this story, it's patience. This is not "the house the book bought" (we still haven't hit our royalty point), it's the house that seven years of saving up and living within our means bought. Had we strained our wallets and gone for a larger or more turn-key house back in 2006, we probably would've had a very different financial path, and most certainly would have had a different career path. So even though we had to wait a while, it just makes this new chapter in our lives that much sweeter. Who knows, we might just stay there forever…
&nbsp&nbsp&nbsp