People have been asking us what we've been doing to "stage" our house. Short answer: not much. Well, besides generally cleaning things within an inch of their life and stashing some items in the car a la this method. But we haven't put any large furnishings in storage, repainted any walls or ceilings, removed any personal items like photos or wall art, or done any of the other tricks that we've heard through the HGTV grapevine (though I'm sure a professional stager would probably advise us to do some – if not all – of those things to some extent). We figure if people see a house that's clean yet personalized and obviously well loved and lived in, it might be more interesting than a house that has been stripped of all personality and evidence that it has been enjoyed and appreciated. At least that's our point of view at the moment. And thankfully we've had a few really promising showings so we'll keep you posted if our approach ends up working out.
That being said, there is one pretty obvious change that we did end up making. We took a good hard look at the rug in the kitchen…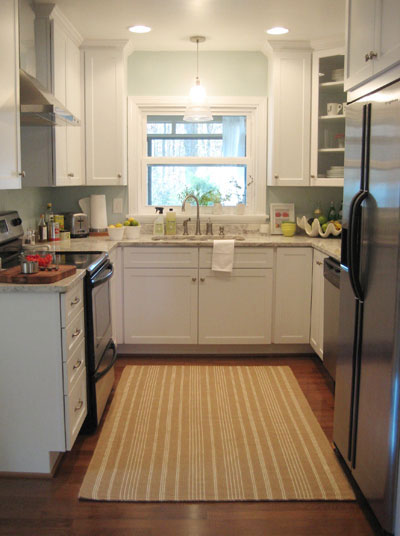 … and decided to nix it.
Even though that's an old "before" photo from our old camera above, we realized the Company Store rug that graces our kitchen floor was doing us a disservice when it came to selling. It not only covered up the hardwood floors (hello selling point!) it also made the space feel less open in person (by creating a big definitive rectangle on the floor). Sure we loved it for the fun texture and softness underfoot, but because people aren't buying a rug (they're buying a house), we realized it was probably a smart call to roll it up and stuff it under our bed. Here's what the room is looking like these days (this pic's taken with the new camera, hence the longer shot, different lighting, slightly different angle, etc):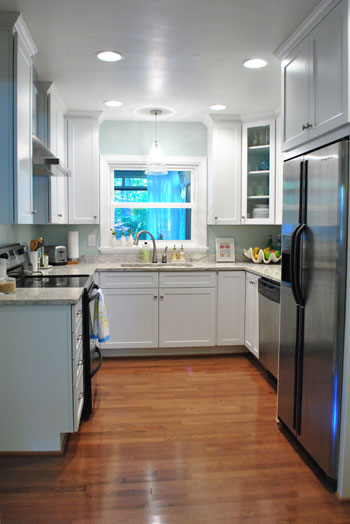 You'll probably also notice that we removed some of the cute kitchen-y items on the counters to declutter things and show off another selling point in there- our granite counters. After all, we're definitely not peddling a cutting board or a bowl of tomatoes, so we want to be sure the real features of the room are the ones that get noticed.
Oh, and our bathroom caught the rug-removal bug too. Gotta show off that marble tile, right? (Don't worry, we bring out our rug friend when we shower so we don't bite it on the aforementioned marble tile).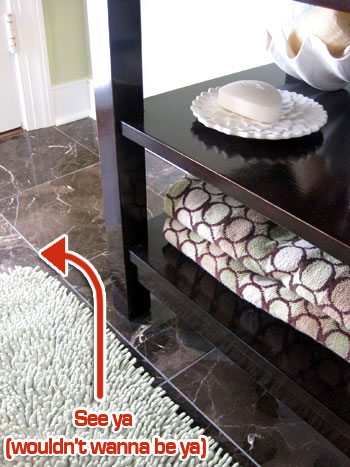 Maybe if none of our upcoming showings work out we'll decide to try a few other "staging" tricks. Do you guys have any house-selling tips (or superstitions) that you wholeheartedly believe in? Or anything that you don't think is worth the trouble?