This morning, while Clara was doing this: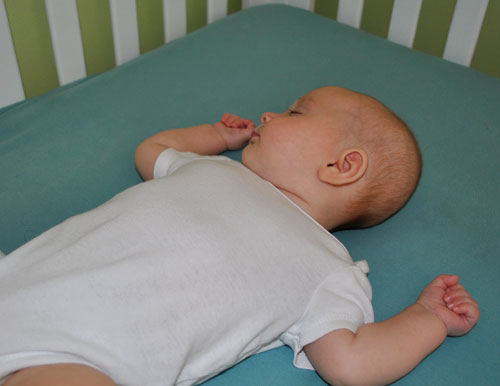 I attempted to tackle this: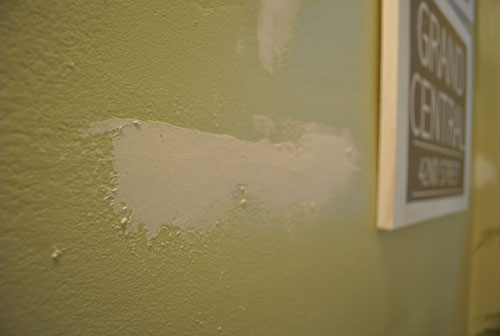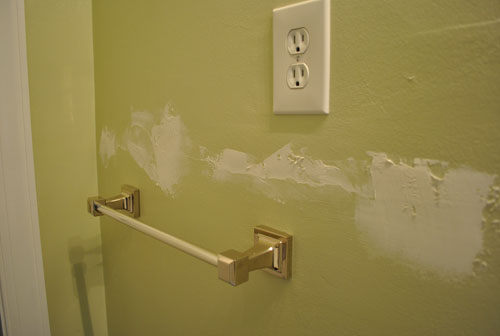 A few days ago I slapped some spackle on the walls in the bathroom (we like Dap Crackshot), because as happy as we were with the big bathroom overhaul, you could tell it was definitely our first rodeo when it came to drywalling. And in our hurry to get paint on the walls we were a wee bit less careful with the mudding and taping than we could have been. But thanks to Operation Sell This House we're making all those never-got-around-to-them tweaks to get things looking as close to perfect as possible. You know, tackling all of those projects that we'll never get to enjoy ourselves but that we hope will woo someone else into moving right in (story of a seller's life, right?).
Anyway, so after the spackle was applied to those cracked and uneven areas of the wall a few days back and I was 100% confident it was totally dry (trust me, semi-dry spackle is not what you want to work with) I finally decided to sand things down. Here are the tools you'll need for this project:
Dap Crackshot Spackle (as we mentioned)
100 grit sandpaper or a sanding block if that's your thing
A bra and underwear (or just underwear if you're male or anti-bra)
A post baby body (well, this one's optional)
Did I lose you somewhere along the way? It's actually quite simple. I learned a long time ago that sanding down spackle is a messy undertaking. So if you're wearing a ton of clothes they all get caked in chalky dust, which flies everywhere when you remove them. So the fewer clothes the better. In fact, if you're particularly brave or into nudism you can totally tackle this project on in the buff. It's not like there are sharp tools that you're using, and heck, you are in the bathroom (or another private room in your own home).
So all this quick fix entails is smoothing on some spackle with a putty knife (I like one with a bit of flex), giving it a while to dry (ideally a few days), sanding it down with 100 grit sandpaper so it looks as smooth and flat as possible, cleaning up all that dust that flies everywhere (we prefer to vacuum it all up while it's dry so it doesn't smear all over the floors and fixtures – which it can do when it's wet), and then hopping in the shower and tossing your undergarments in the wash.
Next up I have to roll some primer and a bit of paint over that sanded down spackle for a cross-your-fingers-that-it-looks-good result (using the same type of roller that we used to paint the whole room should help match the texture for a less obviously "patched" look that a brush can leave). Can you guys handle the excitement? Here's hoping it works out.
And speaking of works out, here's an update on that asparagus plant that the dudes at Home Depot swore I couldn't kill.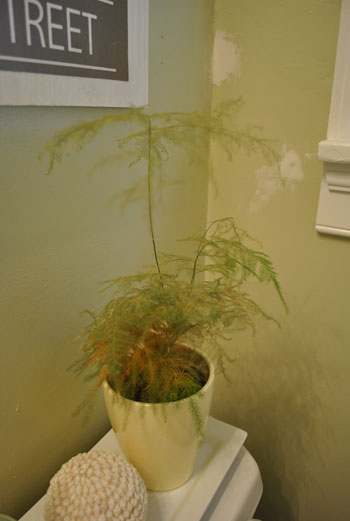 Things aren't looking too promising for him (see what he originally looked like here). Eh, you win some, you lose kill some.