Q: Would you and John consider posting a home buying guide or list of tips for first time home buyers? We are out on the hunt for our first place and we're looking for something that has potential, like your home, but maybe needs a little work and updating. I have read countless articles on things to look for, but I'd be really interested to read your opinion, because you've definitely found a great home and done a terrific job of taking it to it's max potential! -Erin
A: Good question! One of the hardest things about finding the right house is that there's no such thing as the perfect one. It's all about picking the perfect house for you, so figuring out how you'll use a home before you buy it is the challenge. Our biggest tip would be to sit down for hours, maybe even days and talk about what you're looking for in a home. Not how you'd like to use it if you were a debutante, but how you'll really use it on a day to day basis (for example, you might have lofty dreams of entertaining droves of people but you have to look deep inside and be certain that's really how you'll live before you snag the house with the giant formal dining room instead of the TV room that might get eons more use). In our case we opted for a house with two living areas (a living room and a den) so we knew we'd have space to spread out as our family grows.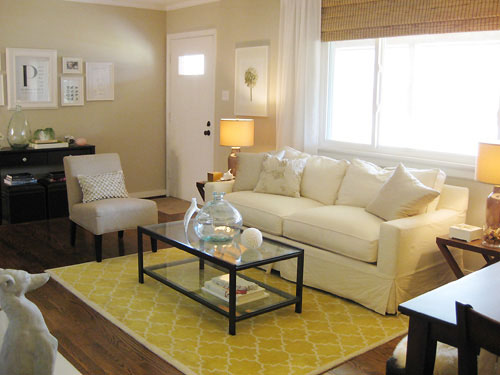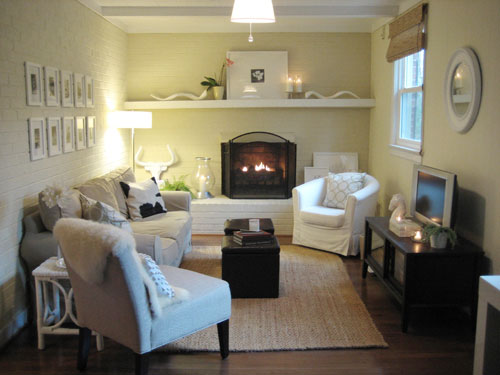 You'll also want to take things like your children or your pet's habits into consideration (will you want a mud room to keep their things organized?) and your own lifestyle (will you want a computer counter in the kitchen with a chair and room for a laptop since you often cook and surf the web at the same time or is that an upgrade that you'd pay for and never use?). All these decisions can be easily organized in a must-have, and a would-be-nice-but-not-necessary list to guide you in your search. For example, these were some of the things on our must-have list:
nice location/neighborhood
good schools
private backyard
at least three bedrooms
at least one and a half bathrooms
garage
This was our would-be-nice list:
wood floors
a fireplace
basement or attic storage
front porch
sunroom
bay window
You can see from our list above that we didn't have things like new granite counters and curb appeal on our list. This is because after a few long what-we-really-want chats we decided that we'd like a fixer upper that we could mold into the perfect house for us instead of paying for someone else's upgrades that might not necessarily be our style. This allowed us to snag a house that was almost 25K less than our budget (so we had some money leftover to put into renovating our new house into our dream home). So if you're looking to do the same thing, we'd suggest asking your realtor to show you homes that don't have any obvious structural issues, but could use some cosmetic updating (this means that a bit of elbow grease and maybe a bathroom or kitchen redo will take the old clunker from ick to ooh-la-la).
You'll definitely want to steer clear of homes that have more obvious issues (for example, a house that has sustained flood or fire damage can turn into a money pit once you inherit it and realize there's a lot more to repair than initially met the eye). And of course getting a thorough inspection before you move in (which will allow you to withdraw your offer if the house is too much work) will help you uncover issues that may have alluded you otherwise). On the other end of the spectrum, you might know yourself well enough to be certain that you don't want to deal with the headache and stress of a renovation at all, so an updated kitchen and new windows should probably be on your must-have list, so you'll end up with something that wows you from day one.
Asking yourself how your house can work the hardest for you and your lifestyle before you buy can really make or break your choice. It's the difference between purchasing a house that would be good for the joneses or good for you and your family. For example, maybe hardwood flooring and granite counters aren't really your cup of tea, but you do laundry five days a week… choosing a house with a spacious laundry room might just be the thing that will have you thanking your lucky stars for years to come. We actually picked our house due to the lot that it was on. We loved the location and the schools (two extremely important things to consider when looking to buy) and the private backyard complete with 9′ privacy hedges and a half acre woods beyond ensured that we could enjoy a serene and secluded existence (and our future babies could play all day back there without worry).
We were hardly wooed by the house itself. After all, it looked like this…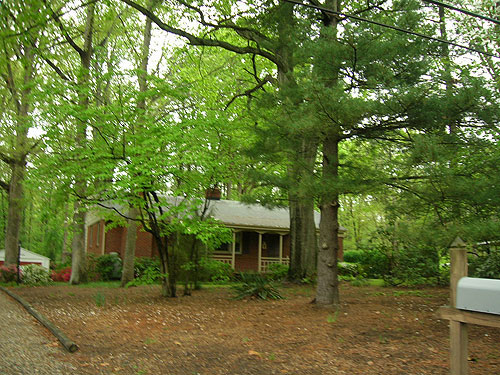 But we could see beyond the bad wallpaper…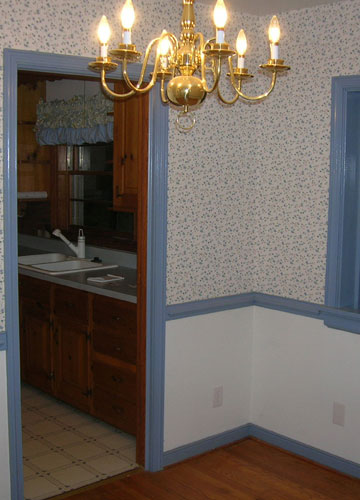 …and the green toilet and the empty rooms to see that it had good bones and a lot of our would-be-nice features and then some! It not only had a sunroom with three full walls of glass and gorgeous private views but it had two working fireplaces, basement and attic storage space, hardwood floors in about half of the house, and a sweet little front porch. So even though it also had terrible floral wallpaper, giant ceiling fans dwarfing almost every modestly sized room, and a whole host of other grievous features (have you seen the stove-microwave combo along with the faux-brick backsplash that we inherited?)…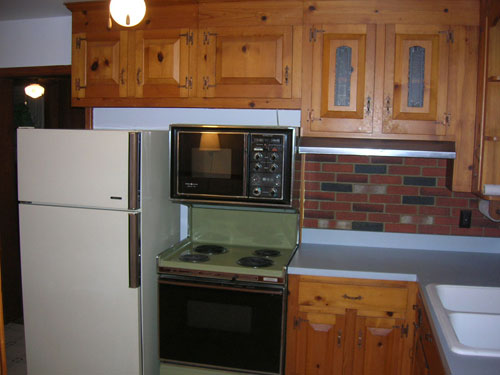 …we knew that some paint and a save-for-it kitchen remodel would take our home from caterpillar to butterfly.
In thinking about how we live we also appreciated the abundance of common space in such a small footprint. Although our home is only 1350 square feet, it still has a back patio, a sunroom, a den, a living room, and a front porch for reading, relaxing and enjoying some downtime- which will really come in handy for our future kiddos who want places to play together (or hide from their annoying siblings). We also liked the layout with the bedrooms on one side of the house (which feels more private) and the more open living areas on the other side of the house. It just made sense when we walked through it, and although we made plenty of changes and it certainly didn't have it all (we would have loved if our master bedroom was on the back of the house instead of the front), it's still the perfect house for us.
Taking the time to write out the cons of a house that you're thinking about purchasing can also be extremely eye-opening. For example, these are some cons that you should probably disregard because in under $100 and an afternoon, you can usually remedy them:
the walls are bright pink/green/yellow etc
there's an ugly light fixture above the dining table or in the bathroom
there's hideous wallpaper with clowns/flowers/fruit on it
there's ugly furniture or clutter on every surface
By contrast, these are a few cons that might take a substantial investment on your part to rectify, which might be just fine with you if you're going into the process looking to redo things, but if you don't have money leftover for renovations you'll probably want to avoid these cons:
the bedrooms are far apart (not on the same floor, etc) and you'd like them together
the kitchen is a lot smaller than you'd like
there's not enough room for your existing furniture
there's hideous flooring throughout the home that needs to be replaced
the aren't enough bedrooms, bathrooms, or living spaces
Keeping the cons in mind as well as the pros should really help you evaluate whether you've found a nice house for someone else, or a nice house for you!
And here's an after-you-move bonus tip: we would suggest waiting a bit to take on any major restructuring right after you buy your home, just to give yourself time to settle in and be sure that you'll really use that dining room turned library or that you truly want to sacrifice the family room for a bigger kitchen. Chances are that your initial instincts were right on track, but we actually didn't think about widening doorways for about 6 months, so if we started our kitchen reno as soon as we moved in, it wouldn't be half as open and airy as it is today. John and I intentionally lived with our house as is (we just painted, but didn't make any structural or layout changes) for almost a year until we were confident that we wanted a bedroom more than a formal dining room (you can read more about how we majorly restructured our home's layout to work for us) and we were certain about what we wanted (and didn't need) in our new kitchen. Hope it helps! Happy house hunting…