House Crashing
We know you guys love seeing a wide range of homes when it comes to House Crashing, so when Katrina invited us over to run around her townhouse and snap some photos to share with you guys, we jumped at the chance. She's a super creative momma who lives right here in Richmond with a lot of awesome found/collected items mixed with things that she has DIYed herself. And here she is now, with her adorable son Luke and her husband Nate.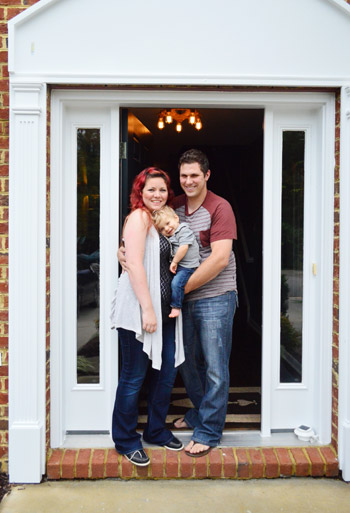 When you enter the townhouse, there's a gorgeous cozy wall color (Gauntlet Gray by Sherwin Williams) that envelops you, along with the rich wood floors that her hubby installed himself on all three floors. Everything from the vintage light fixture to the quirky wooden shoe-molds-turned-coat-hooks really makes the space feel one of a kind.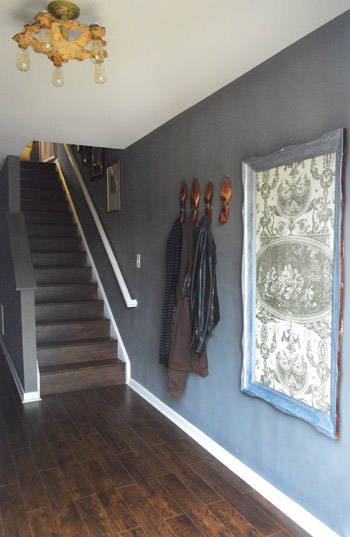 When you walk upstairs there's the living room, which is painted the same rich color, but has a lot of lighter pops (in the furniture, the mantel, etc) along with pretty frames and mirrors to bounce around a lot of light. The starburst mirrors are from Target but Katrina used Grecian Gold Rub-N-Buff from Michael's on them to get that gilded look.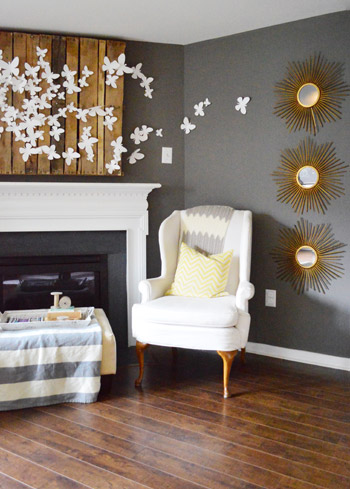 Those paper butterflies were actually something Katrina bought on Etsy (from a shop called Embellished Paper) and pinned to an old pallet to cover up the hole that the townhouse builder had left over the fireplace for a TV (she didn't think putting a TV in there made for the best furniture arrangement since the fireplace is on an angle). I loved the mix of the rustic wood and the delicate white paper butterflies.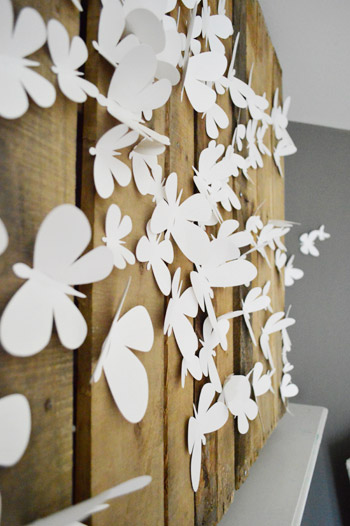 And here's little Luke modeling his play area, which is a mixture of old and new (and DIY and store-bought). The bookcase is from Ikea, but when it's mixed with the old map, the oversized clock, and the mason jars that Katrina painted white and hung on the wall, it has a casual and eclectic feeling.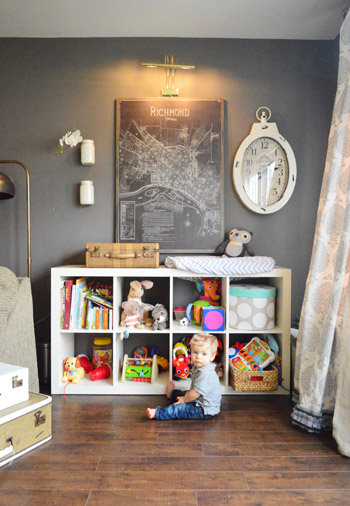 Here's the rest of the living room as you turn to the left of the little play area for Luke. Well, this is what it looked like before they moved in and made it their own…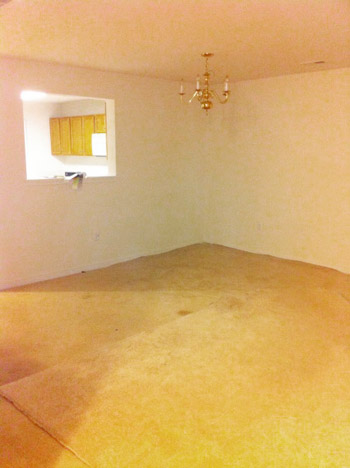 … and this is what it looks like now.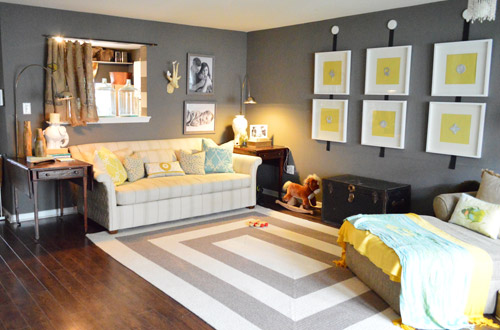 I love how the dark walls balance the light furniture and the large frames add color with those cheerful yellow squares. Katrina just grabbed some Ikea frames and used yellow paper and some inexpensive medallions from the craft store that she spray painted silver inside of each frame to create some architectural art for a steal.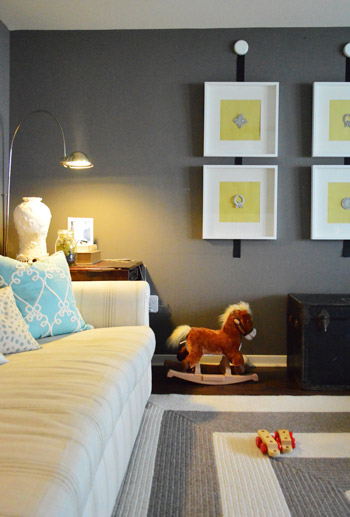 I also love the little touches, like the paper mache deer head that Katrina topped with a few extra butterflies from the mantel project – just to bring that detail to the other side of the room. The cool thing about that deer head is that he's from Z Gallerie and Katrina modge podged him with wallpaper scraps. "He was all white and a little plasticy looking so I made him look a little more special."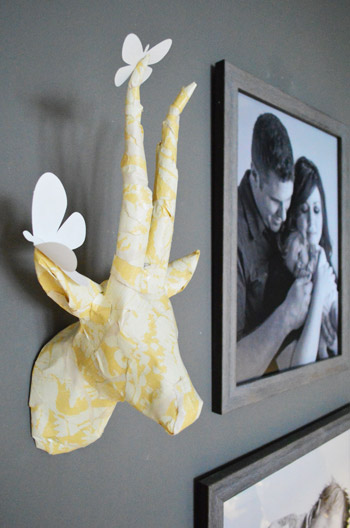 I love that Katrina isn't afraid of making her townhouse stand out from all the others. No detail is too small for her, and I loved noticing small upgrades that she added, like the wide stripes that she painted just on the inside of the pass-through to the kitchen, and the burlap curtains that she added (she made them from old grain sacks herself).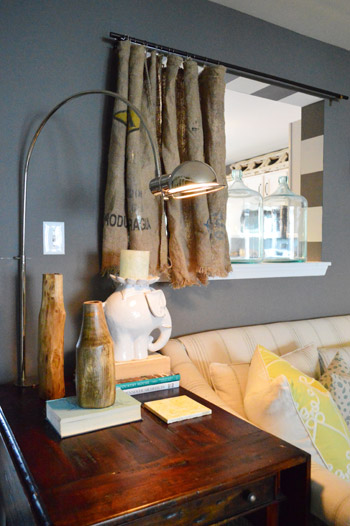 Here's the view of the pass-through from the kitchen. I thought the fact that the grain sacks had designs on both sides was so smart (they're like a double sided curtain with tons of texture and a cool collected feeling). And you know I wanted to rub my face all over those gleaming over-sized glass containers. Katrina's kitchen also brought a giant smile to our faces because the same gray penny tile that we used in our last kitchen was just sitting there, waiting for me to pet it. So I did.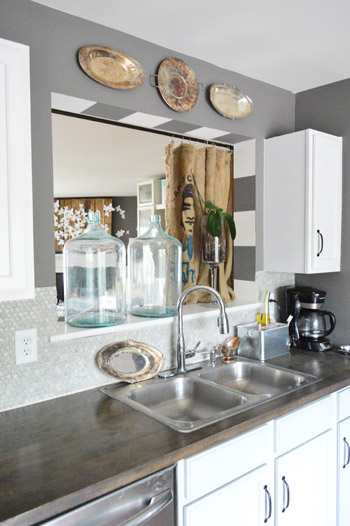 The dark wood counters and the painted cabinets with cool dark Ikea hardware stole my heart too. But my favorite part of the kitchen was the awesome built-in banquette that Katrina and Nate added to the other side of the space. The giant white mirror almost felt like a window, and the shelf on top with pretty decorative baskets added extra storage. I'm a huge fan of Katrina's lighting and furniture choices too. They just looked easy yet really elegant. The chairs and table are both outlet finds here in Richmond (from The Decorating Outlet).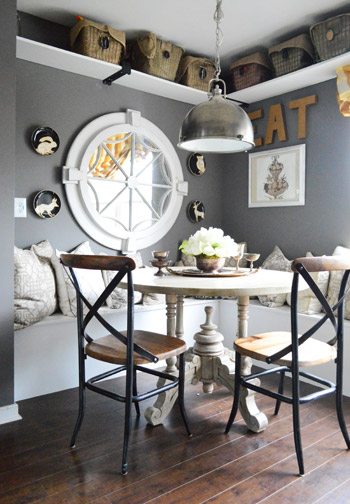 Mirror detail. Me-ow. Katrina bought it at an auction in Lynchburg for a steal.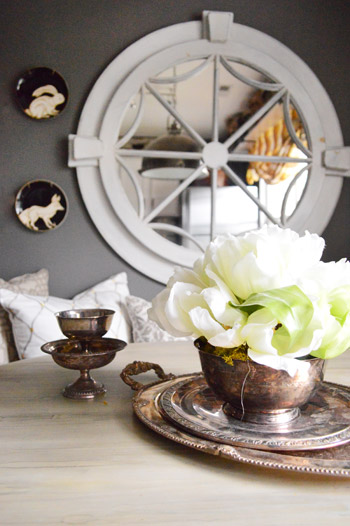 Katrina used the same cozy and rich gray tone on the walls of the first and second floor, yet on the third floor where all the bedrooms are located, she lightened up with this soft and gorgeous blue tone (Oasis by Olympic). Walking up to this floor definitely felt airier and softer, which was a nice distinction for the bedrooms I think. And of course the art on the stairs had me at hello. I especially loved the wood planks with vintage glass bottles that Katrina wired up herself.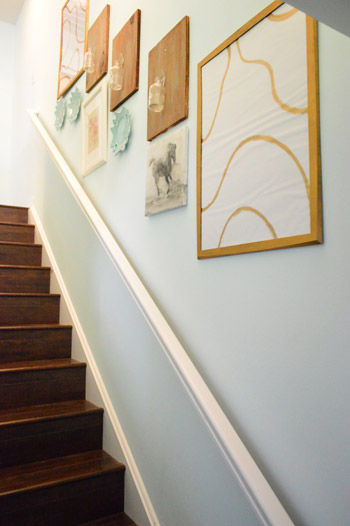 Here's Katrina and Nate's bedroom, which had a sweet lofted ceiling, fluffy white bedding, and an elegant tufted headboard. I also loved that vintage gate next to the bed (Katrina uses it to hold her jewelry)…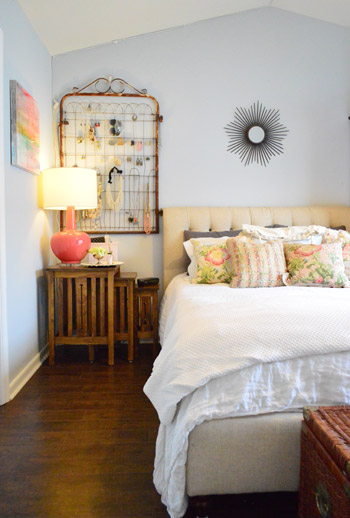 … and the oversized coral-pink lamp (it picked up some of the tones in Katrina's homemade art that was hanging above it). She used pastel crayons on a canvas to make the art and then poured thick clear resin over it for a polished look (you can grab resin to DIY your own version at Michaels or JoAnn's).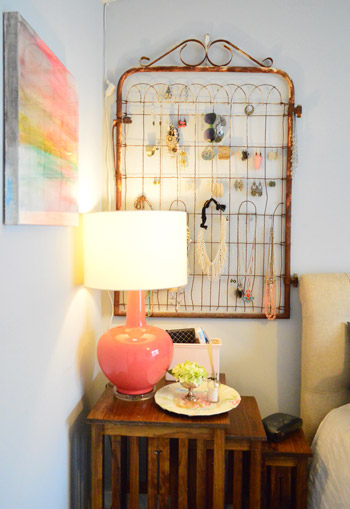 The nursery was really charming too, with light colored furnishings and a sweet tree decal kit on the wall, which Katrina made her own by adding little chalk creatures poking out of the trees.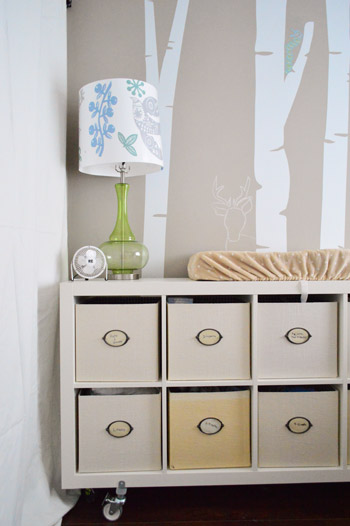 I wish the wider shots of the room had turned out, but we did manage to snag this curtain detail that captured another one of Katrina's tweaks that was really charming. She took inexpensive Ikea curtains and colored them just using a regular old sharpie for a watercolor-ish look that was painterly and whimsical.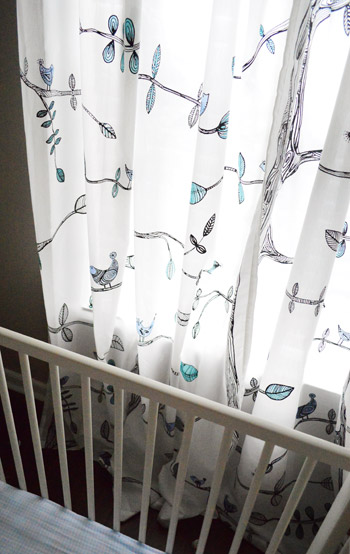 So thanks so much to Katrina for opening her house up to us and letting us share all of the inspiration with you guys! Let's play the favorite-part game. I'm calling the eat-in area of the kitchen, and John's all over the color palette shift that occurs when you transition upstairs (it really felt like you were up in the clouds on that top floor).
Update: We just learned that Katrina used to have a blog, so although she no longer updates it we thought we'd share it in case you wanted to check it out.

************************************

&nbsp&nbsp&nbsp
Psst- Sorry about yesterday's truncated post, Reader users. There was some bad code in a video we embedded (we like to feed full posts, so if you ever see a shortened one, something wonky's going on).

We're painting something again today! Who's surprised? Anybody? Nobody? We'll be back with the goods tomorrow, but in the meantime we thought this house tour was so charming and creative that we had to share it. It's a great example of a someone buying a house and just going for it, without being even a little afraid to make it theirs. And if there's one thing that we've learned in this whole home-making journey of ours, it's that the more personal you make a space the less it might appeal to someone else (like your mother-in-law, the mailman, or your handsome pool boy) but the more it can feel like "you" – and really, that's what matters most. So stamp your house up baby. Leave your fingerprints all over that thing.
But on with the tour! First of all, how sweet is the exterior of Laura's house in Reno?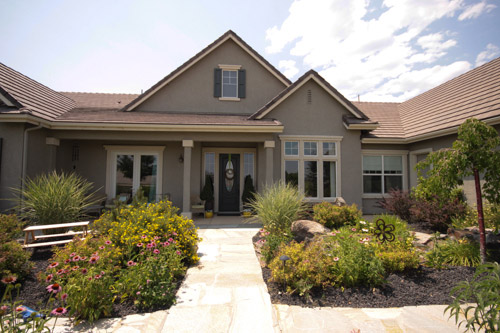 Here's Laura now, with her dog Emma. She's also the mother of three kids, so you know, she's not busy at all.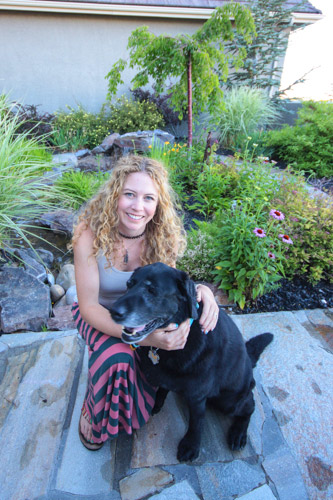 When you enter her home she has a wide foyer area with a curved wall, which is where Laura and her husband Dan got creative. Yup, she made shelves from old secondhand chairs that she painted a soft seafoam green color (Seacliff Heights by Benjamin Moore) and hung right onto the wall (after chopping them in half). I love the little potted plants that are resting on each chair-shelf. Here's more on how she did that project.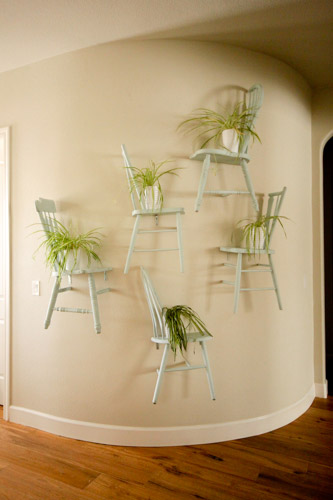 Speaking of creativity, check out her dining room. Yup, the entire wall is filled with shutters that Laura painted in a bunch of soft beachy tones. Isn't it amazing? As for where she got them all, many came from the Habitat For Humanity ReStore, thrift shops, and Craigslist. I'm also a HUGE fan of both the light fixtures and the chairs (which she found on ebay). It's such a cool personality-filled room that she made all her own. And that table is actually an old conference table from a nearby university.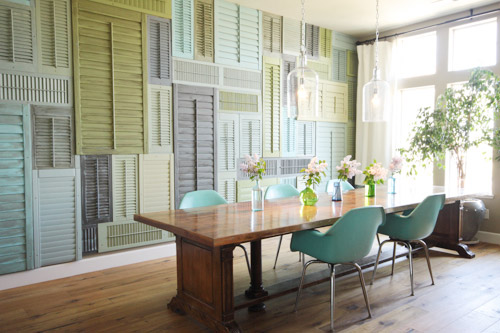 The kitchen is another classic-meets-creativity example, thanks to traditional white cabinetry and subway tile mixed with playful hanging pendants that Laura and Dan made from Home Depot lamps. I love that they don't take themselves – or their home – too seriously. And the industrial bar stools (which were once science stools at the same university as her dining table) are another fun touch.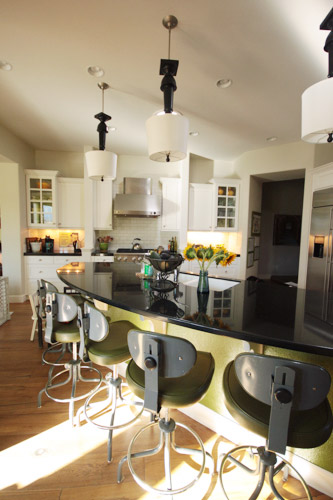 Laura decided that closing off this doorway made for better flow so she casually hung some secondhand window panes to subtly divide the space while keeping things airy. I love that colorful bench too. She picked it up at a thrift store and spray painted it Lagoon by Rustoleum and then glazed it for a less-new look.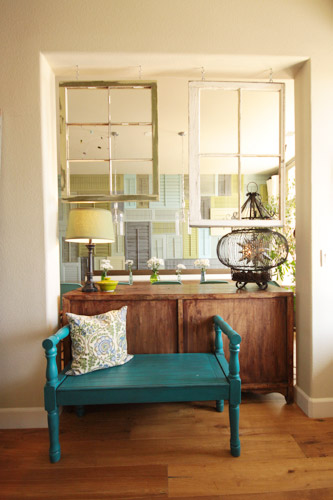 Laura also added height and a breezy and cozy vibe to their bedroom, thanks to sheer curtains from Ikea that she hung from the ceiling for a makeshift canopy affect.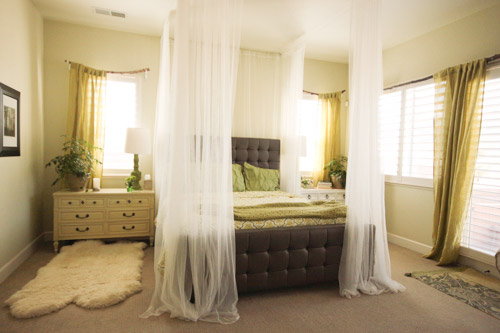 Their master bath has awesome tile that mimic's Laura's childhood 1920's home. I love it with the extra thick black counters and the white cabinetry.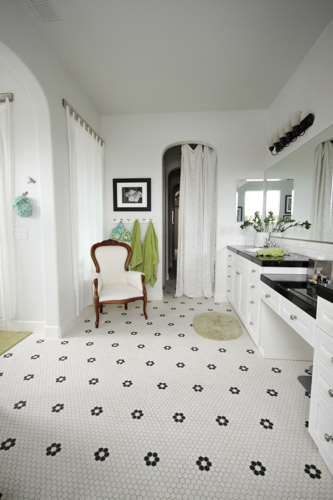 Laura would love to take the subway tile all the way up the wall behind the tub to the ceiling, but in the meantime she added a really cool old ladder that she found at a thrift store for a couple of bucks and a few hanging plants.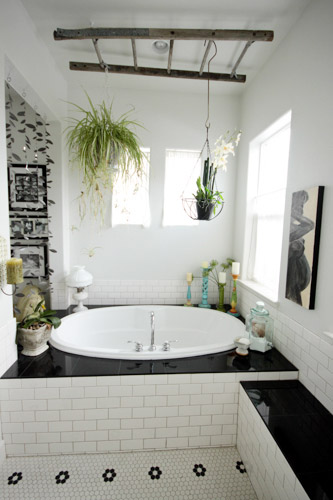 Thanks so much to Laura and her husband Dan for sharing their gorgeous home! I hope you guys were as inspired by their fearless approach. And of course you can check out more about every project and room here on her blog. But before I get back to painting, let's play the favorite part game. Mine's the shutter wall in the dining room. Especially with those gorgeous glass pendants hanging down in front of it. Me-ow.
************************************

&nbsp&nbsp&nbsp