We're back with an amazingly gorgeous home to share, and this one is actually located in downtown DC. We had a blast meeting and greeting Adam and Amber, and of course when they showed us around their Capitol Hill rowhouse we couldn't contain our excitement. Here's the happy couple now…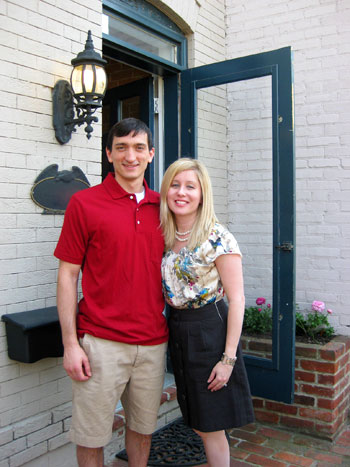 But back to the whole "couldn't contain our excitement" thing. Do you see why? This is the view as you step inside. Their home is a modest 1000 square feet but they definitely squeezed all the beauty and function that they could out of it. Everything from the small scale sofa to the mini dining room that they created (the round table can actually accommodate six people in a pinch) makes their home usable yet oh so beautiful. And touches like oversized art and a giant lamp add interest and play with proportions in just the right way (if everything was mini it wouldn't look half as chic).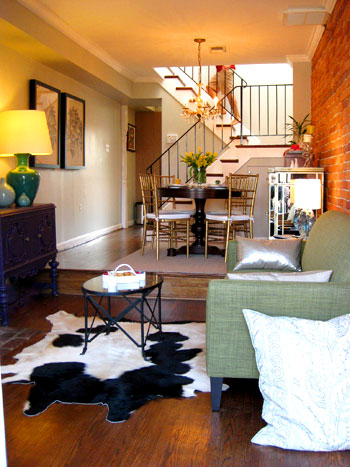 We also love how the single step up into the dining room delineates that area from the living space without closing anything off. And even the airy iron banister keeps things feeling open so your eyes can sweep through every corner of the space without interruption when you enter. Of course the mirrored buffet, the leggy metallic dining chairs, the glass based lamp, and the delicate chandelier keep the airy and spacious vibe going strong.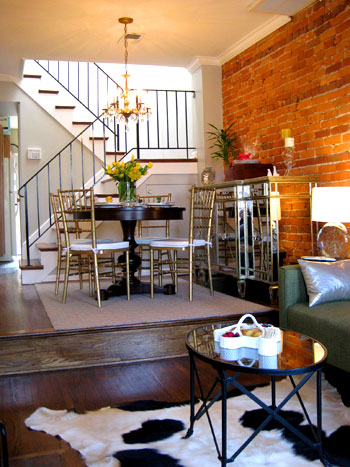 And have you noticed how sweet that table setting is? Amber is actually an awesome event planner, which didn't surprise us a bit. Every nook and cranny of her house was inviting and insanely charming.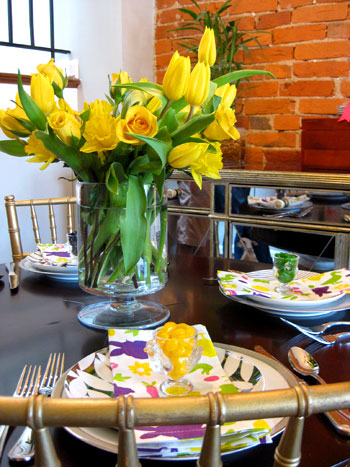 But this home isn't just easy on the eyes, it's full of genius small space ideas. See that eggplant colored chest to the right of the flatscreen TV? It's actually where Adam and Amber keep all of their TV components so they can quickly be hidden behind closed doors when they entertain. It's a great solution for anyone looking to mount their TV above a fireplace without leaving their DVR box out in the open nearby. And the icing on the cake is that the deep plum colored component cabinet was actually an affordable Craigslist find. Jealous yet? Yeah, we were too.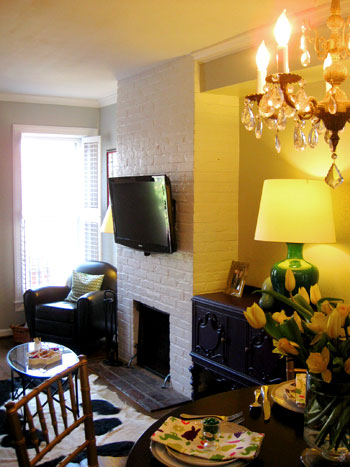 Oh and the view as you climb the stairs is pretty amazing too. Looking down on their living and dining spaces really emphasizes how well they've used every inch of their home without creating that cramped and cluttered feeling that could definitely sneak up on anyone with this modest floor plan.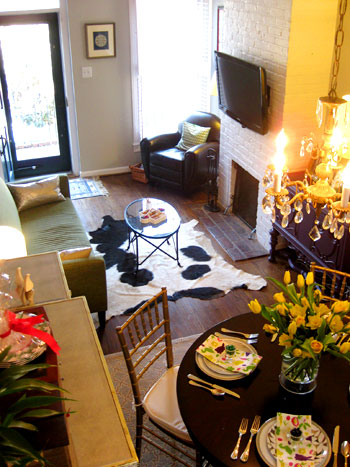 But onward and upward. Literally. Here's their second floor hallway that connects the guest bedroom/office to their bedroom (on the other side of the house). We were super smitten with those two-tone doors (which Amber just taped off and painted with the same gray color – Stonington Gray by Benjamin Moore- that she used on the walls to accent the six panel detailing). Isn't it architectural and lovely? And it's such a cheap (free, actually) project for anyone to take on with their extra wall paint and some blue painter's tape.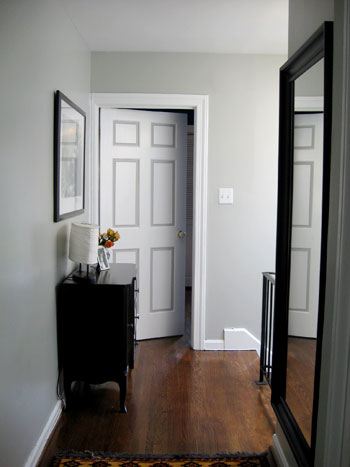 And did you notice that pop of orange on the hallway chest in the photo above? Let's take a closer look shall we? Amber actually loves making brooch bouquets with vintage pins that she finds on ebay or at the flea market. All she does is use green floral wire to attach them to wood skewers and then she uses green floral tape to wrap the entire skewer for a stem-like effect. Mix in a few real blooms and you've got the most charming little bouquet around.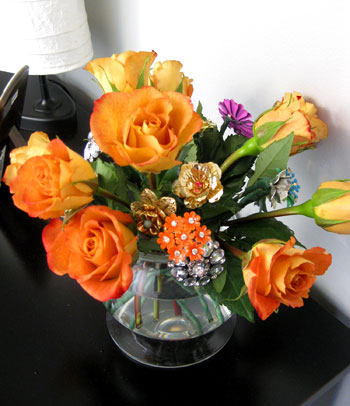 But on to the guest bedroom slash office. Don't you love that bold peacock blue? We adore how fearlessly it pairs with the punchy pomegranate colored CB2 daybed. And a collection of mixed and matched art along with a patterned curtain and a printed pillow really finish off the room in style.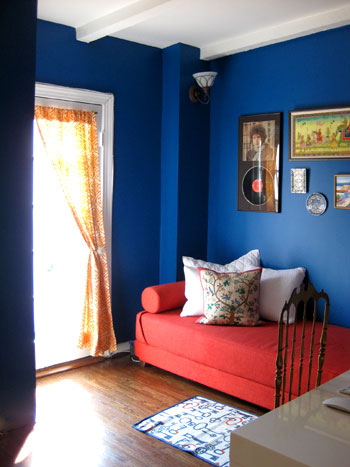 We can't forget the bathroom, full of cheerful pops of green and a printed shower curtain to keep things interesting. An abundance of white tempers these splashes of color and pattern for a fresh and vibrant effect, and we love that the bathroom is pretty much as it was when they moved in (no major bucks were spent renovating) so it really shows that sometimes just a few accessories can amp up a space and make it feel crisp and current in a snap.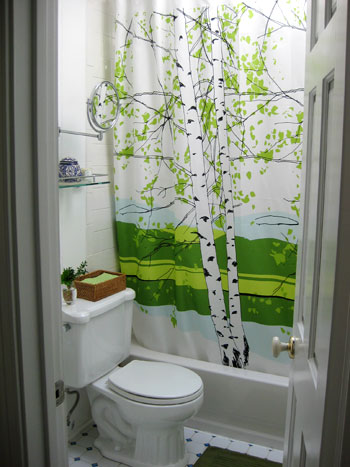 And behind yet another fun tone on tone door, we bring you their bedroom…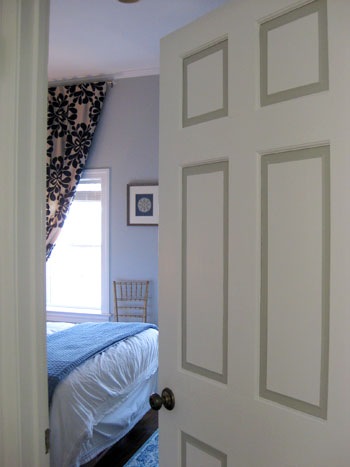 The super tall ceilings are accented by dramatic high-hung drapes, and Amber plans to DIY a giant upholstered headboard (using this tutorial) for the wall behind the bed to balance out the height on the window wall (fingers crossed that she sends us photos of her masterpiece when it's completed!).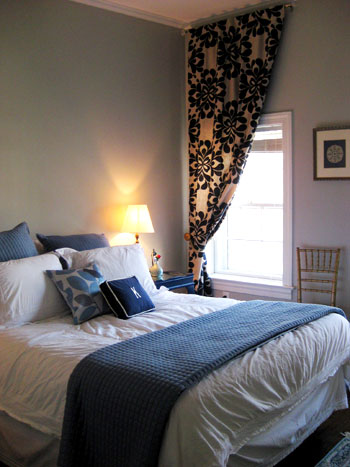 And we noticed a second door related DIY project that we loved, this one involving those metal radiator sheets that you can buy at any home improvement center on the cheap. Adam simply cut out the horizontally slatted tops of their closet doors (they didn't like their shutter-like appearance since the rest of the doors in their home were of the flat six-panel variety) and inserted the patterned metal pieces in their place.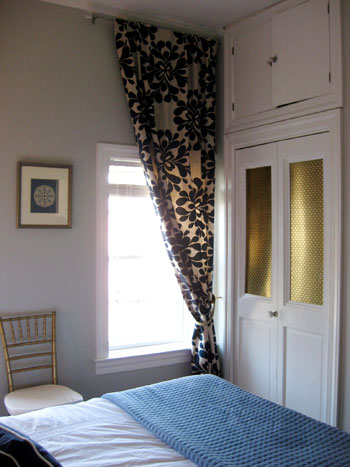 And they're lucky to have two closets in their bedroom, so it feels nice and balanced to have one set of metallic doors on each side of the room. Especially since Amber stores her two extra dining chairs in the bedroom (which have the same hammered gold tone as the metal door inserts).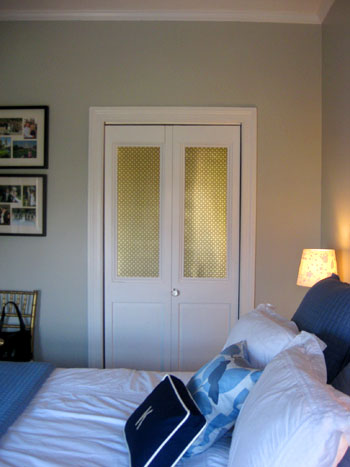 As for the kitchen, it's still a work in progress. But Amber has promised to send us some follow up photos down the line when they finally tackle it. And speaking of fearlessly tackling DIY projects, Adam had actually just completed this brick patio in their backyard just a day before our arrival. How's that for made-it-myself mojo? Of course they still have to get some furnishings (and Adam's even talking about building in a grill area) so we'll be sure to share those photos whenever they get 'er done.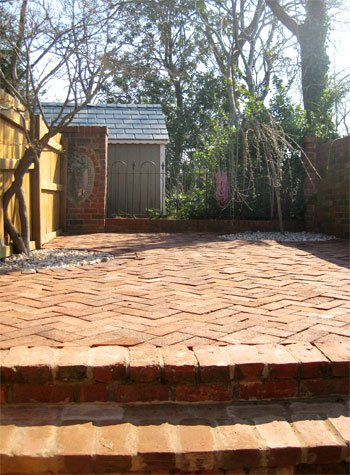 And because we know you guys appreciate a source list, here's some info on the paint colors and furnishings that grace Amber and Adam's lovely home:
All paint except for office (including door trim): Benjamin Moore's Stonington Gray, office paint: Benjamin Moore's California Blue, liv. room couch: Crate & Barrel, pillows: West Elm, coffee table: secondhand store, side table: Target, lamps: Crate & Barrel, leather chair: TJ Maxx, purple TV component piece: Craigslist, tall floor lamp: Ikea, cowhide rug: Craigslist, dining table: Mitchell Gold + Bob Williams, chandelier: Craigslist, mirrored buffet: Horchow, dining room rug: Dash & Albert, dining room art: Crate & Barrel, dining chairs: purchased at a deep discount from an event rental company, office daybed: CB2, hallway dresser: Crate & Barrel, hallway lamp: Ikea, hallway floor mirror: Ikea, shower curtain: Marimekko, bath accessories: Target & vintage finds, bedroom curtains: Anthropologie, bedding: Martha Stewart for Macy's, throw pillows: West Elm and Land's End.
So there you have the latest house that we paraded through with our camera in tow. We love how inspiring other people's spaces can be (from providing two totally unique and chic door makeover ideas to brooch bouquets and even TV component hiding ideas). Plus the fact that they saved money by DIYing things like the back patio and weren't afraid to look on Craigslist for items that wouldn't break the bank is the icing on the cake. Thanks so much to Adam and Amber for generously inviting two house-loving strangers into their home to poke around! There's nothing we'd rather be doing. Now lets play the what's-your-favorite-part game. Everything about their home is just so stunning it's hard to pick just one fave…
Psst- We're always on the hunt for a mouthwatering house (or ten) to crash, so if you or anyone you know has a casa that's feature-ready just shoot us an email along with some photos of the space and if we're ever in the neighborhood we'll be sure to drop in.