Decorating
Q: Hey guys! What's your opinion on mixing metal finishes in a room? Thanks! – Shelly
A: Do it! We don't really like anything that's too matchy-matchy, so as long as you make it look deliberate and layered (as opposed to haphazard and mismatched) the end result can be chic and elegant. For example we have a chrome-based floor lamp in our den, along with oil-rubbed bronze curtain rods and they both stand on their own and don't look mismatched because we repeat both colors & materials again throughout the room for an intentional effect. In other words, nothing is a sore thumb when you have a number of oil-rubbed bronze thumbs sharing a space with a number of brushed nickel thumbs. Does that make sense?
For example, in this house that we crashed here, there were a lot of stainless elements (the hood, the appliances, etc) and the lantern was a hammered gold color along with some other accessories in the room, so it all looked intentional and layered instead of accidental or mismatched.
In short: as long as you don't do all chrome and one thing in an oil-rubbed bronze finish, it won't look mismatched. Instead it'll look intentional, layered, and possibly even more effortlessly stylish than strictly sticking to all one color. Although in particularly small "concentrated" spaces like a modestly sized bathroom (with a faucet that's just a few feet away from the showerhead and a light fixture) you may want to keep things consistent (for example: modern chrome all the way or antique bronze for every fixture and door knob) just because things that close can look less layered and balanced in different tones. The last thing you're going for is an I-updated-half-the-fixtures-but-left-the-rest-so-they-don't-match effect. So that's our take on the whole hardware quandry that haunts many a homeowner. Hope it helps!
And speaking of finishes (like oil-rubbed bronze, antique brass, wrought iron, chrome, and brushed nickel) we'd love to know your absolute favorite. We're torn between the easy care (no fingerprints ever!) of brushed nickel and the quiet elegance of a simple oil-rubbed bronze curtain rod. Tell us all about what floats your boat in the hardware department. We're all ears.
Psst- Itching for our take on matchy-matchy furniture? Check out this post all about what we think the "rules" should be in that department.
&nbsp&nbsp&nbsp
We're back with another update on John's sister's little-boy-on-the-way nursery that we've been transforming for the past few weeks (see how we painted stripes and hung mirrors here). This week's project is a custom crib skirt that we easily whipped up on the cheap with fabric that we snagged on sale and without the use of a sewing machine- or even a needle and thread! Here's how:
Simple, right? We love that all you need is some fabric you heart, a measuring tape, an iron, hem tape and a bit of velcro. And this was actually our first time taking on a project like this, so if we can do it on camera you can totally follow along at home (hopefully with an iron that's on). John's favorite part was when I said "you'll have a ribbon of stick" when I was struggling to describe the iron-on tape. Eh, you win some, you lose some.
And speaking of winning, how great is it that Emily can now shove a ton of stuff under her crib and no one will ever be the wiser? Especially since she thought she couldn't have a crib skirt in a modern baby-boy nursery for fear that it would look too frilly or traditional for her tastes. Thank goodness for that inky blue geometric fabric! We love that it's clean and modern yet oh-so-kid-friendly at the same time. Kids like shapes, right? Especially paired with zoo animals.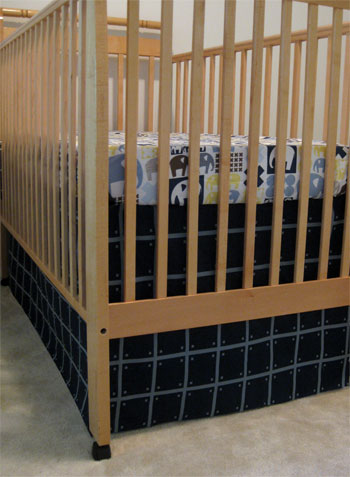 So that's the rundown of our crib skirt adventure. Stick around for more DIY nursery undertakings and of course the big reveal. And because we know you appreciate a budget breakdown, we'll leave you with our total cost for this entire project: $35. And that includes velcro, iron on hem tape, and two yards of high-end-but-on-sale fabric. We probably could have done the whole thing in under $15 but we fell hard for the fancier fabric and didn't look back. And a custom $35 crib skirt still isn't bad at all when you consider that this one from Restoration Hardware Baby can run ya $80.
Oh and we even had enough extra fabric leftover to make a pillow for the chair next to the crib so that's also included in the total (we're going to use the fabric in reverse for a complementary lighter blue pop of color nearby). Can't wait. Seriously is it nerdy that this stuff gets us all giddy and hyper? Do any of you guys have a DIY nursery project of your own going on right now? Any buns in the oven out there? Any kid room makeovers in general (from toddler to big boy or tween to teen for example)? Let's hear it.
&nbsp&nbsp&nbsp