Three cheers for a $12 fifteen minute project that makes us giggle. Because sometimes you just gotta laugh. We switched out the old knobs on our dining room built-ins.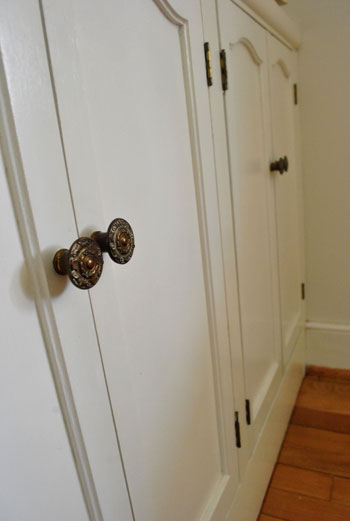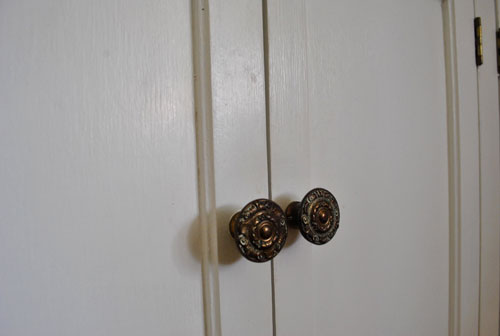 The first step is to put on your safety goggles and protective gloves. Kidding. The first step is to unscrew the old ones and the second step is to screw in the new ones. So easy. Here's a little in-progress action shot for ya: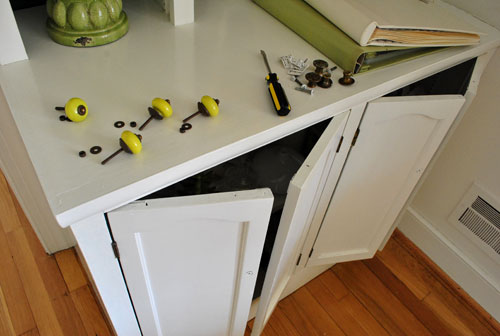 And here are the new ones all "installed":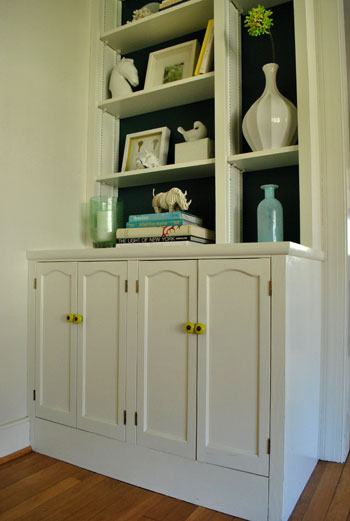 But back to the whole monster eyeballs thing. When I fell in love with these greeny-yellow knobs at Hobby Lobby (for $1.50 a pop thanks to a 50% off sale), it never crossed my mind that they're a bit similar to the eyeball-esque hardware that we inherited with our kitchen. Remember this weird (and wonderful?) post about that?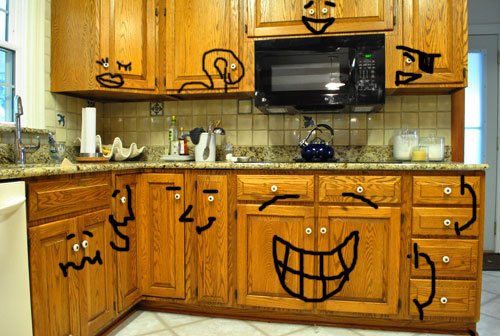 Anyway, somehow we missed that they might look like monster eyeballs (you know, because some monsters have yellow ones instead of white ones) until we got them home and screwed them in and John started laughing about the obvious (but not to us until that moment) similarity. Although somehow in yellow and oil-rubbed bronze they feel a bit less eyeball-y and more playful and eclectic than the more cartoon-ish black & white ones in the kitchen. At least that's what we're telling ourselves.
We love them anyway. Monster eyeballs be darned.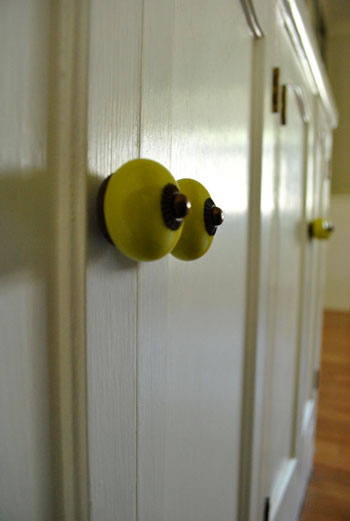 Especially with the teal backing of the built-ins above them – such a fun color combo.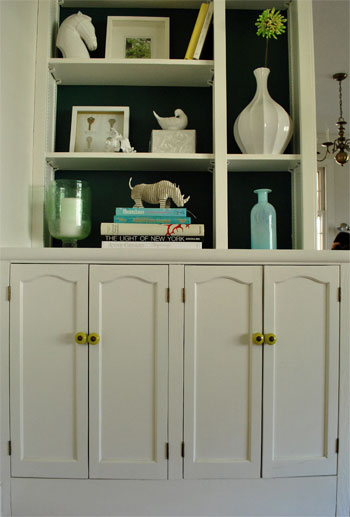 Thankfully from most vantage points they look more like fun yellow knobs than body parts of any kind (but from Clara's line of sight they might continue to look like monster eyeballs for a while, which she might get a kick out of). Either way, once the walls go soft gray and we add curtains and art and chairs and a big opening to the kitchen we're sure the knobs will hardly be the focal point. We could probably get little alien butt knobs and no one would notice.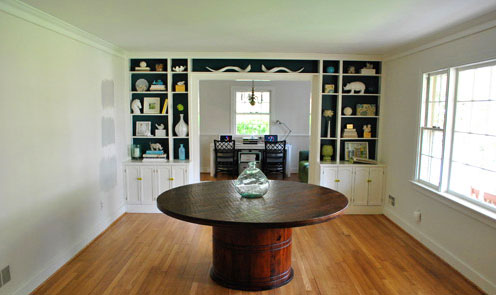 So that's a little $12 makeover that makes us smile (and makes our built-ins feel fun and kinda funky). Sidenote: I hate the word funky. It always makes me think of smelly feet or old cheese.
New theory: every house needs at least a few monster eyeballs. We have nine thanks to the one on the closet door in the guest room.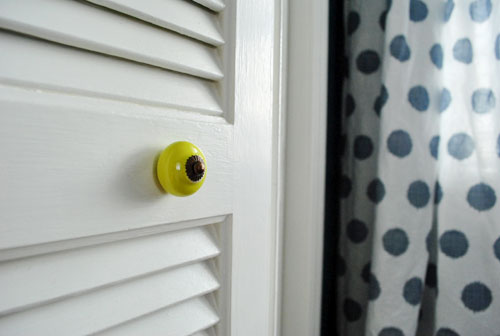 Methinks that's just enough.