Cleaning, Organizing, & Eco
The closet next to our front door was an obvious place for our coat closet when we first moved in. But since our definition of "coat closet" seems to include random stuff like cleaning supplies (vacuum, dust buster, etc) as well as miscellaneous files and bags, we quickly realized that it was smarter for us to use the deeper closet under the stairs for that stuff instead. It's slightly closer to the garage anyways, so it's actually a more convenient spot for daily coat access (not that I'm ready to admit summer's over yet).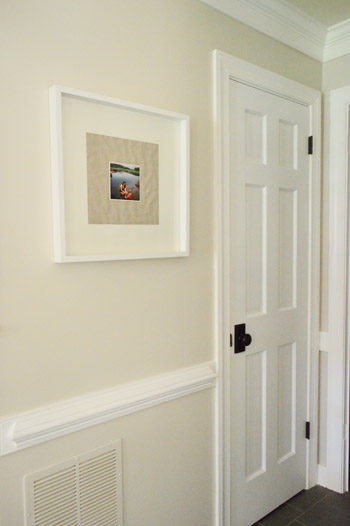 But that left this lonely guy next to the door without a job to do. And what's the opposite of having a job? Playing with toys. That's what.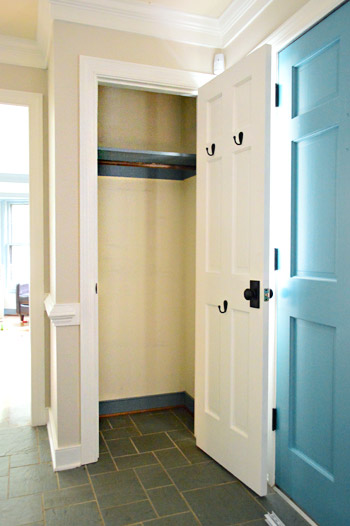 Well, not so much playing with them as storing them. I'll get to the "why?" of this toy closet in a moment, but let me start with the "how?" since it was kind of lacking in the shelving department. We considered building some more shelves like the existing one up top (i.e. nailing wood braces to the wall and resting a board on top). But we decided we wanted something with more flexibility (so that we could alter the shelf spacing over time). So after perusing the options at a couple of stores, we landed on this Rubbermaid option at Home Depot (but with wood shelves, not wire ones).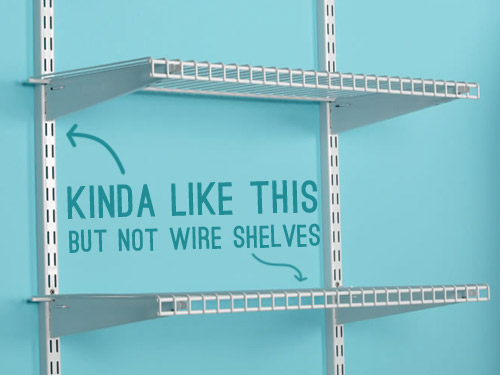 Installation was pretty straightforward. Pun intended, since you do have to be careful about keeping your tracks straight and level when hanging them so your shelves don't look all wonky. I used my laser level to help me mark my drill spots so they lined up and the shelves would be nice and straight.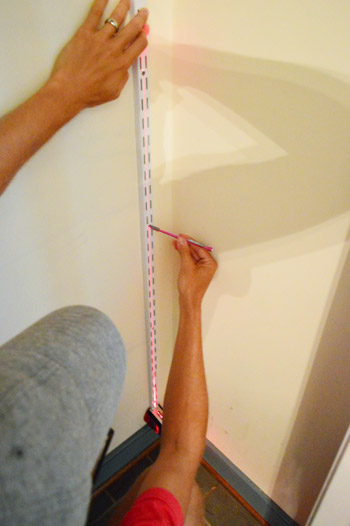 Rubbermaid sells a hardware pack that comes with anchors and screws, so it was kind of a no brainer. I just drilled a hole in the wall at each spot, tapped in the anchor, and then screwed the track securely in place.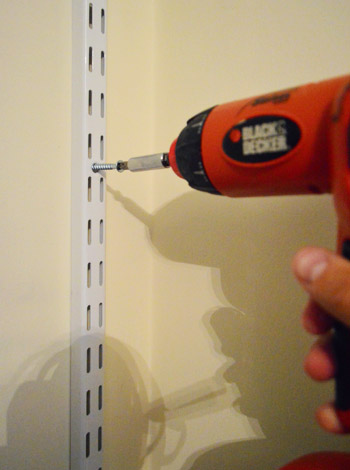 When placing the second track I again wanted to make sure it was level with the first. Don't mind the green slime on my yardstick. It was a victim of this paint spill in the garage.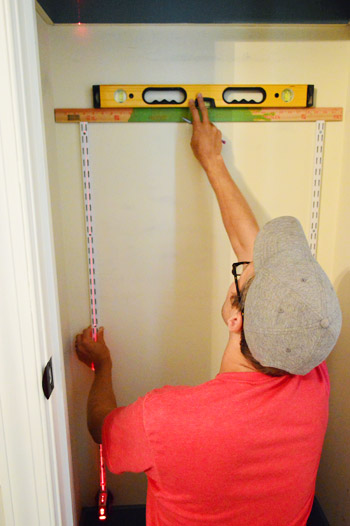 Once both tracks were in place, I clipped in the brackets and rested the shelves right on top of them. Our closet was just an inch-ish narrower than the 36″ stock white shelf they sold, so it did require a quick cut on the table saw for each one.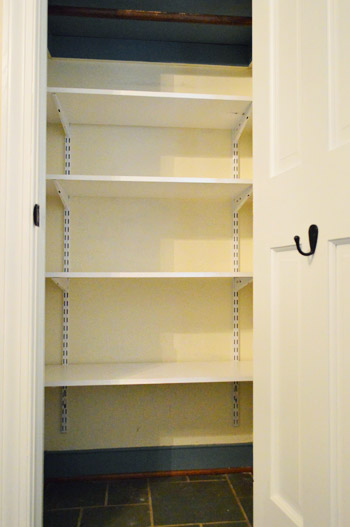 Certainly not the sexiest shelving unit I've ever laid eyes on, but considering it took me about an hour to install and it'll be behind a closed door most of the time, we're satisfied customers. Especially since it made this closet approximately 89.542% more functional, and we can move the shelves to be closer together or further apart, depending on what we're storing. Here's the cost breakdown:
Four 12″ x 36″ shelves: $14
Eight 12″ brackets: $28
Two 48″ twin tracks: $13
Two hardware packs: $4
TOTAL: $59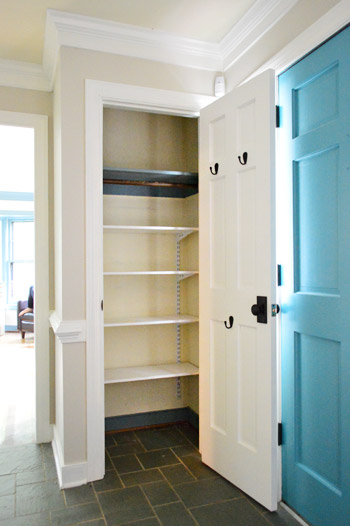 With "construction" done, Sherry gave the existing blue shelf and baseboard a couple coats of white primer and paint and then loaded in the toys after everything dried.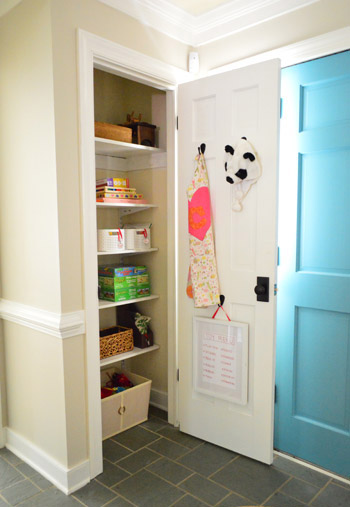 We know some of you might be scratching your head at this. A toy closet in the foyer? And with things she can't even reach? Plus, where can I get one of those panda hats? Well hang on to your bear-less heads, for I will explain…
Clara's at an age where it's tough for more than a few favorite toys (like her play kitchen or her dolls) to keep her interest for more than a minute or two. So she can be that typical three-year-old tornado that burns through an entire jumbled basket of cars, balls, puzzles, and games in five minutes. We also have a few things that we don't keep readily accessible to her since they're supervised activities, like painting, markers, play-doh, etc. So that's where the idea for this toy closet, er, toy library comes in. We figured we could still keep a basket of her favorite toys out in a few rooms where she plays (along with larger things like her dollhouse and play kitchen) but the rest of those easily-dumped-and-ditched items might feel more special and exciting to her if they're not always jumbled up in a basket that's right under her nose.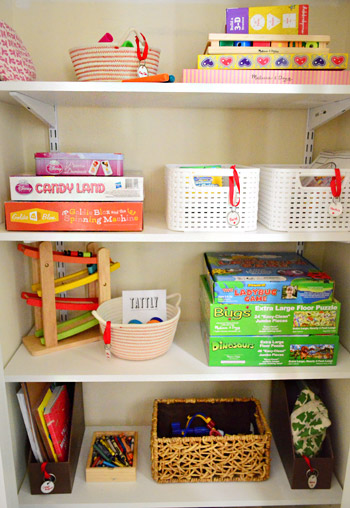 We call it a "library" because it's meant to have the same effect that library books have on her versus the books that we have around all the time. Library books seem special and new, keeping her excited and attentive longer. So we've taken a bunch of her existing toys and activities out of the everyday access spots and organized them in this closet (which is centrally located, so it's actually a convenient spot). Here's how it works:
Clara often plays with a few favorite toys that are still out in baskets, but if she decides she'd like something from the closet, she just asks us and we help her get the item that she wants
She can only "check one thing out" at a time, so one thing must be returned before another is taken out (this is already really inspiring her to clean things up before asking for something else)
We hope this will work for us long-term (growing up Sherry and I both had a closet with shelves full of board games and movies, so we think even for older kids this could come in handy – especially since we can adjust the shelf spacing).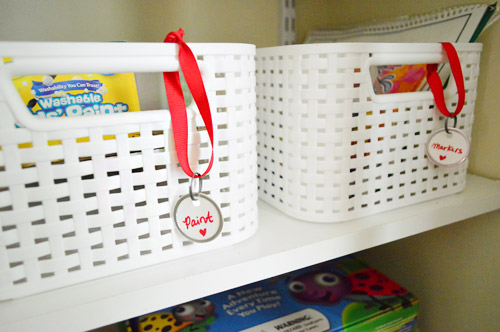 We debated organizing with cute image or photo labels (since Clara can't read the words yet) but since it's a grown-up guided activity (meaning we'll be the ones getting things off most of the shelves for a long time since they're out of her reach anyway), we stuck with text labels for now. Sherry even repurposed a frame to make a little "menu" of what's inside so she can quickly offer up some suggestions to Clara without digging through all the baskets and bins to remember what's in there.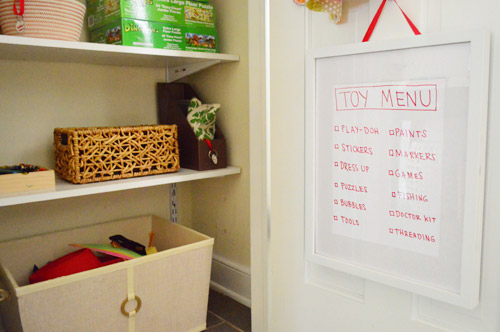 The toy library closet has actually been in use for a couple of weeks now (we wanted to wait to report on how it's working for us – just in case it was a huge bust and we decided it was a better tool closet or something), and so far it's working even better than expected. I sort of anticipated this being one of those "a 3 year old won't bend to your need for systems and order, Petersik!" moments but Clara actually loves it. It seems to be helping with her attention span and how long she plays with things (we've had a couple marathon marker coloring sessions lately) – and it's definitely helping her better grasp the concept of cleaning up one mess before making another.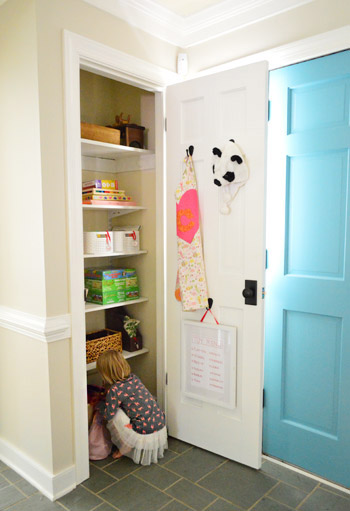 So yes, we may be the weirdos who greet our guests with a basket of finger paints and an over-sized dinosaur puzzle, but the former library employee in me is quite proud of our little closet. Ooooh, maybe we should make library cards?! Too far, Petersik. Too far.
&nbsp&nbsp&nbsp
Everywhere we turn these days there are things that need updating. Some just for aesthetic reasons. Some for functional. Some for both.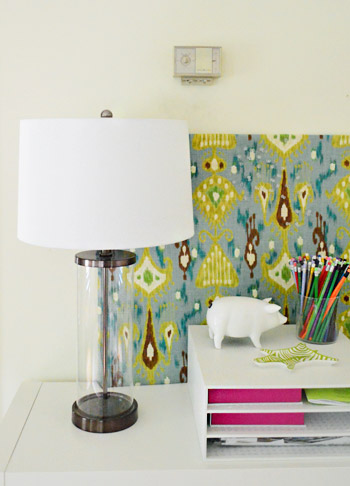 Enter our old timey, first floor thermostat in our office. We figured with our new furnace system it'd be a good time to update this to something more energy efficient.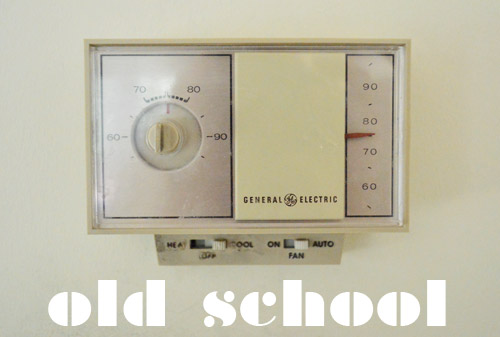 We made the swap to a programmable thermostat in our first house, so this time around the tech geek in me begged Sherry to let us take this upgrade a step further – especially since so many of you have commented about loving your Nest. To my surprise, she agreed. And that's how I found myself holding one of these babies.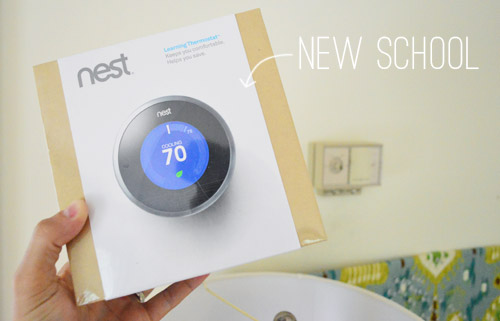 But let me back up for a second. Nest is a "learning thermostat" that keeps a record of your habits (when you turn the heat or AC up, when you're home or away, etc) and creates and adjusts a schedule for you. Meaning it can be even more intuitive than a typical programmable thermostat – and therefor can save you more money. It can even sense when you're home (and turn itself down if you're not). It was designed by people who helped make the iPhone, so it has a bunch of other cool features I'll get into later. I've wanted one since they came out in 2010, but they've been priced fairly high. But with the recent release of their 2nd generation thermostat, prices on the 1st generation dropped…
In fact they dropped so much that I had trouble finding them. I finally found some across town at a Lowe's about 30 minutes away. So I ran over there with a change of address coupon that we received after we moved.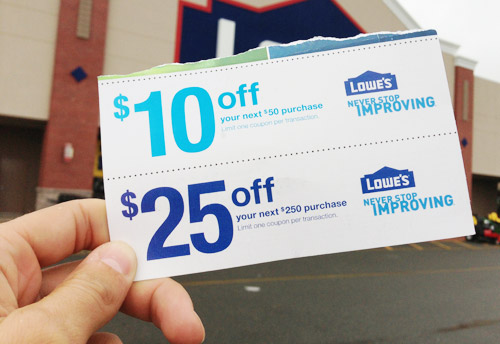 We decided to buy two Nests since we have two systems (one upstairs and one downstairs). So with the reduced sale price, the additional $25 off from my coupon, and the 5% discount that I got for using my Lowe's credit card (which the cashier was happy to give me despite it not working initially with the coupon) it took our price per unit down to $158. Still a lot for a thermostat, but considering the new ones are $249 it was a we-saved-$180-on-two-of-them victory. And the fact that our downstairs furnace was replaced by our home warranty helped us rationalize spending $300 after we saved around $5,000 on the new furnace.
As for the installation, I'll admit it had me a little worried. I'd heard that it's not compatible with all HVAC systems (and our upstairs unit is pretty old) and generally I worried about breaking this expensive little thermom-o-robot in the process.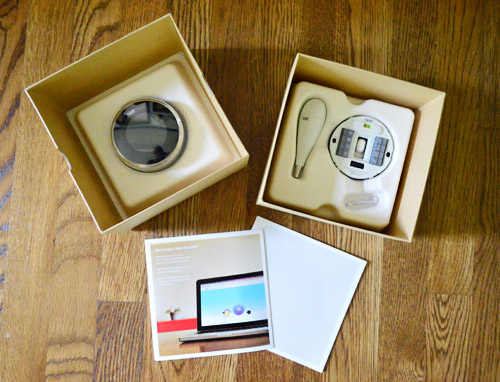 I started downstairs. The first step was removing the old unit, which was pretty straight forward. First I pulled off the face. Then (with the power turned off at the breaker!) I unscrewed the inner plate so I could reveal all the wiring behind it. Nest kind of thought of everything, so they even included a small screwdriver that made this easier. (PS: Nest isn't paying me to gush – they don't even know we bought these – I'm just kind of in love with this thing).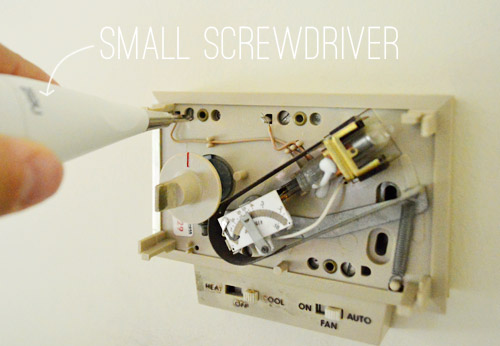 Here's the inside of our unit. It looks kind of like you're about to defuse a bomb. But following the installation instructions eliminated just about any fear that this project was going to blow up in my face.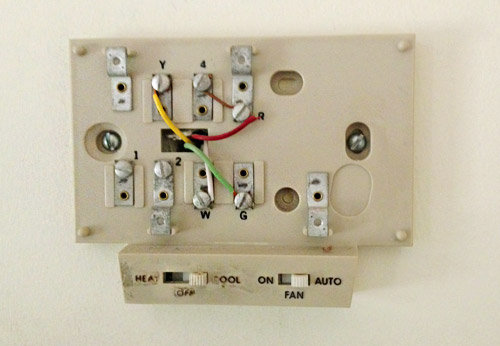 In addition to a handy installation video, they have this cool "Compatibility Check" online that helps guide you through how your wiring works (or doesn't work) with Nest. Admittedly, I probably should've done this before I took so much trouble to buy the darn things…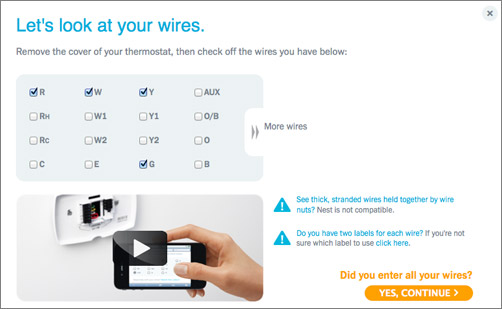 But good news. We were compatible. And not only that, the instructions included a personalized guide for how I should connect my wires to the Nest unit. Seriously. If only all instruction manuals were this easy.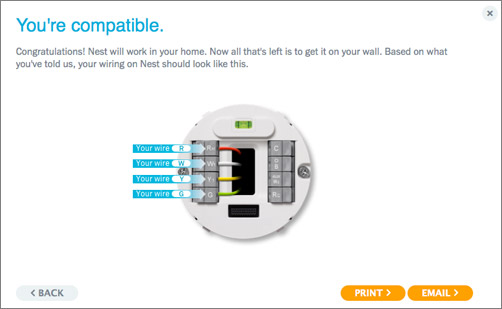 Also filed under "thought of everything:" the paper manual that came in the box included these wire labels so you wouldn't risk confusing which red wire went where once everything was removed from the old unit. I didn't use them since mine were so straight forward, but this still earned points in my tech-nerd handbook.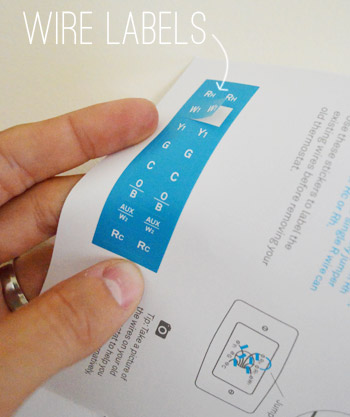 I detached all of my wires and then removed the last bit of the old unit from the wall.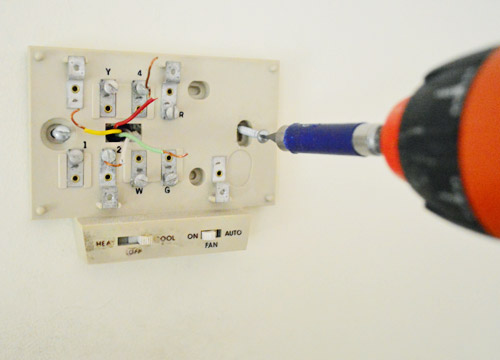 Then I just slid the Nest base back in its place.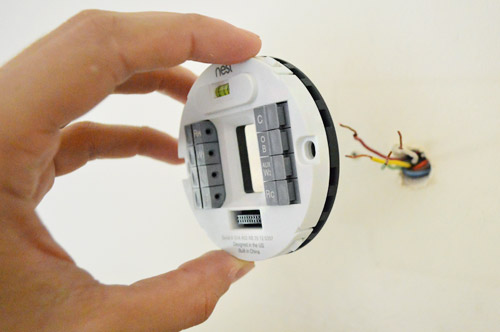 I was also crazy for the fact that there was a tiny little level built into the base so you could be sure it was hanging straight on your wall. Genius.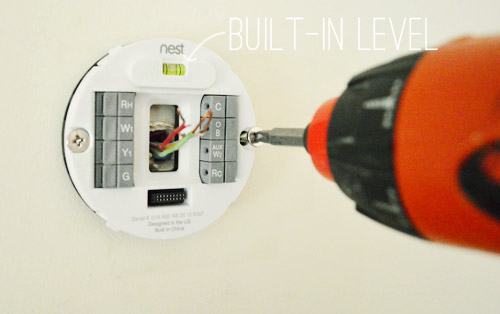 Then, based on my personalized wiring guide, I just popped my wires back in place using the little tabs. Super easy.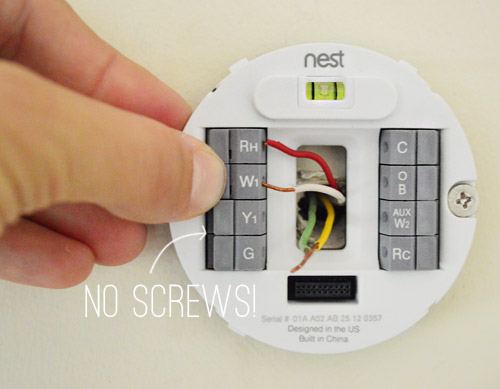 For the grand finale, I snapped the face into place and…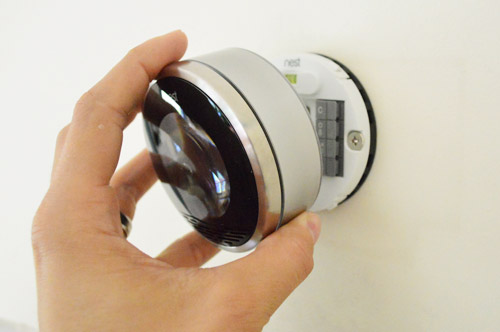 …turned the power back on. There were a few set-up steps to get Nest going, like telling it what type of heating we had and connecting it to our wi-fi. This was perhaps my only gripe with the whole thing – entering in a long alphanumeric password was a bit tedious. #firstworldproblems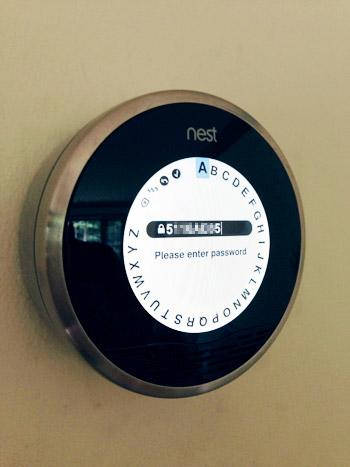 The wi-fi is cool because it allows me to access our thermostats from my phone. Nest always touts this as a feature to use when you're traveling so I didn't think I'd find much use for it. But on the first night I found myself turning the AC up from bed because it was too hot in our bedroom. Yup. Felt like I was sleeping in my fancypants.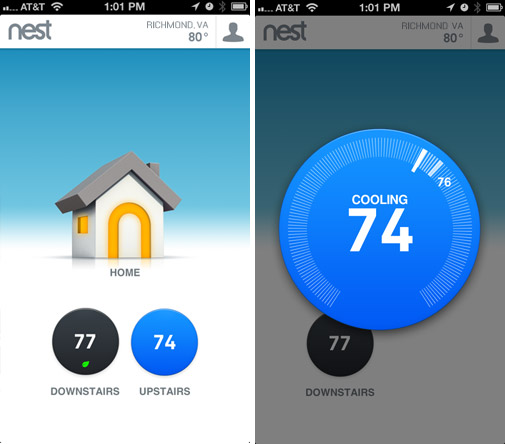 It says it takes a couple of weeks to learn your schedule, so we've yet to experience the beauty of that. But I'm especially grateful to have it in this house because we're already finding that temperatures fluctuate a lot in here thanks to the intense afternoon sun we get. Hope you catch on quick, Nest-dog.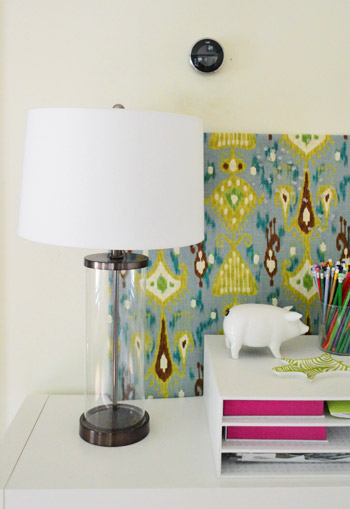 Oh, and part of me worried I'd regret not spending the extra dough to the 2nd generation version, but besides working with more HVAC systems (which isn't an issue for us, luckily) the differences are apparently mostly cosmetic. The newer version is a little slimmer, doesn't have the small grill at the bottom, and has a shinier side so it better reflects your wall color. Those all sound like nice-to-haves, but not worth the extra $180. So personally I'm glad we got the units we did. Perhaps I'll bite my tongue when they release the 3rd generation that babysits your kids and folds your laundry too.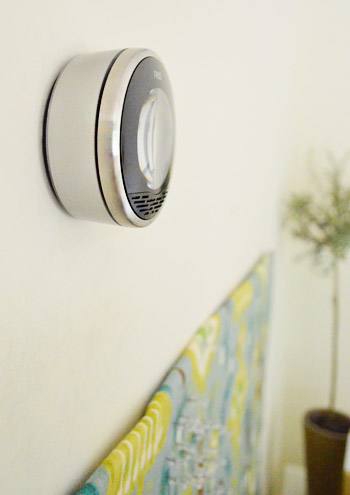 Oh, and before I end this lovefest (lovenest?) I have to share one more anecdote about installing it upstairs, where we had a less ancient thermostat already in place on the wall. I expected it to be the easier install, but when I went through the compatibility check I got this alert. Ruh roh. .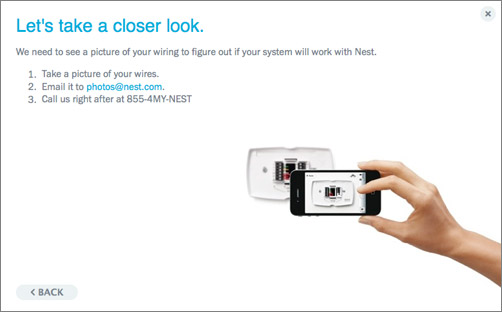 But I followed instructions and in like five minutes I was already getting off of the phone with a Nest representative who had looked at the photo I emailed and described how I should hook up my wires. Brilliant.
So I think overall it took me less than an hour to install both units – which is a miracle for any project where I'm also stopping to take blog photos. I couldn't be happier.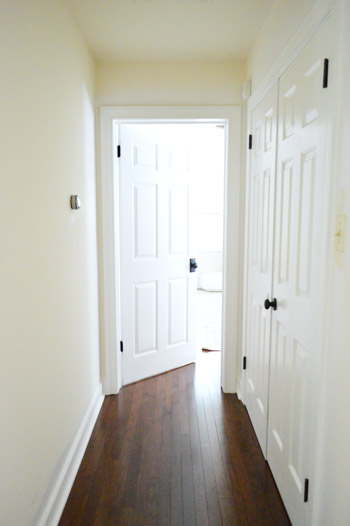 Well, I could be a smidge happier I guess. Apparently a lot of localities offer rebates to reward Nest owners for making an energy efficient choice (Nest has a list of them here). Our area isn't doing that yet, so after a few phone calls to our electric company and gas company I struck out at getting any sort of money back. Oh well, at least I'll get a tiny write off for donating our old units to Habitat for Humanity (along with actually saving money by heating/cooling the house more efficiently).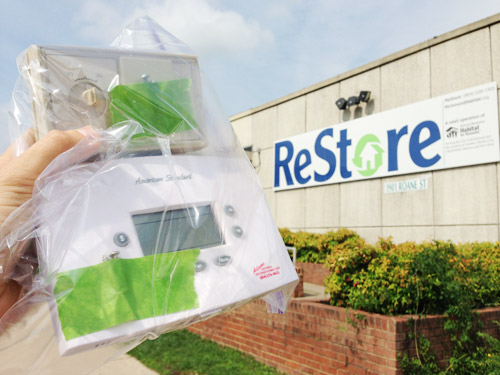 Anyone else out there have a Nest? Got any tips for me? Or has anyone else made a tech-y upgrade lately? Wait, maybe forget that last question. Sherry probably doesn't want you guys giving me any more ideas…
&nbsp&nbsp&nbsp