Blogging
It's been nearly three years in the making, so it's hard to believe that the day is finally here that we can share our longest-stretching side-gig to date. We've been designing a collection of products… and a bunch of them are now being sold exclusively at Target (!!!). Cue the sound effect of a cat sprinting out of a bag.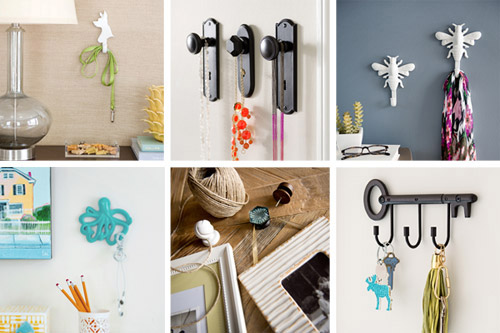 We designed three or four dozen pieces before the final mix was chosen – and those designs, which are an assortment of wall storage and hooks, are available right now at Target.com and will be on endcaps in most US stores starting March 31st.
You'll be able to find them in the Home Improvement section where they'll be hanging out for 14 weeks. Did I mention that we're freaking out like Clara next to a furry mascot that she "just wants to hug and squeeze"?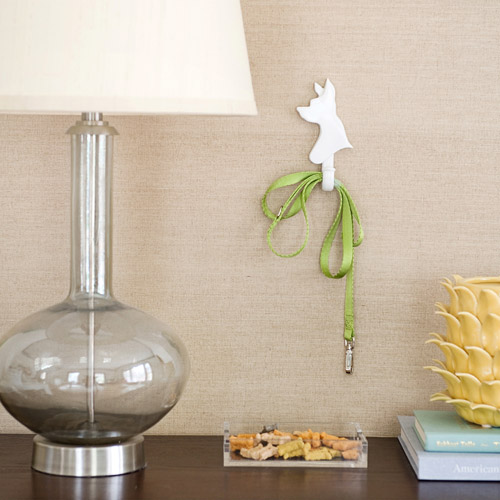 To say we never thought something like this would ever happen to us might be the biggest understatement of our blogging careers. And even when this process started rolling waaaaay back in July of 2011, we never expected that it would end up here.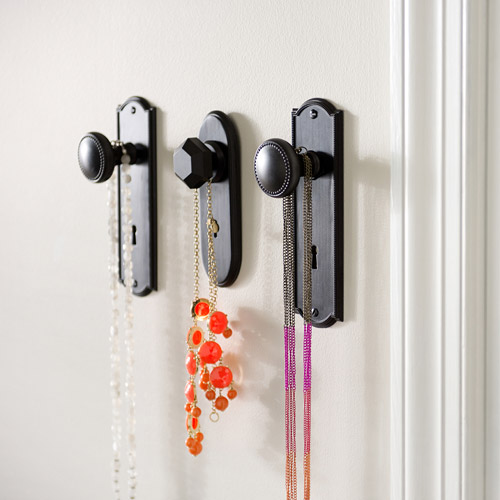 When you look at the collection you'll notice that we've adapted a lot of things that we love – from bees and old skeleton keys to a certain ridiculously handsome chihuahua. And everything's priced at $14.99 or less.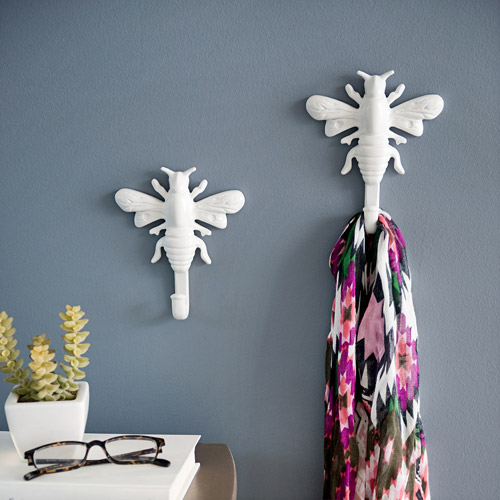 We even included a bit of DIY customization in the mix, thanks to these raw wood hook rails (one with a picture ledge on top, and one without) that you can personalize with paint, stain, wallpaper, decoupage, or whatever else you have on hand. Then you can choose any of the four hardware styles in either oil-rubbed bronze or white and screw them into the predrilled rail holes.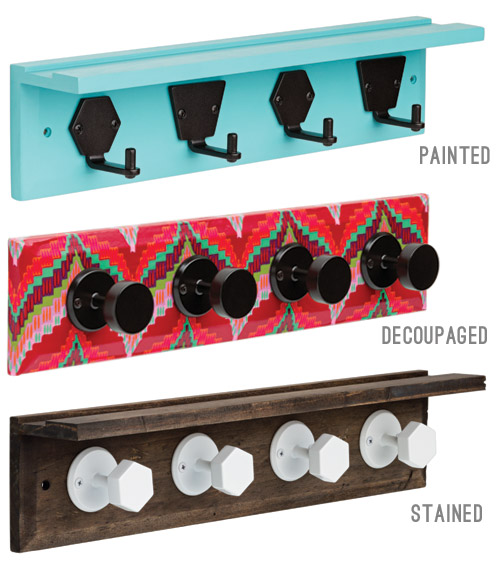 But let's rewind back to July of 2011, when this whole thing started. At that time, a company called Liberty Hardware was a sidebar blog sponsor of ours and they asked to come interview us for some research they were doing about the do-it-yourself trend. A few months later, that research turned into an invitation to explore the possibility of designing some products with them. When we said yes there was no part of us that ever envisioned them ending up in a store like Target.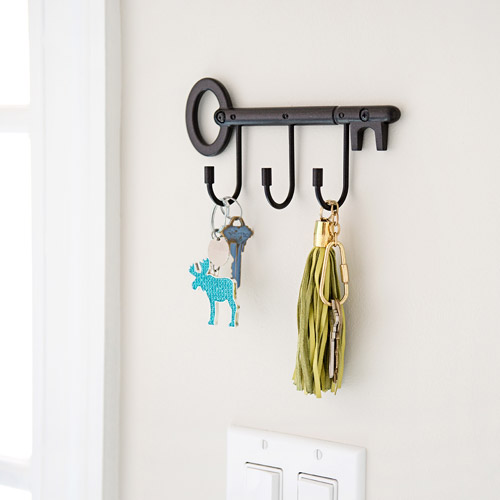 The next two years were an exciting and sometimes intense process of design and development. Never again will we underestimate the work that goes into making those everyday products that we see on store shelves. We were primarily responsible for the creative direction, which involved providing everything from rough sketches to color/finish input along with design tweaks and feedback at every step of the design process. Liberty's team was great to work with, and had things like manufacturing feasibility and sales analysis covered – which was a huge necessity to taking our ideas from paper (and visions in our heads) to real-life objects.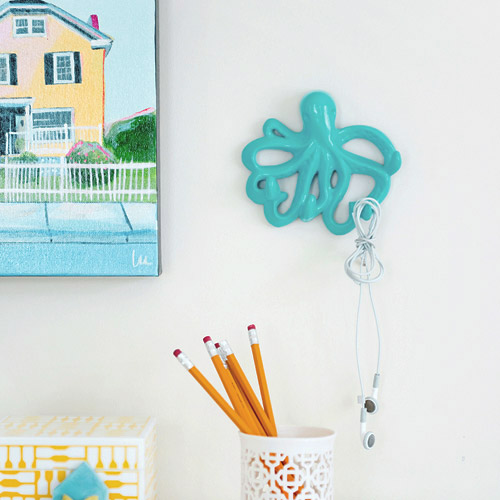 The development process was hugely interesting to us because it was like nothing we had ever seen. From the drawings & images that we provided, the Liberty design team would illustrate some options, the best of which then got modeled either on a computer or in clay by hand (sometimes both). Those then became 3D printed models that could get cast to become real production prototypes and eventually the final product was born. There was feedback, tweaking, and even a few "back to the drawing board" moments at each step in the process. Questions of scale, symmetry, functionality, finish, price, etc. were always being considered – as well as how everything would fit together as a collection. Heck, there was even a focus group held at one point! So all-in-all we probably designed forty or fifty pieces before they got narrowed down to the current mix.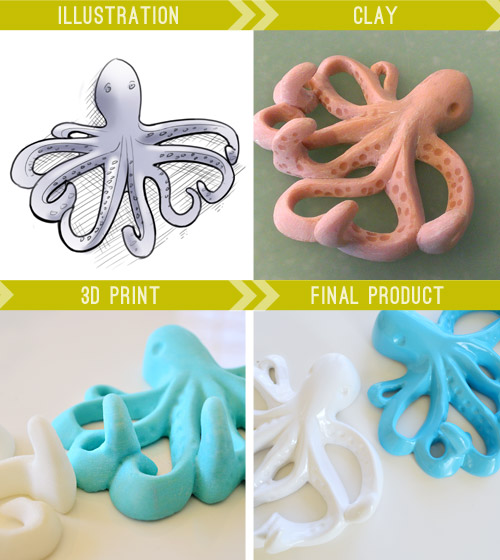 While lots of the design work happened virtually (through email and conference calls), The Liberty team – which is primarily headquartered about 3.5 hours from us in Winston-Salem, NC – traveled to Richmond on several occasions. We also found ourselves traveling to see them in North Carolina, meeting with their design team in Chicago (that's Adam pictured, who has been bringing our ideas to life from day one of the project), and even flying out to the Target headquarters in Minneapolis at one point. Despite that meeting happening in late April of last year, we still happened to catch a major snowstorm. We're not sure how you Minnesotans do it.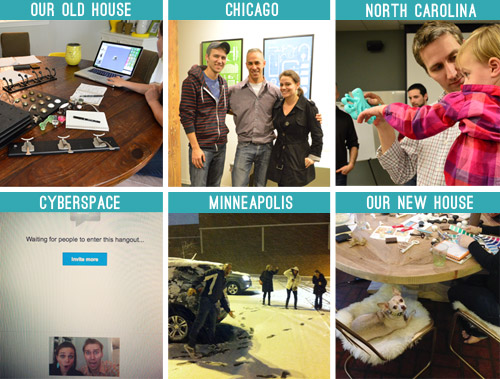 That trip in Minneapolis was especially surreal, since it happened just a few months after we had been there for our book tour. It was weird to be secretly traveling there after so freely Instagramming our previous tour travels. We actually got recognized a couple of times while standing outside of the Target offices, so we were pretty freaked out that our cover was blown (to the folks who said hi to us, we can now apologize for being SO INSANELY AWKWARD). Secrets are no fun.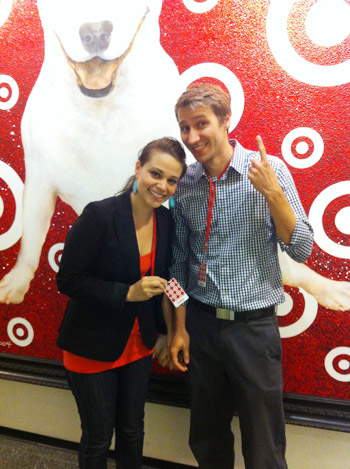 We shot the images you see in this post (and that appear on the packaging) in our house last November. It felt a lot like our book shoots when we were trying to create a diverse mix of backdrops in a house with very few painted walls, so we had to get a little creative. You can see in this photo that we used a remnant piece of grasscloth wallpaper to spice things up behind the Burger hook. And that's our brother-in-law/pro-photographer Todd who did all of the shooting. Nothing like keeping it in the family.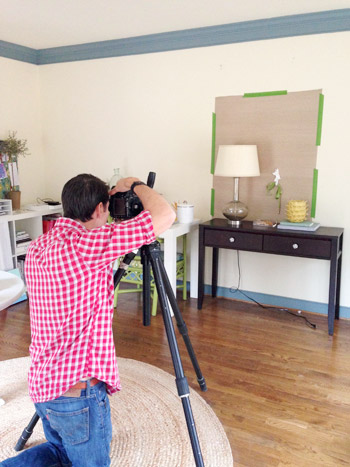 Once it was cropped, you'd never know there was painters tape and blue trim lurking just out of frame.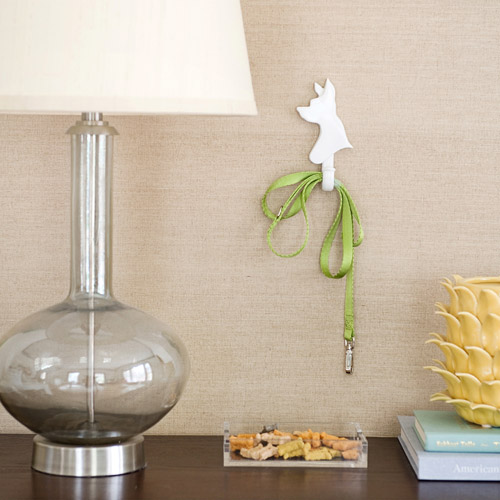 After all those months, all those trips and meetings, all those designs and redesigns, and all of the shooting/writing for the packaging, it still feels completely unreal that this project is out in the world now. And we're even more excited to hopefully roll out more products as the year goes on. Yup, we're actively pitching new designs that go beyond wall hooks and storage (Target prefers the idea of tight collections, so we're working on different home/DIY themes that could be switched out seasonally).
We owe a huge thanks to all of the people who've been a part of this, especially those who have put up with our silly questions or nit-picky changes. So a big virtual hug goes out to everyone who saw something in our ideas, and helped bring them to life.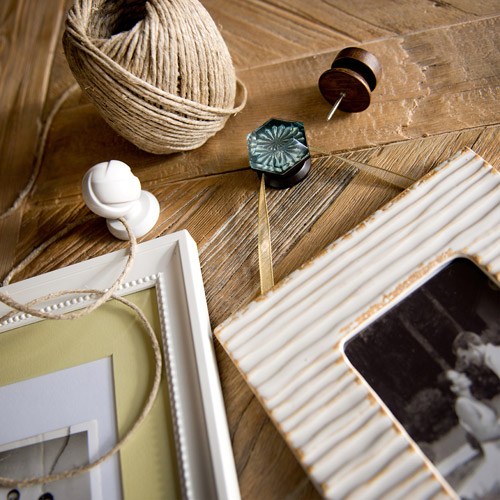 And of course we have an insane amount of love for you guys for sharing this crazy journey with us (and for putting up with our "secret project" for so long – we really wished we could have told you, oh, 32 months ago). Never in our wildest dreams did we think that first post back in 2007 would lead us here. Oops, I think the orchestra is playing me out, but picture me waving my chihuahua hook in the air while Sherry gracefully trips over her gown on the way down the steps. She's the J. Law to my J. Leto (I just have to work on my flowing man-mane).
You can browse and buy everything now over on Target.com, and then it'll be in most stores beginning March 31st. Fingers crossed that the sight doesn't send Sherry into labor!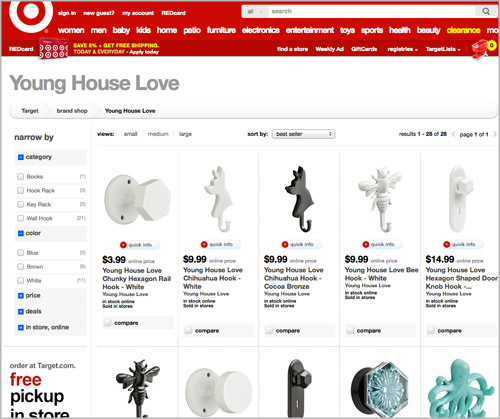 &nbsp&nbsp&nbsp
2013 has been quite the year. It began with a book tour, mid-pointed with us moving into a new house, and ended with us finding out that we have a baby boy on the way. And in between there have been lots of projects, announcements, transformations, and other good stuff. So we thought we'd make our last post of the year a look back at our 20 favorites – from makeovers to personal moments – of the last 12 months. We fell off the "monthly superlative" train somewhere around our move, so we're well overdue for a little retrospective anyways (cue the slow jazz). So here we go, in no particular order…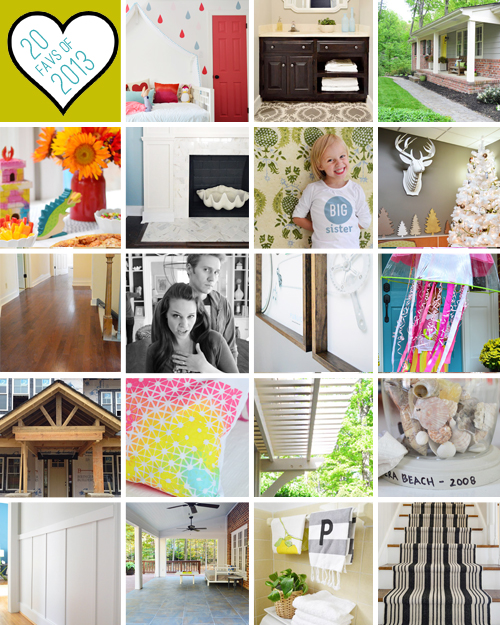 #1 – Refacing Our Old Fireplace: Perhaps one of the things we miss most about our old house is fireplace and its total facelift. We marble-tiled the surround (including our first stab at herringbone) and constructed, trimmed out, and painted a whole new surround. More on that here, here, here, and here.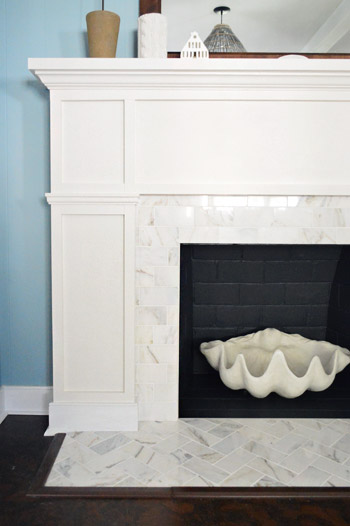 #2 – Clara's Cheery Big Girl Room: I think we'd all vote that our favorite space in our new house is Clara's room, where we've had fun with a soft pink ceiling, some chunky crown molding, colorful raindrops & a rose-colored door, no more crib, and a wall o' fun.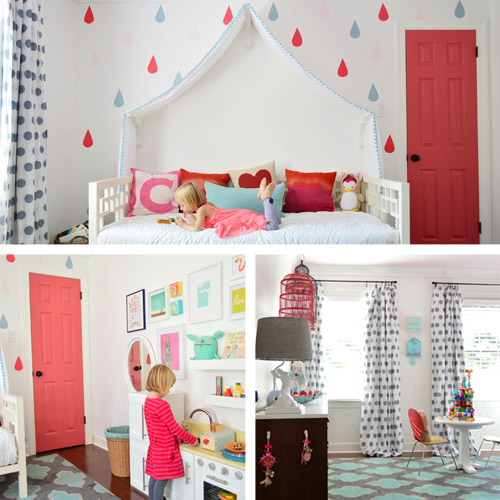 #3 – Our Much-Nicer-For-Now Graphic Master Bath: The stenciled subfloor in the sink nook off of our master bedroom is SUCH an upgrade from the old worn carpeting that used to be there – and it was such a cheap solution. We've also ripped up that old carpeting, painted the walls/trim, hung a nice big window-ish mirror, and updated the vanity by adding shelves and new hardware along with refinishing it.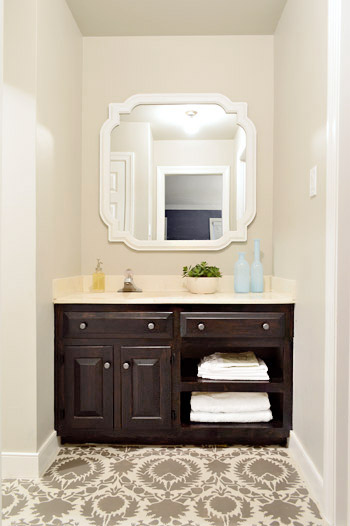 #4 – The Pergola, Er, Cargola: The pergola we built on our carport (hence, the "cargola") fulfilled our lifelong dream of having a pergola. Okay, maybe lifelong is a stretch, but having constructed it from scratch (even building those brackets) gives us quite the confidence boost for someday adding one above our double garage at this house. You can read about the entire process here and here.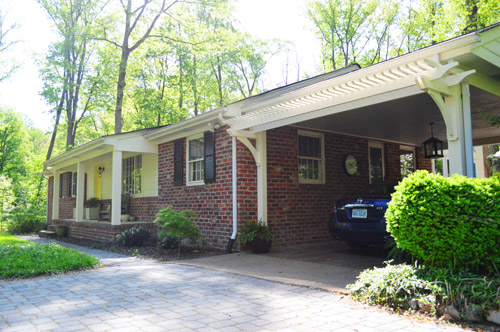 #5 – An Imperfectly Perfect Painted Pillow: It's not what she initially envisioned, but we ended up loving the bleed-tastic outcome of this colorful painted pillow that Sherry stenciled using a metal screen and some sponged-on craft paint.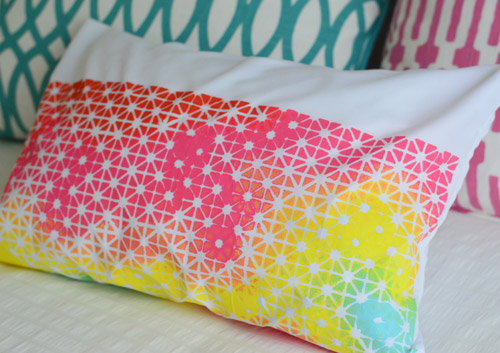 #6 – Striped Stair Makeover: It was plenty satisfying to finally rip up the old carpet on our stairs, but we're so glad we didn't stop there. Instead, we painted lots of blue trim and bannister posts white, also went white with the stair risers, painted the stairway walls and ceilings a light gray-tan color, and stained the railing a dramatic dark tone that picked up on the new black & white runner that we installed. More on that here, here, and here.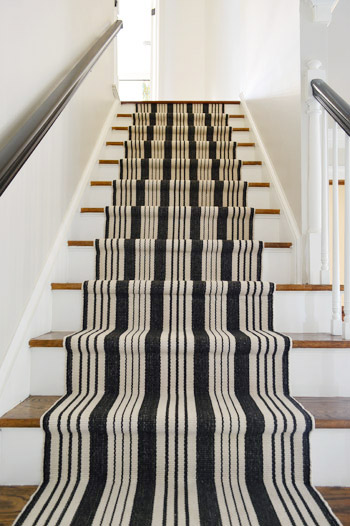 #7 – Simple Frames For John's Favorite Art: Although we haven't found a new home for them yet (maybe the nursery or the office?), I loved creating these super simple wood frames for my big bike posters when they hung in our old sunroom. And they were only $7 each!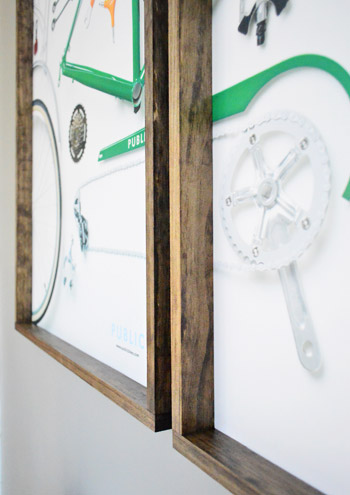 #8 – Spreading Cheer at The Children's Hospital: How could we not include this? The most rewarding project we took on this year – heck, this decade – was doing a holiday makeover for a family waiting room at the Children's Hospital of Richmond at VCU. You can read more about that process here, here, and here.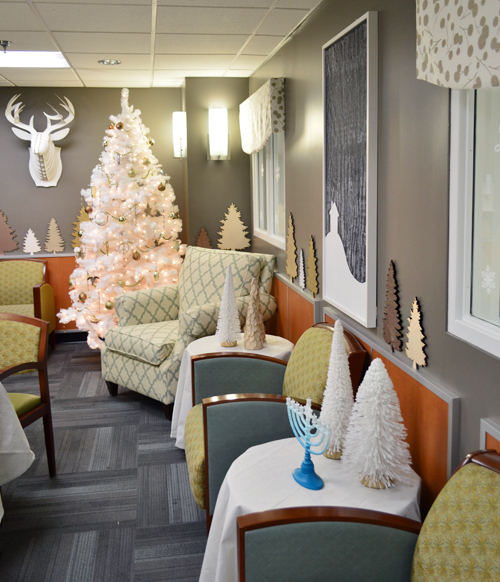 #9 – Celebrating Our Little Dragon: We didn't think we could top the fun of Clara's worm-themed 2nd birthday, but celebrating Clara's third birthday with dragons was a heckova good time. Speaking of which, someone's already talking about her 4th birthday, and she came up with the idea of "a gold party" all on her own. So far she wants to wear a gold dress, serve gold food, and give out gold coins to everyone while they get their faces painted gold… should be interesting to see how this evolves over the next five months.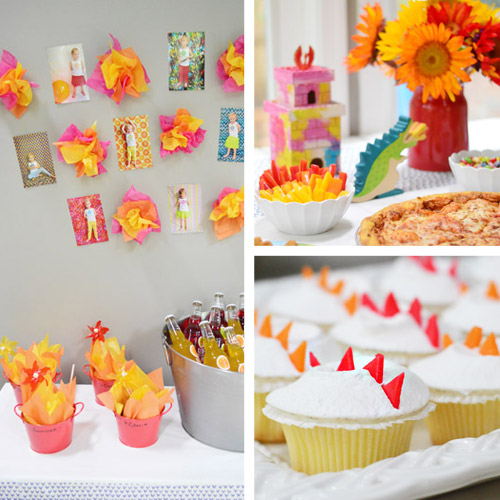 #10 – Making Over Our New Deck & Sunroom: We can't wait for winter to ease on outta here so we can get back to enjoying the outdoor spaces that we spent so much of this year transforming. From patching, stripping and restaining the deck to completely overhauling the formerly closed-in sunroom (lofted ceiling! tiled floor!) we're ready to kick of Spring out there already. You can read more about the deck makeover here, here, and here. And check out the sunroom reveal (with links back to each stage of that undertaking here).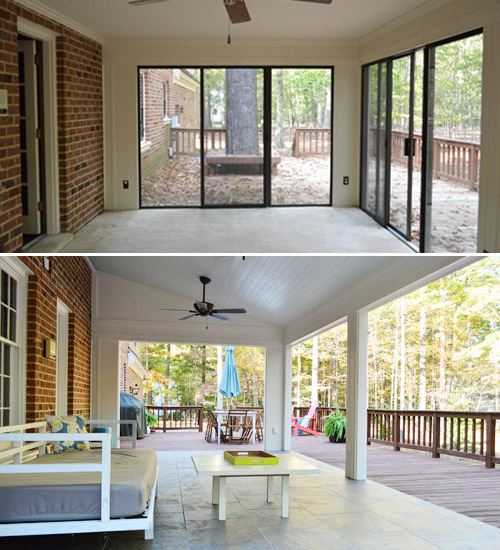 #11 – Dropping Our First Single: I just watched this again and half-laughed, half-buried-my-face. We are SUCH BIG NERDS. But hey, it's all in the name of some good fun & foolishness (pun intended).
#12 – Upgrading Our Vacation Jars: This easy update to our little vacation time capsules – which up until now had been housed in mason jars – breathed some much needed life into one of our favorite projects of yore. It was nice and simple – and now we've got an even bigger collection of these personal "travel snow globes" of sorts.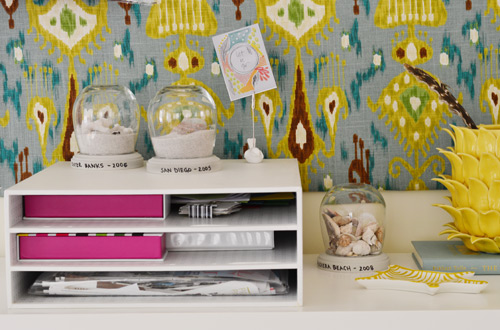 #13 – Hardwood Floor-ifying The Upstairs: This almost didn't make the list because the process was far from my favorite time of the year. But ripping up the carpets in our upstairs to install new hardwood floors (and painting all of the doors and trim) was certainly well worth it. You can read more on that process here, here, here, and here.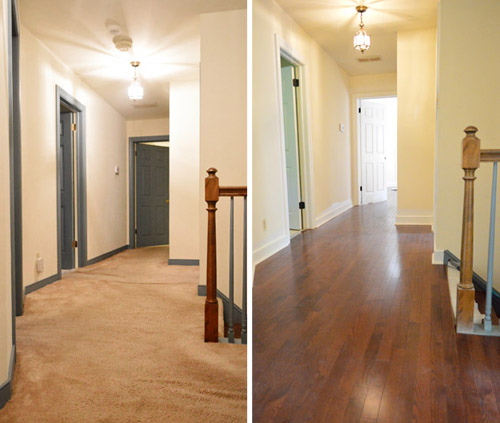 #14 – Taking On A Showhouse: Accepting the challenge of helping to design an entire house for the 2014 Richmond Homearama (to benefit Habitat For Humanity) has been both exciting and more than a little intimidating. Over the last month we've transitioned from the planning stage to full on let's-get-this-thing-built-and-finished mode. It's been a bit hectic lately, so we totally owe you an update (beyond just what's been showing up on Instagram). The house is now framed, sheetrock is going up next week, and one of our favorite elements – the exposed wood porch detail (made from reclaimed wood) – is coming together right before our eyes.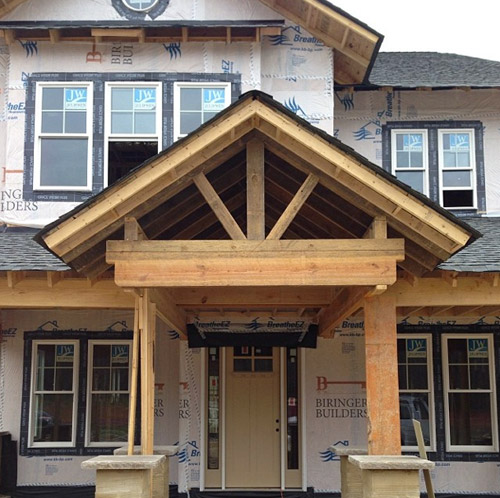 #15 – Our $51 Guest Bath Update: Embracing the vintage-y feeling of our old guest bathroom, meant sprucing it up with simple (and extra budget friendly) ideas and accessories. First we painted the walls, tended to the window, and then added art and accessories. I'm not sure we're ready to start putting yellow tile in anywhere voluntarily, but it was undeniably charming in the end. We actually kind of miss it!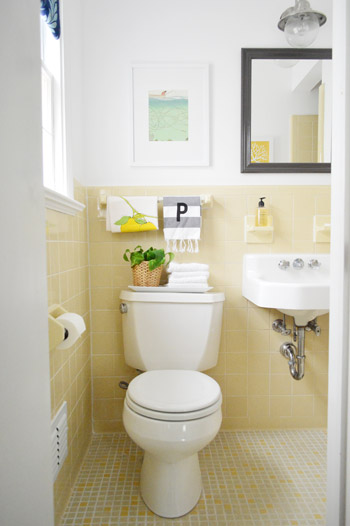 #16 – Clara's Jellyfish Costume: In our second year not doing a store-bought costume, Clara threw Sherry a curveball with a request for a jellyfish fairy/princess/queen (depending on the day). But with an umbrella, some pretty dangly things and a string of LED lights, we had one happy jellyfish on our hands.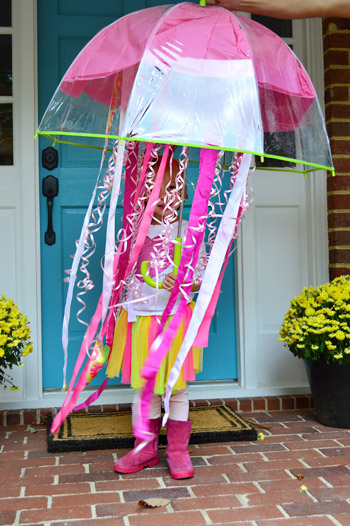 #17 – Cheap & Easy Hallway Upgrade: Another project from the last house that we've earmarked for this house is hallway board & batten (although I'm sure it will evolve for this space – maybe in a chunkier and more detailed way). This hallway update cost us less than $60 and was something the new buyers loved during their first tour, so we're so glad we got 'er done. You can read more about the process here and here.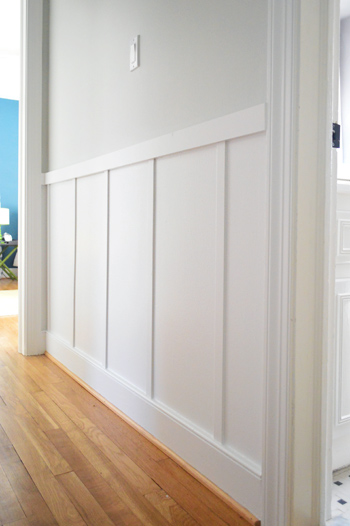 #18 – Interviewing Jonathan Adler: Put a line through this on Sherry's bucket list: she talked with one of her design idols, Jonathan Adler. And we got all of her extra-gushiness on tape to prove it. If you missed it before, here's her giddy interview below:
#19 – Finalizing Our Curb Appeal: In addition to the aforementioned pergola, we also stepped up our front exterior by boxing out the porch columns to make them match the chunky columns that were already on our carport (more on that process here and here), painting the siding for contrast, and even adding some window boxes.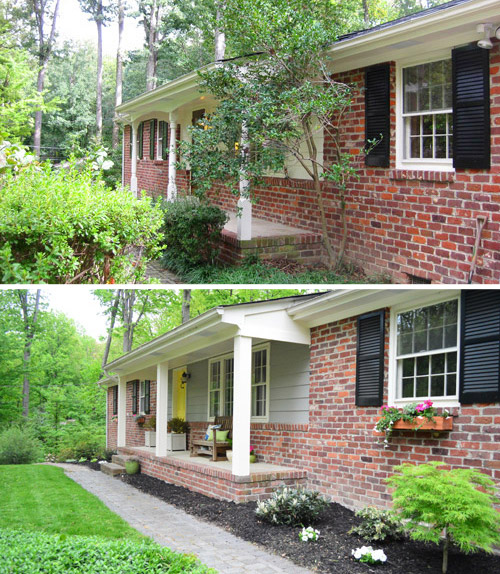 #20 – Announcing The Barnacle: And of course, we can't make a list of favorite things in 2013 without including a nod to what will surely be the highlight of 2014: the new baby boy (er, "bun" if ask Sherry, "barnacle" if you ask Clara) that we're expecting in April. Which reminds us, it's just about time to start working on that nursery!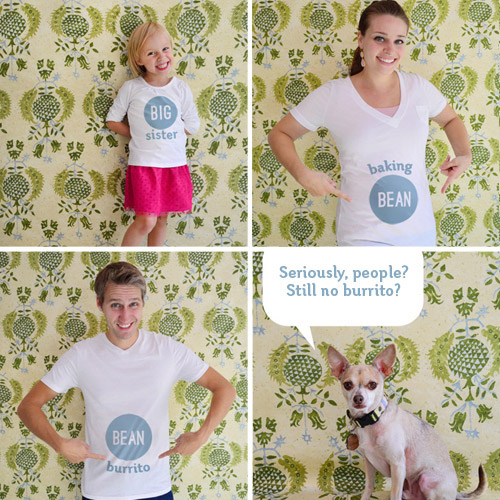 And of course, a big reason that these moments are our favorites is because we get to share them with you guys. So a big thanks for being part of our 2013. We can't wait to continue this wild ride with you guys in the big '1-4. Sherry's currently going through 10,000 photos and writing a big tutorial about Clara's homemade Christmas gift, so we'll be back with those details on the 2nd! Haaaappy New Year to you and yours!
Now it's your turn. What's topping your list of favorite life moments / house projects / rapping attempts of the past year? Is there anything in particular that you're excited for in 2014?
&nbsp&nbsp&nbsp