Blogging
Life has been busier than ever for us – and there's nothing like having a baby to confirm your true priorities. We've been doing a lot of thinking lately: what exactly are our goals? What are we working towards? Hoping to gain? The answer, we realized, was definitely not more blog hits or traffic or approval. Honestly we both feel unsettled by the idea of our blog growing any larger, and we look fondly back on the earlier days when we worked less, slept more, and spent more quality time with our family and friends. This little website of ours has already surpassed every expectation we ever could have had for it. So what are we chasing?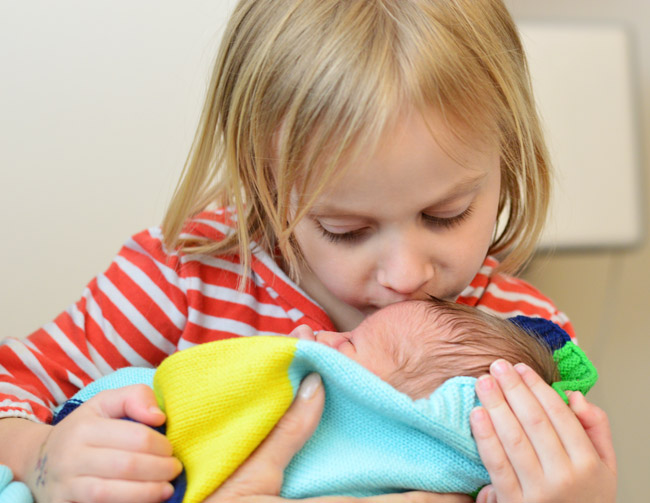 When Clara was born we were both blogging full time, but we had about a third of the traffic that we have now and we usually shared around one project a week amidst other home-related chitchat, family happenings, polls, reader makeovers, etc. It was one of the best times of our lives. We did less and had less, and we were completely comfortable. So in light of everything on our plates, this new baby boy, and a girl who's growing up entirely too fast (cue the Armageddon music), we've decided to paddle back towards that.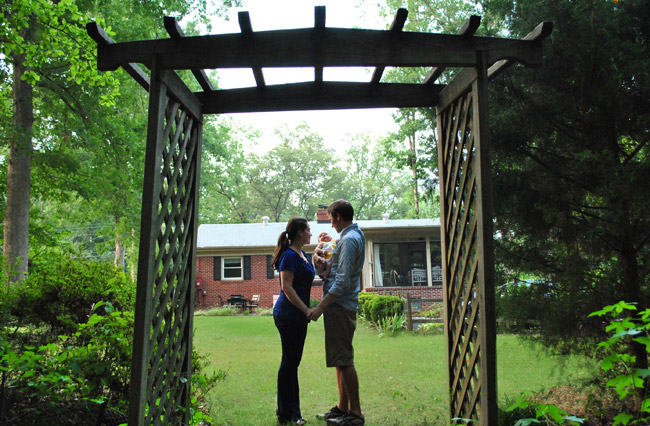 We know this choice may directly correlate to fewer hits and therefore less income – and we're ok with that. Sure, it's a little scary not knowing where we'll be in a few months or years (but we've never known that as professional bloggers anyway). We've made "risky" career choices before in the name of life quality – like leaving the NYC rat race and giving up steady salaries for blogging – but they've also been some of our best decisions.
Just like we did when we made those leaps, we've saved enough to help us sleep at night. We've also both left the door open in our previous professions, so even if this choice means we'll eventually be taking on freelance advertising work again (which I did to make a living before we started this blog, and which John has dabbled with over the last few years) it's a risk we're willing to take in the name of bringing some balance back into our lives.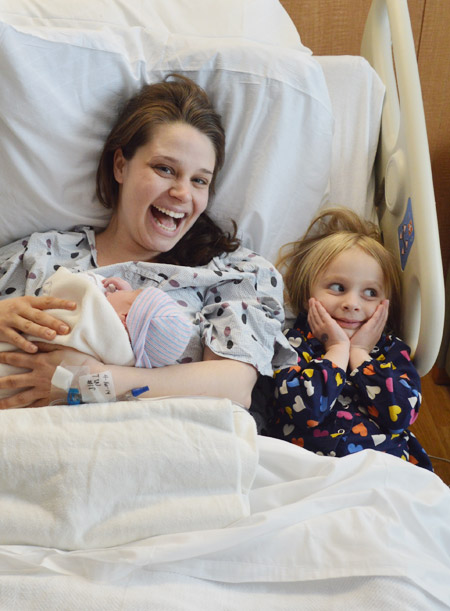 The good news is that our love of home improvement and blogging is burned deep into our hearts, and our to-do list is still a mile long. We have no plans to stop blogging anytime soon. We'll still be posting our projects, planning, shopping, and other usual fare here regularly. But things will be noticeably different as we recalibrate our priorities (we think we'll end up in the 3-5 posts per week range).
We'll also be going back to sharing all of our family posts on Young House Love (sorry Young House Life). We've always had family stuff here – in fact some of our favorite (and most popular) posts are the personal ones about things like breastfeeding, Clara's birth story, her photo project, this ridiculousness, and random facts about me and John. Between those types of posts always existing on our main site, and Instagram taking the place of the smaller family updates, Young House Life has felt less necessary lately, so we won't be posting over there anymore.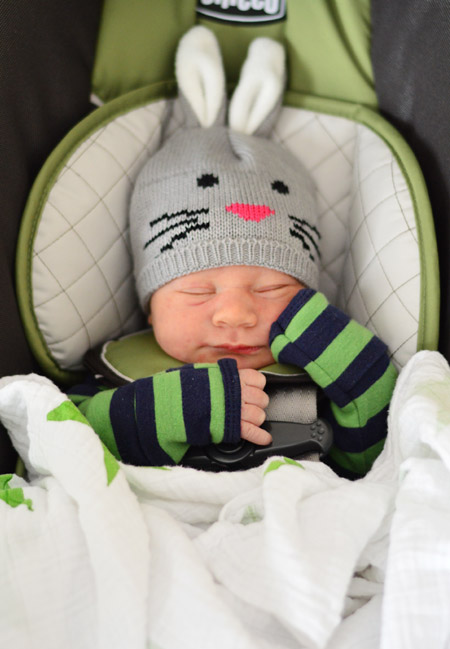 We know some people will be relieved by this change of pace (many of you have encouraged us to slow down) or excited about the new looser style of posting, while others might decide to tune out – and we're ok with that too.
We feel extremely fortunate to have the opportunity to make this choice. It's not a decision that we've made lightly, and we realized that if we don't seize it now, we may never have the chance to again. Teddy is our last baby and Clara is just a year away from kindergarten (how did that happen?!), so we want to enjoy this time with them instead of working our nights, weekends, and vacations away chasing some business goal we don't even want.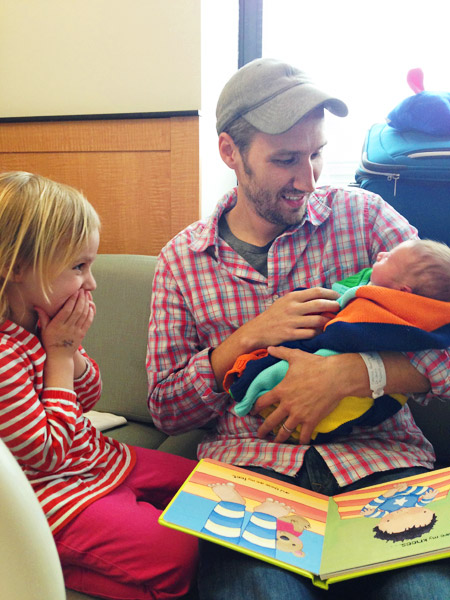 We have no idea what the future holds, but even if the internet exploded tomorrow, we're already so grateful for this amazing and completely unexpected journey of ours. This blog has surprised us in the most major of ways, and has led to some unbelievable experiences and opportunities, many of which we can't quite wrap our minds around.
We still have big dreams for this house of ours and can't wait to share how it evolves with you guys. But if you'll excuse us, I have an almost impossibly tiny diaper to change and John's off to buy some lumber again…
&nbsp&nbsp&nbsp
To everyone who has said "go rest!" or "we understand if you have to catch your breath after this showhouse marathon and before this baby comes" we are SO APPRECIATIVE of the encouragement. We're still over there every day shooting each remaining room for afters/source lists and are also hoping to record a video tour for you guys, but we fully intend to cash in on that whole sit-down-and-breathe-for-a-second thing as soon as we finish documenting everything.
But amongst the last crazy week of showhouse stuff, another crazy thing happened that we just had to talk about for a second. We can't begin to tell you how awesomely surreal it has been to see our line of hooks and rails out there in the real world (on Target shelves, in your hands, on your walls, and next to your dogs and babies).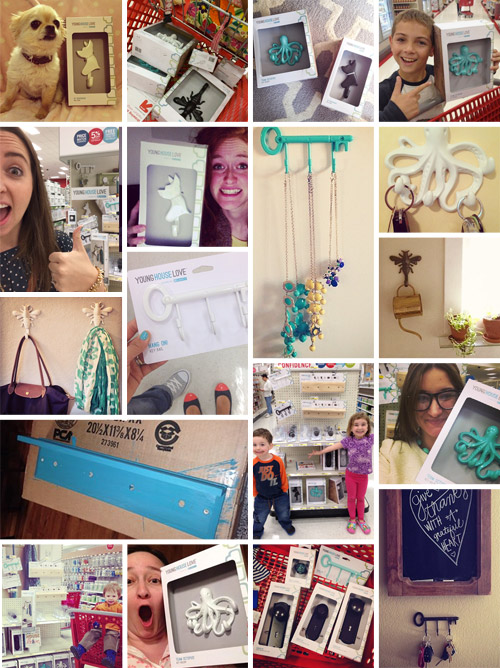 We'd been in our own little bubble with it for so long that it was amazing to see Instagrams, tweets, and Facebook photos from you guys. So we couldn't let another day go by without saying: THANK YOU for being a part of this latest adventure of ours. We are so grateful.
Everything started rolling out in Target stores throughout last week (it'll be carried in most US stores for 14 weeks) and you can see the full store list here for which ones will carry it. We actually saw your pictures of the end cap before seeing it in person ourselves, which was pretty crazy. And when we saw it with our own eyes? Kinda made our brains explode.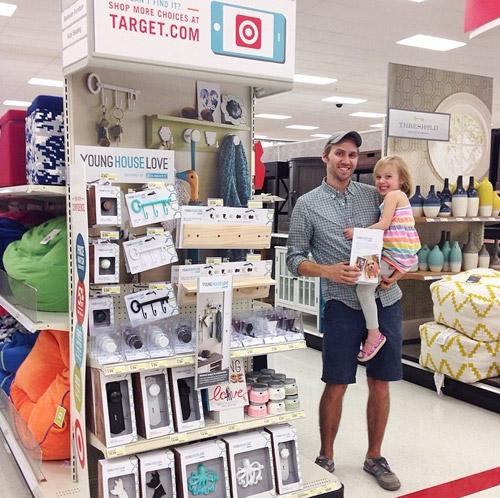 The home improvement department also got a few other new DIY items like paint and removable wallpaper. Plus they're carrying our book in stores for the first time as an exclusive paperback version.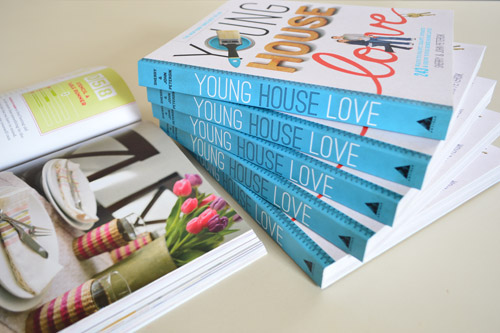 Along with taking a moment to send out a giant thank you to you guys, we wanted to bring you behind the scenes to touch on a part of this whole process that was kind of a surprise to us: packaging design. For so long we had been focused on how the products looked, that when Liberty asked for input on the packaging we were sort of caught off guard. But it ended up being a fun assignment.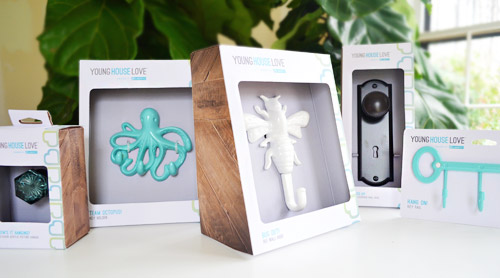 The graphic designers at Liberty were the brains behind it all – taking inspiration from the colors and themes that they saw frequently on our blog. Together we made little tweaks, like ditching a version of our blog backdrop (the small gray heart pattern) behind the products in favor of a cleaner, less busy solid gray. And we loved their suggestion to put a wood grain detail on the sides of the packaging to bring in some texture.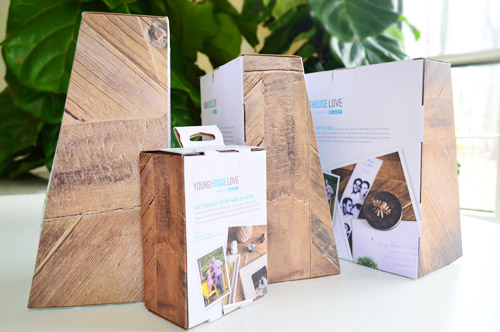 The funny thing is that it was originally supposed to just be some generic wood texture from an image library somewhere, but when we were doing the product photography here last November someone suggested that we just shoot our kitchen table and use that real wood-grain shot instead. It had already become the de facto backdrop for the other photos, so it was a no brainer decision. So yeah, that's our real kitchen table on the side of each box.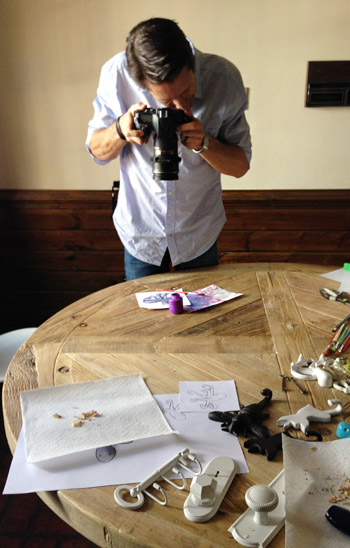 We were also tasked with choosing the visuals that we'd shoot for the back of the packaging as well as writing the copy for it – which ended up being a fun opportunity to share our inspiration for each item (like an octopus painting made by Clara along with a ceramic octopus that I got Sherry a few years back – or Burger himself, our four-legged muse).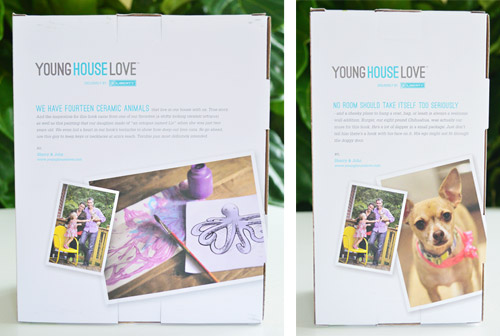 This copy is also the text that appears in the "Overview" section of each item on the Target website, if you're so inclined to read each one.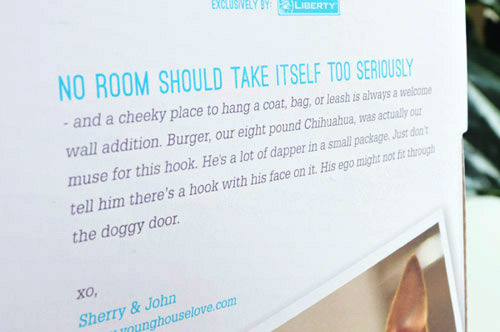 Now that we can freely use the hooks without fear of blowing our cover, we've put them to good use in a few places in the showhouse (since it's about the only house getting attention from us lately). We put this wood hook rail in the girl's bedroom after painting it blue and adding some mix-and-match ORB hooks (the color is Blue Lake by Benjamin Moore). This is obviously the version with the ledge, which was nice for extra storage.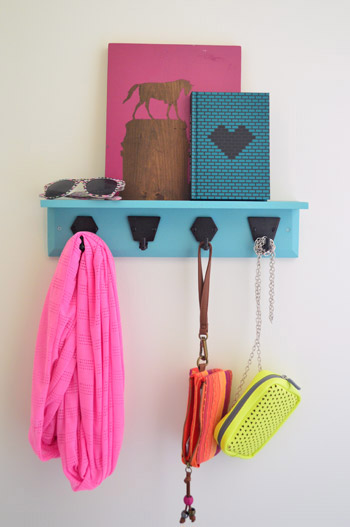 We went sans-ledge for the one in the boy's room and painted it with a random diagonal of yellow at the bottom (Citron by Benjamin Moore) using painters tape across the rail, while leaving the raw wood up top.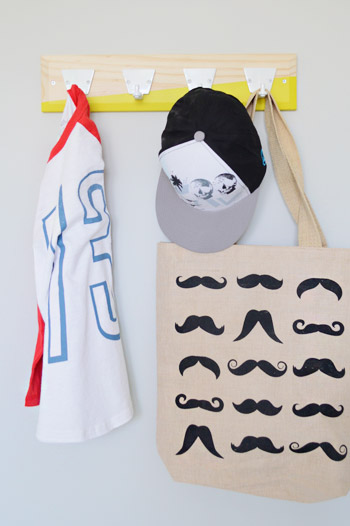 We also used a trio of doorknob hooks in the master bedroom closet (two of the larger beaded knobs flanking the smaller hex knob in the middle) but we still have to shoot that room. We're working on getting more after pictures documented today so we can share them tomorrow if all goes well.
Ok, now I'll shut up about it. Sherry and I are still kind of reeling that this stuff is out there in the world after nearly three years of development, and we're both so grateful to you guys for supporting us. In other Wednesday news, if all goes well and we have our son on Wednesday the 16th (that's Sherry's scheduled date), that makes this the very last Wednesday of our lives as parents of one (well, two if you count Burger) so that's kind of blowing our minds too. Happy Wednesday, guys!
&nbsp&nbsp&nbsp