About Us
We're Young(ish). We're Fun(ish). We're Repainting Again (Sheesh)?!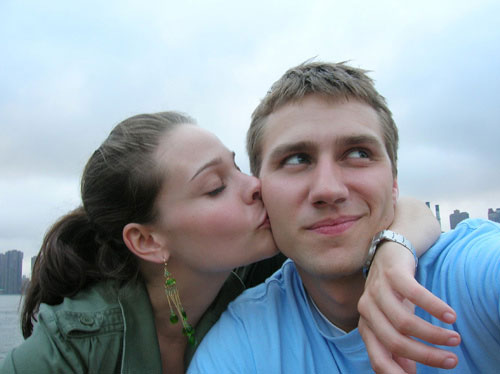 I'm Sherry. He's my husband John. We live in Richmond, Virginia and this blog is basically our DIY diary. Over five years ago it started as a hobby and 2,500+ posts later it has slowly grown into our full time job (no one is more surprised about that than we are). We're definitely not experts, just DIY dorks who like to learn as we go and share our adventures and misadventures with the world.
So we spend our days doing projects, photographing them, writing posts, answering reader questions, coordinating giveaways, managing sponsors – and raising our two year old daughter. It's sort of like running a little two-person newspaper (with a toddler bouncing around the office). There's always something to do/paint/write about!
Somewhere along the way we also wrote a book (called… wait for it… Young House Love) which came out in November and somehow became a New York Times Bestseller. To say that we're holy-schnikies-excited-about-it doesn't even do it justice.
But let's go back to where it all began: our first house. We bought it back in 2006, after coming off of a combined eight years of living in Manhattan. Armed with a little bit of know-how and a lot of enthusiasm, we decided to make our little needs-some-love house into a love-it-to-pieces home. Our DIY obsession even carried over to our backyard wedding (it's only fitting that we got married at home).
Four and a half years later the dust cleared and our house was totally transformed. Then it was time to move and start all over again. Especially because our family grew to include the best DIY project we've tackled to date: a sweet little bean girl named Clara (who made a pretty dramatic entrance into the world) and a beloved pup named Hamburger (both of our kiddos pop up even more on our family blog called Young House Life).
Now it's just a matter of finding enough hours in the day to keep up with our ever growing to-do list and share every last detail on this little slice of the internet that we call home. Come on in and make yourself comfortable. So happy to have ya!

| | | |
| --- | --- | --- |
| Real Simple | Forbes: 100 Best Websites | Country Living |
| HGTV Magazine | HGTV | HGTV Magazine |
| BBC | The New York Times | CNN |
| The Nate Berkus Show | Huffington Post | Jessica Alba's Book |
| New York Times Bestseller | Washington Post Bestseller | USAToday Bestseller |
| Wash. Post Design Books | B&N: Best Books of 2012 | Amazon: Best Books of 2012 |
| The Nest Magazine | Washington Post Feature | R.Home |
| Apt Therapy Homies Winner | London Times: Best Blogs | MarthaStewart.com |
| Ben. Moore Collection 2012 | Ben. Moore Collection 2013 | Global TV's Morning Show |
| House Beautiful Best Books | Slate Best Books | CasaSugar |
| The Nest TV | Canadian House & Home | West Elm |
| Oprah.com | People.com | Cooking Light |
| CBS6 Live Interview | Richmond Magazine | Richmond.com |
| Do It Yourself Magazine | Do It Yourself Magazine | Do It Yourself Magazine |
| Do It Yourself | BHG Big Style, Small Rooms | BHG Getting Organized |
| BHG – Australia | BHG – China | Kitchen & Bath Makeovers |
| CountryLiving.com | Baby Talk | American Baby |
| Fresh Style Magazine | The Washington Post | The Washington Post |
| Canada's National Post | Dallas Morning News | Houston Chronicle |
| Tacoma News Tribune | KSL Studio 5 Feature | ReadyMade |
| Washington Post Express | San Francisco Chronicle | RedEye Chicago |
| Stodgy Is Sexy Documentary | NBC12: Radon Dangers | FOX5: Blogging For Bucks |
| MSN | Pro Blogging for Dummies | HGTV Design Happens Blog |
| USA Today Home | Reader's Digest: Asia | Singapore Home & Decor |
| USA Weekend | Richmond Times-Dispatch | Nesting Newbies |
| Minted Magazine | Skirt Magazine | Remodeling My Space |
| Unstuck Book | A Priceless Wedding | Stye Me Pretty Magazine |

Do It Yourself Column

Do It Yourself Column

Do It Yourself Column

Do It Yourself Column

Do It Yourself Column

Do It Yourself Column

Do It Yourself Column

Do It Yourself Column

R.Home Magazine Column

R.Home Magazine Column

R.Home Magazine Column

R.Home Magazine Column

Southern Flourish