Archive for November, 2013
For the fourth year in a row we've filled up our little thrift store jar that we etched with the word "Thanks" back in 2010 (you can read how we made it here). So before everyone dives headfirst into the gravy bowl (what? that's not a thing?) we thought we'd stick with the annual tradition of sharing a few glimpses of some things that ended up on the list this year.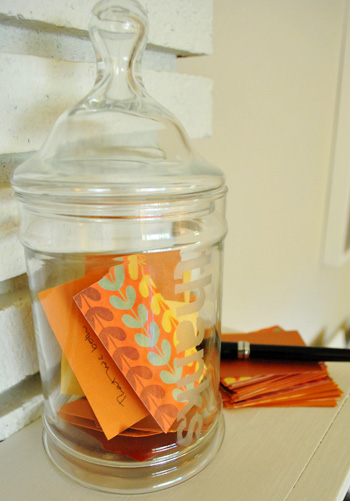 Spoiler alert: one of them's you guys. So let's just pause for a moment so I can tell you how good your hair looks and how nice you smell and how flattering that shirt is and most of all, how grateful we are that you drop in on our blog.
This past year has been insanely wild and wonderful: moving into a new house, a new baby on the way, a whirlwind book tour, working on a showhouse for Habitat For Humanity, hearing Oprah say our names. Look, I'm so ver clempt I didn't even use parallel structure for that list. We just don't have the words to explain how amazing and completely unexpected this little blog journey has been. We never could have dreamed that first post in 2007 would ever lead to this life, and I'm so so thankful that my techie hubby was all "let's start a blog for fun" and I was all "a what? that sounds nerdy."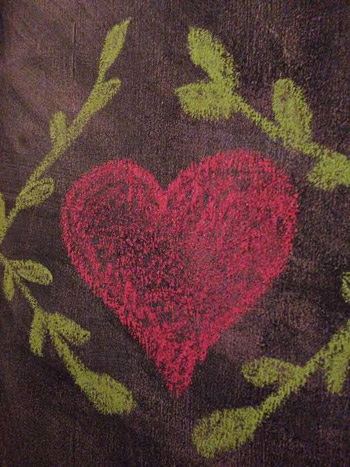 Anyway, I'm rambling. Back to the "thanks jar" tradition. For anyone who needs a refresher, every year since 2010 we've each stuck a piece of paper in it every day during the month of November with a different thing that we're grateful for. You can see a few things that made the list in 2010, 2011, and 2012. This year was even more special because Clara is so articulate and color-happy that she got to dictate every single one of her card to us, and had fun coloring each one as she went along (last year there was a lot of us asking "are you thankful for… books?" and this year she came up with each item all on her own). Plus there's a card where she drew me and my head looks just like a football. Priceless.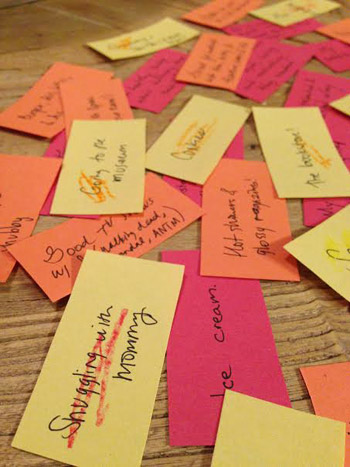 This year we also tried a new color system. Instead of everyone picking a randomly colored card each day, Clara's are all yellow, mine are all orange, and John's are all red. So when we flip back through this year down the road, the colors will clue us in on who's "talking" (sometimes our chicken scratch starts to blend after staring at a ton of tiny pieces of paper).
Some of our favorite things that Clara listed were:
Making smoothies with daddy
Santa! (a holiday crossover)
Legos and building really biiiig castles with mommy
Going to the beach
Grammy & TomTom and their toys
Playing in my box crib (we currently have a giant refrigerator sized box in our living room and Clara fills it with animals and toys and basically wants to live in there)
Meanwhile, John and I had some funny overlapping ones (we both specifically shouted out The Walking Dead, iPhones, and the mighty miter saw).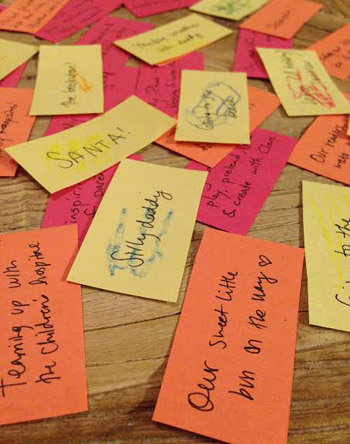 Every year at the end (usually Thanksgiving Eve or Thanksgiving Day), we open the jar to read them all together – and we also go through the batches that we've saved from the past years. It's sweet how they freeze time and remind us of things we'd never remember otherwise (old shows we watched that have since been canceled, places we visited, "hot" songs that we loved that have since been completely forgotten, weird inside jokes). I love that we'll always have them to peek back on.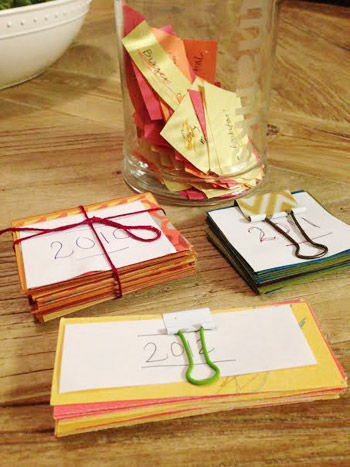 Sheesh, and to think my original plan for this post was just going to be typing "Happy Thanksgiving" with this cute chalkboard pic and letting you guys go eat your stuffing in peace. I'm going to go ahead and blame the hormones. They make you wordy, right? No. Then maybe it's the smell of cookies baking (they make me delirious). Can't. Stop. Talking.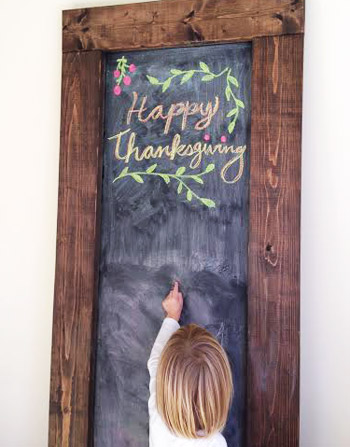 We hope you all enjoy safe travels, good food, loving company, and weird dreams about Bound 2 a nice post-dinner nap. We'll be spending the holiday with the fam along with diving into some kitchen stuff and a few Children's Hospital projects that we can't wait to share with you when we come back (three pounds heavier).
&nbsp&nbsp&nbsp
We're not sure how many of you are knee deep in a turkey somewhere (wait, that sounds terrible) but there's nothing we like more than a group brainstorming session, so if you're around, Wendy would love your suggestions. She has an exterior issue and she's ready to dive right in (you know what that means… after pics! Hopefully really soon!) so here's her letter:
I've been a YHL reader since house #1 and I'm so excited that you've started this group advice feature!  I have a problem I hope you and your readers can help with. We've lived in our home for about four years, and the front needs a major paint job. It's a two-story brick house, and the trim is peeling and in desperate need of re-painting, but we keep putting it off because we can't figure out the color! I'm not a fan of the off-white color, and our style is not particularly traditional, though that is the style of the house. We have an HOA so we can't go too crazy, but I'd like to inject some fun color somehow to give it more appeal and personality. Maybe a bright front door?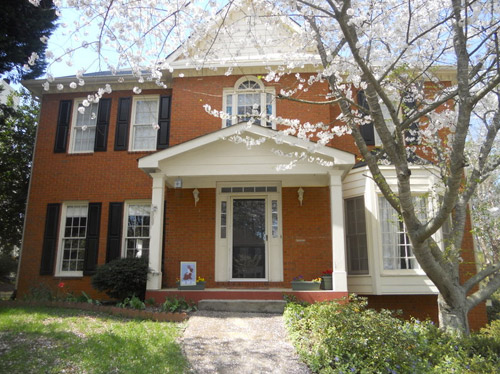 The one thing that has me tripped up is that our brick is more orange than red. I'd love to hear what colors might work with that for our door, shutters, & trim. I have great fantasies of one day painting the brick, but for now I would love some advice for working with it as-is. Thanks! – Wendy (and Mike, Lucas, and Jackson) Note: for anyone who wants to play around in photoshop, just click the image above this paragraph to enlarge it – and you can share your creation in the comments by linking to it on a free photo-sharing site like Flickr or Pinterest.
After staring at that before photo for a while, I dragged it into photoshop to see what stuck. Here's what I did first:
Made the off-white trim white (this wouldn't be scary or dramatic, but it's a little crisper and less traditional, since it sounds like Wendy leans that way – and let's face it, the HOA probably won't go for something like blue trim)
Added a glossy red door (it sounds weird to pair orange-y brick with a red door, but we did that with our first house and for some strange reason it made the brick seem less red/orange by comparison – sort of like how if something looks yellowed but you put a super yellow object next to it, it almost looks white by comparison). We used Fabulous Red by Valspar and loved the look in a nice shiny semi-gloss. It's bold but still really classic.
Planted a whole mess of red tulips out front (it would add even more color without annoying the HOA)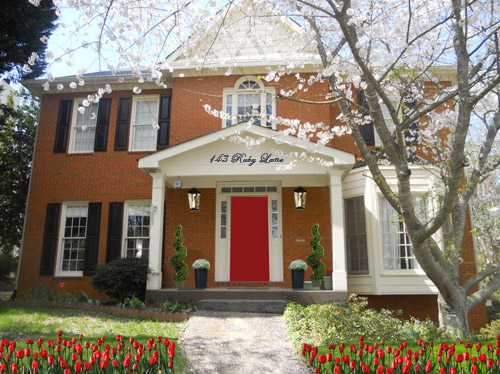 Hung some nice oversized porch lanterns (something like these on either side of the door would look nice and weighty)
Put some potted plants on the porch
Added a scripty house number over the portico (spelling out the entire address with black metal numbers and letters could be really charming if there's room)
Painted the porch steps a nice neutral mocha color (just to neutralize that red top step)
For my second go, I:
Tried a rich navy tone on the front door (like Regatta by Sherwin Williams or Hale Navy by Benjamin Moore)

Went deep charcoal-navy with the shutters (like Rock Bottom by Sherwin Williams – since some people are suuuper anti navy door + black shutters, painting the shutters a few shades darker than the door, so they're still deep but not quite black should do the trick)
Hung some sweet and simple house numbers on top of the portico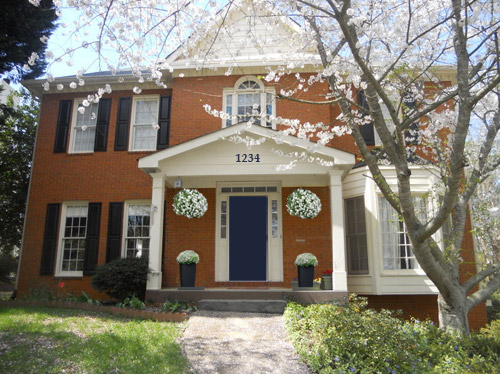 Added hanging flower baskets on either side of the door
Put two clean-lined planters on the porch
Painted the porch steps a nice neutral mocha color (just to neutralize that red top step)
This one is a "squint a little" solution since the photoshopped shutters aren't perfect, but this time I:
Went white with the shutters (just to see how they'd look with the white trim)
Added a spring green color on the door (that's usually a pretty foolproof-yet-fun choice since there's SO MUCH green in nearby nature that it tends to tie into that instead of looking like it's out of left field. Of course this is photoshop, so it doesn't look as real and layered as it would in real life, but it hopefully gives Wendy an idea so she can hold up some swatches in real life and just see what she likes – maybe try Lemon Grass by Behr and go from there?)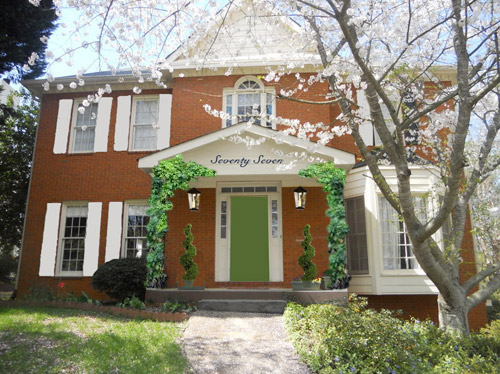 Brought back the lanterns from my first rendering
Added topiaries to the porch for height
Tossed in some greenery to grow up those porch columns (Wendy can just ask what creeping plants don't harm brick or wood at a nursery and see what they recommend)
Hung the address above the door (this time I went for the scripty look with the numbers written out)
Painted the porch steps a nice neutral mocha color (just to neutralize that red top step)
A few other options that came to mind were that Wendy could…
go for dark charcoal shutters, white trim, and a glossy plum door
try a robin's egg blue door with navy shutters and white trim
add window boxes for more color and interest
hunt down a really great old doorknocker and doorknob for the front door
And just for fun, here's Clara's suggestion. She told me to do purple bushes and grass with blue bricks. Clearly she wasn't following the "keep the brick as-is" directive. Ah, to see through the eyes of a child…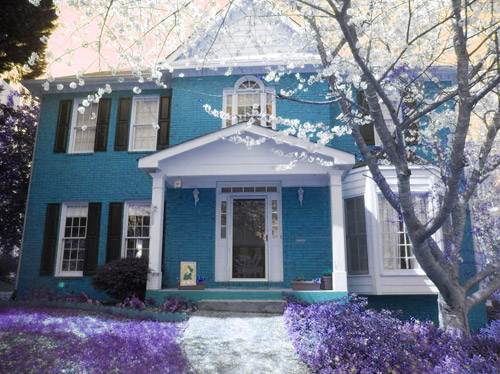 Do you guys have any votes or ideas for Wendy? Are you Team Red? Team Navy? Team Green? Team Edward? Team Jacob? There are tons of other ways she could go, so she'd love to hear everyone's ideas. Picture me passing you the baton – er, the mic? The keyboard?
Psst – Got a particularly tricky spot or a dilemma in a certain area of your house? Please submit at least three photos of the space along with a quick sketch of the floor plan and a short description about what has you stumped to advice@younghouselove.com.
&nbsp&nbsp&nbsp