Archive for April, 2012
There's a vicious cycle going on. We blog about something and then we live with it. And while we do, we tackle other stuff and blog about that. Lather, rinse, repeat. So we're not always good about keeping you posted on those older things that we've already talked about since we're so busy gabbing about new stuff. Which probably explains why we get asked for updates on a handful of things nearly every day. In other words: it's about darn time we followed up. So here's a nice juicy post full of a bunch of those updates for everyone.
Cloth diapers: Believe it or not, we're still using the very same original 12 cloth diapers that we got back in 2010 before Clara was born. We haven't bought any more, replaced any, or bought liners. And two years later they're still working really well for us. We do put Clara in a disposable overnight (she finally started wetting through the cloth – something we heard might happen for a while, and finally did), but one a day is only seven a week, so it's not bad at all. As for their shape, they're still holding up really well. We do have a busted snap here or there (we've lost one snap on two of the twelve diapers, but it doesn't keep them from staying on since there are multiple snaps on each side to hold them). Their color and fabric is in great condition and they look pretty close to new, actually.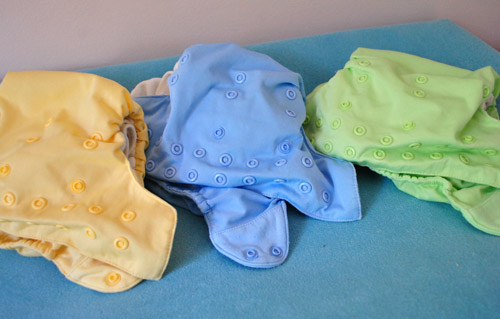 Here's the inside of them (these pics were taken yesterday):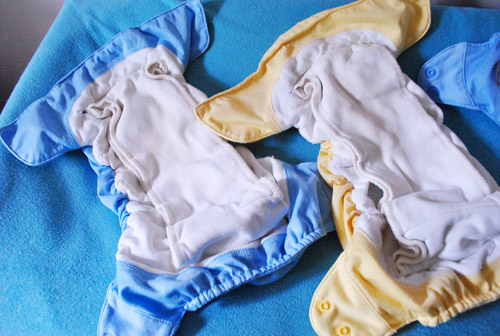 We're thrilled that we haven't had to buy any more diapers for our stash or add extra liners (they're all-in-ones, read more on them here) and they really do seem to be one size fits all since they're still working for us even with Clara being about 300% bigger than she was at birth. So that's the update on the cloth diaper front. Here's the original post all about cloth diapering (which has tons of info in the post and the comment section) along with a one-year-in update post on the subject.
Karl The Sectional: Love him. Still looks the same and feels just as comfy after over a year of kid/dog abuse. The dark slipcovers (we went with Dark Sivik Gray, which is almost like denim and super durable) hide almost everything. So much that we haven't had to wash them much, but when we do we use our own washer and dryer at home (ya don't need an industrial one or anything) and they go back on and look great. I think different Karl fabrics have different rules – the Dark Sivik Gray fabric says "machine wash" but other fabric choices might be "dry clean only." Our one minor complaint would be that the hold-it-in-place velcro to keep the chaise cushion from slipping out and hanging over the chaise like an overbite doesn't catch correctly (it doesn't seem to line up) so that cushion migrates out slowly over time. So every few weeks I notice and shove it back into the sofa. No biggie. Probably could just add a strip of velcro on the back that lines up to solve it once and for all. Here's the original post about getting Karl.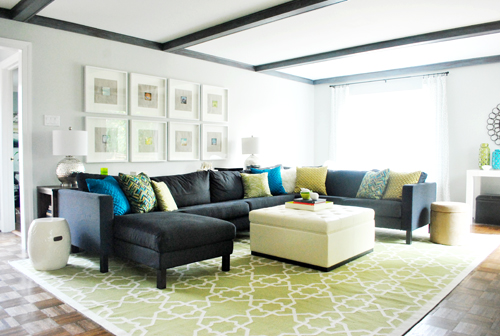 Ed The Bed: He's the other man in our life from Ikea (Swedish product names like Karlstad and Edland made for some pretty easy nicknames) and we've been very happy with him. Still sturdy and comfortable, so when we collapse into bed at 1am after some DIY extravaganza (gotta get stuff done while the kiddo sleeps) we're happy to be there. Here's the original post about getting Ed.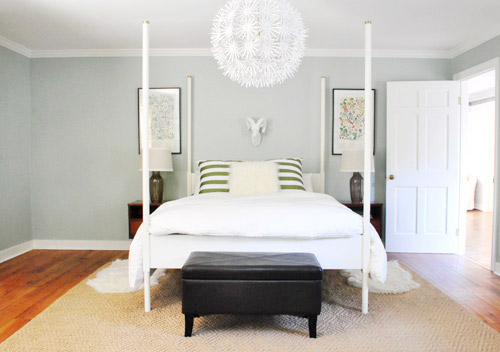 ORB'ed hardware: This is something a bunch of you guys have wanted an update on, so here it is, complete with pics. Stuff still looks mint. Admittedly we don't use the front door (or the doorknocker) very frequently, but here are some shots that I took yesterday of them: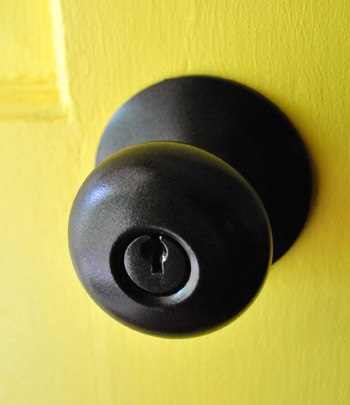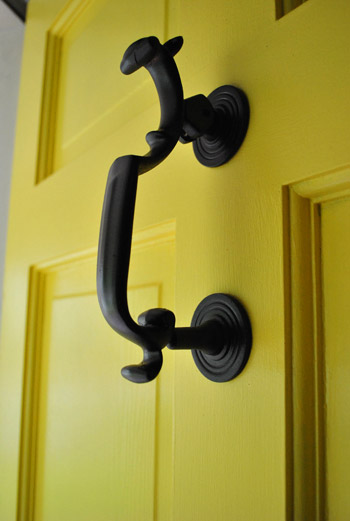 On the other hand, we open the sunroom slider and the door that leads outside at least ten times a day to let Burger in and out and they're also still doing great. So we would definitely recommend this method (sanding them with something very high grit is going to be our approach when we tackle the interior knobs someday) and we'll keep you posted if they suddenly start giving us trouble.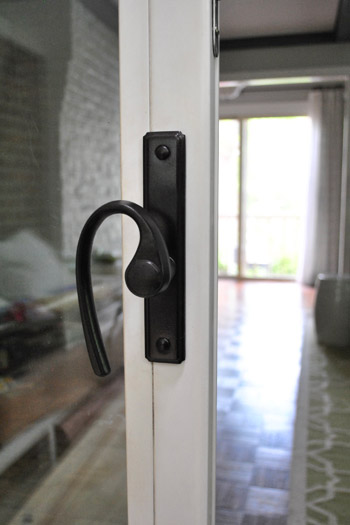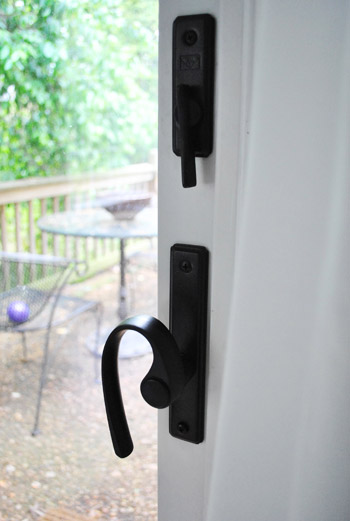 Kitchen lab stools: We have only had these bad boys a few months, but we sit on them numerous times a day and usually eat dinner on them, and for $33 a chair, they couldn't be better. Would I want to lounge in them for six hours while watching The Titanic on repeat? No. Are they comfy for proofreading book layouts, eating dinner, writing cards, paying bills, laptop usage or any other thirty-minute-to-an-hour-long activity? Absolutely. I would warn you that to get them without the back might seriously compromise the comfort-factor, since the awesome flexing back seems to be one of the things that makes them so comfy. Here's a link to the original post about finding our kitchen stools.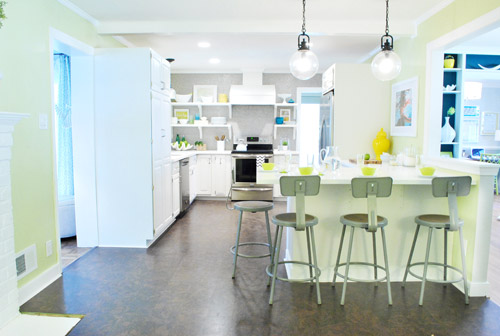 Chair in Clara's room: I probably logged five hours a week of nursing Clara for fourteen whole months in this chair, along with John and I sitting down to read Clara the occasional story (which still occurs) – so for our family, this chair has been great. That's not to say that some of my very best friends don't swear by a cushy rocking/swivel chair, but perhaps from getting used to nursing everywhere (in a parked car at Target? Check.) it's actually one of the more cozy places. The rounded shape supported my arms in a nice way (an armless slipper chair might be a nursing challenge if you're completely zonked and want somewhere to rest your arms) and we always keep an ottoman or pouf nearby for putting the ol' feet up. Totally worked for me. Here's a link to the original chair-finding post and the nursery reveal post about our $20 thrift store chair.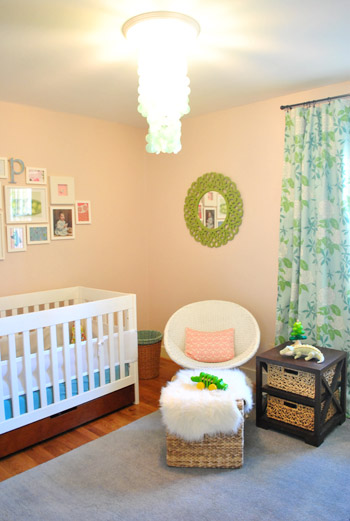 White cabinets: Sometimes people ask if white cabinets get dirty or are hard to keep clean, and perhaps we're just used to them (we had them in our first house's kitchen for over four years before moving here) but we always think they look clean by nature (after all, they're bright white). And since cabinet paint is completely scrubbable, they definitely don't seem high maintenance to us. It's not like white fabric (which can be stained) since cabinet paint like the alkyd stuff we used is slick, durable, and can be cleaned with a wet rag, sponge, or paper towel (you know, because spaghetti sauce happens).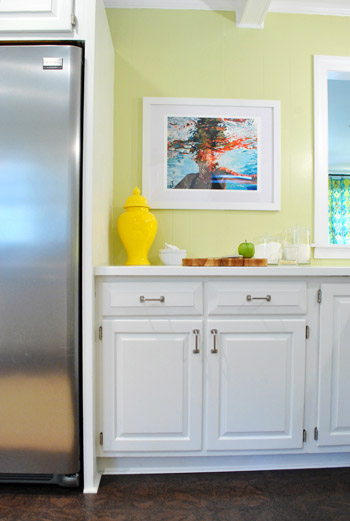 We probably wipe away some random cabinet splatter once or twice a week for a total of sixty seconds spent cleaning them. As for dusting them, we have yet to do this since painting them in December, and they still don't have any dust collecting around the inset rectangle part, perhaps because it's pretty shallow and angled as opposed to shelf-like (it did collect there in our old kitchen with shaker cabinets, so once every month or so I'd run a microfiber cloth over them – no biggie). Here's a link to the original cabinet-painting post with more info about the process/result in the post and the comment section for ya.

White Corian: We're much happier with our Corian (in Glacier White) than we feared we might be. We worried it would be a pain to keep clean and although we read that it was nonporous, we worried that something would somehow seep into it and stain. But so far, we have had zero staining issues (even with things like strawberry juice and spaghetti sauce), zero scratches (we hear white Corian is the best about not getting scratched up), and they're easy to keep clean. We always wiped down our old counters every night before bed anyway, and they were veiny granite so nothing showed – which was a problem! We'd find a glob of peanut butter from three nights ago on the counter that we somehow missed. So gross! It's nice to see everything and just swipe it all down and wake up to a sparkly white room.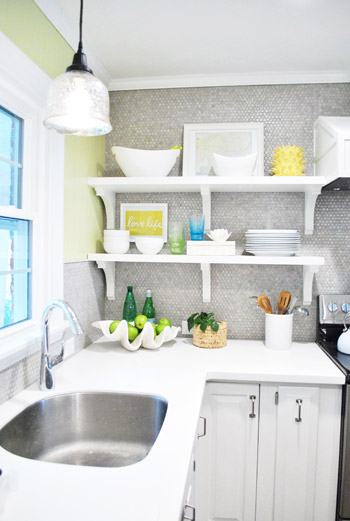 The one thing we've heard is that you can crack Corian by setting a searing hot pan down on it, but in our last house even with granite we used trivets, so that's just part of our routine anyway. But the best thing about them has been the zero seams thing. In our first kitchen crumbs would build up or get caught in the seams, but without them our entire counter with our undermount sink is truly seamless, so it's so nice to sweep things into the sink without hitting any little divots where those seams are. When we ordered our Corian we didn't even know it was a seamless material, so that was a total unexpected bonus. Here's a link to our original post about choosing Corian and a post about getting it installed, both with tons of info in the post and the comment section for ya.
Open shelves: Love is a conservative adjective for how we feel about them. Sometimes I want to kiss them. Open mouthed. They're definitely not for everyone, but we use the things on them so frequently that they don't have time to get dusty. And you should see me unload the dishwasher or set the table, it takes two seconds. It's also a lot easier to do things like pour a bowl of cereal with a toddler on my hip. Seriously, we're so sold we're a little sad that we didn't work open shelves into our first house's kitchen – we were totally missing out. Here's a link to a post about choosing open shelves and a post about building them and loading them up.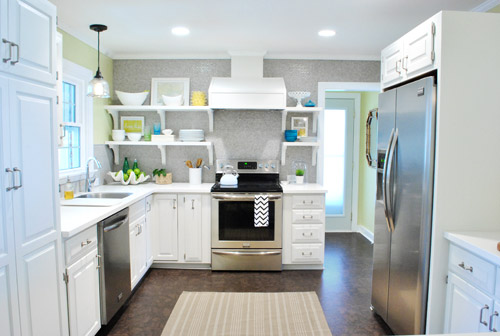 HP Photosmart C4780: Truth be told, I tossed this guy in here because it felt like we were giving too many glowing reviews. So I racked my brain to think of something we don't like. Hah. And it's this poor guy. He just can't be trusted to wirelessly print something (sometimes it inexplicably shoots out one page of something and then takes ten minutes to print the second page or never even prints it at all). It's just a bit too quirky for our tastes, but we did have an Epson that we loved a few years ago (it didn't print wirelessly, so we later upgraded to this one). We'll probably go back to that brand and see how their wireless capabilities are someday when we get mad enough to want to throw this guy out the window (sometimes we're thisclose).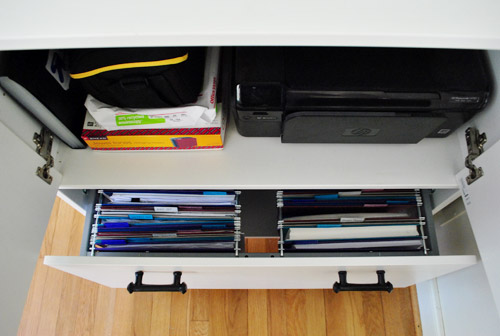 Nikon D3000: Other than still learning how to use it, which is to be expected (we're faaaar from pro photographers) we've been really happy with our camera. We saved our pennies for a while before taking the plunge into DSLR territory, but with a baby on the way (Clara) we thought it was time to upgrade from our little point and shoot. We're so glad we did, because we definitely get better pics of our family and better photos for the blog. Our only gripe used to be that they didn't make a cheap nifty fifty (an inexpensive 50mm lens) for this type of Nikon (it only worked with D90s and others closer to that model) but they came out with this one about a year ago and we got it (we don't typically use it for any blog pics since it's not as wide of an angle lens as the stock one that came with the camera, which is better suited for interiors). But it's great for a moving kid or dog in low light, so we like it for Clara/Burger pics and general family stuff (like her interesting hair fashions). Here's a post about getting our new camera with lots of info in the post and the comment section for ya.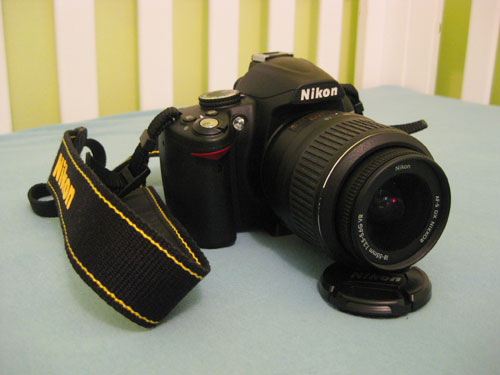 So there you have it. Hope that was helpful. What do you have in your house that's been surprisingly awesome? Or surprisingly disappointing? Are there any brands you always love or products you wish were different? It's so great to hear about stuff that you guys like, and learn from your don't-get-this warnings.
Psst- In the mistakes-we've-made/what we've tweaked vein, check out this post, this post, and this post. We definitely make our fair share of mistakes! We just try to keep learning as we go, and allowing our house to evolve over time.
&nbsp&nbsp&nbsp
Well, Clara can go ahead and add fabric designer to her resume. With her 23 month photo in the can (see the full photo project here), it means the next monthly picture in line is the big 2-4… otherwise known as age 2.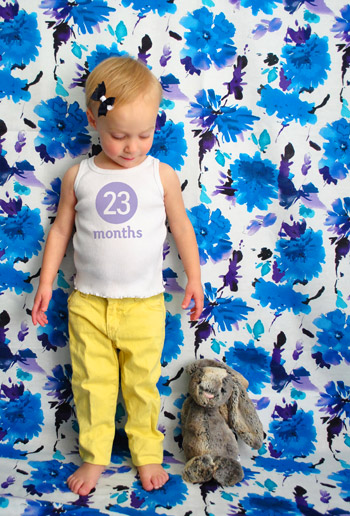 And since we concluded her first year of weekly-fabric-backdropped photos…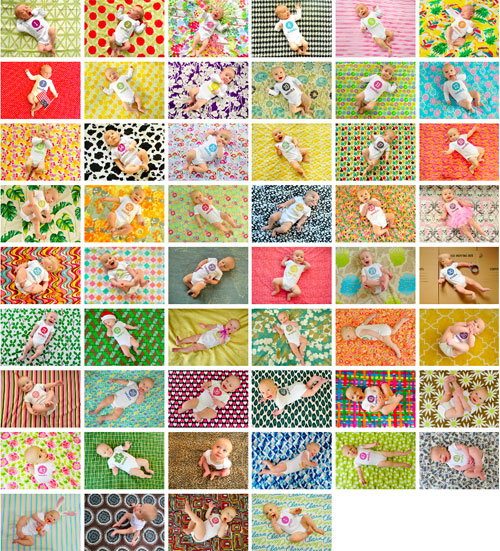 … with a custom fabric design that we made through Spoonflower by scanning her name drawn out in marker on paper (and tiling it in Photoshop), we though we'd make it a tradition and create more homemade fabric for her second birthday.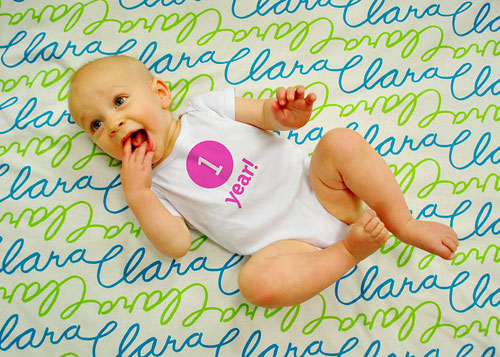 We thought about doing something similar with Clara's name for our she's-two fabric (perhaps in Sherry's handwriting instead of mine) since we liked how personalized it felt, but then we realized it could be even more special if we left it to someone else. Enter our latest fabric designing project- it's a bit more subtle than last year's but it's so much more meaningful to us because… Clara drew it herself!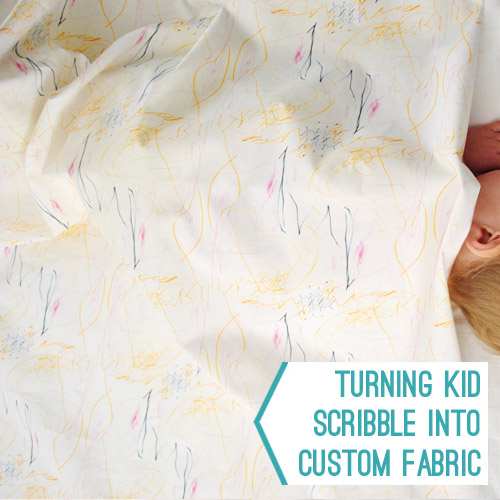 It basically just involved some Clara scribble, photographing said scribble, playing around in Photoshop, and tiling it in Spoonflower, but we'll get to that in a minute.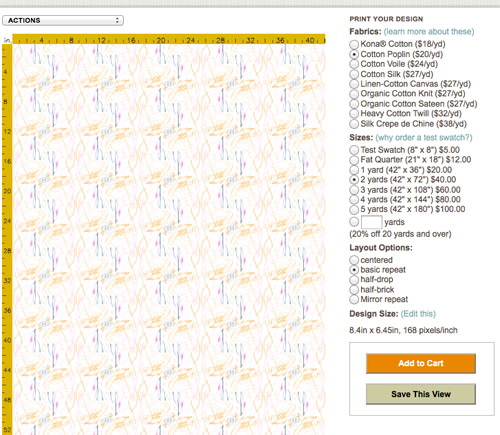 It started on Easter afternoon when we broke out a big sheet of paper and some markers and let Clara do her thing: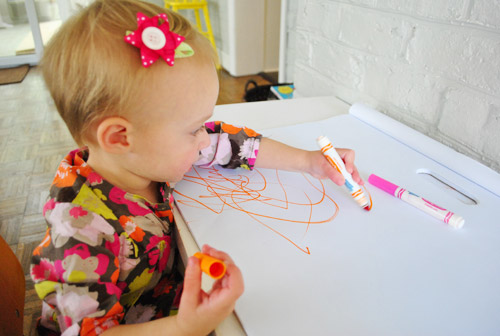 We gave her an orange and pink marker, since they're her current favorite colors (and the ones we're planning to use for her party) but eventually she requested a black one and we handed that over too. Gotta let the artist do her thing.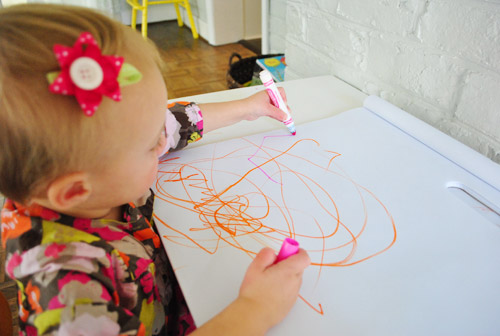 She was definitely in the zone. Which was good because we were determined not to interfere so the drawing would truly be hers.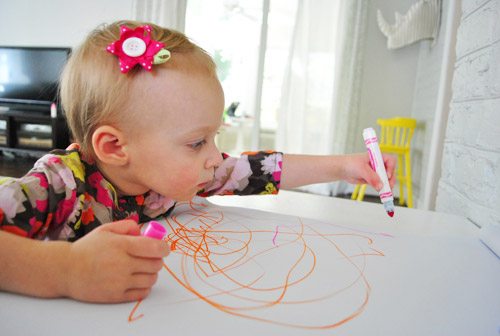 And although it might be hard to see them in the final work of art, Clara not only incorporated her party colors – but also her party theme, which is, by her own request: "WORMS!" (the girl is so in love with worms that she regularly tells us she dreams about them and looks out the window and says "Oh, hi worms."). It's kind of hilarious.
Here's the final result… which had us scratching our heads thinking "how exactly is this going to become fabric?" and wondering if maybe we should've "assisted" a bit more.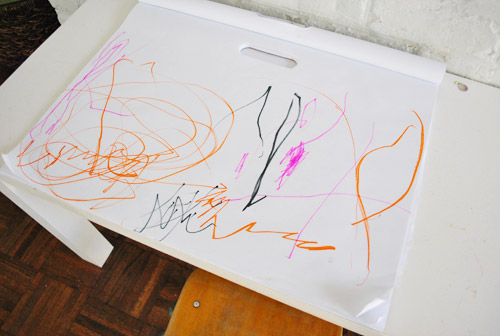 But sometimes you've just gotta trust the artist and her "vision." So I snapped this pic of it straight on (since the paper was too large to scan):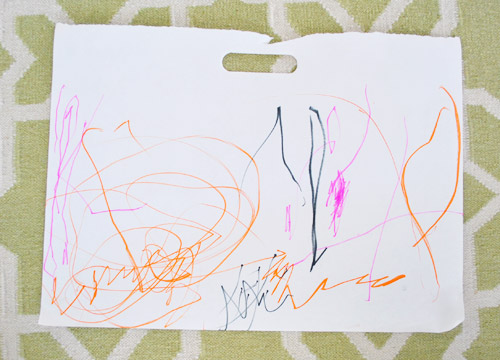 Then using Photoshop we put the design on a plain white background (by upping the contrasting and then selecting and deleting the rest of the background). The black marker sort of turned navy, but we didn't mind, so we went with it. Still not looking very much like patterned fabric though, is it?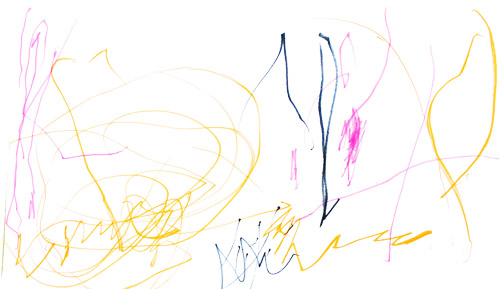 Just like with the first-year fabric, we figured we might be able to make it look more "pattern-like" by repeating it. So we duplicated the layer and began playing around with different ways to tile it in order to make an abstract pattern out of the bean's masterpiece. Here's what it looked like when I duplicated the layer once, rotated it 180-degrees, and placed it on top of the original drawing: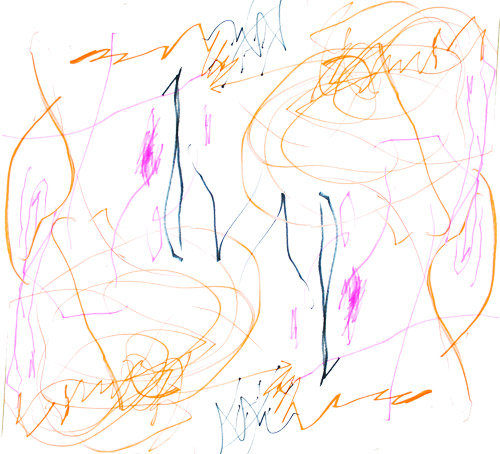 Then we took a second copy of the original (also rotating it 180-degrees) and lined it up on the bottom: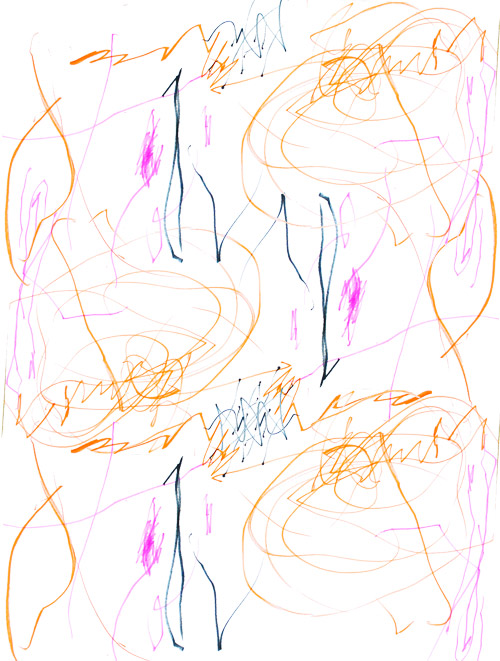 Confusing, I know, so here we've put a red box around the original rectangle (and two blue boxes around the flipped and shifted ones) so you can hopefully see how they're layered a little better: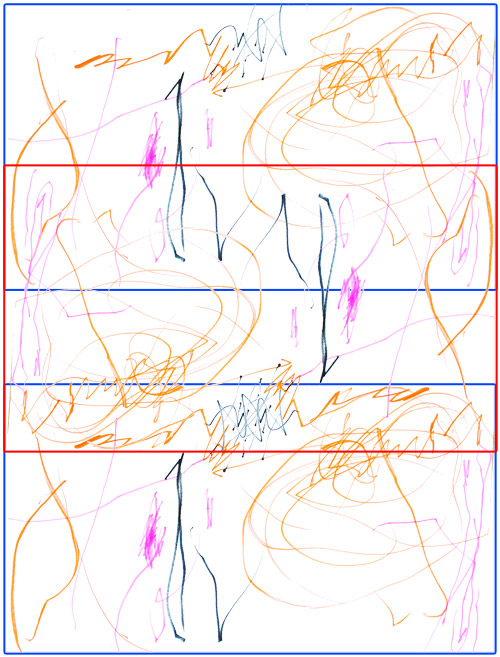 But of course if we want the Spoonflower program to tile the pattern accurately, we had to crop it in a way that it would repeat seamlessly. So I just found an easy reference point for where I could cut it off at the top and bottom, like this: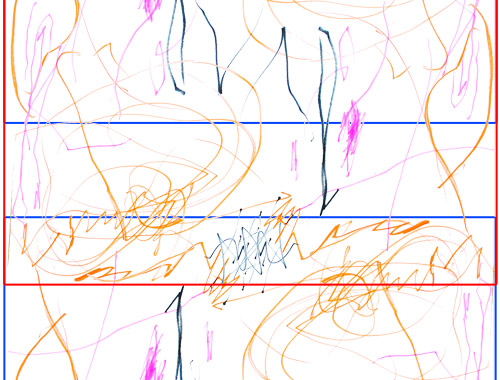 So here's what the pattern looks like cropped and without those colored boxes on each section. The alternating orange circles with the navy squiggles and the dark pink splotch were starting to look kinda cool. At least to proud parents like us.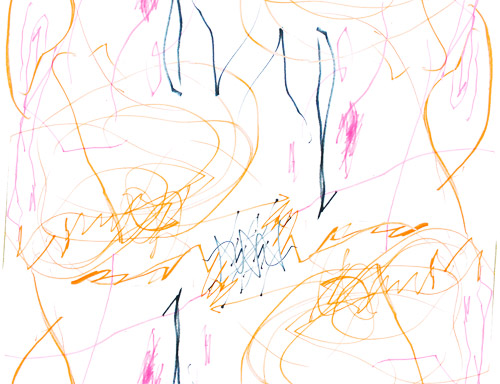 But we'd have to upload it to Spoonflower and see it as a sheet of fabric to really see if were were on to something…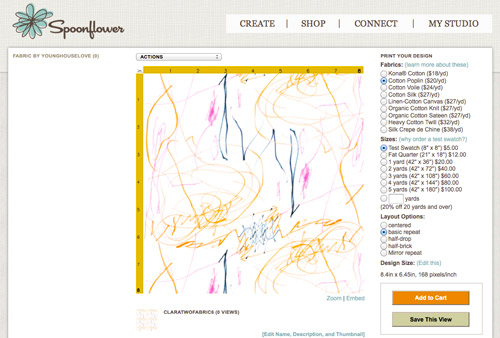 Spoonflower actually gives you a lot of options for resizing and adjusting how your pattern repeats. We didn't really explore this much in our our last fabric-designing adventure, but here's just an idea of the different ways you can tile your pattern (the one on the bottom right with the stripe was achieved by adding a bit of white space on each side of our JPG before uploading it to Spoonflower).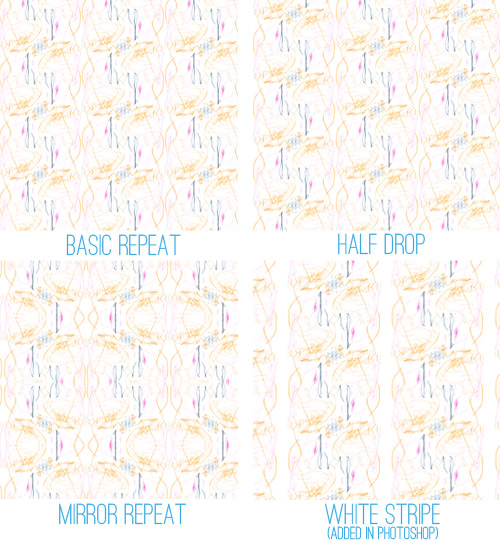 After some contemplation we chose the Basic Repeat just like last time (we initially liked Mirror Repeat, but Sherry said it was a bit female-form-ish and once we saw that we couldn't unsee it – or stop giggling like twelve year olds). So then Basic Repeat became the favorite. It's kind of ikat-esque, and not obviously kid-scribble until you get closer, which is part of the fun. So we ordered two yards of it for $36 + $3 shipping (for a total of $39) thanks to a discount at checkout for uploading our own design. Yes, it's still more expensive than our usual fabric budget, but you gotta splurge sometimes, right?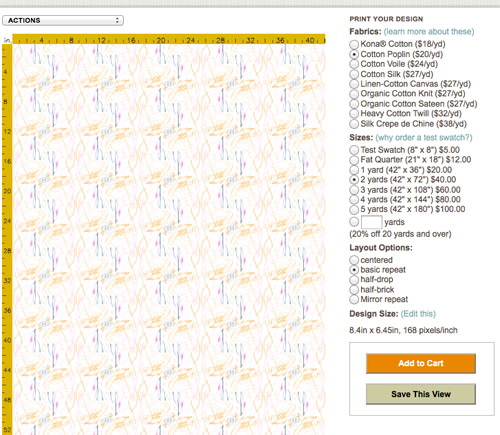 Not only do we plan to use it for the backdrop of her big birthday photo, Sherry wants to sew something memorable with it (along with the Clara fabric from last year) – so we'll keep you posted on that. She's already made a birthday banner, a quilt, and a beanbag from other weekly photo fabrics.
Fast forward about a week and our fabric arrived. Woot. These photos don't really do it justice (it's bolder/brighter in person), but it's awesome. It probably won't be winning any fabric design awards or anything, but it's the coolest thing we've seen in a while.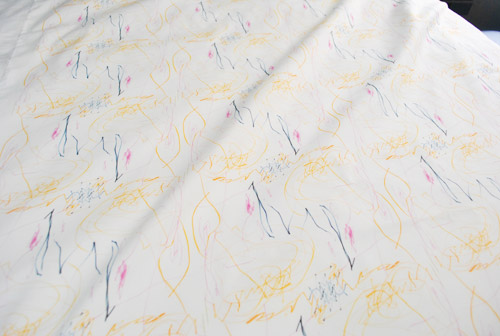 We have to wait a few more weeks before Clara is officially 24 months old to put it to use for a photo session…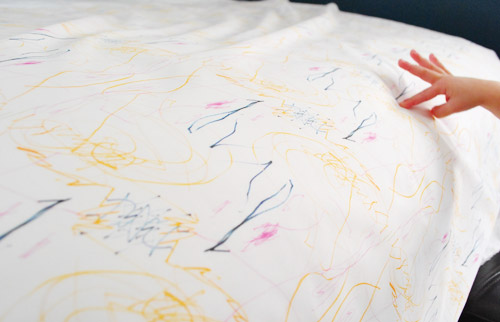 … but Clara decided she couldn't keep her hands off of her own creation, so we had a little playtime with it in the guest room…
…which turned into a little impromptu photo shoot as well. She liked hiding under it.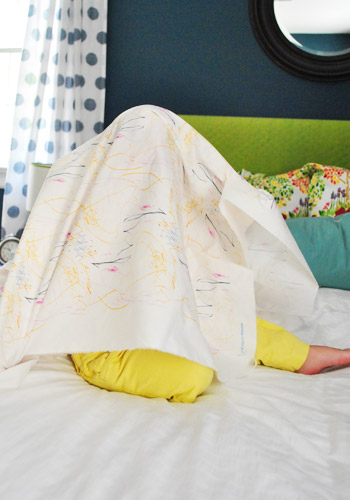 And gazing lovingly at her creation.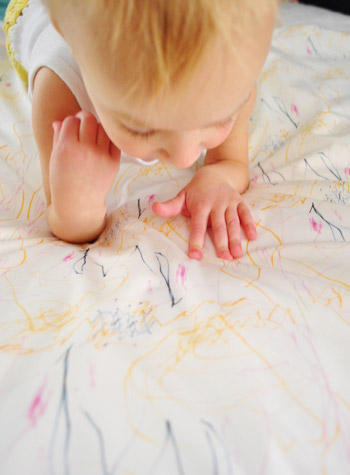 At one point she even asked to take a nap under her "blanket."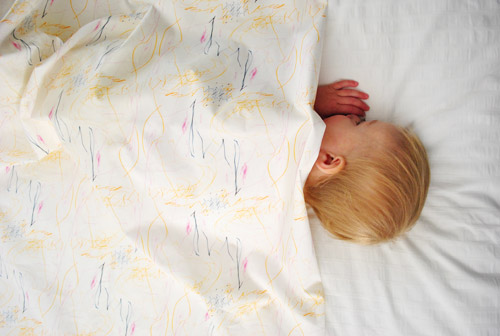 This is the expression I got when I reminded her that naps involve closed eyes: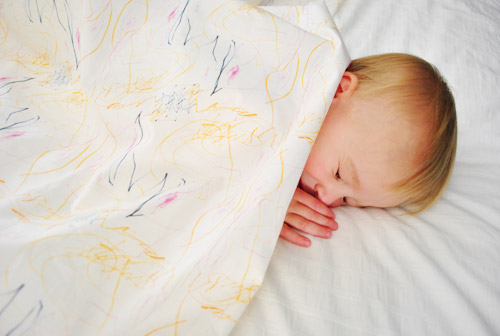 Then fabric playtime turned into pillow playtime. And there was some hiding…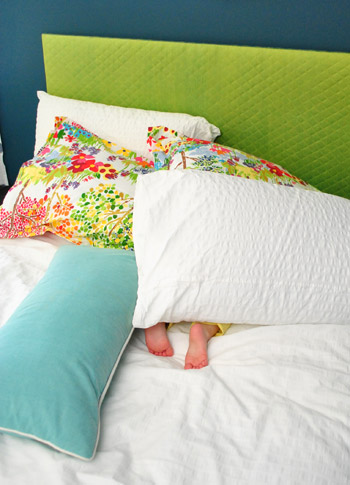 …and some spirited "Clara popping out!" (her words, every time it happened).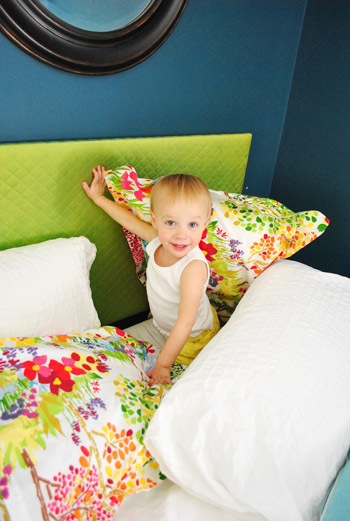 Receiving her scribble fabric makes us even more excited for Clara to hit the big 2 year mark, though we're also in disbelief. It seems like just yesterday we were designing fabric for her… and now she's doing it on her own. Well, sorta.
Anyone else use Spoonflower lately? Or do something else with your son or daughter's artwork?
Psst- Check out Clara getting her Rihanna on here on Young House Life.
&nbsp&nbsp&nbsp