Who watches Jersey Shore? Remember when they went camping and Deena stood on that picnic bench and said "the wilderness!"? For some reason it made me laugh. I'm from Jersey though, so it might be a you-had-to-be-there you-have-to-be-from-there thing. Anyway, we mentioned that we had lots of outdoor upgrades on the agenda this spring, so let's get into it, shall we? Remember how our yard looked like this when we bought the house?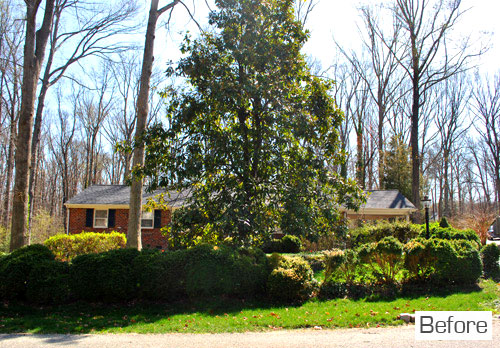 And then we limbed up the magnolia and transplanted/removed a lot of the bushes and painted the front door, to get it looking more like this?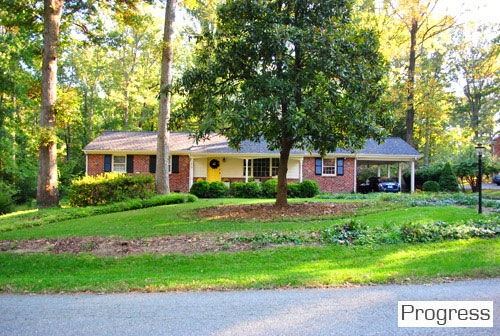 Well, it has definitely come a long way, but it's still a far (far!) cry from where we'd like it to be (to the point that we apologize to our neighbors way too often for weedy patches of dirt in the middle of the yard and dead flowers by the mailbox, etc). So when a deal came up on Living Social for a one hour consultation with a certified landscape designer named Katherine Brooks for $60 (instead of $125) we went for it.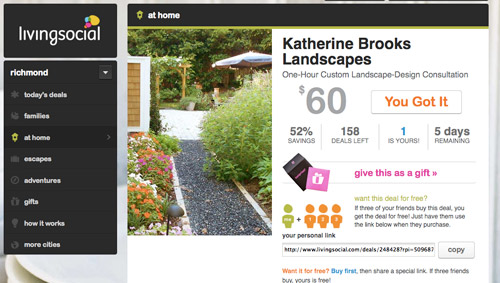 It might sound weird for two people who are crazy about doing things themselves to pay sixty beans to a landscape expert, but we're black thumbs. So someone who knows all about what to plant (or transplant) where, and can plant ideas (see what I did there? it's a landscaping pun) that we'd never come to on our own accord definitely has value to us. For example, about five minutes into our consultation with Katherine (who was very nice by the way), she mentioned that we'll never get any grass to grow under the giant circle beneath our limbed up magnolia because the roots are so shallow they crowd out grass. We had actually planned to seed that area in the spring and the fall and hope for the best, so she easily saved us sixty bucks worth of grass seed and water and a whole lot of time and frustration while offering up a nice alternative solution (more on that in a sec).
She also tossed out a list of plants that she thought would do best in certain areas of our yard, and a bunch of suggestions about what we could transplant (you know we love working with what we have), general sustainable landscaping tips for our area, how we could reconfigure our garden beds (she even brought one of those sprayer things to mark off the grass), and identified lots of existing greenery for us (knowing what something's called means we could google how to care for it or transplant it). So we'd say it was money well spent – and you know we're cheap, haha. When she backed out of the driveway we already had a four page plan scribbled down in a notebook. Here are just some of her suggestions:
seed the yard asap in many of the bare spots that remain from digging up bushes last fall
plant a few american holly trees and sweet bay magnolia tress in the back to add privacy
hosta, coleus, kimberly fern, or small boxwoods would do well in the empty planters on our porch
get the ivy off all of the large oak trees in the back yard (slowly over time it can hurt them and we don't want that)
transplant the periwinkle (a lush green groundcover that we have growing everywhere)…
…. around the base of the magnolia since it's one of the only things that can grow there and hide that circle of dirt…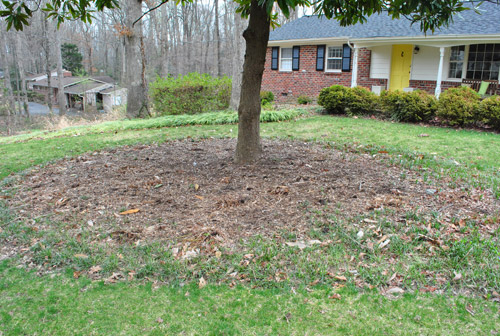 transplant/remove the ailing boxwoods and azaleas crowding the path to the front door and replace them with more appropriately sized perennials that won't encroach as much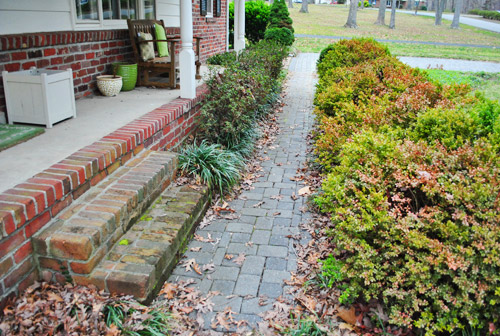 plant a bunch of things around the house's foundation (there's waaaay too much bare dirt and brick on either side of the porch) – she gave us a list of specific plants that would do well in those lighting conditions and that amount of space
dig up the odd rectangle of brick that was laid right next to the driveway in the planting bed under the window, so the landscaping can look more balanced
plant ground cover around the mailbox (we did our best with flowers there and it always eventually grew to look unkempt, so groundcover is a more realistic option for not-always-on-it-landscapers like us)
plant trees on the side of our lot so it looks less like a weird gully full of nothing (she gave us a list of trees that would love that area, like dogwoods, redbuds, river birches, and even a few weeping willows)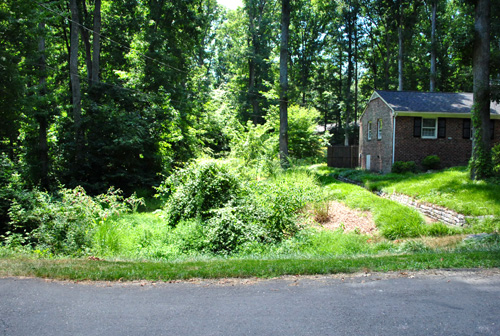 transplant a few bushes on one side of the patio to the other side of the patio so they no longer crowd the path
plant more hydrangeas in our patio garden (we have three very happy ones there, so adding more to the completely bare side of the garden will bring balance and color)
cut down two diseased trees and one completely dead rhododendron bush next to the patio
remove the giant euonymus vines on the oak tree next to our patio (we originally heard from an arborist who said it was ok, but they have gotten even bigger and heavier and after hurricane Irene we realized it could have been trouble, so when she said they should be removed we took note)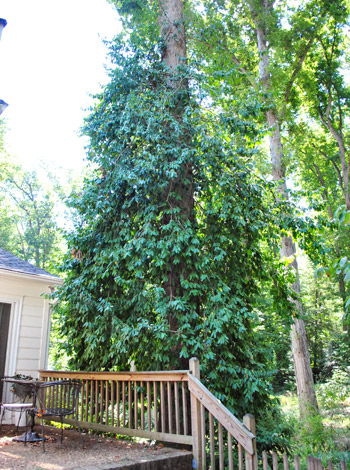 sell all the cobblestones we already removed (and plan to remove around the plantings in the back) – apparently you can get a few bucks a pop and they make it so hard to mow around plant beds
cut back the ornamental grasses on the side yard and the butterfly bushes in the back yard (March is apparently the time to do that every year)
plant aucuba on the left side of our house (there are no plants next to the house on that entire side – just a dirt planting bed with nothing but weeds)
and at least ten other things that are too complicated to mention until we tackle them
So yeah… it's quite a list. But we knew from our first house's slooooow curb appeal makeover (we worked on that baby for 4.5 years) that these things take time. And to keep them from feeling too overwhelmed, it's best to take it one day (and one project) at a time. So one of the first things on our list was to get some plants for around the house's foundation. Because garden beds full of nothing but dirt (and the occasional weed) isn't a good look. We actually purchased a Living Social deal for a local nursery last fall, so we had $80 to spend before it expired in three days (we spent $40 for the deal). So we ran over with a list of plants-that-will-hopefully-live from Katherine, and picked our favorites.
We had a hilarious conversation in the car. Well, it wasn't funny until the drive home. But on the way there we were saying "I hope we have room for all the plants we'll get with our $80! We had taken the stroller out of the trunk and everything, just to make room. Then we got there and realized that nearly all the bushes were $25-50 a pop. So yeah… we left with two bushes. And they easily fit in the car. And we snickered because we envisioned the car full of lush plants as far as the eye could see… but plants are expensive. Haha. Here's what we came home with. It's hard to tell the scale from this picture, but they're each around two feet wide, which is nice. They'll still grow a few feet larger over time, but sometimes when you buy the cheap tiny things it takes years for them to even get two feet wide.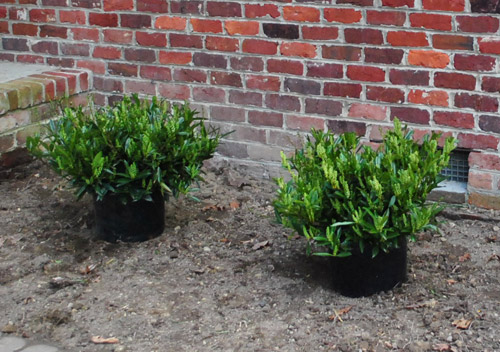 They're otto luyken laurels, which came highly recommended by Katherine as a few of the bigger foundation shrubs we could add (she gave us info about how to space them and how far away from each other to plant them, etc). Thankfully these guys are guaranteed for a year, so if they give up the ghost we can get a credit towards something else. But we have no intention of letting them die (its been raining like crazy lately, which is hopefully helping them to settle in nicely).
As for where we planted them, we're just starting on the garden beds to the left and the right of the porch (which clearly have a long way to go). So one got a nice roomy spot on the left…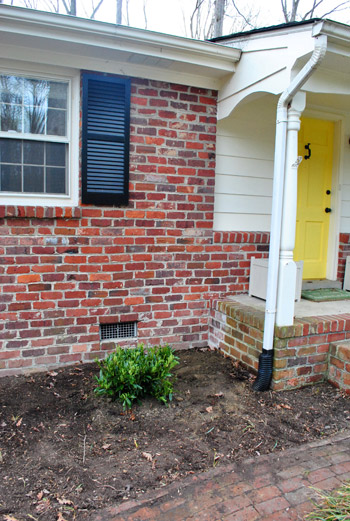 … and the other scored some prime real estate on the right.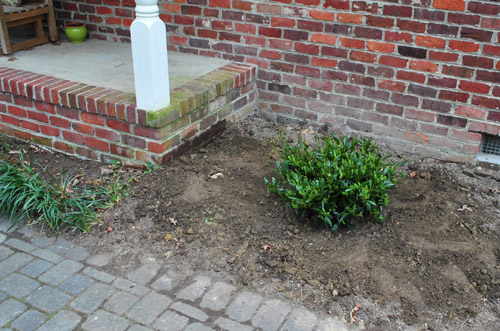 So when those garden beds come along a bit more (they each need at least five more plants) we'll share all the before and after pics. We have a lot to clear out, including a big rectangle of bricks laid to create some sort of hose platform to the right of the bush above. Sounds like a sledgehammer job for Super $herdog. What are you guys doing outside these days? Any new plants or flowers going on?