It looked sweet when we finished it last year, especially if you ignored the fact that we had lots of landscaping stuff to attend to behind it. But these days it's looking more like this: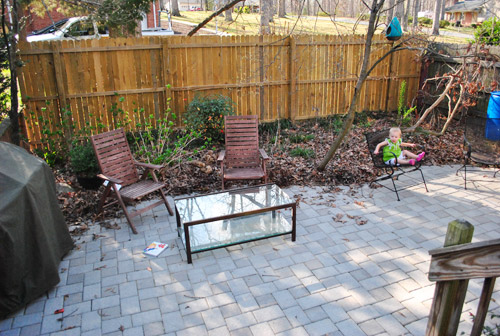 That's a whole lotta ugly going on.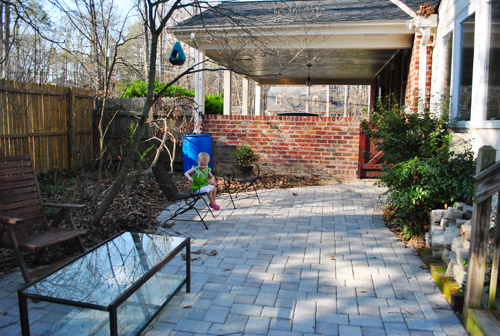 The patio itself still looks great (and is weed free thanks to this step, while our un-polymeric-sanded cobblestone driveway is covered with them), but the "garden" area behind the patio has never looked worse.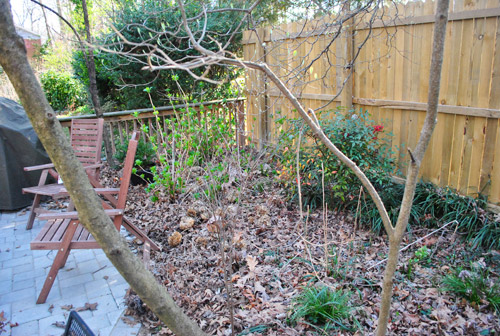 We even learned from the Katherine (the certified landscape designer who recently came over) that some of the trees were diseased and dying (which we actually heard from the previous owners as well but didn't want to believe) along with a big rhododendron bush that was completely dead. Bummers.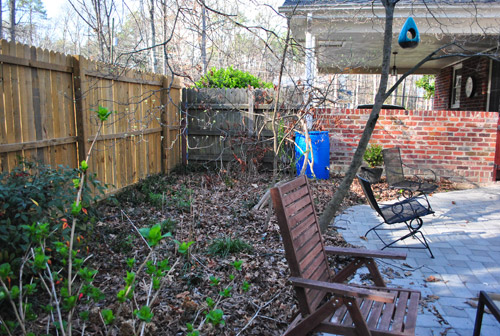 So she told us what to prune back, what to keep, and what dead or diseased things we should remove to give the living things a better shot at survival – and make the whole area look a lot less… well, ugly.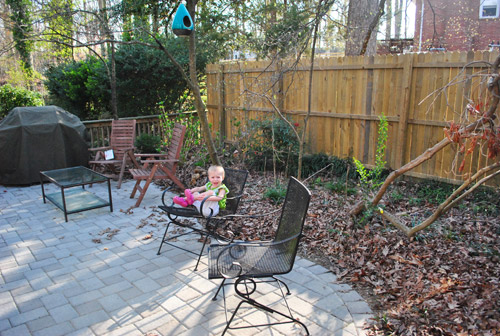 So first we removed the two diseased trees that were on their last leg (sniffle) and the completely dead rhododendron. Then we raked up all the leaves so we could actually see the ground again.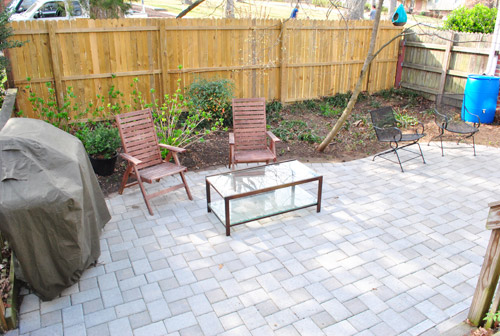 It was definitely a huge immediate upgrade. In person the open-ness is really nice. Things were sort of encroaching on the patio a lot when it was all overgrown back there, so now when you walk onto the patio you feel less crowded and worried you'll get a stick in the eye.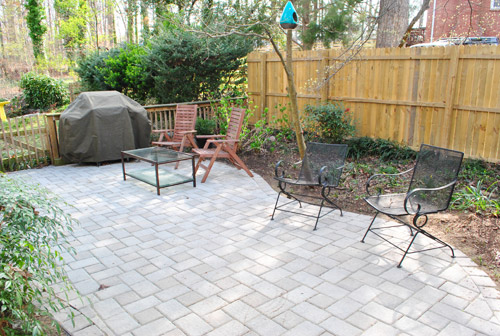 But we still had some liriope to remove and a whole lot of bare spots that needed some planting (I've been meaning to paint our rain barrel to blend him in a bit more, but who knows how long it'll take me to get on that…).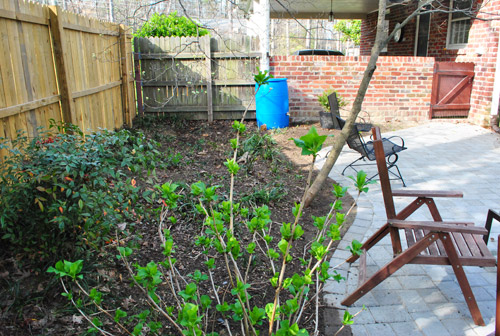 The next step was digging out all the random clumps of liriope to make way for some more intentional looking plantings.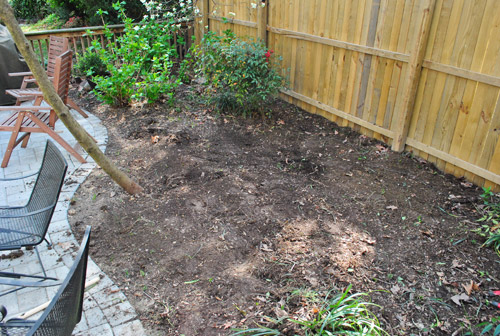 So here's the area behind the tree that we cleared to make way for some free bushes.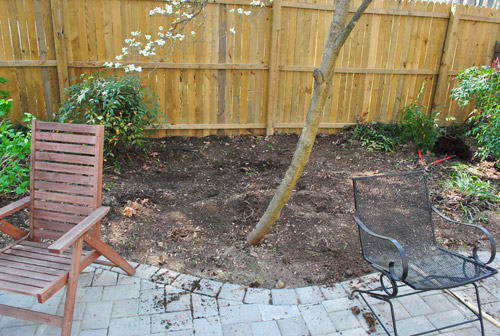 How does one get free bushes? Well, by transplanting them of course. Yup, it was another suggestion from Katherine The Landscape Gal. She pointed out these were much too big and on top of each other over here…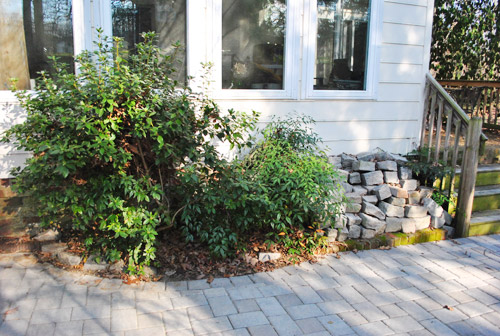 … so we dug them up…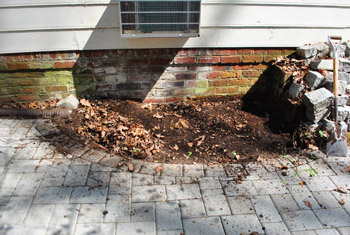 … and planted the three nandina bushes in a group with the one that was already there next to our giant hydrangeas in the corner. Since one happy little nandina bush was already on this side of the garden, we knew they'd do well over here. And a clump of the same type of plant always looks nicer than just one of ten different things hanging out all willy nilly together. Ideally we would have transplanted four of them to end up with a grouping of five since odd numbers seem to work well in gardening, but we were working with what we have. Thankfully they look nice in their little pack and will continue to fill in a bit more.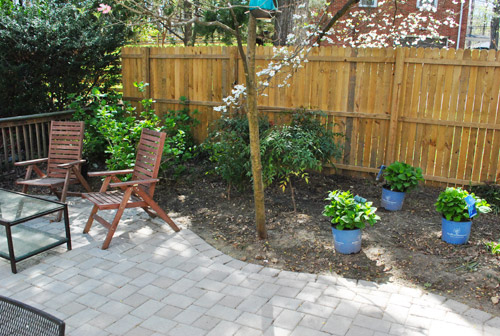 Then we grabbed three new hydrangea bushes from a local nursery (after some price checking, a place called Great Big Greenhouse had the best deal and also offered a year warranty on them). They're the exact same variety as the ones we already have in the corner – which are doing gangbusters, so we hope these guys will grow nice and big and bloom just as well.
Of course only time will tell, but we'll keep you posted. Here's everything all dug in before we mulched the whole bed (which looks awesome by the way- just forgot to snap photos so we'll have to share those in our next landscaping update).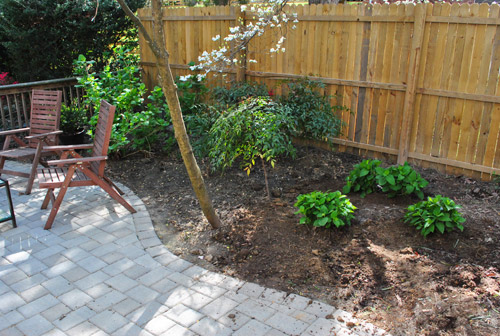 Between all the rain we're getting (and the rain barrel that's nice and full from previous storms which comes in handy for stretches of dryness), we're making sure these guys don't give up on us. Oh and in Clara news, she especially loves talking about worms since digging our new plants in prompted us to discover a few (she even said she had a dream about worms the next night).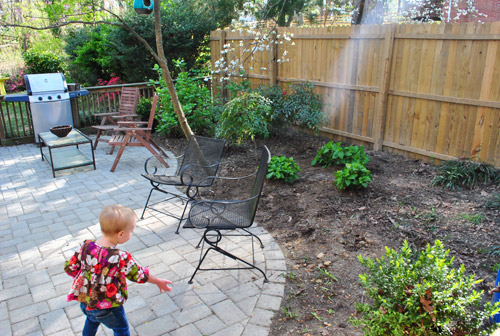 Sure we still have the corner by the rain barrel to attend to, but we have plans for that. So we'll get there, someday! It's definitely a nice discernible difference from the mess we were working with a week ago. There's something really rewarding about landscaping work, although it's bound to get you dirty and sweaty, just due to the fact that it's such an obvious before and after. Something pretty and green can be found where there were only leaves and weeds the day before.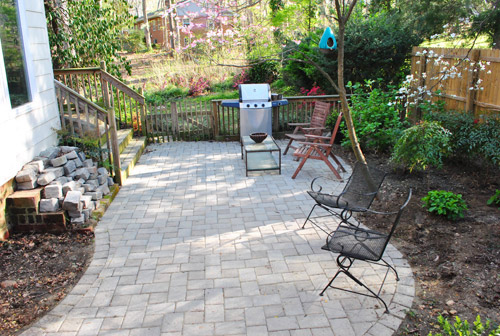 And the whole area is looking especially cheerful with the trees in bloom too.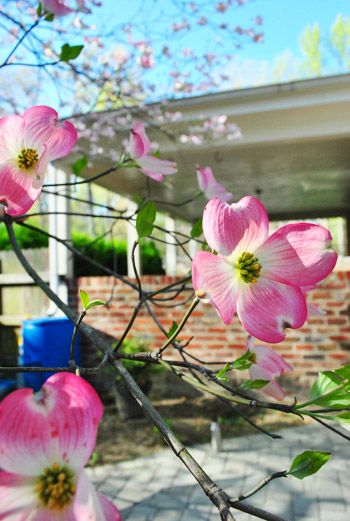 Here are things from the other side (yup, Clara really did make it her job to be in every pic). This shows a few places we still have to work on (the bed near the house could use some smaller-scale greenery and of course we have the whole corner with the rain barrel to tackle)…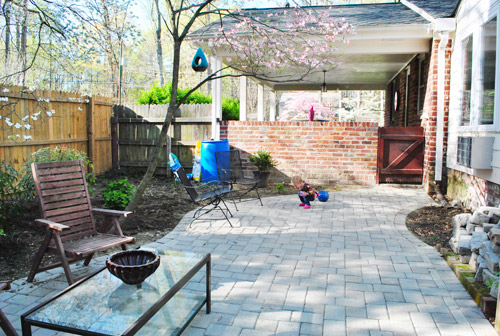 … but it's definitely a lot easier on the eyes than this debacle.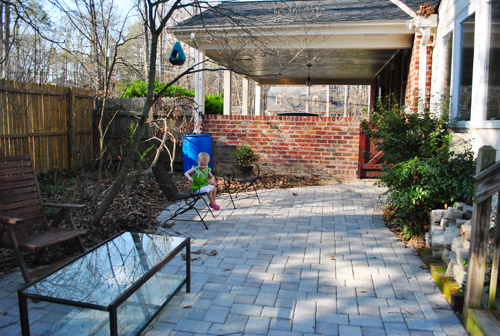 It's so crazy to me that the shot above was only taken about a week before the after pic on top of it (see all the buds on the trees that were about to bloom?).
Now they're doing their thing. So pretty.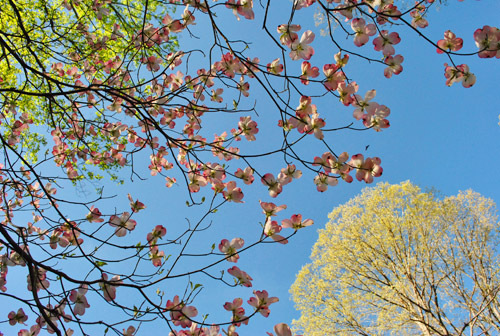 Here's another before…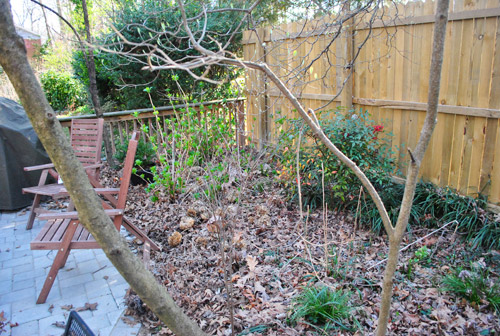 … and after.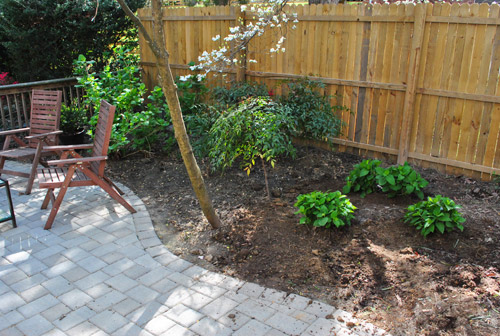 And another. I can't help it.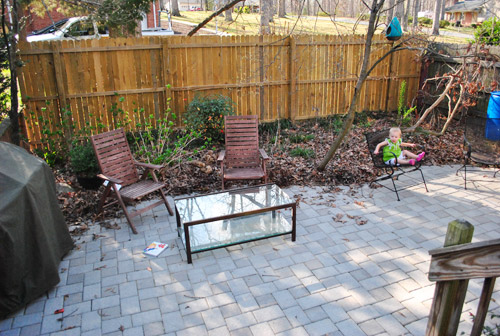 Ahh, much better.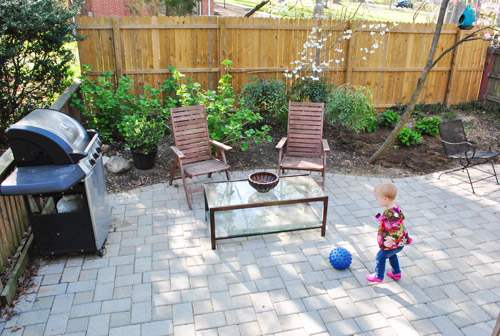 I really wish I had snapped mulch pictures because it's even better looking. Oh well, at least the mulch is holding it down and keeping weeds out and moisture in. Yay mulch. Update: Couldn't resist sharing a Mulched & Fabulous pic, so I ran out and got this for ya: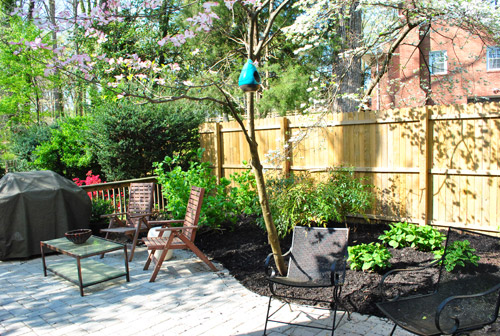 It's definitely a far cry from the view before: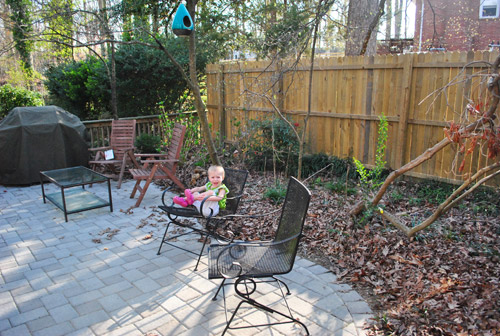 This next picture is my favorite of the entire lot because I said "Clara, you're in mommy's picture!" and she squatted and closed her eyes and said "Where's Clara" as if she were invisible.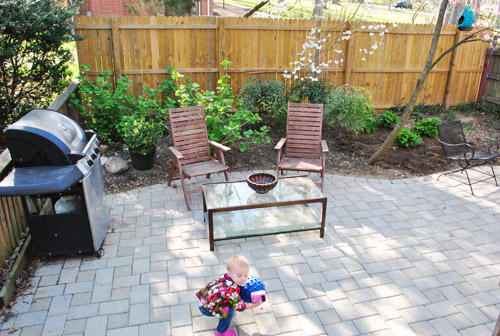 Which must run in the family, because it's exactly what her daddy did here.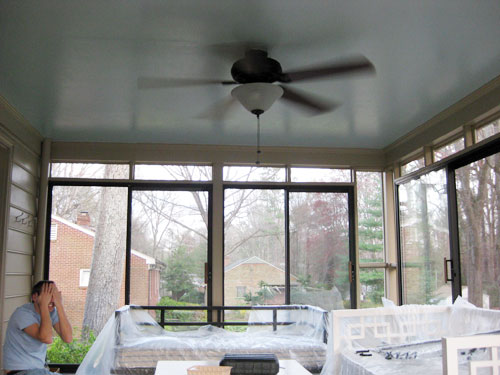 What can I say? The girl has good hiding genes.
What are you guys planting? Do you have any favorites? I never thought I'd be buying hydrangeas since they always seemed to be out of my skill level (how can something that pretty not be super high maintenance?) but after 15 months of not killing the existing hydrangeas (which get bigger and more gorgeous each spring) we decided to go for it. And nandina is always a really easy one for us (we had that at our last house and it always did well), so here's hoping I didn't just jinx myself. Anyway, I'd love to hear what action is going on outside in the garden or on the porch or wherever else you get your plant on.