Archive for March, 2012
It's time for a board meeting guys. Nothing official, just an actual meeting of cork boards, like so: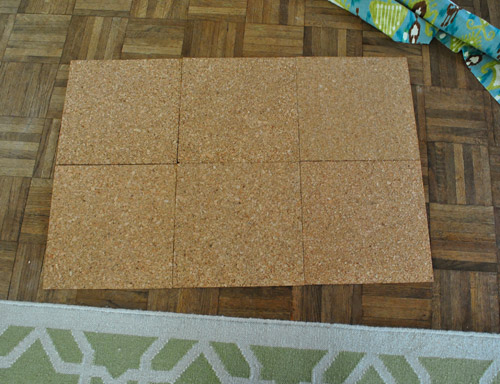 Let's back up. I had this random idea that a hidden bulletin board in my closet would be a fun place to tack up a bunch of pages I've torn out of magazines. You know, cute outfits, haircuts, and other various tips/reminders that I rip out (like how to check my freckles for signs of skin cancer – yes I actually do that). That way, instead of shoving them somewhere like a drawer or letting them pile up on my desk, I can see them all at a glance… with the push of a few hangers.
See what I mean?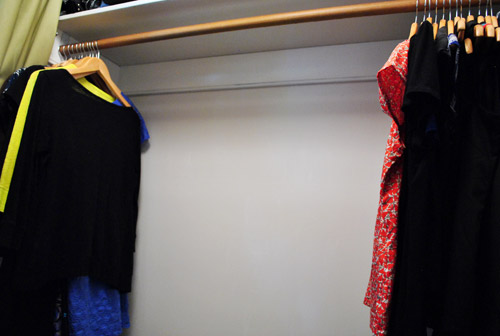 When I push my clothes to the side there's a nice big swatch of unused wall space on my side of the closet. And that way my lady mag cuttings won't be all up in John's face (or anyone else's really) except for mine – when I want to see them. And if I don't I can just leave my hangers in their normal position and my incognito board is… incognito.
So to make a little fabric covered cork bulletin board, I grabbed two $6 packs of cork from Target (for a total of eight squares, but I only used six so I think I'll use the other two to make cork flooring for Clara's someday dollhouse – haha). Oh and I had leftover fabric (called Khanjali Peacock by Robert Allen) from making the curtains in the dining room and upholstering the chairs in the office (originally snagged on clearance for $12 a yard from a local fabric outlet called U-Fab). So I opted to use that already-owned fabric to dress up my cork.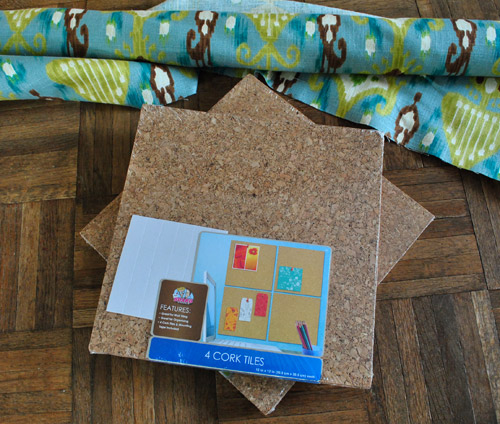 That makes the total cost of this project $12 for the cork (since I already had the fabric), but it might run you $15-$25 to make a board this big if you don't have fabric on hand and have to buy some. A smaller board with just four squares will only run you six bucks for the cork though, so that's another option.
Anyway, back to the meeting of boards. I just lined up six of them like this and used duct tape to connect them (the cork is exactly the same on both sides, so just use whatever side that you tape together as the back).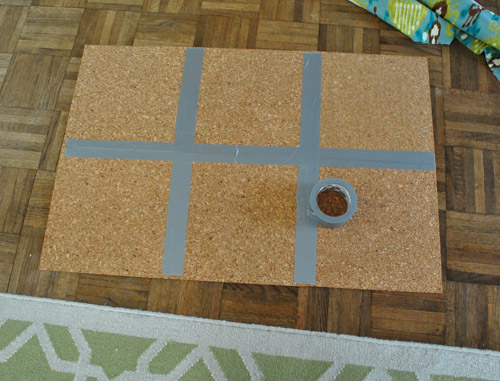 Then I added a little more duct tape to reinforce it (since thin sheets of cork are pretty floppy).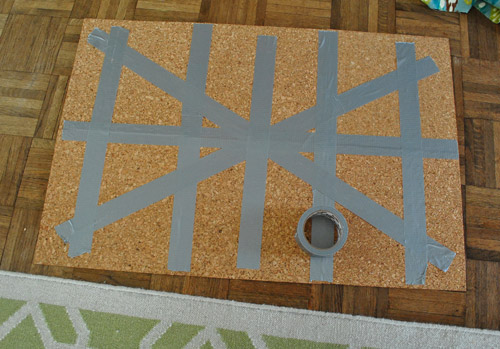 Then I cut a piece of fabric that was about 2″ larger (on all sides) than the 36 x 24″ cork rectangle that I had made.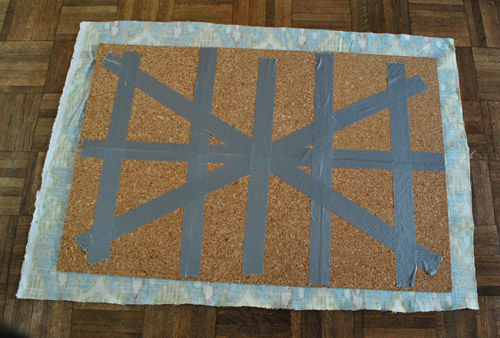 And I pulled them around the back and used duct tape to secure them nice and tight.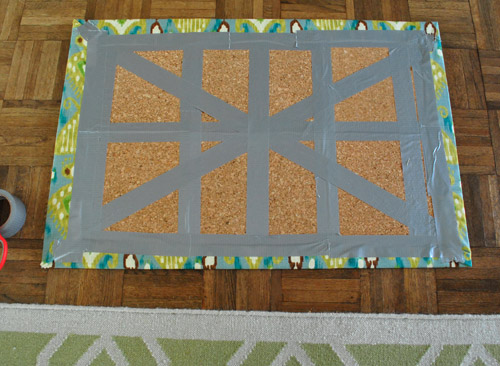 Oh and before I cut my remnant I paid attention to the pattern so it would look nice and centered. Here she is from the front after her nip and tuck: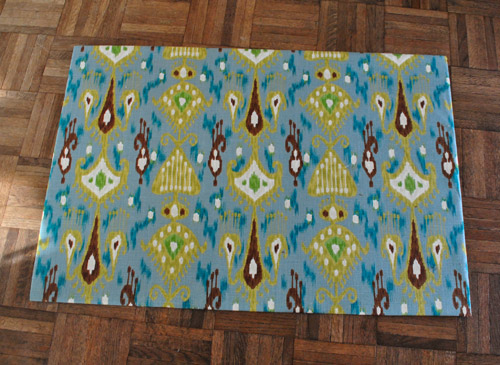 And here she is after I used six small nails to tap the four corners (and the top middle and bottom middle) right into the wall to secure it. This way I can just remove the nails to free up my board if I ever want to remove it to repaint the closet for example – or want to hang it somewhere else someday.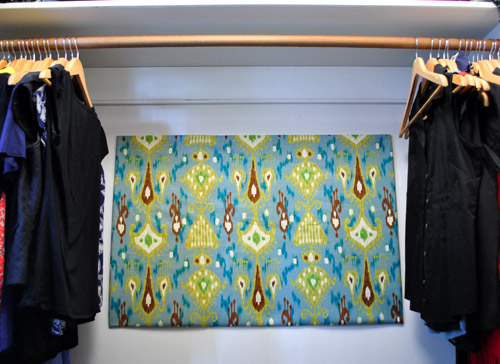 Then I started pinning things up. First I pinned some notes/reminders I took about three years ago from a book called Gorgeously Green (love that book). And an article about how-to-alleviate-allergies from Real Simple (this pollen is trying to kill me). And a skin cancer checklist thing from Glamour magazine to keep me from being neurotic and thinking every last freckle is bad news. What? I was burned a lot as a kid. And you know $herdog rocks the pasty white limbs (evidenced here and here).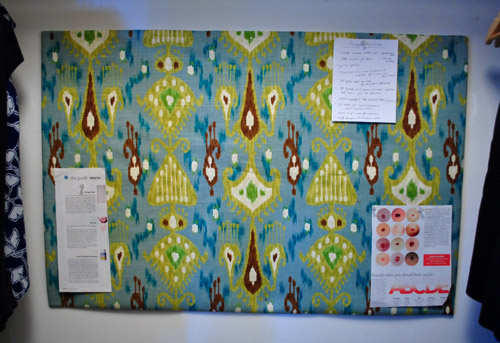 Then it was time for the fun stuff: People/bags/coats/hair that I like (you know, to help me combat the dreaded Mom Slump that I most definitely have fallen into).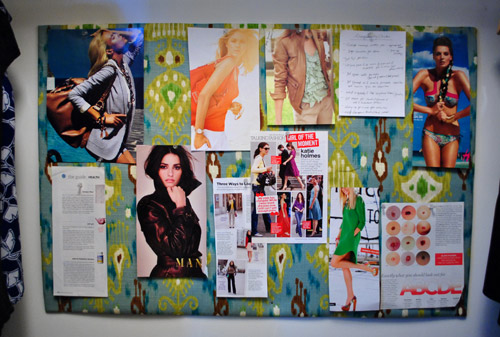 It was about this moment that I realized that patterned fabric + a junkload of stuff pinned at random = chaos. So if you're more of a less-is-more person, using a more subtle fabric (like tan burlap or linen) or even leaving the cork boards naked might be more your speed. But oddly enough, I love it. Imperfectly cluttered and all. Maybe because I used to make crazy-busy magazine collages as a kid? And it's especially convenient in the back of my closet because I can just slide my hangers into their normal positions and hide it all away from view.
So what did I do? I piled even more on there. Haha.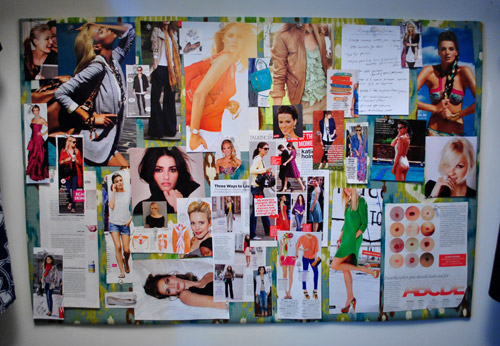 It might not always be this paper-riddled and crazy down the line (I have vague plans to remove some things once I try the hairstyle or buy the item that inspired me to rip it out). But it's so much fun to stare at that I'm having a hard time leaving my closet.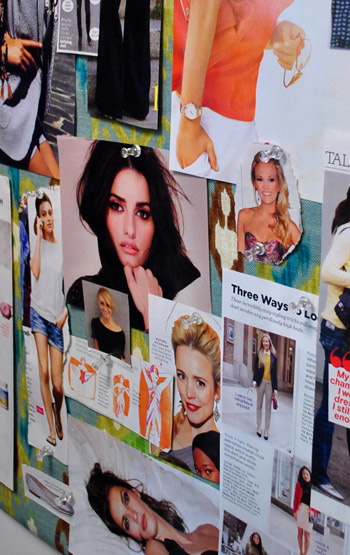 So you'll be comforted to know that I'm not any more fabulous or well coiffed, but I spent the better part of last night hanging out in a 5 x 6 space with lots of people who are. And the good times were rolling.
Whenever I feel bad for subjecting John to my Lady-Business Board, I just slide those hangers closed and it looks like this: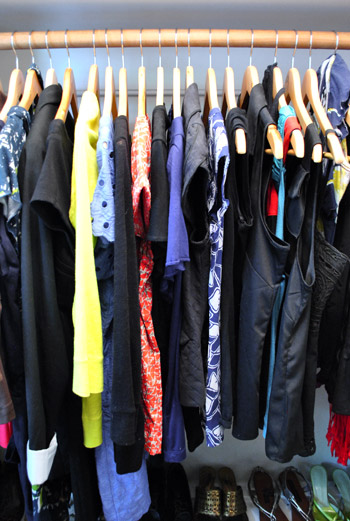 I think it takes me back to grade school when I had a poster of Joey Mcintyre (yes, of New Kids On The Block fame) hidden in the back of my closet so I could go in there and sigh at him. Which I did every day after school. At length.
*slides hangers back to unveil Joey poster* Oh Joey. *sighs, slides hangers back to hide Joey poster, wistfully leaves closet*
Anyone else hiding things behind other things? Or tearing out haircuts and clothing far more fabulous than your own (sometimes pretty things are just fun to look at). Or embracing a little controlled chaos? Sure my $12 pinboard was pretty without all that stuff on it, but seeing all of my tear sheets hanging out together in front of it makes me nerd out.
Psst- Check out another pinboard project involving cork squares here.
&nbsp&nbsp&nbsp
Yup, our formerly beige-on-beige master bathroom is officially rocking Rockport Gray. And we love it as much as we did when we saw it in this kitchen. Here she blows without the shower curtain hung back up yet (we snapped some pics with it up as well, which we'll get to in a second):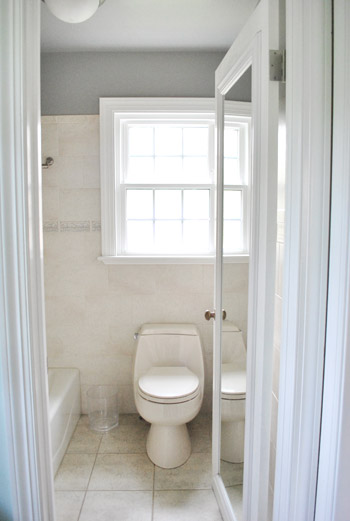 But let's back up. Before applying two coats of paint to our bathroom (we shared our little mood board for the room yesterday) first we had to remove that unused-shelf-and-towel-bar (read why we didn't use them here)…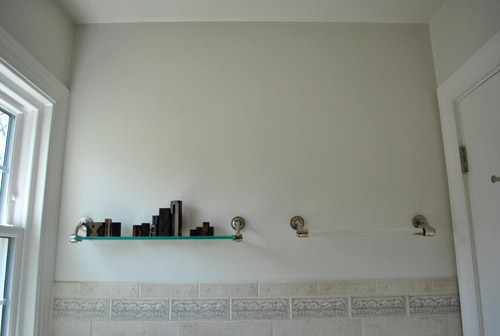 …to make way for some art on the only wall that isn't tiled nearly all the way to the ceiling. So we did (using an allen wrench kit like this).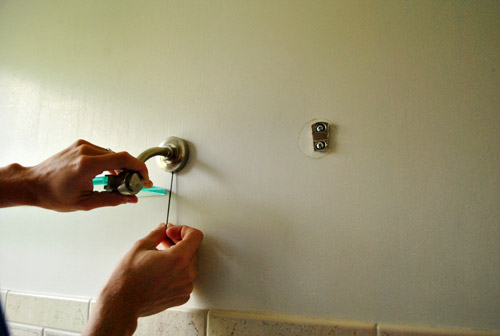 And then we hit some metal anchors that were ripping the drywall apart when we removed them (the bathroom is part of an addition from the seventies, so the walls are drywall instead of plaster, which would have crumbled even more probably).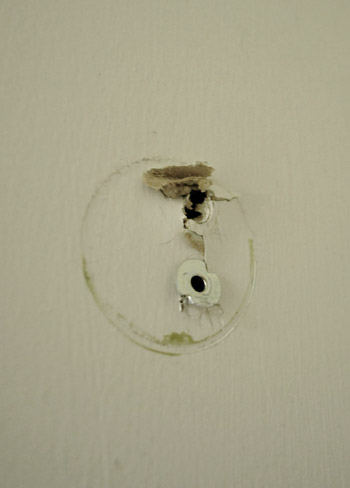 So after learning our lesson with one, we decided to do this instead: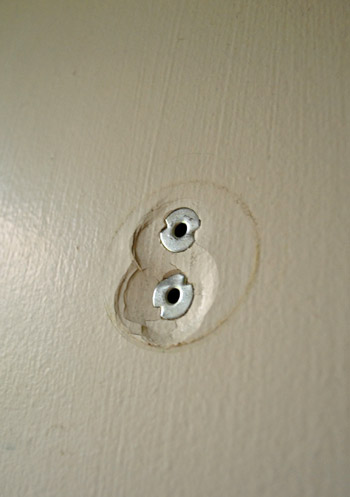 Yup, I banged them into the wall a bit with a hammer and just spackled right over them for a nice seamless look. Here's what it looked like before I sanded it smooth (pardon the super blown out picture, I forgot to white balance). See how it's sort of rough in the middle of this picture? After using a sanding block it was good to go (that's my tip, since a sanding block stays nice and flat like the wall, instead of being floppy like a loose piece of sandpaper). The spackle we used was Dap Crackshot (with the blue lid), but we hear stores sell low-VOC spackle now so we're itching to try that out soon.
Once the walls were spackled and sanded it was time for paint (note: priming after spackling isn't a bad idea but we've skipped that step on a few occasions without any issue, so perhaps paint formulas are getting good enough to cover well on their own these days?). Anyway, on went Rockport Gray by Benjamin Moore (we first saw it in person in Portland when we House Crashed this casa and totally fell in love). We only needed a quart of semi-gloss, and we bought Natura paint (since that's BM's no-VOC line). The room needed two coats since it's semi-gloss paint in there (which is so slick that painting over it almost always results in a terrible looking first coat…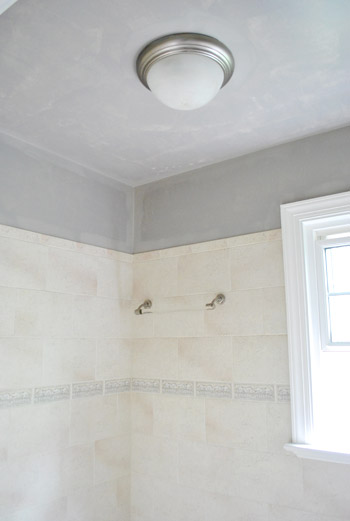 … but then the second coat looks great.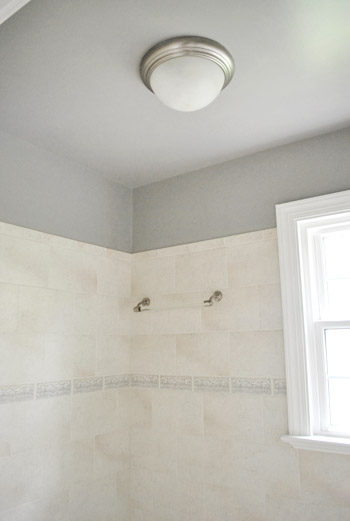 So here's the room all painted with the shower curtain back up. Of course I didn't get to make the cream trim bright white before painting the walls, but I'll do that soon enough (I've painted walls and then trim a bunch of times so it's not too bad of an order for a painting fool like me):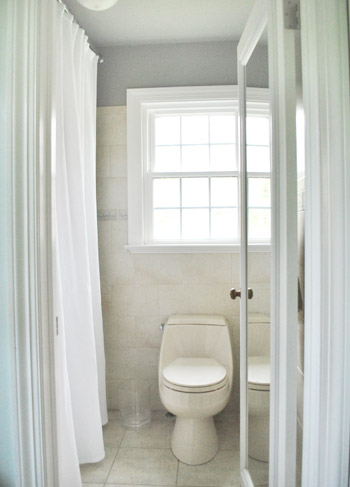 Here's a flashback "before shot" just to show the contrast and crispness that the less monochromatic color brings to the room.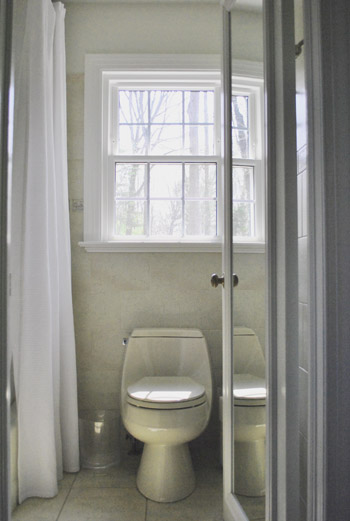 The gray in the tiles is so pretty next to the darker toned wall color. And the funny thing is that the gray in our little tree accent tiles looks nice with the new paint on the walls. We can picture the room looking even more like us with soft frosted gray glass subway tile as the accent someday, but it's nice that the trees work better with the new wall color in the meantime.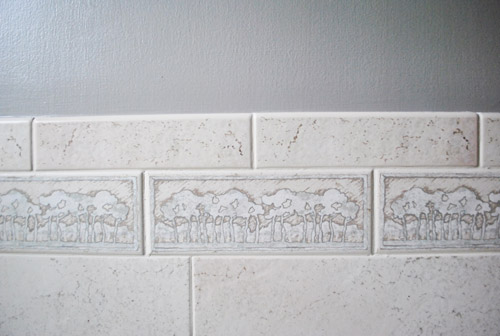 This freshly painted wall is just begging for some art (scroll up see the "before" perspective from this POV). And the room actually feels more open, even though the wall color is darker because there aren't shelves and bars that feel like they're all up in your area when you walk to the john.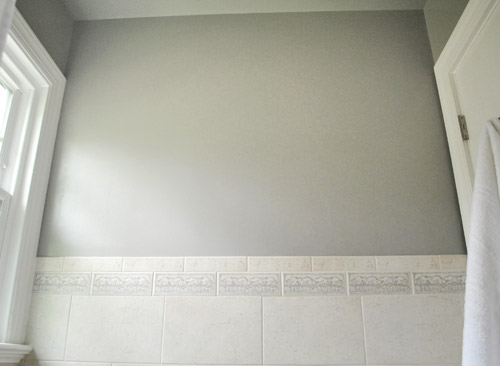 You can see how the slice of white in the curtain looks with the tan and gray tones. Can't wait to make the trim in the room a true glossy white color along with the toilet and some other accents to tie that color in more consistently.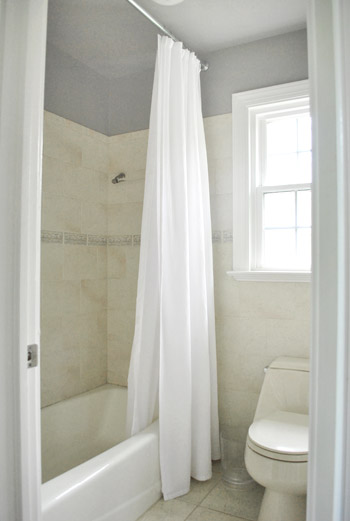 So now our bathroom to-do list looks a little something like this:
paint the cream trim white <– it looks white in the pics, but the bright white light switch next to the cream door trim makes it painfully obvious in person
paint the walls so they have some contrast
craigslist the toilet and replace it with a classic white one
replace the boob light
hang some bathroom-friendly art
do something to add privacy to the window
replace the border tile around the room (maybe in phase 2?)
replace the floor tile down the road (just to break things up since there's so much of it)
The good news for anyone putting off painting a small bathroom is that it doesn't actually take that long. Each coat probably took us less than an hour (I cut in and then John rolls, and then we repeat that process for coat two). John's mom once painted her entire bathroom with a paint brush. I remember thinking how amazing that was (and still think about how amazing that is, actually). Must've taken forever, but it was only one thing to wash at the end of it all. Haha.
&nbsp&nbsp&nbsp