After getting lots of great tips from you guys about flying with a toddler, we thought we'd give you guys a recap about what worked well (lollipops!) and what didn't (two words: red eye).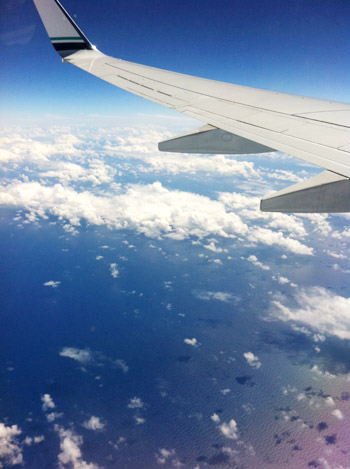 We spent a lot of time in the air: six flights in total. Two on the way to Portland (layover in Chicago), one direct from Portland to Maui and then a whopping three on the way back to Richmond (with layovers in Seattle and Chicago). The flights between the West Coast and Hawaii were the longest at six hours each, and since Clara's still under two, we didn't buy a seat for her (we knew she'd be most comfortable in our laps anyway and potentially could make a LOUD scene until we let her sit in our laps even if we did). So we knew going into it that we'd have our work cut out for us. Our game plan: keep Clara happy (and relatively quiet) at all costs, while encouraging sleep at every turn. Oh yeah, and try to enjoy the ride best we could.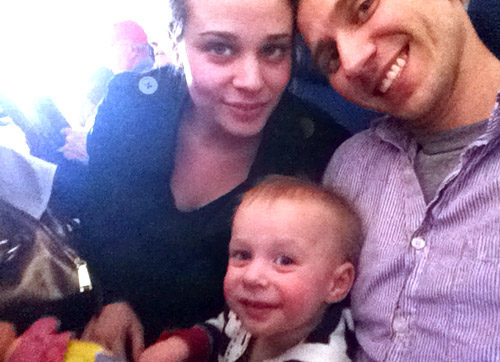 Some flights were pretty darn good (we had an empty seat next to us on the way to Maui!) while others verged on nightmarish (this means you red eye). One of our carry-ons was her monkey backpack, which was stocked with items to keep her engaged. Here's what we found worked well:
Crayons and coloring books. Between coloring, identifying colors together and simply pulling the crayons in and out of boxes – these were probably the biggest hit.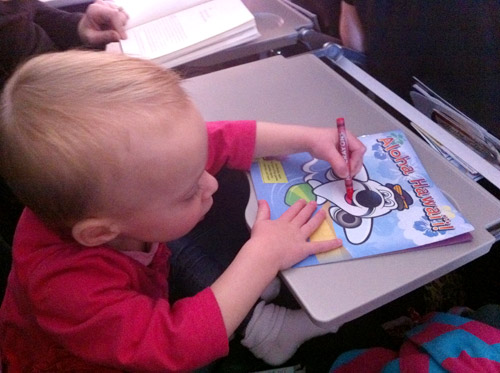 Food. Mainly, Goldfish crackers and Teddy Grahams. Someone made the point that in the fuss to keep kids active on a plane, you can forget that they may just be hungry. So we were well stocked with a few snacks (and a water cup). She also really liked eating the crushed ice that the flight attendants served during drink service and playing with snacks by putting them into different cups like a mad scientist.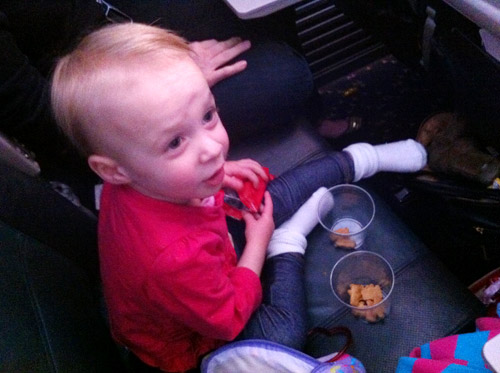 Lollipops. Someone suggested these as a way to trick kids into swallowing during take-off and landing to keep their ears from hurting. Well, Clara made a big dent in our stock of dum-dums before, during, and after the flights. But since our MO was to keep her happy and not disturb other riders at all costs, we were happy they worked so well. We may have a lollipop addict on our hands now, but at least they did the trick in the air: no complaints during take off or landing! Not even one ear tug or whine! We also learned that the sucking motion made her a bit sleepy too.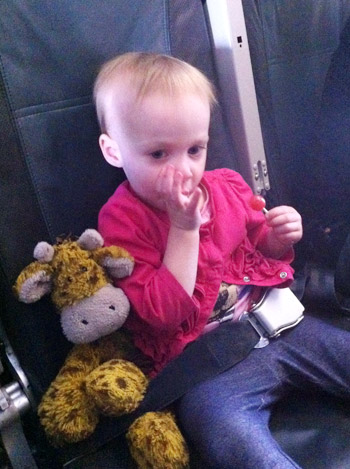 Talking about the plane. Clara actually loved just looking around the plane. She liked to stand up and say "Hi people!" or "Hi lady" to the folks around us. We joked that she was the mayor of the plane by the time we got off since she schmoozed so many people. On one leg she got so comfortable that she nearly crawled in the lap of our seatmate (thank goodness he was a good sport). Oh, and of course looking out the window was a hit.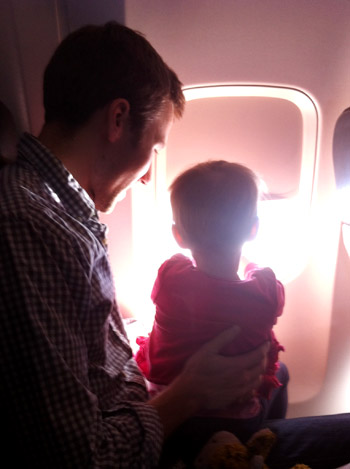 Moving walkways at the airports. In addition to the flights themselves, we had a couple of three hour layovers mixed in – so we had to keep her busy/happy for those too. We spent most of those walking around the airport trying to let her stretch her legs and get some energy out in the hopes that she'd sleep (no dice on that front). Of course what she gravitated towards most were the moving walkways (she called them "escalators"). Airports are a lot more interesting than I remembered – O'Hare had a big dinosaur skeleton, Sea-Tac had some cool sculptures and PDX had a toy store that kept us busy for quite a while. We're thankful.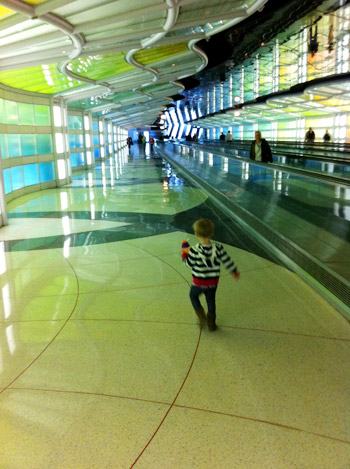 Committing to local time. We made the decision to immediately commit to local time wherever we were – and it worked out great for us. We figured Clara was already discombobulated from the flights so we might as well take advantage of the opportunity to reprogram her clock every time we changed time zones. When we arrived in Portland it was actually her bedtime EST, and having woken up two hours early that day and not napped at all on the flights, she was beyond tired when we checked in at our hotel. So we put her down to rest, but only for a nap. After an hour and a half we woke her up, went out to dinner (and dessert!) and then put her down around 8:30pm PST for the night. Thankfully, she was perfectly on schedule the next two days we were there (no wake-ups at 5:30am – yay!). We did the same thing in Hawaii – we just kept her up until 8pm HST the first night and then put her down for her regular 1pm nap at 1pm their time every day afterwards. It really helped us get a normal wake up and nap every day after that.
Now for what didn't work so well. Sigh…
Videos. She loves 'em at home, but didn't seem interested in them on the plane. They helped a little bit, but she was mainly just frustrated that we couldn't watch her favorite KidsTV123 videos on YouTube during the Wi-Fi-free airplane.
Sleep. Our dreams of long flights with a slumbering toddler curled up in our laps were quickly dashed. Clara's always been a great sleeper… in her crib… at night. Knowing that she never sleeps much in her car seat or stroller should've been a clue, but we were still hopeful that she'd eventually crash. On the way to Portland she literally fell asleep for exactly thirty seconds the moment our wheels touched down at PDX. Oh the irony. That moment of sleep was all we got that entire nine hours of traveling there (but at least she was a pretty happy girl that whole time). The spare seat on the way to Maui was helpful and we did get about an hour long nap during that six hour flight. Not much, but at this point we were happy for anything.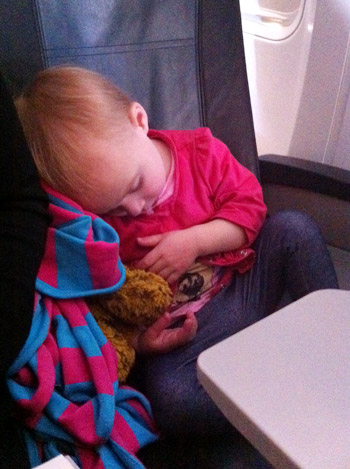 The red eye flight.We knew booking an overnight flight was probably a bad call, but we couldn't seem to avoid it without spending the night somewhere on the West Coast on our way home. So knowing that Clara's always been a great night sleeper, we thought we had a chance she'd just be knocked out the whole time (allowing us to follow suit). Our flight left Kahului at 10pm HST (3am EST, but she had adjusted to Maui time pretty easily, so it felt like 10pm to her). She hadn't napped much that day and we ran her buns around the airport right up until we boarded, at which point she started to look sleepy. Good right? Nope. She couldn't get comfortable on the plane. It was a full flight – hooray! – (that's sarcasm) so we desperately tried to get her comfortable in our arms but it just wasn't happening. She managed about forty five minutes of sleep before waking up in a screaming night terror of sorts. So yeah, people loved us. Thank goodness the flight attendants were super cool (hi Rebekah! you saved our life!) and let us hang out with them at the back of the plane where Clara snacked, enjoyed being rocked, and generally stayed calm so the rest of the plane could sleep the whole flight long… while we stayed awake… all… night… long. Thank goodness she graced us with an hour-long nap on the next flight between Seattle and Chicago. Hey, we'll take what we can get. This is Sherry's I'm tired face. At this point it was Friday morning and we hadn't slept since Wednesday night (since there was no sleep on the Thursday night red eye).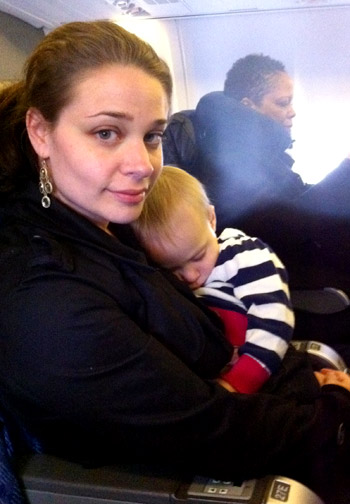 The disaster that was the red eye just threw off the rest of the day. The three of us were all tired and all a little bit grumpy. So many of the things that had engaged her on the flights out just didn't work anymore (no lollipop could keep her interest more than a few seconds). That, combined with a delay going into and coming out of Chicago, made for a day that we were all just ready to be done with. You can't tell by this photo, but it's snowing out there. We definitely weren't in Hawaii anymore…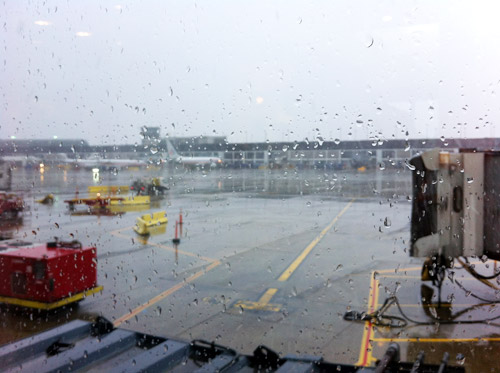 We finally landed in Richmond at about 9:30pm EST – about 19 hours after we left Hawaii and two hours later than scheduled. We think Clara slept about three hours in total (in the entire 19 hour trip, much of which was overnight), so Sherry and I probably had about half of that each when it came to catching zzzs. But at that point all that mattered was IT WAS OVER. And, even better, we could finally go to bed. And boy did we. After not sleeping at all on Thursday night (remember, the last time we all actually slept for the night was Wednesday night) we all slept until 1pm on Saturday. Yes, that's fifteen solid hours. And yes, it felt awesome. Of course we shifted Clara's naps and night sleep back to her normal times and she seems to be back on schedule except for sleeping in an extra hour or two in the morning (but it doesn't effect when she goes to bed, or her 1pm nap, so we're ecstatic). I'm sure it'll go back to normal over time.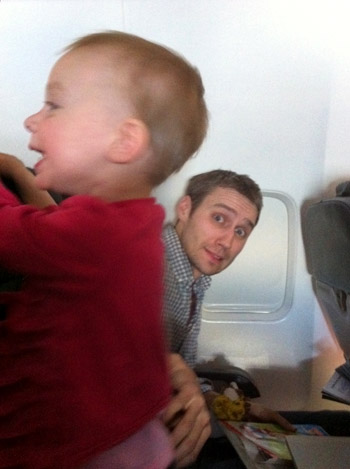 I think it's safe to say we won't be taking any more red eye flights with a toddler. Ever again. Bad move on our part. We actually heard from not one but two flight attendants that kids rarely sleep on them (even great night sleepers) so they said they would never take a red eye with their kids. Good to know! Here's hoping that helps someone! The stress to keep you kid quiet while the lights are out and everyone else sleeps (while being incredibly tired yourself) just isn't for the faint of heart.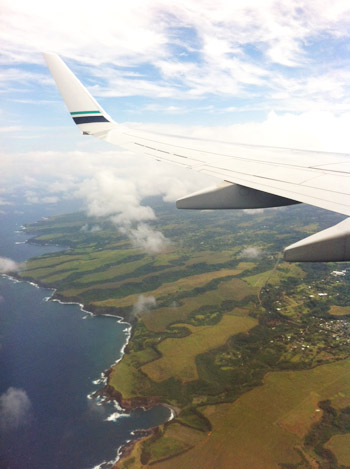 Anyone else have a travel with kids / toddler story they'd love to get off their chest share? Or do you have any additional tips we might consider when Clara's older and we're foolish enough to try something like this again? :)