Archive for February, 2012
Since we're on vacay and the home-focused posts will commence when we're back on Monday (more on that here), we thought we owed you a laugh at our expense in the meantime. That's right, Sherry's notorious "Care Bear Underwear Story" that so many of you requested more details about (mentioned here) is out. It actually came out during a comedy show that we attended a few weeks ago. Remember how we're not famous, but we were invited to have some fun in that local improv comedy show (which we mentioned here)?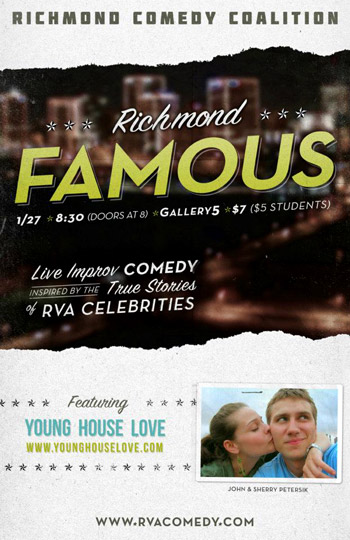 Well – it was AWESOME. The performers of the Richmond Comedy Coalition were crazy nice and pretty darn funny. The audience was quite full, quite lively, and more than quite flattering (you guys made us feel like rock stars as we stood up there with sweaty palms). It was a blast meeting so many of you, and we're still sorry the show sold out before everyone could get in. But on the bright side, the RCC has posted photos and video so everyone can check it out (you know, if you're into that sort of thing).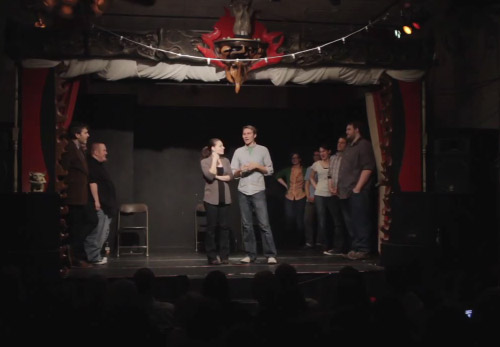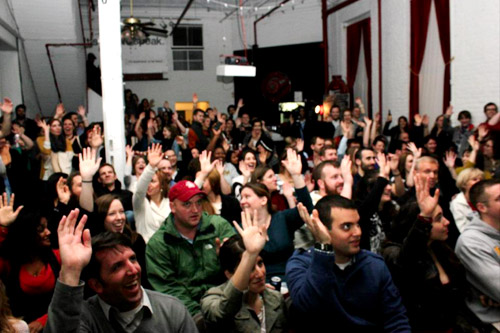 The format was basically us standing up, turning our awkwardness meter up to 11, and telling personal stories. Then the performers would take tidbits of our anecdotes to inspire completely new improvised scenes (they weren't exact reenactments, nor were there any scripts). For example, they took the story of Sherry accidentally turning around in Target with two ornaments next to her face saying "It's Christmas tiiiiiiiime" to a stranger (more on that here)…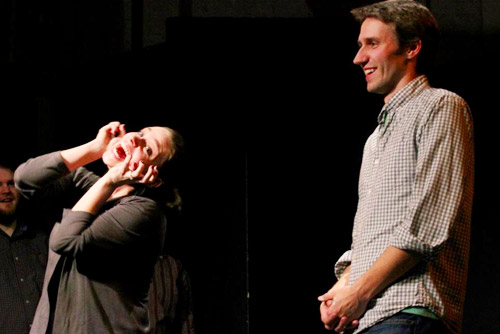 …and turned that into a scene about a guy with two tree toppers stuck into the sides of his face.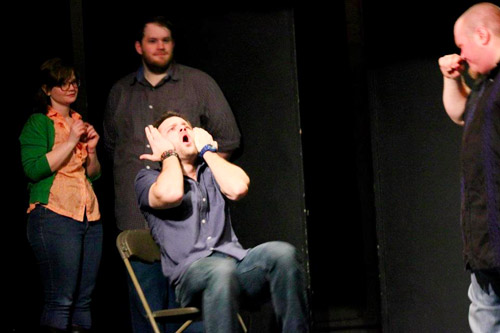 You may have "had to be there" to get most of why they had us rolling. But just trust us that it was a lot of fun – and you should totally catch one of their shows if you're a local. Just look at the good times…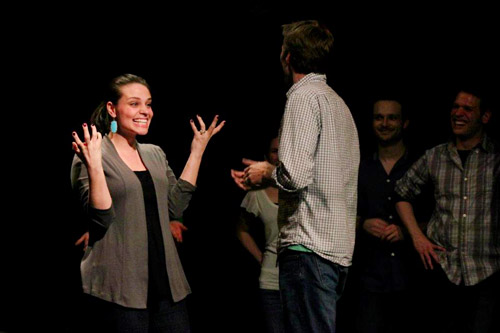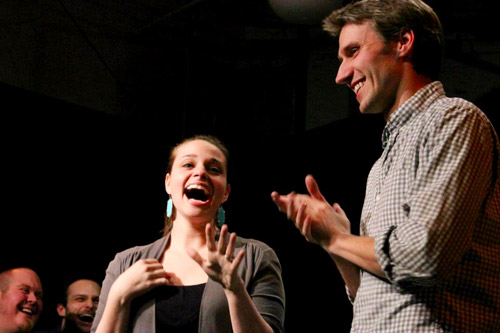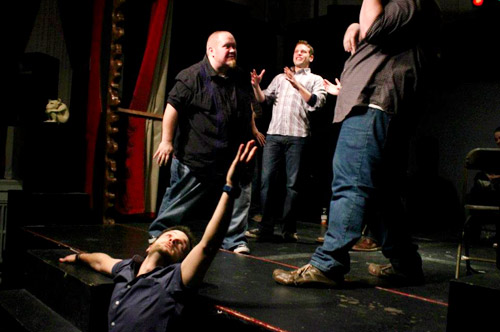 Since I was in an improv comedy group in college, they even pulled me on stage to perform during the last act of the show. I was more than a little rusty, though I did get a few laughs when my "Knit Cop" character knitted a pair of handcuffs to capture a perp (weird, I know – maybe you had to be there for that too).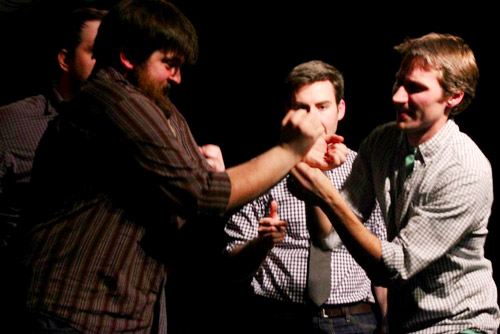 Actually, they did catch Knit Cop on video if you want to see it in action. Warning: some of the language is a lot more saucy than our usual Clara videos and fast-motion assembling-or-decorating-something vids.
And here are longer clips of the show if you're interested enough to watch all three acts (again: saucy language alert). We chat at the beginning of each clip to kick each scene off, and the famed Care Bear Underwear Story is at the beginning-ish of the last clip.
It was so great to meet so many of you guys after the show. So glad we did it, sweaty palms and all.
&nbsp&nbsp&nbsp
*** This giveaway is no longer accepting entries – see who won below! ***

After lots of good, fun and quirky Top 5 lists this week, random.org has plucked out one person as the winner. That person is… Lori Foester (who gave us her five diaper bag must haves – lip balm for mom, change of clothes for baby, diapers/wipes, rash cream and her wallet). Congrats Lori!
While we're unplugging in Maui (more on that here) we thought we'd drop by with this week's giveaway (it's kitchen related- wahoo!). So don't worry if your comment takes a while to pop up – it's in there!
Dot Coms For Moms has always hosted great collections of helpful links on their site (everything from DIY decorating ideas to yummy holiday recipes). And this week they're offering up a "Kitchen Hues" accessory prize package valued at nearly $500! They took their knack for finding the best of the web and rounded up a bunch of colorful Scandinavian-influenced items that would look great in any kitchen. We love everything from the sunny geometric table runner to those killer striped serving bowls. Oh, if you don't want to miss out on future Dot Coms For Moms giveaways and round-ups, you can sign up for their newsletter.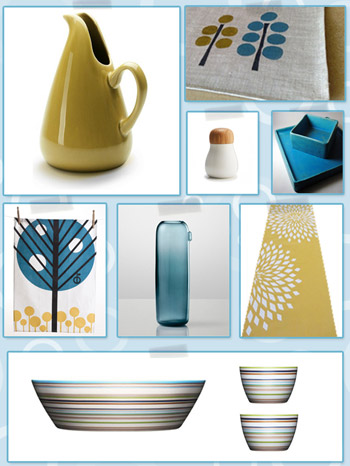 PRIZE: A  kitchen prize pack courtesy of Dot Coms For Moms including a Bauer American Modern Pitcher, this set of 4 Modern Tree Placements, a Large Kahler Kitchen Container, this Blue Concrete Tray Set, this Tree Tea Towel, Muuto's I'm Boo Glass Carafe, this Zinnia Table Runner, a ittala Origo Serving and 2 Snack Bowls
TO ENTER: Comment on this post with the words "ROUND ME UP" and…
BONUS QUESTION: … give us a round up of your five favorite things (on any subject that you choose). Feel free to list your top five songs of all time. Or a handful of your favorite local restaurants. Or your five most (or least) preferred personal nicknames. Whatever floats your boat (your five favorite water crafts?).
GIVEAWAY CLOSES: Leap Day! Wednesday, February 29th at 8pm EST or at 10,000 entries (whichever comes first)
NUMBER OF WINNERS: One
PRIZE SHIPS: The United States or Canada (although we do try to wrangle as many international giveaways as possible)
USUAL STUFF: One entry per e-mail address is permitted. The winner will be selected using random.org and announced on Thursday as an update to this post. That's right, come right back here on Thursday for the announcement of our winner. Good luck…
Note: We aren't paid or perked for hosting these giveaways, we just do 'em to thank you awesome folks for stopping in. See our Giveaway FAQ page for more info. Pics courtesy of Dot Coms For Moms.
&nbsp&nbsp&nbsp