After our disaster-filled week last August (we had an earthquake and a hurricane within a week of one another) we had several requests for a post about emergency preparedness. We hemmed and hawed because we're no experts in that department, but then a couple of actual experts / regular YHL readers reached out to us with emails fulled of information. Phew! So without further ado (since it's already taken me like 6 months to finally write this post), here are some of the recommendations and information they sent our way.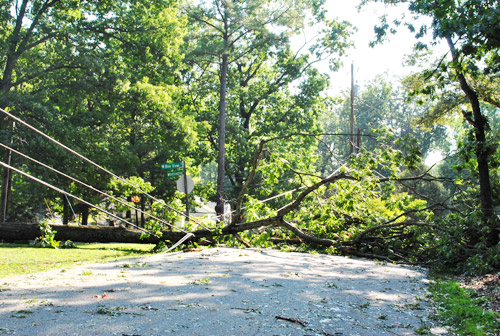 First off, our experts are Amanda F, who has her Master's degree in this field and worked as an emergency coordinator for a hospital in LA (so she knows earthquakes). She now lives in DC, so she's got hurricanes to deal with these days. We've also got Michelle O, who is the Deputy Coordinator of Emergency Management for our county. So basically these people know their stuff far better than we do. Their consensus boils down to three basic ideas: Make a kit, make a plan, and stay informed. So we've corralled their advice below for ya:
#1. Make A Kit – An emergency kit doesn't need to be fancy, expensive, or overdone. Even a small kit that will last you two days is better than having none at all. There are three types of kits to consider:
A Stay At Home Kit: Plan for three days without power. Include items like non-perishable food, water (1 gal per person per day is recommended), flashlight with batteries, extra batteries, a battery powered radio, extra batteries, manual can opener, any medical supplies or prescriptions (this includes extra glasses or contact lenses), cash (ATMs won't work without power!) and important personal and financial documents (more on that in a second).
A Kid / Pet Kit: If you've got kids or pets, plan for them too. Think of items like formula, food, diapers, toys, comfort items.
A Go Kit: If you need to leave your home during an emergency (say it's being evacuated for flooding or a tree has fallen on it), have a backpack ready for each person that includes water, high energy snack foods, extra clothes, and shoes.
Sherry and I actually evaluated our own emergency preparedness kit a couple of years ago (we certainly floundered in a few areas and ended up giving ourselves a B). We probably should do that again now that we're in our new home to see if we're more prepared.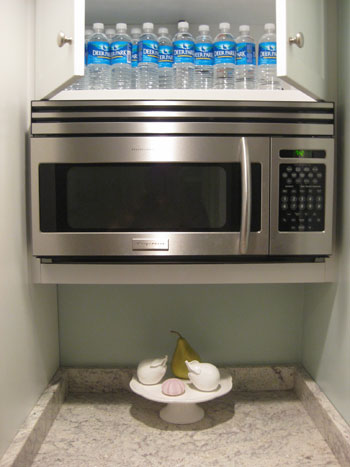 We also spotted a tip in Real Simple recently about including documents in your emergency kit. This is less about having them on hand in a disaster and more about not losing them if your house doesn't survive the flood / earthquake / tornado / whatever. They recommend that you: "make photocopies of the following (or scan and burn to CD or flash drive) and keep one set at home in a waterproof bag and another in a safe-deposit box."
Driver's license & passport
Social security card
Birth certificates
Health insurance card
Insurance policies
Mortgage and other loan papers
Property deeds
Car title and registration
Marriage license
Your will
Last year's tax return
Bank and brokerage account numbers
Inventory and/or pictures of your home for insurance claims
Of course we all have excuses for why we haven't put together a kit or don't have the time or money available to get started. So here are some good excuse-busters from our experts:
Not everything in the kit needs to be bought. Take inventory at home first – if you've got canned goods or cereal on hand, that counts!
Hit up the dollar store. Both of our experts said this is a great option for stocking up. After all, you don't need the fanciest flashlight – just a flashlight that works.
Spread out the expense. Try assembling your kit over time. Commit to buying one or two items per month if you can't shuck out funds for everything now.
Involve your kids. Ask them to help you gather items or pick out a supply to buy each month. This also gives you a natural opportunity to teach them why that item is important and how to use it.
Don't stress over space. Kits can be pretty small, so finding some space in your house for them shouldn't be too tough (make sure they're stored in an easily accessible space, not in the shed behind the house). Water storage can be the biggest challenge, but do what you can. Anything is better than nothing.
Shop in one place. Since camping needs tend to be similar to emergency needs, hit up a camping or outdoors supply store for an easy way to stock up on items.
Buy your kit. If time (not money) is your barrier, you can buy a pre-assembled it. Here are a bunch of options sold by the Red Cross.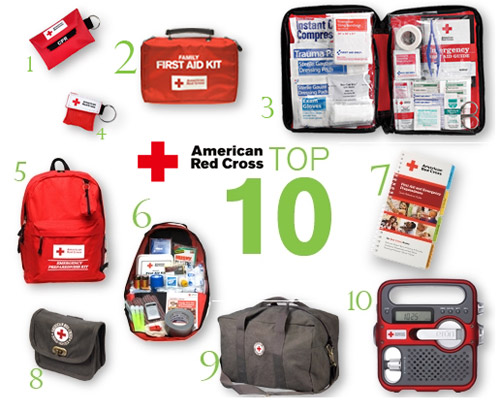 Last but not least, don't forget to keep your kit updated. You'd hate to break into your kit during an emergency and find spoiled food, last year's prescriptions, and clothes that no longer fit the kids. Try checking your kit every year at Daylight Savings (when you also check your smoke detector batteries).
#2. Make A Plan– Making a plan takes nearly no time or money, so it's something we should all try to do. It involves gathering some info, writing it down, and reviewing it with everyone in your household. The goal is make sure everyone has the right information and follows the same steps when a disaster comes rolling down the street (hopefully not literally). A plan should include:
Phone numbers for everyone in the family (be sure to include office, cell, and land line numbers)
The phone number of an out-of-town relative. Local lines can be unpredictable during a disaster, so it's best to designate one out-of-town relative that everyone should call to check in with. That also helps local lines clear for emergency personnel to use.
Also, keep in mind that it's often easier to text than make a call during an emergency. Plus, most phones will try to send a text until it goes through so you don't have to repeatedly place calls.
A pre-determined meeting place outside of your neighborhood in case you can't get home (a church, school or shopping center works)
You can a get a plan form to fill out here at Ready.gov.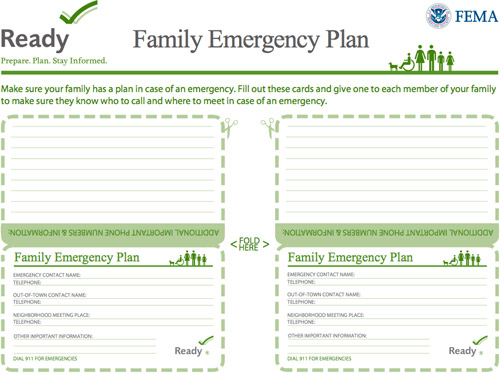 #3. Stay Informed – This is also a fairly easy one and it's basically about making sure you know how to access updated information – like weather conditions (where is the storm headed?) and where to go for emergency relief (like where shelters are being set up). So learn what websites and radio stations broadcast local information (like our county sends updates on AM 1630). This is also where having a battery-operated radio and/or a NOAA weather radio comes into play.
Additional Links: If you want more information, the U.S. government operates a central website called Ready.gov with lots of info. You can also hunt down one for your states or county for more specific, regional information. In Virginia we've got VaEmergency.gov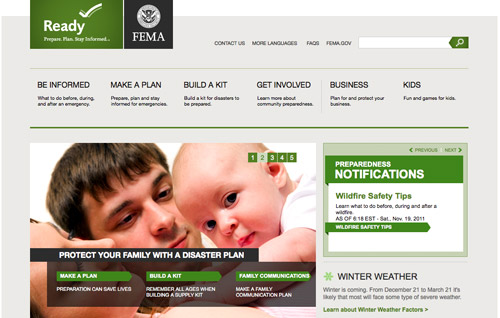 Thanks Amanda and Michelle for imparting their knowledge on us all! It's definitely been a good reminder to us Petersiks that we need to double-check some of our supplies and put together a plan.
Psst – Since many of you are thoughtful enough to ask about how our neighbors are doing since the tree fell on their house during Irene, we're happy to report they moved back in at Christmas (yep, nearly 4 months later!) after having extensive repairs and renovations done to make their house liveable again. Nearly half of the roof frame had to be removed and reconstructed so it was quite the project – but they made lemonade out of their lemons and had the contractors rebuilt the two bedrooms on the affected end of the house into one big master suite. We actually got a peek at it before it was finished and it was looking awesome.

Psssst – Images from Ready.gov and Redcrossstore.org.