Archive for September, 2011
Break out the 3D glasses! Okay, not really. Put them away. This blog will not be coming to you in any additional dimensions today.
As you saw in our latest kitchen planning post yesterday, I finally bit the bullet and learned me some Google Sketch-Up (as many of you recommended) to help us plan our kitchen renovation. But having been a loyal user of Floorplanner.com in the past and having recently become acquainted with Ikea's Kitchen Planner, I thought I'd give you my take on how these three 3D modeling tools stack up against each other… because there's actually not a clear winner in my book. Each have pros, cons, and a different scenario where they might take the win.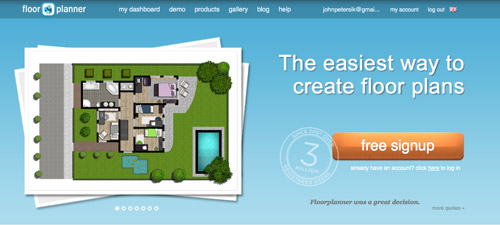 Floorplanner.com is what we've used to create just about every digital floor plan you've seen on our site (like this one), so we've got a soft spot for it. But when I gave it spin last week to render our new kitchen plans, here's what I observed:
PROS:
No software to download. It just loads in your browser.
Easy & fast to use. I find the interface very user-friendly, so if you've got your room measurements handy you can have a simple whole house plan done in a matter of minutes.
Good finish options. They have a lot of standard finishes, like flooring, with adjustable colors so you can bring more life to your drawing.
Nice library of furniture. Floorplanner comes stocked with dozens of furniture options (chairs, tables, rugs, plants, appliances, etc) to help decorate your spaces. You won't find perfect matches to your real life items, but you can usually find something similar.
2D or 3D: It lets you easily toggle between a 2D and 3D view.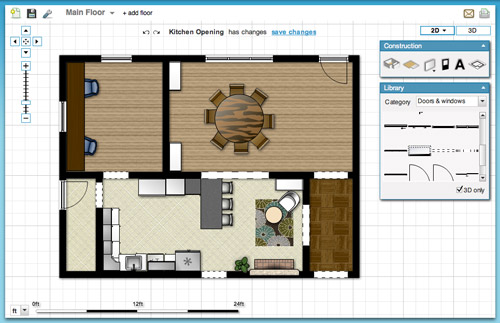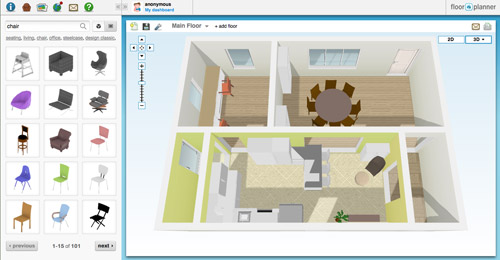 CONS:
Only kinda free. You can create one plan for free, but after that you may have to fork over some dough.
Limited kitchen designs. Kitchens are probably one of the toughest rooms to design, so Floorplanner is quick to fall short when it comes to trying to precisely layout a kitchen (I could only find one type of base cabinet, for example).
So-so 3D rendering. I like the look of their 3D rendering, but it's a bit clunky to navigate around and I had issues with things not showing properly (see below how my counter got wonky and my rug disappeared from the kitchen). Also, I found the only thing I could change in the 3D version were my wall colors, so I ended up working in 2D most of the time.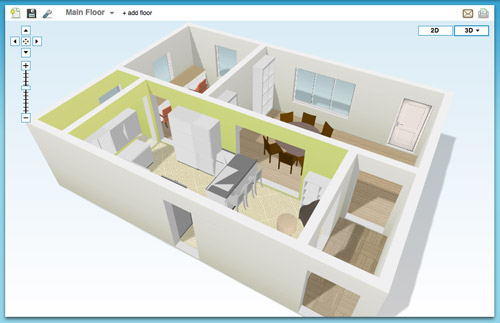 BEST USE: In my very humble inexpert opinion, Floorplanner is best if you're short on time or technical skill and need to create a 2D floor plan (of one room or even your whole house). It's also great for testing out furniture arrangements thanks to their library of stock furniture and the ease at which you can move things around in your virtual space.
On to the next one…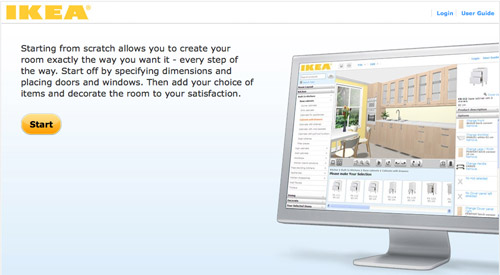 Ikea's Kitchen Planner popped up on my radar when we were considering their cabinetry for our wall-to-wall office desk. Having had a good experience with that, it was actually the first place that I turned to when deciding to plan our kitchen's new layout in 3D.
PROS:
It's free. There is some software to download, but once you do that you can access it anytime on their website using your free log-in.
Allows multiple designs. I've saved three or four different files (aka different kitchen layout options) and so far I haven't hit any "max projects limit" like I did on Floorplanner.
Works with real life products. Ikea lets you design using real products from the catalog (and not just cabinets and counters, but chairs, tables, etc) so you know there's some "reality" to your design when it comes to size/layout/planning. It even offers to print out a shopping list when you're done. Convenient, but only if you're getting everything at Ikea.
Works with real life finishes too. Like above, you can pick from a range of cabinet sizes, front styles, drawer & shelf configurations, finishes, colors, hardware, etc to get a very customized look. Obviously it's limited to Ikea's real life finish options, but they're pretty plentiful.
A real-ish 3D rendering. Continuing the "real" theme, I thought Ikea's 3D view was the most life-like of all of the three tools.
2D and 3D. Like Floorplanner, you can quickly toggle between these two views. However, Ikea's version gives you equal editing capabilities in both options, so I found myself working mostly in 3D, which was nice.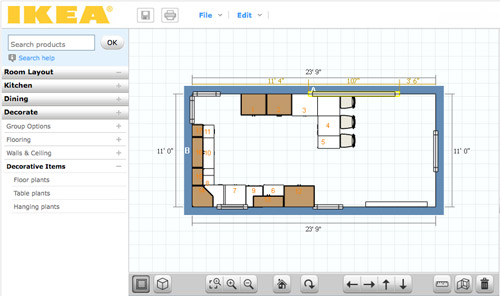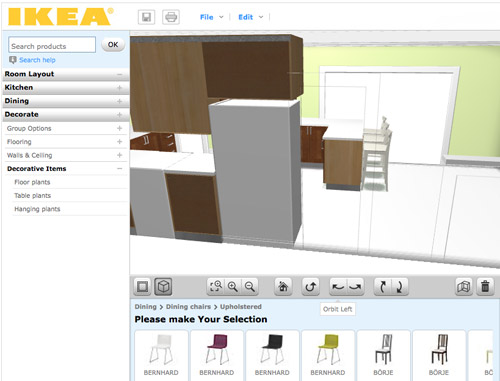 CONS:
It's just kitchens. Unless I'm missing something, Ikea's software only lets me create one room in my plan (which makes sense since it's supposed to be just for planning your kitchen) but as someone who needed to see how things would look in the kitchen from the dining room (through a doorway) it fell short.
It's just Ikea. Since the cabinets and furnishings are only Ikea, you may have trouble finding pieces that suit you if Ikea-style isn't your thing.
Limited decorating options: I'd understand just being limited to Ikea furniture, but it's also limited to only kitchen-appropriate Ikea items. So I wasn't able to render a rug or an armchair to create a seating area near the fireplace. And why are "decorative items" limited to just plants? Can't a brother get a fruit bowl?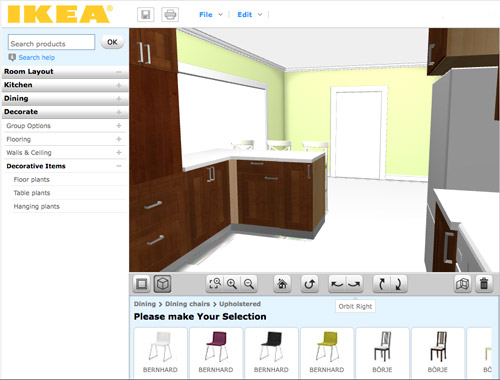 BEST USE: Designing a kitchen (surprise!) especially if you plan to use Ikea products. But even if you don't, a lot of their sizes are standard enough that you can get a good idea of what you might also be able to find elsewhere. Just don't expect to "decorate" your virtual kitchen very much.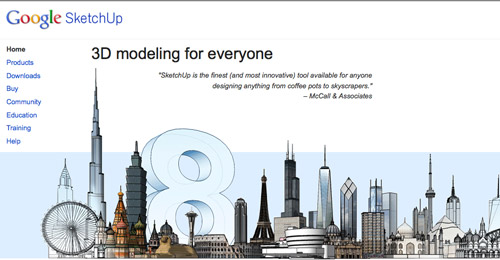 Google Sketch-Up is new to me as of a couple of weeks ago. I turned to it after being frustrated by Ikea thwarting my multi-room design (and after a bunch of you sang its praises). I'm still pretty new to it and feel like I haven't unlocked all of what it can do (like apparently I can turn off the guides that you see in my screenshots below). Nevertheless, we're becoming fast friends.
PROS:
It's free. Like lots of products in the Google-verse, it costs $0 to download.
It's offline. While some may see having to download software a "con," I liked that I didn't need to be connected to the Internet to use it or to access my files. You know, in case we have another Hurricane Irene.
It's precise. Google's software feels much more "technical" than the other two, so I feel more confident that we can actually make cuts into our wall based on Sketch-Up measurements (with the help of a pro, permit, & architect of course).
The possibilities seem endless. If you've got the time, skill, and patience it seems like you could render just about anything in Sketch-Up – rooms, furniture, buildings, cars, chihuahuas – so you won't find yourself limited like the other two sites.
Most functional 3D.  Navigating through Google's 3D rendering is the most intuitive and flexible, it seems. You can look above, below, through, and around every inch of your design quickly and easily. The rendering looks very much like a rendering, but that's okay.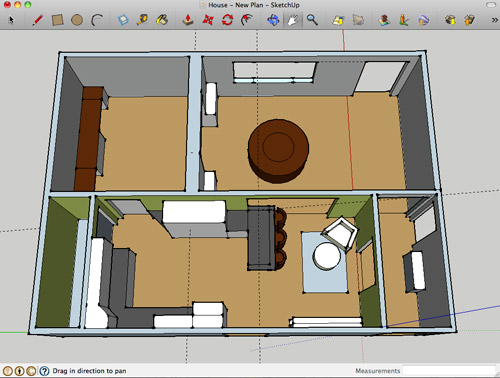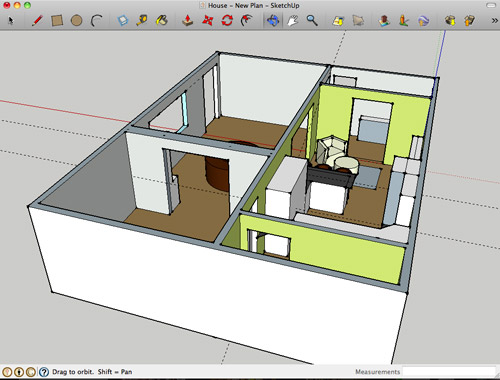 CONS:
Talk about a learning curve. Being the most technical of the three, Sketch-Up has the steepest learning curve by far. I spent about 15 minutes watching Google's tutorials before starting and still found myself struggling to hit my groove.
No 2D: I find 3D hard to work in sometimes, so not being able to toggle to a simple 2D floor plan was something that I personally missed. The closest I've found in Sketch Up is the "Parallel Projection" camera viewed from the top.
No built-in furniture library. Unlike the other two which have furniture options built into the software, with Google you have to download it separately from their warehouse (I didn't know this until a few helpful commenters enlightened me on yesterday's post, which is why every cabinet, fireplace, chair, and table was "drawn" by me for that sketch – which certainly didn't help my rendering look any more lifelike). Oh well, live and learn.
Somewhat inflexible. I found it difficult to make changes or tweaks along the way. If I wanted to shift my chair a bit, it took making sure all of the right edges and surfaces were selected (and none of the wrong ones) first. This took time and also gave me a lot of accidentally skewed walls and floors along the way. Did I mention I'm still learning? Update: just figured out how to group things/make components. So helpful.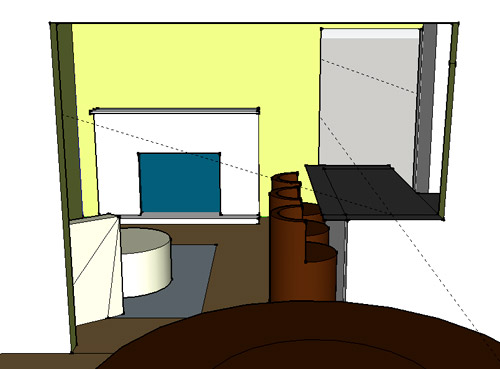 BEST USE: Anything 3D… as long as you're willing to put in some time to learn it. It ended up being perfect for planning our doorway because I have the most flexibility to render the room AND I can trust the precision of the measurements. Now if only it didn't take me so long to make changes…
So that's how Sue John sees it. I haven't spent more than a few hours with each program, so my comments aren't based on weeks of research or anything. If you guys have had your own similar (or different!) experiences with these three tools (or others that I haven't heard of yet) I'd love to hear your thoughts – and tips if you've got any.
Psst- We announced this week's giveaway winner. Click here to see if it's you.
&nbsp&nbsp&nbsp
For all those wondering when the heck we'll tackle that kitchen banquette idea that we mentioned a few weeks ago (here and here), well… probably never. Cue the frowny face emoticons.
Here's the deal. After getting lots of positive feedback on the idea a few weeks ago (over 1,400 comments total!), Sherry and I were certain your collective enthusiasm would push us from "we think this is a good idea" to "this is definitely a good idea." And it nearly did. But parts of us still questioned the whole commitment-factor when it came to actually doing it (we definitely described it as a half baked idea when we shared it). We worried if it'd really be the most practical solution (would it be a pain to scoot in and out of?) and if it'd really make the most of the space (we couldn't figure out the right balance of big-enough seats while still maintaining flow around it to keep it from feeling cramped).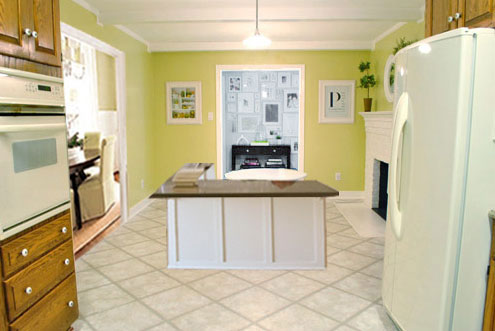 So one evening we decided there was a reason that we were stuck in Hesitation City: it just wasn't The One. So we did what we always do when we get stuck. We went back to the drawing board to see if we could come up with something else that we ended up liking better. We made a few quick sketches of the floorplan, asked ourselves "what are we not thinking of???" and just started sketching ideas – no matter how good or bad our guts told us they were. Kinda like those DON'T THINK, JUST DRAW exercises that they teach you to access your subconscious or something. Of course some of them completely blocked the doorway to the dining room (fail!) and nearly all of them were completely out of scale (so things were too big or too far over) but it definitely got the ol' wheels turning again…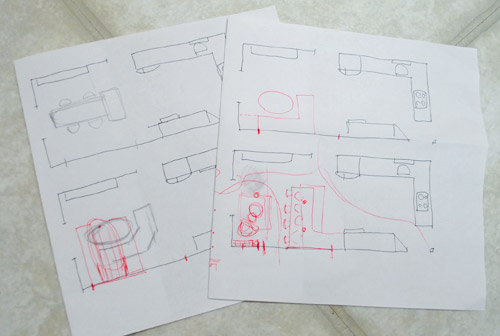 We tried returning to some version of table in the middle (top left) and even modification to the banquette (top right, bottom left). But somewhere in that mess we had one of those "Ah-ha moments" that ol' what's-her-name used to talk about on the TV (this is a joke for my Oprah-loving wife). So allow us to introduce the banquette's successor: the peninsula! Cue the confused emoticons.
Let's explain. First, here's our CURRENT floating-table-in-the-kitchen-and-larger-table-in-the-dining-room arrangement (courtesy of my rough Google Sketch-Up drawing):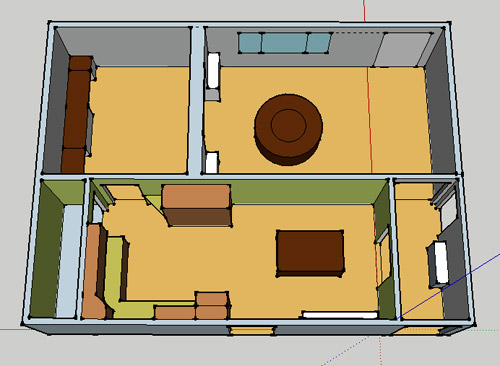 Now for the doorway opened, cabinets painted, counters replaced, floor slightly discolored (not intentionally) and (of course) peninsula'd version: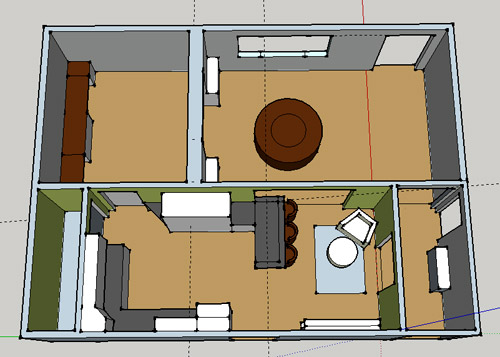 Woo hoo. Before we go any further, we should warn you: we're 100% sold. The above depiction of it is probably not going to make a believer out of everyone, but from taping it out in the space and moving around it "in person" for a while we giddily came to the following conclusion: it's The One! So no worries if it's not your jam or you love Mr. Banquette (he was a lovable guy – and there are always gonna be people who would do things differently if this were their house) but we're definitely going for it. And we can't wait to get started.
As for why we didn't come up with the peninsula idea sooner, we were so stuck on the fact that a peninsula coming off of the cabinetry that we already have would actually hit (or come very very close to hitting) the fridge on the other side of the room. So it wasn't until we came up with the idea of adding a base cabinet to the right of the cabinetry that we already have to space the peninsula further away (a smidge towards the fireplace) for better flow and even more counter space.
Speaking of counter space, when it comes to executing this whole thing, we're basically planning to add some base cabinetry (and counters) near the opening itself to create a counter-height peninsula. Which accomplishes a lot, actually:
It adds additional work surface & cabinet storage to the kitchen side of the room (so it's easy-access)
It helps extend and better define the kitchen space without blocking flow or feeling too heavy
It creates a casual eating space, keeping it distinct from the dining room table, which is just steps away for larger groups and more formal gatherings
We can most likely seat four people at the peninsula (it's flexible, so ignore the three chunky chairs shown)
It can be used as a buffet to set out food (or to seat additional guests) when we have parties
It can be used for homework, laptop browsing, and general hanging out by the kiddo(s) as they grow
It even makes sense of our very off-center fireplace by creating a small casual living space that we'll use as a little "chill corner" of sorts (the peninsula doesn't block the fireplace, which our banquette friend did from most angles)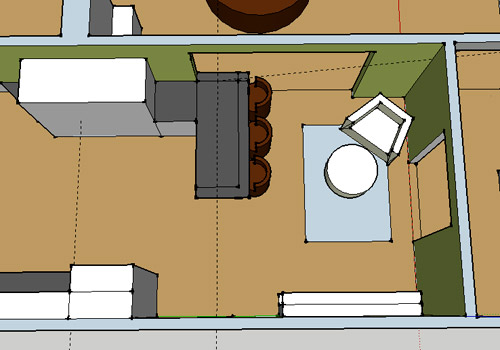 That last perk (centering the fireplace) was a nice surprise, since it's something we've struggled with a lot (it's just in such an odd place, practically shoved in the corner of the room). But you can see from this virtual view through the future doorway how it almost makes the fireplace placement seem intentional (picture it with a nice round mirror above it to balance that doorway next to it). Oh happy day.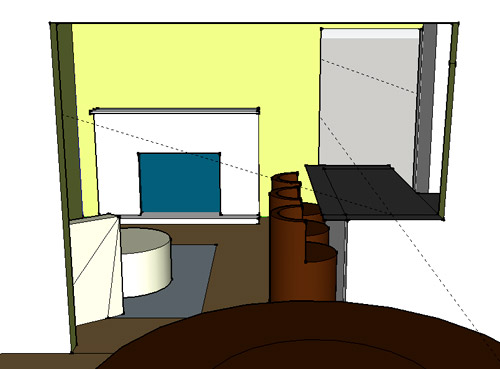 We just love that we'll get to see the fireplace from the dining room (it won't be blocked by a heavy banquette) and if overflow guests sit at the peninsula, they won't have their backs to the people seated in the dining room (which would have happened with the banquette).
For those who don't do well with renderings (or are still scratching your heads), here are some pics we snapped to give you a better idea of how it'll work in the real world. We moved some existing furniture around to mimic the placement (the table represents the peninsula) and have lived with it for the last week-ish to make sure it actually makes sense. Placements aren't totally exact, but pretty darn close to what we're thinking. Here's the view from the laundry room. Ignore the broken pendant light in the far back (it finally crapped out on us). Instead look, there's that fireplace nicely framed!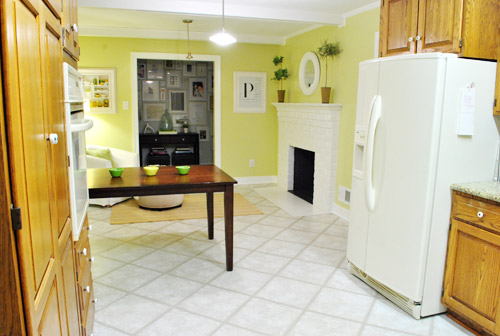 We also traced out the future opening (again, not exact) to show how that'll work too. We're thinking there will be a little half-wall (i.e. knee wall) where the peninsula meets the open doorway…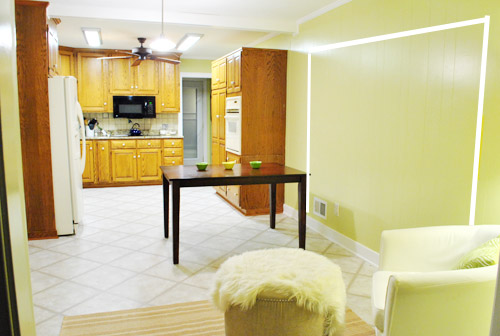 … like we showed in this rendering: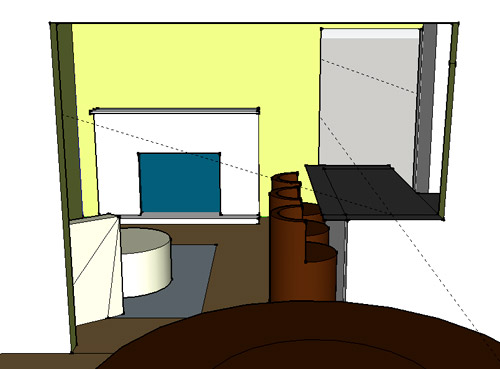 We considered a narrower doorway (where the peninsula doesn't hang over into the opening) but we think this wider version makes it feel much more open and lets in more light, so it's the current winner. And of course as previously mentioned, we love how balanced the fireplace and doorway look through the cutout.
Admittedly it took us a little while to figure out what to do with the space in front of the fireplace. It was our biggest hurdle in getting on board with this idea, actually. But after we brought in a placeholder chair, ottoman, rug, and light we realized it was actually completely awesome. There have been approximately 14 hours of reading-with-Clara from that chair in the last week or so. We're even toying with the addition of some sort of tall built-in bookshelf behind the chair to balance the tall cabinets on the other side of the doorway. Not sure yet, but we'll keep you posted.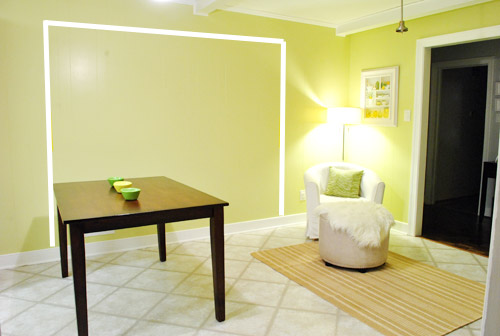 We've already discovered it's a great spot for Clara to play while we're getting stuff done in the kitchen (since we can't see her if she's in the living room, but it's easy enough to peek over the peninsula to check on her if she's in the kitchen on the rug).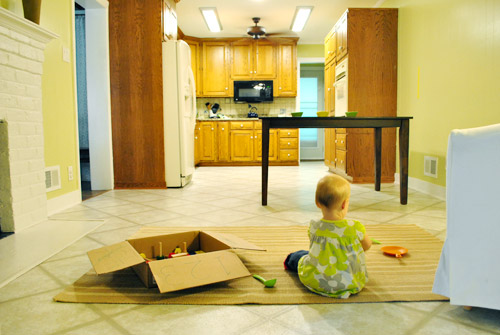 Sherry's already making plans for how she'll relax in front of a fire (we're contemplating one of those convincing modern-looking electric inserts that Candice Olsen uses – possibly even a double sided one if we can eventually open the back of the fireplace into the living room as planned).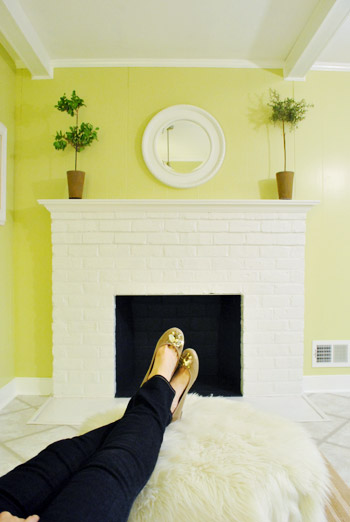 Meanwhile I'm dreaming of a little TV mounted above the mantle so I can watch the news during our morning breakfast routine (Sherry is rolling her eyes as I type this- so we'll have to see where we land on that). Either way, can you tell we're getting more than a little excited about this set up? Yup, it's The One.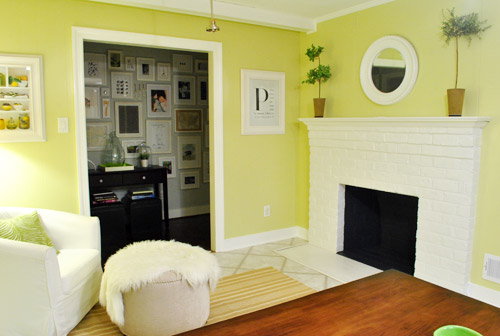 The peninsula will also give us 3-ish base cabinets worth of deep functional storage, unlike the largely decorative storage (open 12″ bookshelves) that the banquette would've provided. Plus a nice wide 3′ x 5.5′ work surface for prep, serving, eating, and homework is FAR more functional than what we would've gained from a distant island or a narrow banquette located a lot further away. And we're probably gonna use the new counterspace as an excuse to change the countertops in the whole kitchen. We've never loved our existing granite color (it has a few pitted/stained parts too), so it seems silly to actually buy more for the new peninsula (we've debated a mismatched look, which we like for an island, but for a peninsula it seems like it would look most like it has "always been there" with the same counter to keep things seamless). Of course we plan to craigslist the existing granite and put that money towards whatever we'll use for the new material (not gonna lie, we're already talking about DIYing concrete counters).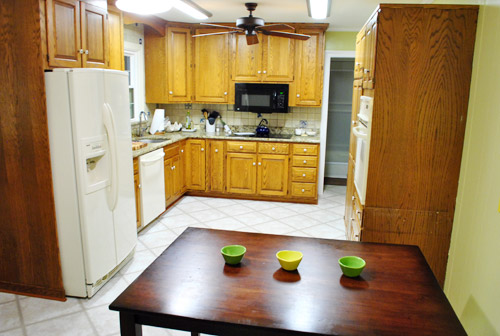 Oh and for anyone debating a peninsula, we've learned that the pros recommend 42″ of walking space between the peninsula and whatever's on the other side (in our case it's the fridge, which we hope will sink back a foot or so when we replace it with something that's counter-depth). So that's how we arrived at our peninsula length.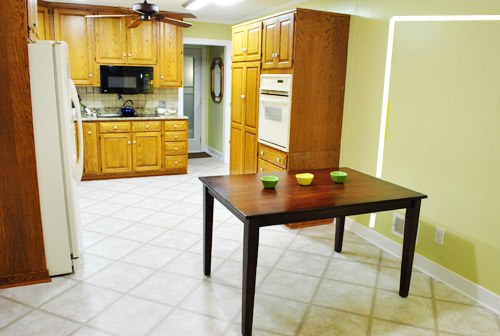 In fact, flow through the room is almost better because there's one straight pathway through the room, whereas the old table (and the once planned banquette) made us walk in a slight circle. Hoorah for ten less steps a day. Haha.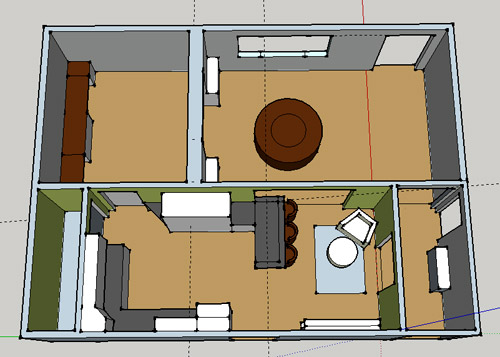 So now that we're unequivocally sold and geeky-excited about our new plan, it's just going to come down to working out the logistics. Namely how to find/build perfectly-sized cabinets that match our old ones without breaking the bank. And finally hire a licensed contractor and get the permits needed to bust out that load bearing wall of ours. But that's a story for another post. Another ten posts, probably…
Update: You can check out the new "cozy corner" behind the future peninsula in action (on video!) over on Young House Life.
Another update: Lots of people are sweetly suggesting some sort of bookcase or built-in feature on the side of the cabinets that face the dining room (instead of a knee-wall) but we're unsure if that'll be too much since there are already built-ins in the dining room that are just a few feet away. We'll keep you posted as we go though! Who knows where we'll end up…
Psst: Tomorrow I'm going to post my thoughts on trying Google Sketch-Up for the first time (and how it compares to two other 3D rendering tools I've used). So stay tuned for that if you've got any questions about how I made the 3D graphics for this post.
&nbsp&nbsp&nbsp