We get asked pretty frequently about where we find inspiration. The short answer: everywhere. Other blogs, design mags, real life, family and friends, clothing, nature, even reality TV. Yup, I'll admit it. Who takes pictures of the TV for inspiration slash fun? This girl (points to self with thumbs). And then they get uploaded with all of our other photos and John dumps them into an iPhoto folder that's aptly named "TV pics." And every once in a while I come across them and click through and say "oh yeah that was Law & Order, I loved that ceiling" or "that headboard makes me all clammy, in a good way" or "poor actors slash reality stars – I wonder if they hate the fact that they can be paused in such unfortunate and unflattering ways?" (Oprah used to give me the most hilarious faces when I paused her – miss you O!). So here are a few photos of the tube that were sitting in my folder (you know I'm an over-sharer).
The Modern Family house (someday we'd love to use their landscaping as inspiration for our own home):
Here's another Modern Family shot from the Clive Bixby episode (where they meet at a hotel lobby – best ever). I snapped a photo because I thought the shape of the headboard could be fun for one of those DIYed from plywood and foam ones. Maybe for a kids room someday (in brighter colors/fabric).
This shot from Law & Order LA was taken back when we were still house hunting. And I snapped it (get ready to snort-laugh) because I was hoping to find a house with arches and tall ceilings like this. Yeah, that didn't happen, but I still love our house (and this photo too, just for the how-deluded-was-I memories). And heck, we did end up with exposed beams (white in the kitchen, and darker in the living room). They even run in the same directions as this photo. So maybe we did buy this house… kind of.
Here we have a shot from America's Next Top Model (and an example of unfortunate pause-faces). Guess what I was enamored with… yup it's another headboard lust moment. Isn't that brown and white fabric awesome?
Here's a shot from a movie we Netflixed (The Kids Are All Right), which we watched right after moving. We loved the deep-ish blue on the walls and wondered if that was a good color for the guest room (and actually ended up going even deeper).
Here's another shot from The Kids Are All Right. John and I both fell in love with the large stone paver walkway that sort of curved out from the house in a triangle-ish shape. Maybe someday when we transplant about five hundred bushes we can attempt this clean and open look…
Ah, here we have one of my favorite shows: Flipping Out. I really liked the dark wood doors with the giant pane of frosted glass. So many homes have those ornate oval-glassed double doors, and I loved the clean-lines and chunky frame of these – they just felt so different.
Here's another Flipping Out picture, and I can't remember if I loved the tangerine gourd lamps (which could be accomplished with a can o' spray paint and a Goodwill score) or the cool wavy mirror in the back that looks kind of like faux oyster shells. Probably both.
Last Flipping Out shot. This time I loved the glass pendants and the dark cabinets with the white counters. Of course we don't have white granite/marble/silestone in our kitchen so it's nothing we'll do (we want to work with the mid-toned granite that we have, and don't want to create a sea of brown) but it was a nice look, so I worked my picture-taking finger to capture Jeff's design. Who knows, maybe someday we'll get to stain someone else's cabinets to mimic the look.
Here we have a shot from The Celebrity Apprentice (did anyone else think that show got boring after crazy Nene left?). Can you tell what I was obsessed with? Yup, the floors. They actually inspired us when it came to building the console table. So yeah, we owe it all to the Celebrity Apprentice.
Here's a shot from The Big C (does anyone else watch it- it's so good, we got a free trial of Showtime and got hooked and watched the whole thing in record time). I really liked the board and batten on the wall behind her and still dream of DIYing something similar in our hallway (as recently mentioned here). So I thought you'd like a visual. Preferably with Laura Linney in it.
This shot is from Secrets From A Stylist, snapped because we still have plans to thrift or build a larger, chunkier media cabinet to balance out the giant wood console table that we built on the other side of the room. And we really liked the white frame with the wood fronted doors of this thing:
Oh and occasionally we just see something we don't think we're supposed to and it blows our mind. Like this rare angle that John noticed (he's such a notice-er) on Bachelor Pad a few weeks back. Look how many lights are on the ceiling in that room behind Jake. Isn't that crazy? The place looks so homey on TV but it must feel like such a set in real life (and probably gets pretty hot).
Who else takes TV pics? I can't be the only person who does this, right? Or do you try to find screen grabs on the computer instead? Some of my shots are admittedly quite wonky due to TV glare. I know I could mess around with the camera a bit to cut down on that stuff, but I mainly just use them as memory joggers, so it's ok if they have a weird blue tint or there's a person or two oddly frozen in the room. Maybe you guys all just watch TV and relax like a normal person? Probably that, huh?
Oh and did anyone else go Missoni crazy at Target? Sorry we're late to that bandwagon/update. We actually didn't make it there until Wednesday evening (the collection dropped on Tuesday morning) and of course it was hugely picked over/sold out by then, but I did spot these sweet rain boots (in an extra small) for Clara and couldn't resist. She already tries to wear them (they're a bit too big). Very cute.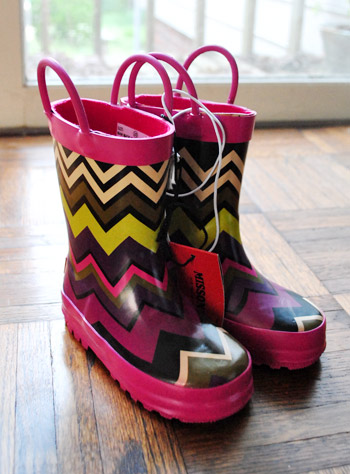 I also grabbed this pretty geometric vase for the back of the living room console: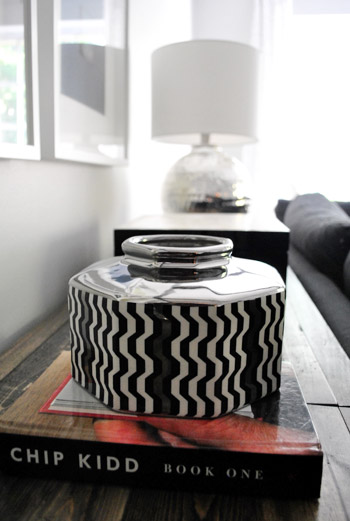 It'll probably migrate around the house over time, but for now I'm loving the bold pattern and the metallic finish that references the chunky silver lamps nearby. Bah-dah-bling.
I also made off with these headbands for myself. They seem like a nice compromise for a ponytail obsessed gal like me. Now I can wear my hair down but still keep it out of my face. Oh who am I kidding, I'll probably wear them with a ponytail. Update: already did here.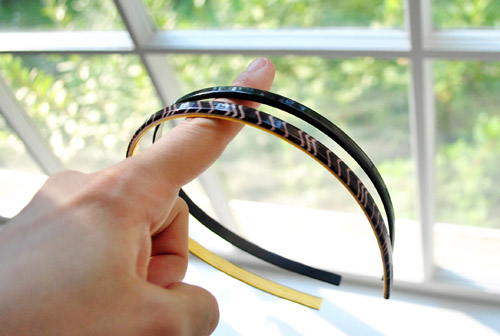 What did you guys buy? Was everything already gone? Was there someone in line buying 2K worth of Missoni stuff in front of you? Word on the street is that happened like crazy on Tuesday and Target's website even crashed and folks are selling everything for $200 on ebay. Peeps be crazy for Missoni.