I don't usually write these House Crashing posts, but this home in particular is very special to me. Well, at least it will be over time – it's my parents' new house here in Richmond. Since we literally crashed their pad for a few days post-Hurricane Irene (when our house had no power) and have spent many an evening hanging out over there, we figured it was high time we snapped some pics to share with you guys.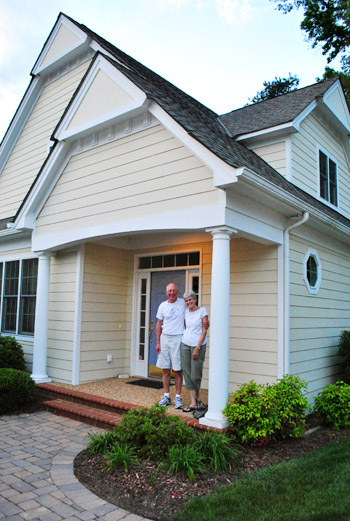 That's Dad and Mom right after moving day back in May (they've since painted the lavender door bright red). I've mentioned before how they sold their house of 32 years in Northern Virginia (aka, my childhood home) and relocated two hours south in Richmond to be closer to some of their kids/grandkids and downsize to an easier-to-maintain home (part of my mom's retirement goals was to never have to mulch again). They landed in a beautiful new-ish community of duplexes about 15 minutes from our place and, despite it being smidge smaller, in many ways it feels quite grand in comparison to their previous digs. Just take their half bath as an example.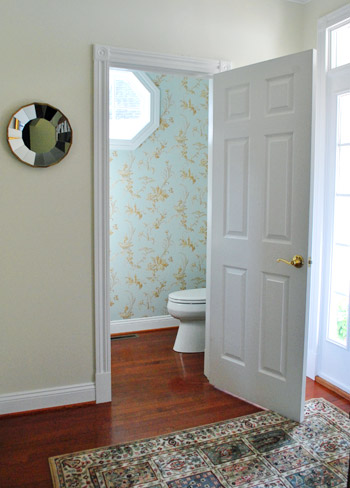 A lot of the design of the house is courtesy of the previous owners (my parents have been there less than 4 months) and when house hunting, my parents feared their style was a bit too formal for their tastes (their last bathrooms were more of the bold paint variety, not the floral wallpaper type). But somewhere along the way they figured "I'm retired, so who says I can't have an ornate gold mirror in my half bath?"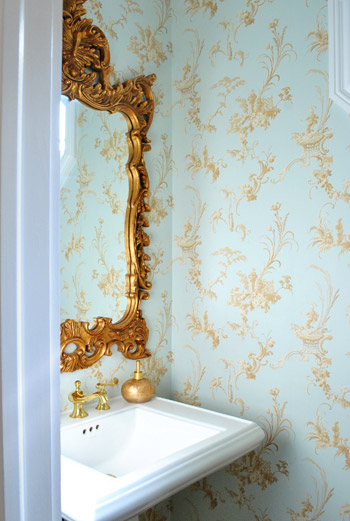 We totally dig it. Maybe it's partially just the pleasure of seeing my parents embrace a new style, but it's also just fun to go into a house that takes risks or makes decisions you wouldn't necessary think of for yourself. You know, it helps you stretch a little. And clearly my Mom is learning to love her new look, as she purchased this light fixture from Ballard Designs to replace what the previous owners had taken with them. She said she "never thought that she'd purchase something like this in a million years" but it's really playful and goes perfectly in there.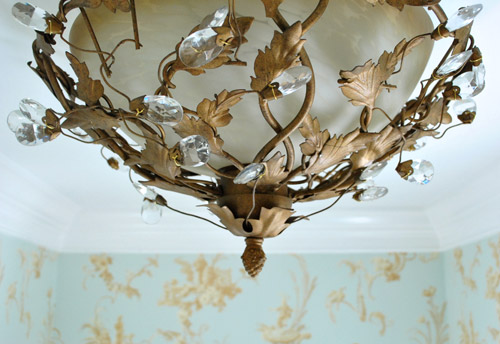 Even at just four months in, my parents are making the place their own. For instance, the previous owners left them the great drapes and large ceiling medallion… but no chandelier. So my parents actually moved this slightly-too-large-for-the-space fixture from their breakfast nook into the dining room, where it's much better suited. Three cheers for working with what you got.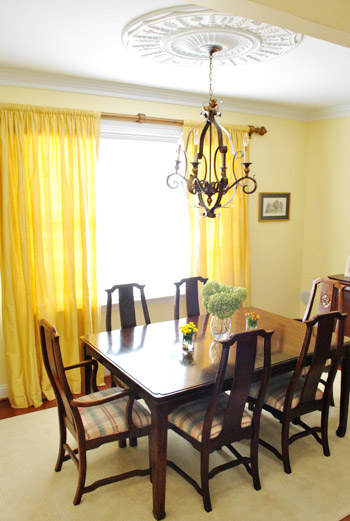 While they've definitely had to purchase some new furniture to better fit the space, they're also have fun mixing in their existing pieces – like this awesome wicker chair scored at Pottery Barn a few years ago. The side table is a new on-sale find from Ballard Design. Sherry has said it's her favorite thing in the whole house. It has little clawed feet clutching a ball on the bottom, and it is of course her favorite finish (ORB).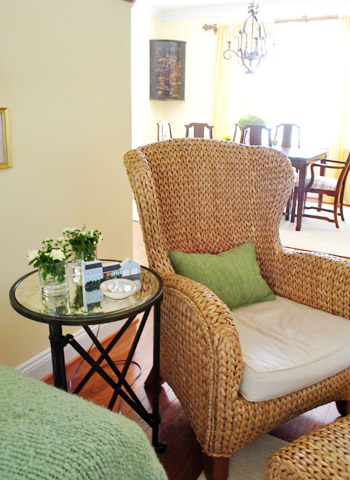 That chair sits in the large open living room, which has great lofted ceilings, some sweet built-ins and a cozy electric fireplace.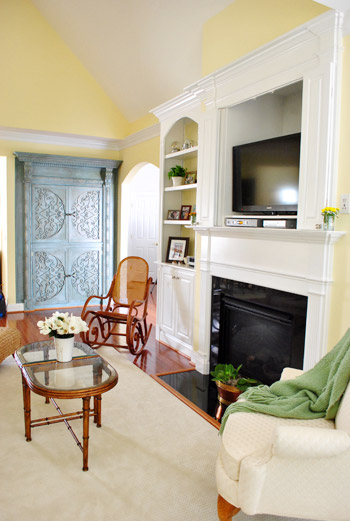 Of course, the most popular conversation piece in their new home is this custom cabinet. Most of the houses in the development have a little builder-basic white closet here, but the previous owners went all out and had a piece designed using reclaimed wood and ironwork from Caravati's (a local architectural salvage place). The old owners used it as a liquor cabinet, but my non-drinking parents display frames & dinnerware on its top shelves (those top doors flip open and slide into the piece so they're invisible) and store photo albums and games in the bottom drawers which are hidden behind the two doors on the bottom.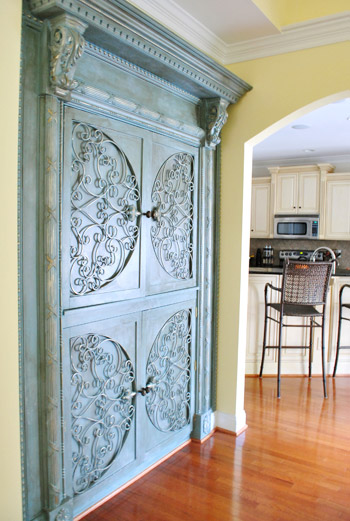 The cabinet sits beside their kitchen, which has an awesome island in the middle (it houses the sink and dishwasher) as well as a killer pantry cabinet at the far right. Not to mention another pantry closet that's not pictured (it's on the far left beyond the magnet board on the wall).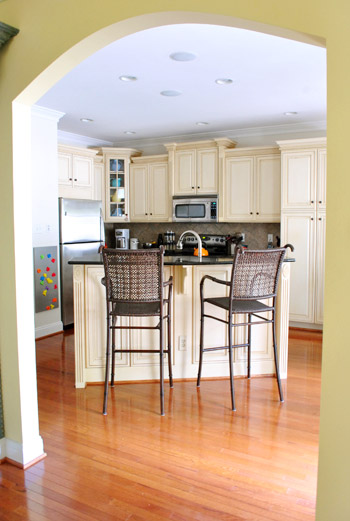 We're jealous of a lot of things in here – awesome black-but-still-subtly-flecky granite, extra-hight ceilings, stainless appliances, etc, etc. Good thing we get to come over for dinner regularly.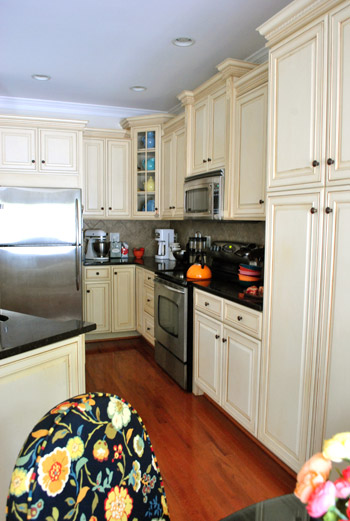 Oh, and here's that breakfast nook I mentioned that once housed the much-bigger dining room chandelier, which they replaced with a more modestly-sized one from Ballard Designs. And see those colorful chairs? They're from Pier 1. My mom called us up and said "come see the chairs I got for the breakfast nook, they're unlike anything I would ever have chosen even a year ago – I'm so in love with them." It's so fun to watch them have fun with new things for their new house.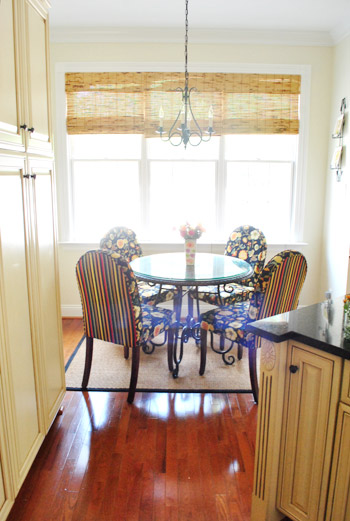 Just beyond those big bright windows in the kitchen is their patio. It's perfectly sized for them… and the fence is great for keeping the grandkids from running away! We've already broken in a plastic baby pool out there (Clara didn't want to leave).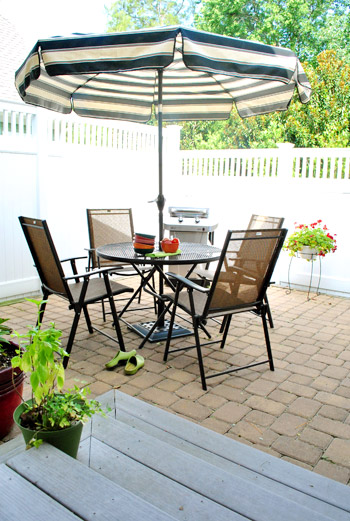 The second story of the house features a large landing that acts as my dad's office and a play area when grandkids are visiting, plus two guest bedrooms – including this one that we stayed in during the whole no-power-for-three-days-after-Huricane-Irene thing. It was already painted that warm color (wish we knew the name to share it, but my parents inherited already-painted walls in every room, so they don't have a clue). Oh but the bed frame is from Ballard Design (my mom likes to wait for sales and use coupon codes).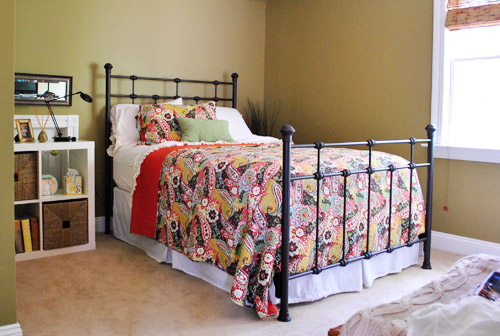 We didn't get pics of the other guest room (Clara was napping in it) or the main bedroom (that's still sort of a work in progress) but maybe someday we'll snap those for you to complete the tour when my parents have had a bit more time to settle in (they're such good sports for letting us crash a house they've lived in for, oh, 380 fewer months than their last place).
Oh, and I can't forget one of our favorite features of the house. This is a brick from our old house (removed during our first home's kitchen doorway widening project) that we gave to them a few years ago. I can't remember the exact occasion (maybe there wasn't one) but they've had it out on their new doorstep since day 1.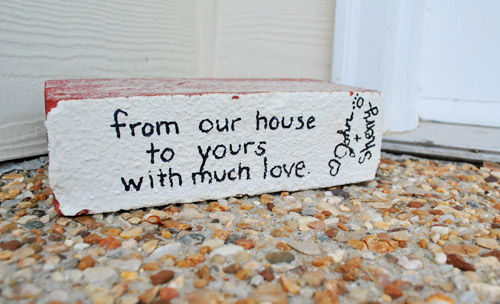 Oh, and in related news, we heard the new owners of my parents' old home are having a great time there. They're a family with young kids that are having a blast befriending other kids in the neighborhood, so it seems that the ol' cul de sac is once again seeing some of the action it had back in the '80s when my generation was there. Though I did hear that my sister's old bedroom is now Baltimore Ravens purple. Wow.
Psst- Check out a ton of other House Crashing adventures here, or search through individual rooms for inspiration (by color or type of room) here.