Burger had his first dentist appointment today. We had to leave him there all day since the "procedure" required putting him under. I guess it's easier to clean a dog's teeth when they're not biting you every five seconds. Go figure. Although Burger just turns into a big puddle of wimp at the vet. Here he is whining at the door as we waited for the technician to take him away. We were sad all around. But healthy teeth = healthy dog. And we want Burger around for a nice long time.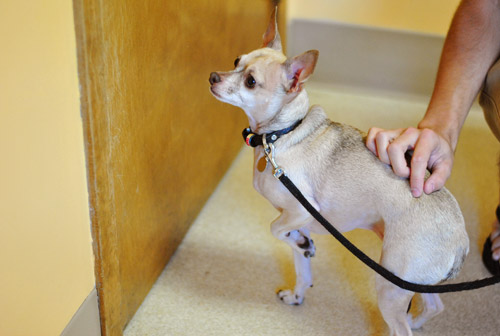 Happily, the cleaning was a success. We learned that chihuahuas have notoriously bad teeth, but Burger seems to be an exception. It was actually his first cleaning ever and the vet was pleasantly surprised that he didn't need any extractions (the at-home brushing/wrestling thing Sherry does with him every night must have helped). Apparently lots of his kind lose teeth and have some decay going on after just a couple of years… and Burger is almost five! He left with all of his teeth, no decay, and minty fresh breath.
And as if that weren't enough good news, the vet gave him this snazzy new bandana too. Well hello Mr. Sparkle Teeth…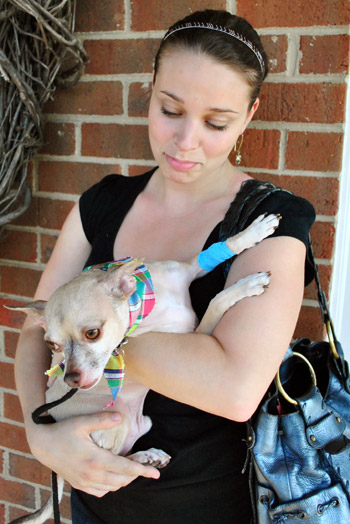 I got a better shot of it once we got home, got his IV bandage off, and he was no longer scrambling to get as far away from the vet's office as possible. Ain't he quite the looker?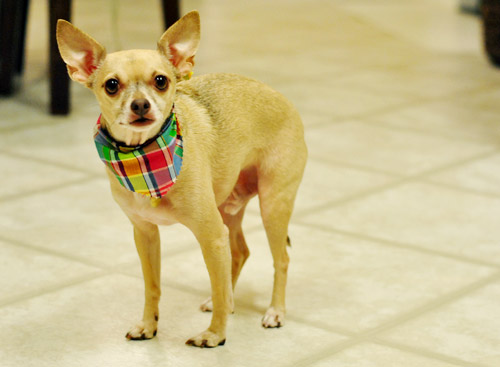 In all seriousness, we're super relieved that it's over and all went well. It was kinda depressing not having him around the house all day. Love you Burgs.