Archive for July, 2011
Who's in the mood for some house crashing? This gorgeous old home is in the Forrest Hill area of Richmond, and we couldn't wait to scope it out for you. Because, get this, Wendy's house is used for commercials and photoshoots! As in, it's such an amazing backdrop, the house is practically famous. Cool huh? And she's a professional retail design and merchandising pro who just happens to design light fixtures when she's not styling spaces. In other words, she's got mad skillz (more on her here) so we couldn't wait to snoop around. Oh look, here's Wendy out on the porch to welcome us in: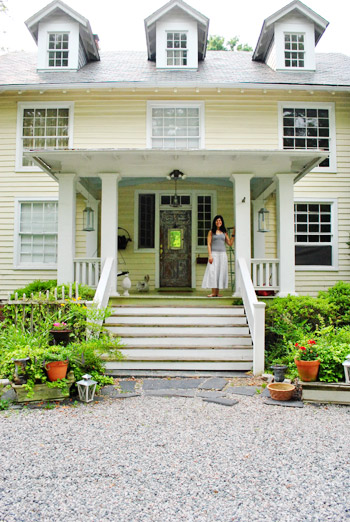 Her porch was super charming with everything from a pretty light blue ceiling to a chippy old door and a happy red vintage mailbox. And you know I love those extra wide porch steps, right?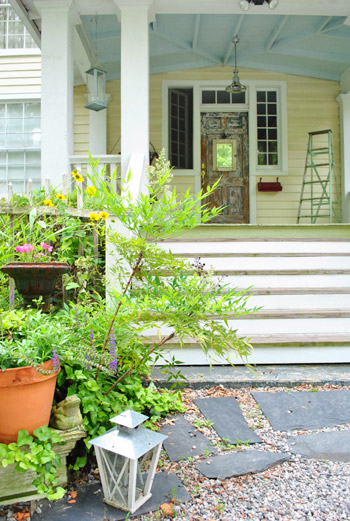 Once inside there's a grand staircase that leads upstairs and a fun shimmering silver wall that Wendy painted herself with craft store paint when she was bored. Naturally we hit it off since I'm known to go a little crazy with craft store paint too (as seen here). Wendy said she just pulled it up and down the wall in sort of a "dry brush" method, so it looks like fun metallic wallpaper with a vertical "grain." We also thought those three exterior lights over the art were really fun and unexpected.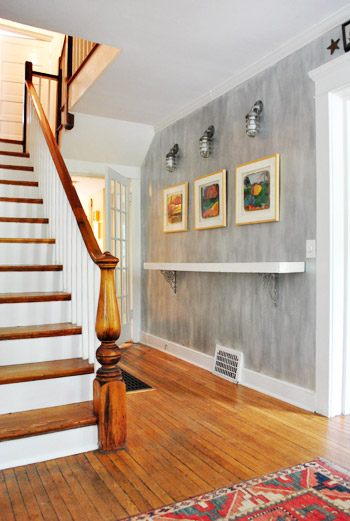 If you look to your right while standing in that subtly metallic hallway, you see the dining room. And yes, John and I were utterly smitten with the cool pink industrial cart on casters. See the white duck on the top shelf? Yeah, basically I said "I'm home" and ran in and geeked out about it. Composure is a beautiful thing to lose. Anyway, check out the fun metal stars above the doorway with the small framed art dancing around up there. So playful and cool. Of course Clara loved the doggie too.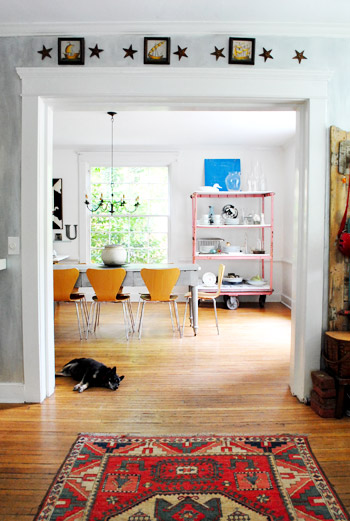 When you walk further into the dining room there's an awesome old fireplace and a school-sized chalkboard that's jam-packed with scribbles, notes, and letters to and from visitors. It's really amazing. Oh and do you notice that the table is also the same metallic color as the entry hallway? Wendy was having a New Year's party and thought her dining room "needed something" so she painted the table silver with her daughter – just for fun. Coolest mom ever? She's definitely in the running.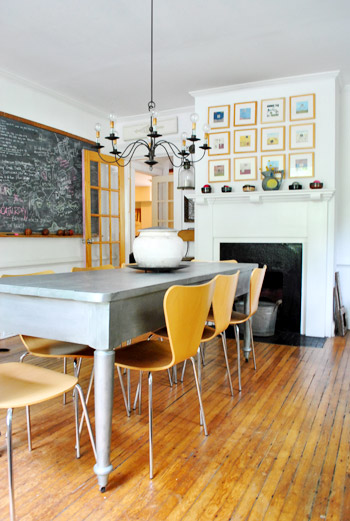 Wendy had some of the most stunning lights we've ever seen. Check out this handsome guy: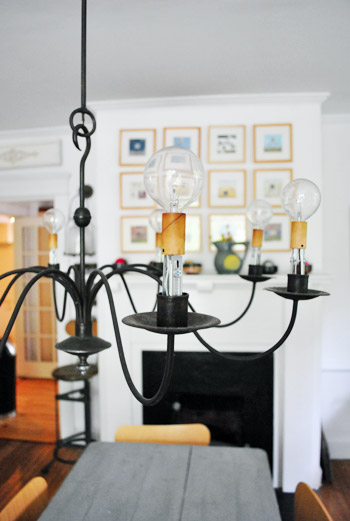 It was really inspiring to learn that Wendy has hunted down nearly all of the stuff in her house from places like local thrift stores and secondhand shops (she loves Trash To Treasure on Lakeside Ave). She even finds things on the side of the road, yet her place looks so elegant and – well, expensive. Here's my beloved pink castered cart up close and personal. And my white duck friend. Is he not the best looking wood duck you've ever seen? I like how he slyly tucks into the top shelf looking dapper.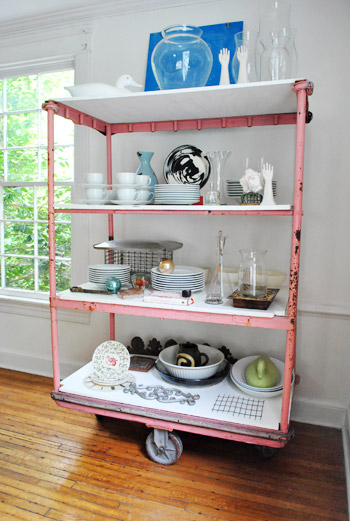 When you enter you can also turn to your left to see the living room, complete with a giant teal sofa that Wendy saved up for after "visiting it at the store a bunch of times" (it's from La Diff here in Richmond). Wendy's basically me in another (more stylish) body. I visited Karl The Sectional for months before we got him. So I understand the deep sofa love that she described. And look- more fun metal stars over the doorway: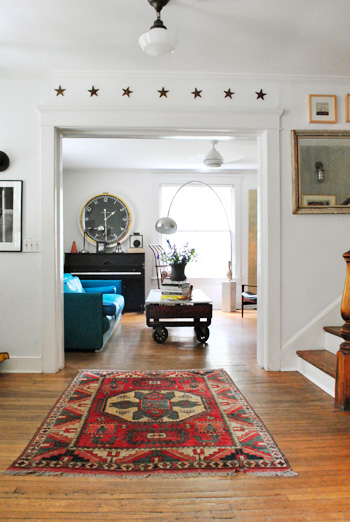 I was immediately drawn to the giant clock over the piano. It was actually a gift from her father so it's really meaningful along with being just plain cool. And do you notice something about the coffee table? It's another old cart on casters. So simple yet full of character. This was just one of those houses that you feel so comfortable and casual and "welcomed" as soon as you step inside. It's a wonder I didn't flop down on the big teal sofa for a little afternoon nap (well, it's actually not a wonder because Clara doesn't let me get away with that sort of thing).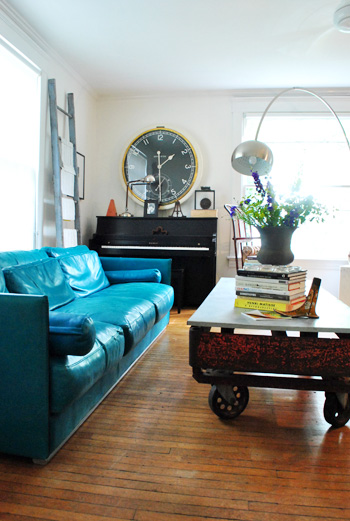 And now for a clock close up: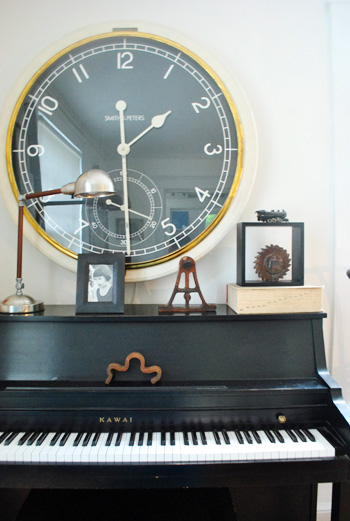 Here's the view from the piano looking into the entryway and the dining room beyond: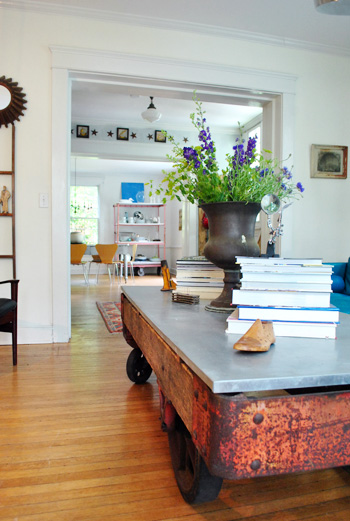 Oh and this is the view from the teal sofa. Yup, there's yet another awesome original fireplace. And see that awesome tripod floor lamp in front of the fireplace? That's one of Wendy's designs. It was so gorgeous in person- this photo doesn't do it justice. I could totally picture it in a Candice Olson room or something.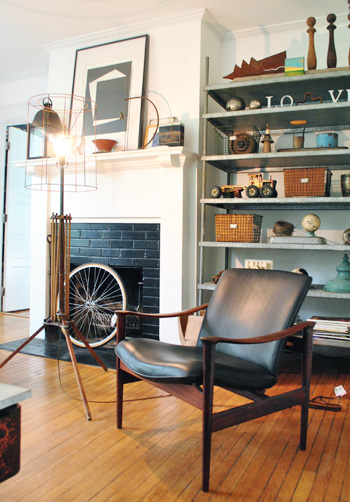 Beyond the stairs that lead upstairs was a nice spacious washroom. Aren't those old doors cool? Wendy made them. Yeah- she added a chippy paint technique along with some architectural salvage finds (the iron grates, the handles, and even the ornate corner pieces) to create two one of a kind doors that obscure her washer & dryer.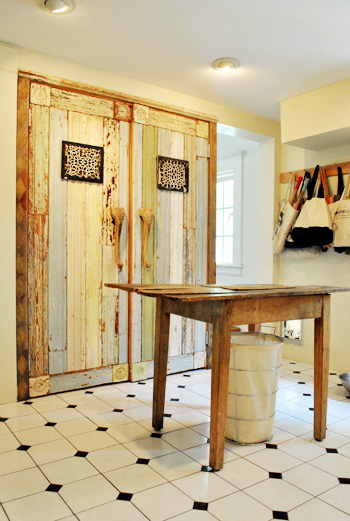 This was one of those awesome old homes with tons of character, so this is a shot of her second staircase. Yup, she has two. The front one and this one, which is right off of the kitchen and the washroom. So cool. And I loved that she hung a basket on the wall like that. It kind of looked like a faux tortoise shell. And you know how I get about animal decor…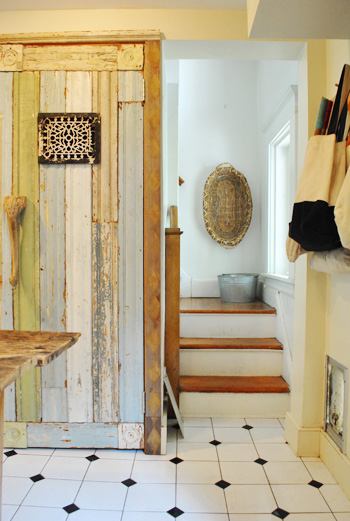 Here's her awesome kitchen with an old cabinet in the center of the room. She got it from a school that was getting rid of it and remagined it as a kitchen island. John and I fawned over all those long skinny drawers. I also really loved how she hung what looked like a plate rack vertically and stuffed it with napkins and linens. Sweet.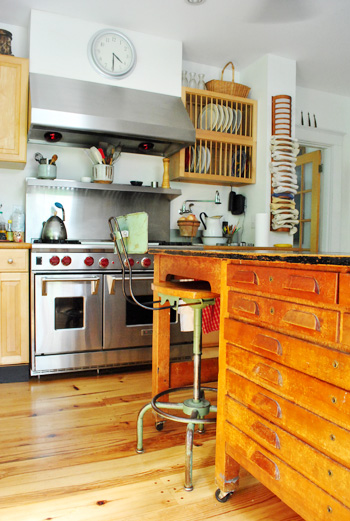 Here's a guest room in the back of the house. Once again Wendy wowed us with her use of charming old items in new ways.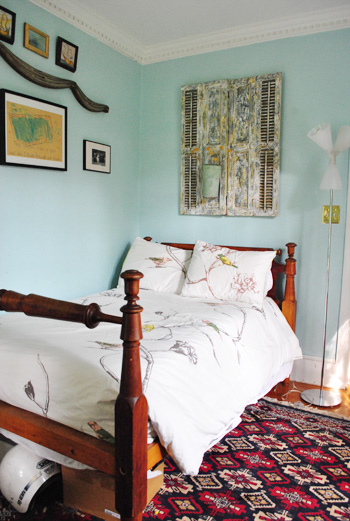 This time it was those chipped multi-colored shutters, where she hung a little tin basket of faux blooms: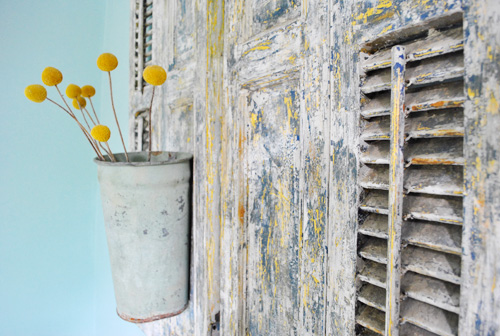 Wendy was a really inspiring "curator" (which is probably why she gets paid to style things for a living, haha). John and I especially loved this asymmetric wall of frames, shelves, letters, and even old lighting hoops that Wendy had on hand.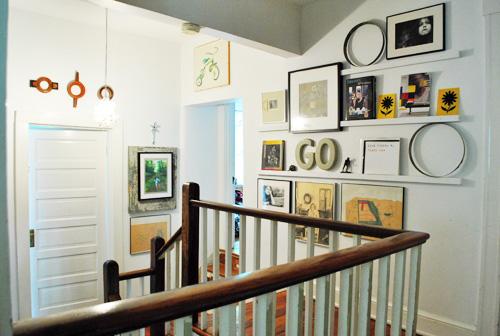 Here's Wendy's master bedroom with a charming four poster bed that called my name. Don't worry, I restrained myself and did not try to swan dive into it. But Clara tried. Twice.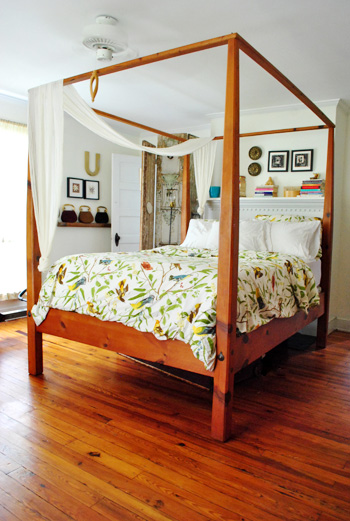 And here's her light and airy master bath. Doesn't it look like a beach house out of a magazine? I loved the breezy little half-curtains and the weathered old secondhand dresser that Wendy uses for linens and towels.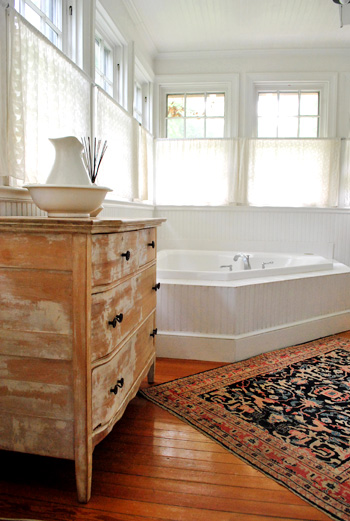 So there you have it. A local home here in Richmond that we're still talking about. Thanks so much to Wendy for letting us poke around! And get this, Wendy is selling her gorgeous house. So if anyone's interested, you can contact her through her site. Now let's play the favorite part game. I'm dying for the pink cart on casters, the cutie pie white duck decoy, and the soft blue paint on the porch ceiling. Meanwhile John will not shut up about the giant clock. But is anyone really surprised by that?
Psst- Check out our recently created inspiration gallery (where you can search by color or room) with over 330 other stunning spaces!
&nbsp&nbsp&nbsp
We found these babies at a yard sale and haggled them down to $10 a pop. Let's call them our twig & berries.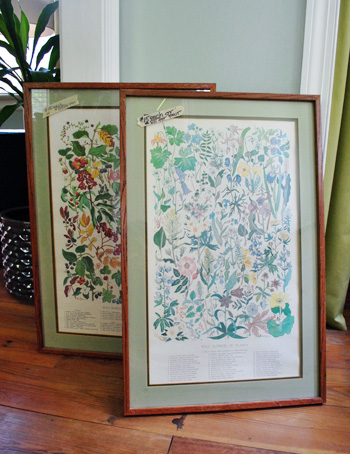 We immediately thought the extra tall shape of the frames would be perfect for either side of our bed above the glass based lamps on the makeshift just-for-now side tables (they're way too small and don't have any drawers for storage) on this very unfinished side of our master bedroom: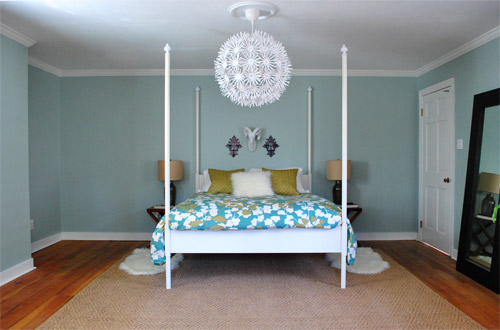 We definitely had plans to change out the art. They're prints of the berries and wildflowers of Alaska (which is kind of fun and fitting since we honeymooned there) but they felt a bit too grandma for us.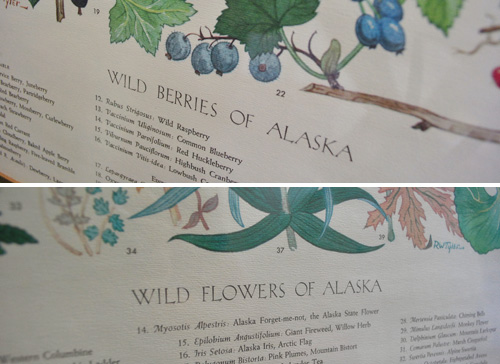 But we loved the long rectangular shape of those $10 frames. So we hung them up, just to see what we were dealing with. Don't mind all the blank space on either side of the walls, we still have furnishings to add to fill up this cavernous room. And once we change out the side tables we might rehang the art a bit further out from the bed or higher up depending on the new furnishings.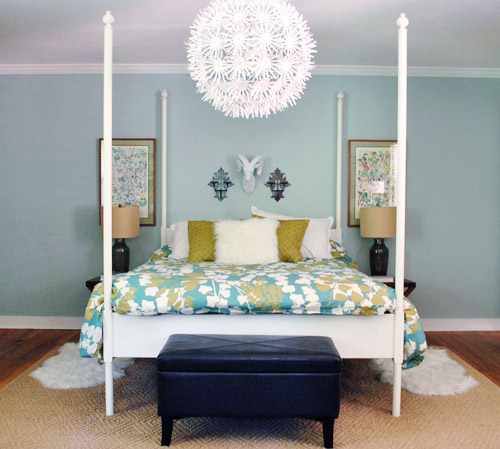 We definitely liked the shape of our new frames, but we weren't crazy about how the warm wood tones sort of clashed with the darker tones in the thrift store wood candle holders on either side of Sir Ram above the bed…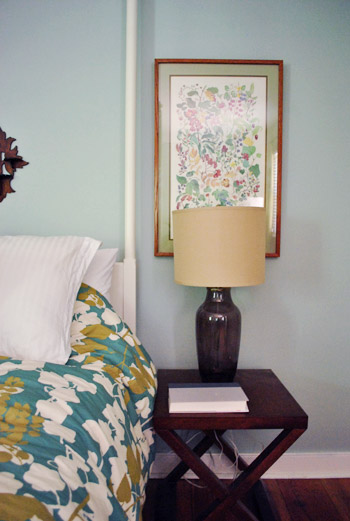 … along with the leaning mirror, and the leather chair in the corner: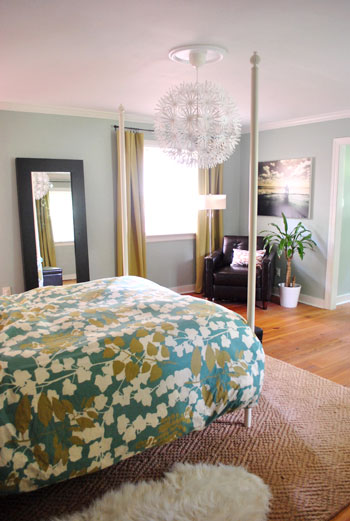 And yes, we're aware that not all couples aspire to sleep under a giant resin ram head. We are indeed a rare and special breed. Akin to centaurs and unicorns. Speaking of that above-the-bed stuff, we originally mentioned that the maybe-too-small-art might go, but months later it's still there and has strangely grown on us.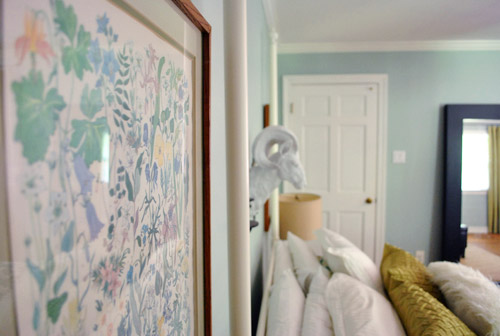 But back to the yard sale frames. I actually decided to do something completely insane for me when it came to them (but totally ain't-no-thang for anyone else). I opted to spray the frames with oil-rubbed-bronze spray paint. I know you might think that given my recent ORB kick (here and here and here) this isn't news. But, you my friend, would be wrong-O with a capital O. Why? Because virtually every frame that we own is white (both in this house and our first one) and we must own five million of them! Dark frames have never been our preference. White is my eternal jam..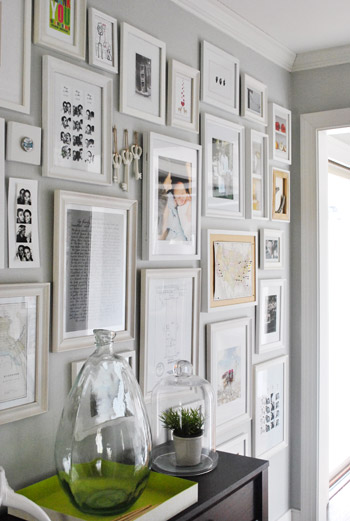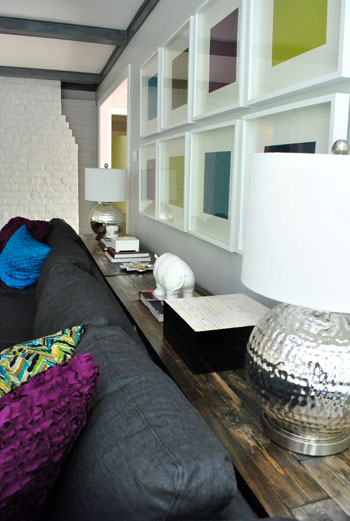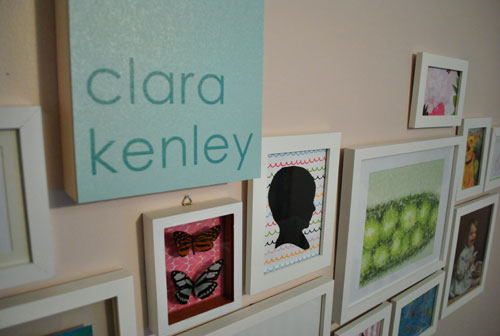 Until now, apparently. Total curveball. At least to a white-frame loving fool like me.
I'll spare you the spray painting play-by-play (you can find some general tips here) except to point out these two things:
the glass was so tightly fitted that I worried I'd break it if I tried to remove it before spraying – so I just covered it with newspaper
I laid each frame up on a big ol' rock from the yard so the sides wouldn't stick to the "drop cloths" and peel off the finish when I picked them up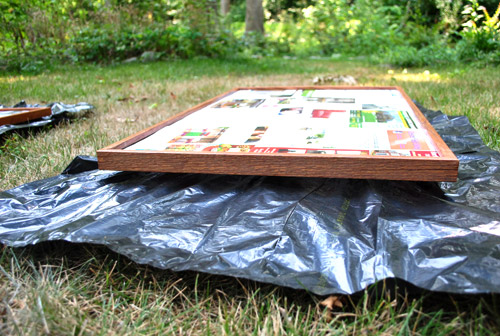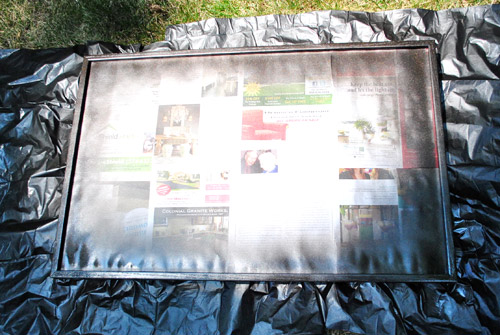 While I was at it I carefully removed the mats and sprayed those white for a cleaner look.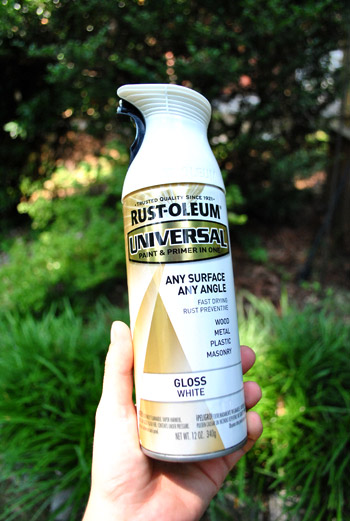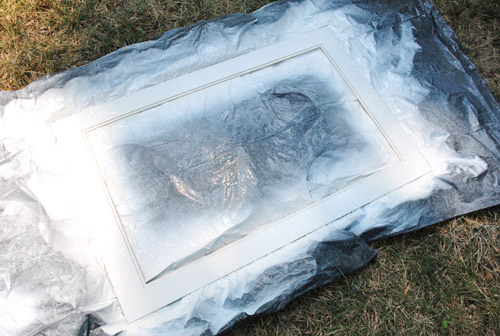 Now brace yourself for the hottest picture you've ever seen on the internet: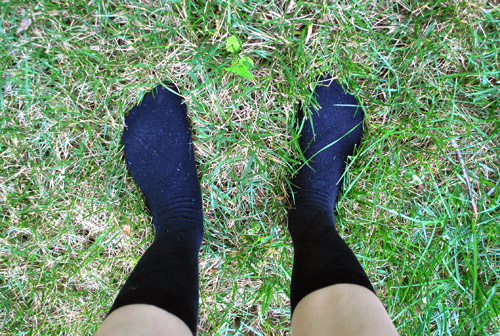 My white mom legs + black dress socks = sexy beast. I can't believe I'm sharing this, but the whole dark sock thing is actually a spray painting trick I implement nearly every time. Instead of worrying about getting rogue drips on my shoes or flip flops (or my feet, which I could then track into the house) I just don some dark socks, spray to my heart's content, and slip them off at the backdoor so I don't track anything in (and don't have to worry about scrubbing my feet or ruining my favorite shoes/flip flops). As for the rest of my outfit, I'm nude. Just kidding. I wear painting clothes that I do not slip off at the door (big drips only seem to fall on my feet).
A few minutes after snapping that photo was when John and I both started giving each other crazy eyes. Which means we were both having strange and exciting ideas (ideas that are completely unrelated to bedding each other under the ram – get your mind out of the gutter).
John: "What if we put those old botanical-looking prints back into these now that the mat and frame is all updated and graphic?"
Sherry: "Just to be suuuuure we're completely over them – I agree!"
So we hung them up and we really liked them. So we are in fact completely under them (you know, as opposed to over them as we originally anticipated). Sure, they're still a little grandma, but they're also something we could picture in Elle Decor or House Beautiful (with more than a $10 price tag on them). And most of all, they make us smile.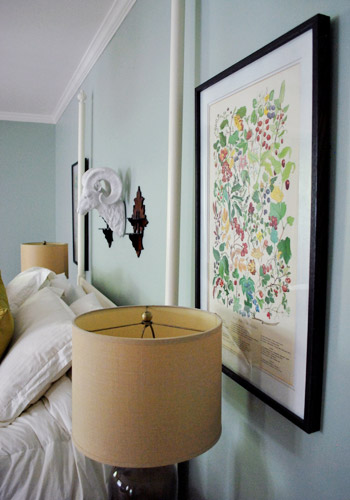 Here's where I'll stop to acknowledge that not only is hanging a big white ram head over your bed one of those personal preference things maybe-I'm-crazy things, art in general is definitely a place where all folks on the internet won't come together and sing kumbaya. But we're loving our twig and berries – er flowers and berries. I mean it's not like we'll ever entertain in our bedroom – so we don't have to worry about what other folks might think. Which I hope is nothing weird and kinky due to the ram. Yikes.
Speaking of weird, we got an embarrassingly huge kick out of hanging the berries on J's side and the flowers on my side. You know, because ladies have flowers and guys have berries. Too far? My deepest apologies.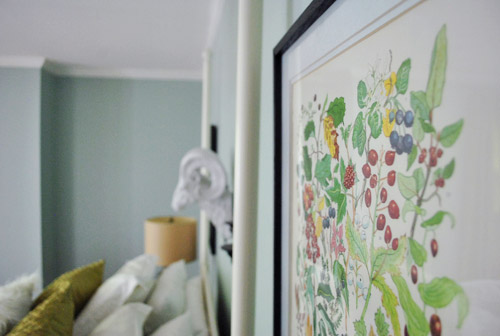 Then something crazy and completely unexpected happened (manage your expectations, our lives are not that interesting).
John decided to exercise his veto power on the leafy duvet cover that we ordered around seven months ago.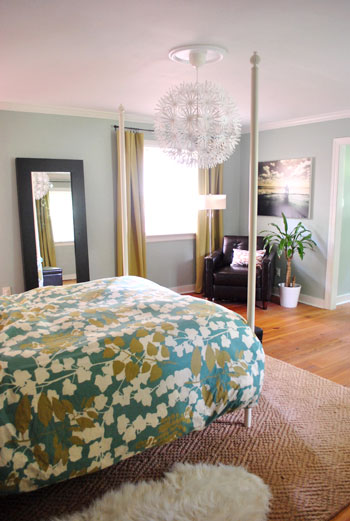 Didn't see that coming did you? See, back when the duvet cover was one of the first things we bought for our house (deeply clearanced from West Elm) John agreed that we could get it (we have a full agreement agreement, meaning we're not allowed to buy things without both being ok with it). But he only agreed with one stipulation: that it wouldn't necessarily be a forever choice. He reasoned that it was affordable enough and I loved it enough not to keep me from ordering it (I was so worried it would sell out and I'd forever regret it slash hold it against John The Tyrant). But he asserted that if someday he should decide that he no longer liked it I would have to be open to looking for something else that we both could love – especially if the price was right and we could sell this baby on craigslist or something.
At the time I grinned and nodded, never thinking that day would actually come. But wouldn't you know it, John loved those 10 dolla (holla!) yard sale art infinitely more than the compromise duvet. So he decided we should revisit the whole new-duvet-cover-idea and leave the art as-is (since it was kinda circus-y and compete-y to have them both going on at the same time). And you know what? In an even more shocking turn of events I agreed.
Maybe we're just sentimental suckers and sleeping between prints of wildlife from the place we honeymooned is our idea of romance? Maybe we think rams and flowers and berries somehow belong together? I don't know. Either way, the leafy pattern in the duvet cover was fighting with our new leafy art so I stripped things down to our white duvet insert from Ikea and we stepped back to survey the scene.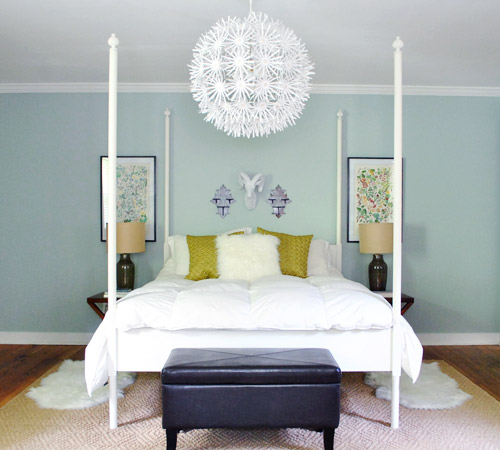 The weird white duvet insert was definitely more compatible with the art than the competing leafy duvet cover, but not quite perfect. Meaning a white duvet cover isn't going to be what we go for. We're hoping to find something with less of a bold pattern and more of a subtle texture (like a soft chevron or crosshatched design or something striped or something else entirely). The jury is still out on what will come home with us, but we're planning a few HomeGoods and TJ Maxx runs just to see what's out there. And maybe even an Ikea road trip.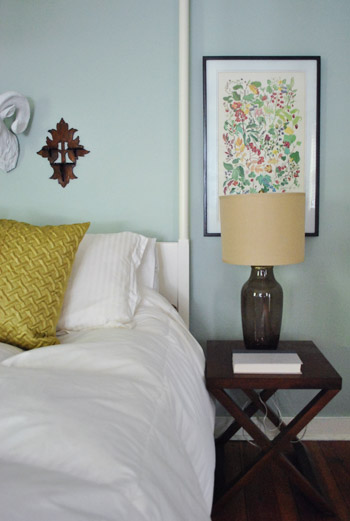 The lesson? Grrrrr, don't compromise. Just hold out to find something you both love. Oh well, hindsight is 20/20, right? And I like to think the Alaska prints "found us" because it was meant to be. And we certainly had our fair share of decorating mind-changing in the first house, so it's only fitting that we work in a few control-alt-deletes in this house too (look honey, it's a bad computer joke that I threw in just for you).
So yeah, we're thinking about selling the old duvet cover on ebay or craigslist. There are some on there for over $100 and we only paid $42 for our king-sized guy thanks to sales and coupon codes. So who knows, maybe we can recoup the entire cost and list it for $45 in great-but-slightly-used condition. We shall see…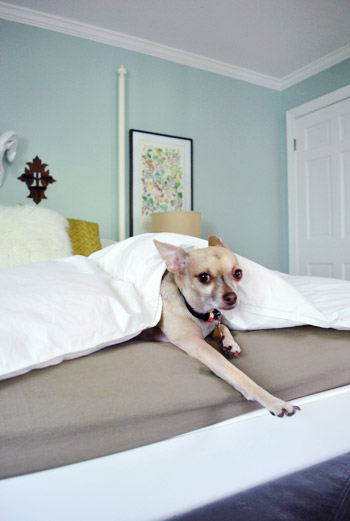 As for what the kids think, Clara toddled into the bedroom and gave the new art two thumbs up (not lying, but she does happen to do that gesture a lot). And Burger gave it one paw sideways. He's such an art snob.
Do you guys have any duvet cover switches or "rewinds" going on? Has anyone else had their man exercise veto power in a surprising but serendipitous-in-the-end way? Does anyone else spray paint while wearing black dress socks or sleep under a white resin ram? Yeah… probably not.
&nbsp&nbsp&nbsp