Archive for January, 2011
***This giveaway is no longer accepting entries – scroll down to the bottom to see who won!***
We're always on the lookout for new art these days (lots of empty walls!) so we're excited to bring you this giveaway from Barcelona-based illustrator Judy Kaufmann. Her bold prints – sometimes colorful, sometimes stark – have a charming combo of simplicity and intricacy. Here are a few of our favs below, but you can of course browse more in her Etsy shop.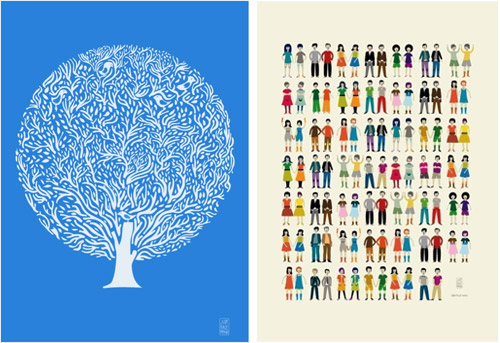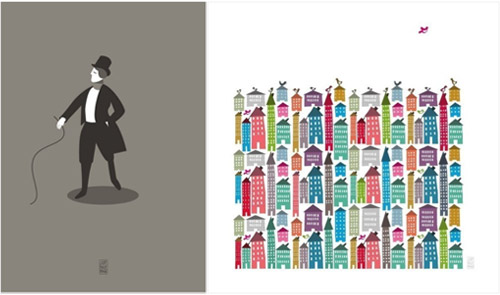 PRIZE: A $50 gift card towards any print from Judy Kaufmann.
TO ENTER: Comment on this post with the words "I'M BOLD!" and…
BONUS QUESTION: … tell us about something bold or brave you've done. Have you gone skydiving? Did you chop all of your hair off just because you felt like it? Or did you confess your love to an unsuspecting friend?
GIVEAWAY CLOSES: Wednesday, February 2nd at 8pm EST
NUMBER OF WINNERS: Two
PRIZE SHIPS: Anywhere in the world!
USUAL STUFF: One entry per e-mail address is permitted. The winners will be selected using random.org and announced on Thursday as an update to this post. That's right, come right back here on Thursday morning for the announcement of our winner. Good luck…
******************************
Random.org has chosen our winners and they are… Melissa (who boldly bought some bright red faux leather fabric for an upcoming project) and Stephanie L (who went whale watching in a tiny boat despite her fear of the ocean). Congrats!
Note: We weren't paid or perk'd for hosting this giveaway, we just like rewarding our lovely readers! See our Giveaway FAQs page for more info. Pics from Judy Kaufmann.

&nbsp&nbsp&nbsp
Despite its original February 4th due date, our big bundle of sectional joy arrived ahead of schedule. Being our first Ikea couch, we were a bit taken aback by how many different boxes Karl came in.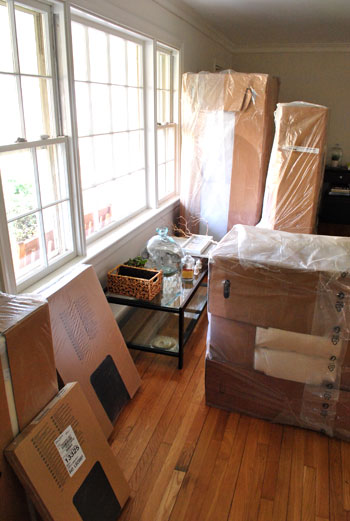 But since we're no strangers to assembling our Ikea purchases we dove right in…and even made a time lapse video of the longer-than-we-expected process. Watch it below on Vimeo or here on YouTube.
For those who can't watch the video (maybe you're being sneaky at work?) here's the important stuff: the final pictures of Karl in place.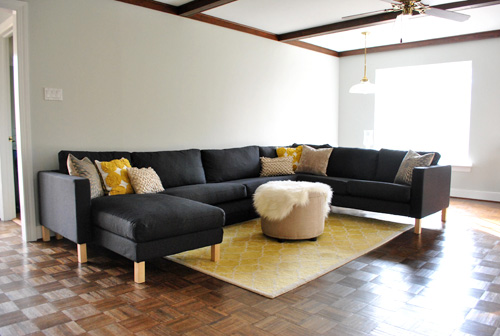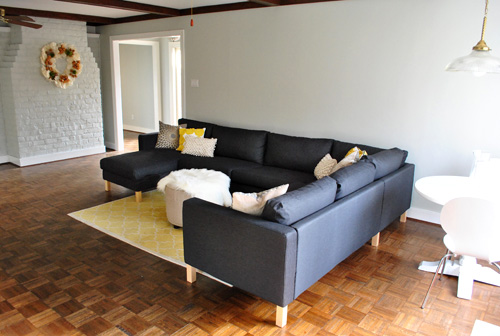 We're especially enamored with the fabric, which is nice and durable (it's completely impenetrable to Burger's claws, which is always the goal). And the dark color is perfect for hiding those spills and drool spots that happen with a dog and a baby around. Plus because the entire sectional is slipcovered (even the arms and the frame) we can always wash it if something crazy happens. Which is definitely a probability in our house.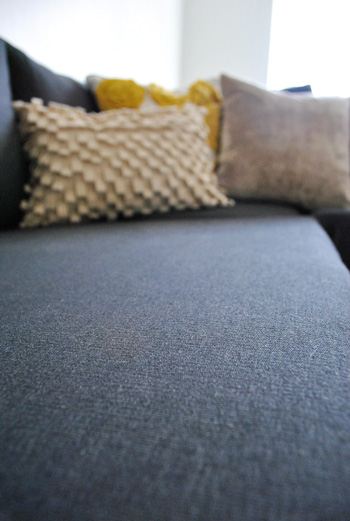 Karl certainly is a big boy. It took us a couple of hours to adjust to how much more space he took up than our old couch – but it took almost no time for him to win our hearts. He fits the space really well, the dark charcoal color rocks our socks, he's extremely comfortable, and he makes us want to schedule a huge friends & family movie night (although that might be more fun when we get a larger TV someday).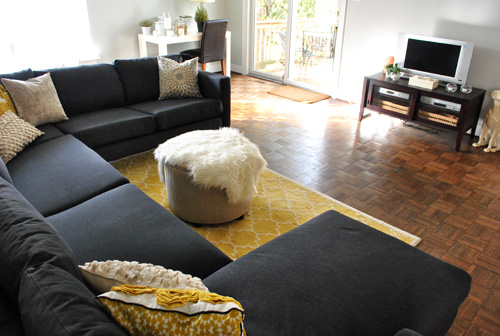 Speaking of which, Karl's presence really highlights the need for some other "heftier" items in the room (it's a huge space, so larger items will make it look a lot more balanced and proportionate) – like a bigger rug, a new media cabinet, and lots of colorful art on the walls. Plus we need to make this space next to the window look more intentional. We plopped the little game table there because of the light that hangs above it, but we're thinking that zone might be better served as a play / toy storage area for Clara (and future kiddos) down the line.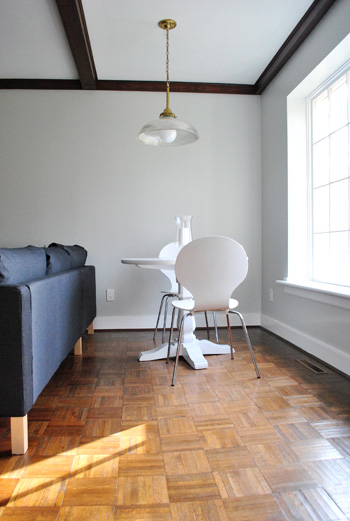 We also want to add (maybe build?) a long narrow console table to go between the sectional and the wall to host a couple of lamps and act as a spot for drinks, etc. Especially since our current nailhead ottoman & faux sheepskin solution is great looks-wise (light and round ottoman + dark and square sectional = love) but it doesn't really function beyond feet propping. But with a console table behind the sofa, that's all it needs to do. Plus it's baby-head friendly, unlike an angular coffee table. And with all the angles in Karl we were itching for something soft and round anyway.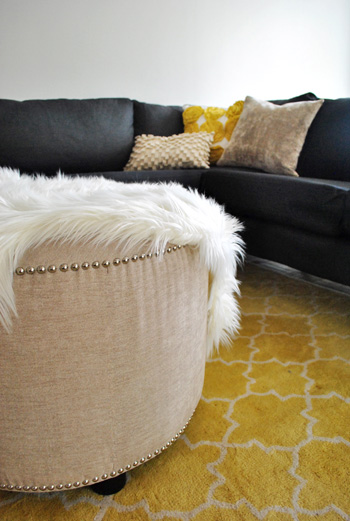 We also want to try a DIY upgrade to Karl's legs. Ikea offers sleek metal ones (which take the look to über modern) but we wanna work with the chunky wood ones that came with Karl.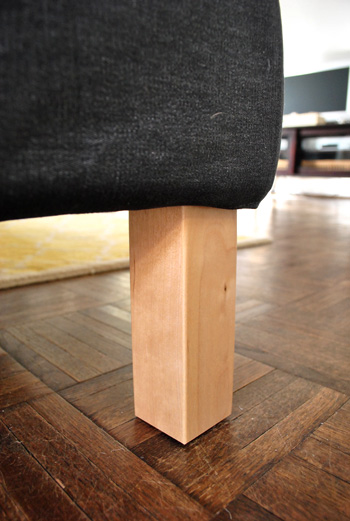 Especially since the fancy pants sofa that we coveted from Room & Board (more on him here) has the exact same legs in a darker finish. And they look surprisingly sleek in that color, as opposed to cheap and birchy like Karl's (no offense, man):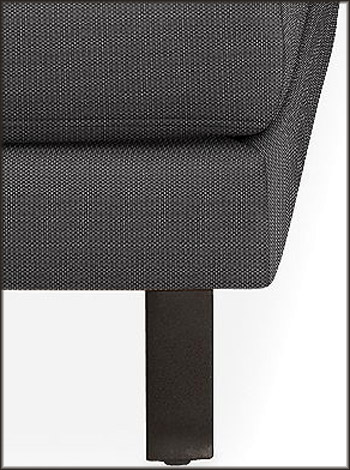 We're thinking we might try to stain or paint them darker (maybe even with high gloss spray paint) to help them work better with Karl's deep charcoal outfit, er slipcover. We considered swapping them out for tapered or round spindle legs, but Karl is a big dude. So we want him to remain as well-supported as possible. Which is why the legs that come with Karl (along with a 10 year warranty) seem like a smart thing to stick with.
Despite our still-growing to-do list, we're loving our new spot to relax. I've got two directions where I can lie down completely (all 6′ of me), Clara's got a couple of deep corners to be propped up in, and the chaise just happens to be perfectly Sherry sized. Accordingly, she's been monopolizing it since Karl's arrival. Good thing I'm not a jealous man.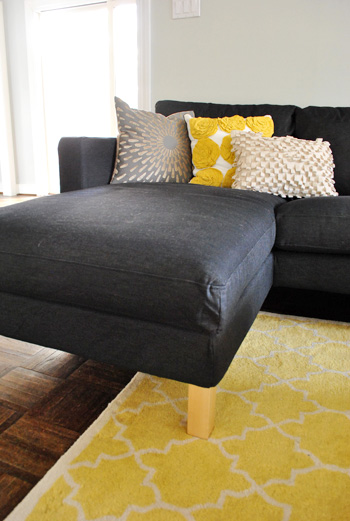 Burger is basically nutty with options for curling up, jumping around, and perching upon every possible cushion and cranny. Here's where we discovered him sit-standing yesterday. Yes that's business in the front, relaxation in the back. What a weirdo.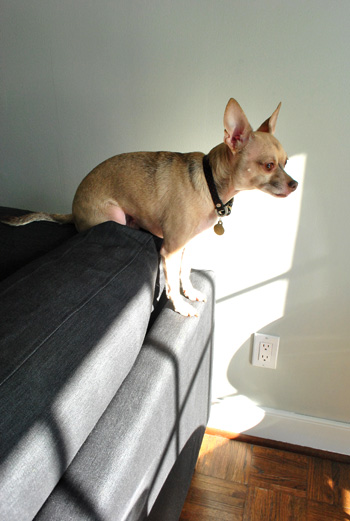 Apparently it's a great vantage point to scope out squirrels in the backyard.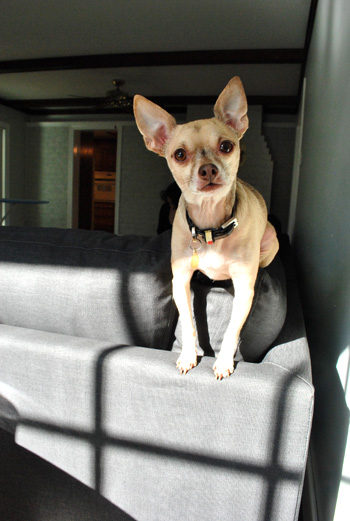 So yes, we still need to stain/paint the beams, get/build a sofa table for behind the sectional, get a larger rug, upgrade the media cabinet, remove the fans, add in a few lighting options, and possibly create a little play area for Clara behind the far side of Karl – but we're happy to take our time and let things evolve instead of rushing into any big purchases we might regret (we have to replenish the ol' bank account after buying Karl anyway). But I guess I could tackle those fans sometime soon. And Sherry claims to be saving up the energy to take on those beams (she says as she reclines on the chaise and lies motionless, closing her eyes as if to "charge"). Should be interesting…
UPDATE: We're still loving Karl over a year later. Check out our little update post here.
&nbsp&nbsp&nbsp