Archive for October, 2009
With Halloween finally upon us we're wondering if you guys plan to host parties, attend them, attend them in costume or just answer the door and shove fistfulls of Butterfingers at the three-foot-tall ghosts and goblins ringing your bell. Something about Halloween is especially intriguing to us this year. Maybe because it's sort of a before and after fest when it comes to your house (our porch and our living room had a little spooky makeover) and even when it comes to yourself (if you're dressing up there's a definite transformation that takes place). So tell us all about who or what you'll be for the night (any Jon & Kate Plus 8s? Or how about those cute kids from the movie Juno?) along with what kind of parties you're hosting or attending, and most of all, what your kiddos (four-legged or two) are dressing up as. There have been many (many) requests for photos of Burger in his costume so without further ado we present to you… Hamburger the hot dog: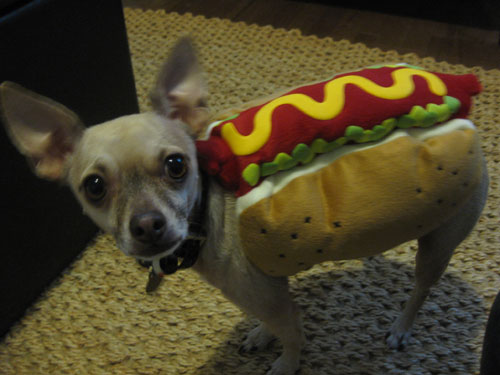 We picked up this little ditty to the tune of $9.99 at Target. And two out of three Petersiks were super excited about the purchase.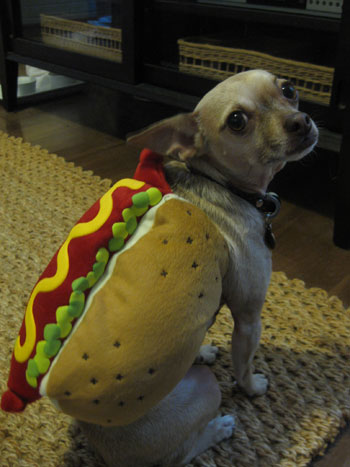 If Burger had his way he'd wear it like this…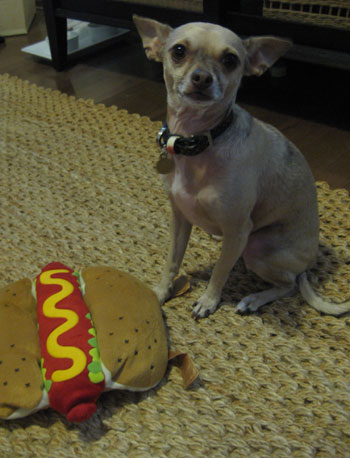 So tell us all about your big Halloween plans and don't forget to drop in on Burger's blog to see what he really thinks about wearing mustard and relish on his back. Viva Halloween!
&nbsp&nbsp&nbsp
We're super excited to share that our humble abode made Canadian House & Home's amazing website! They approached us a while back to see if they could feature our before and after pics in an online gallery (alongside some pretty amazing designers and fellow bloggers like Grace Bonney of Design Sponge and Courtney Barnes of Style Court). Of course we jumped at the chance. Ok maybe we screamed and convulsed at the chance. And imagine our surprise when a photo of our living room actually made their home page (!) last week (by the way, thanks for all the facebook and twitter messages directing us there so we could see it for ourselves- we gaped at the screen for at least ten solid minutes).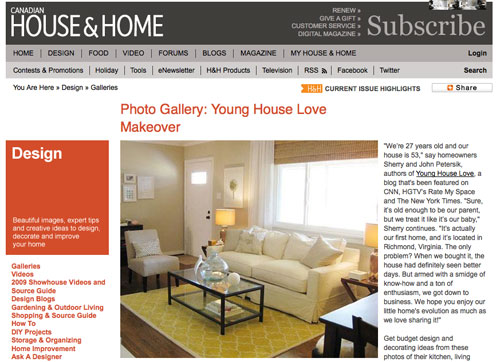 So yeah, now we're having a love affair with Canadian House & Home (in fact they came up more than once in the comment section of this old post about favorite mags) and we're beyond honored to be included on their stunning site among some pretty fantastic design greats! We're blushing. Happy Friday to all!
&nbsp&nbsp&nbsp