Figuratively and literally. And we need your help.
Last week the drain in our bathtub started to act up a bit. Nothing too alarming since growing up with three sisters taught me that shower drains periodically get a little hairy and need some cleaning to keep going with the flow. Well, then our plumbing world came to a halt. The drain went from slowly letting water through to a no-drop-shall-pass policy in the course of one post-basement-painting shower.
Annoyed, but mostly unphased, we broke out some tried and true de-clogging techniques:
Fishing around with our fingers (gross, we know) dislodged a decent-sized Sherr-ball, but didn't open the floodgates as we expected.
Plunging released a few more items we'd rather not have seen again, but still no change in water level.
Even our 25 foot-long drain snake (i.e. auger) was a waste of time (though we had low expectations for it anyways).
So then we broke out the boiling water trick that had saved our kitchen sink last year. After five attempts we had only succeeded in adding more water to our tub.
That's when we turned to a technique suggested by some of you, a half-cup of baking soda followed by a cup of vinegar. We did that, watched our little drain volcano fizz, let it sit for five minutes, then flushed with hot water. Still no luck. Even our second attempt provided no relief, just more science project flashbacks.
Sherry even tried the $3 As Seen On TV quality Zip-It tool that someone suggested online. It didn't yield anywhere close to the über disgusting results shown in the video that we found below (THIS IS NOT ME, AND THAT IS NOT OUR HAIRBALL- in fact our Zip-It came out totally clean)- which we're half grateful for and half frustrated by.
We had renewed hope this weekend after detailing our issue to an expert at the hardware store. He weighed a couple of options for us, and ended up recommending an 100% biodegradable enzyme product called Roebic Laboratories Bacterial Drain Cleaner. It involved mixing two tiny capfulls into 12oz of warm water then dumping it down the drain to sit overnight. The next morning we were pleased to see the twelve ounces of water solution was completely gone (as in, some water had slowly drained!). But our smiles disappeared as soon as the tub started filling up again when we turned on the faucet.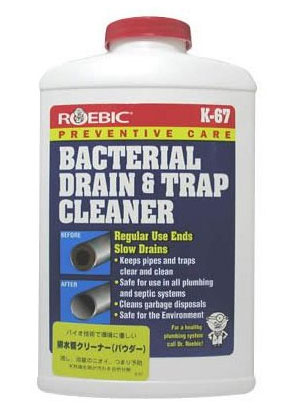 So after two nights of trying the Roebic solution and more showers-turned-baths than we'd like to admit (each followed by manually emptying the water that collected in the tub with a bucket, sigh) – we're just about ready to call in professional help….
… unless, of course, you guys have any genius solutions for us! Seriously, we'll try anything (well, anything within reason). Please shower us with suggestions – wait, scratch that water metaphor. Please inundate us with any drain unclogging tips that have worked for you (which we hope will end up solving this case and thereby serving as a great resource for anyone else with drainage issues). You know we'd love to DIY this bugger and declare victory over our clog-that-won't-quit and we're not ones to give up without a fight. Fingers crossed we'll get 'em in round six!
Update: Oh no we di'innnnnt! We just unclogged the dastardly drain. Woo to the hoo. Here are the details…