When Jen and Erik sent their toddler-friendly entryway makeover our way we had to share their genius transformation. Here's their letter:
I just wanted to let you guys know how much we love your site. It's funny because in a lot of ways you remind us of ourselves. People think we're nuts doing all we do around the house. We thought once we had a baby we'd be done- but nope, our son just inspires us more, as is the case with our new mudroom. The space was once green, which wasn't bad but looked crazy with all the colorful art we were trying to bring in. So we decided to lighten it up with Glidden's Quiet Light. The saying above the door was inspired by our two year-old again (he says "have a good day!" to anyone leaving the house). Just seeing it makes us smile! Then there's the case of the lockers I loved from Pottery Barn and begged Erik to make for us because I didn't want to spend all that money. Boy, did he- and for a steal too – $250 total. The bench on the lockers doubles as a pet bed and a place to sit down when taking off shoes. The rug is from Flor.com. It was our one splurge at about $150, but the tiles come up and can be washed in the sink if there are spills. We used magnetic primer above the desk, covered with 2 coats of chalkboard paint to create the magnetic chalkboard to display Jack's art. The bench cushion was made for $30 with fabric from JoAnn Fabrics and two coupons for 40% off from each of our parents' Sunday papers. The canvas is recycled from the basement. I helped our son Jack paint it with tempra paint using his feet, the palms of his hands and even his nose at one point! The blinds are el cheapo Target blinds. We paid $41 for the pair and then hot glued fringe on them make them look more custom. Lastly lighting is a recycled pendant light with a $15 Walmart shade. Our son, Jack seems to really enjoy the room and so do we. Keep up the great job on the site! -Jen and Erik
Here's the room before its two-year-old-inspired makeover: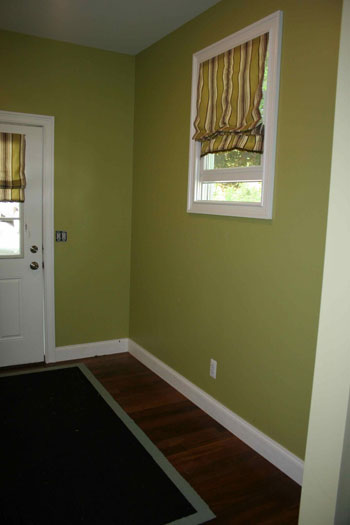 And here's the I-can't-believe-that's-the-same-space after: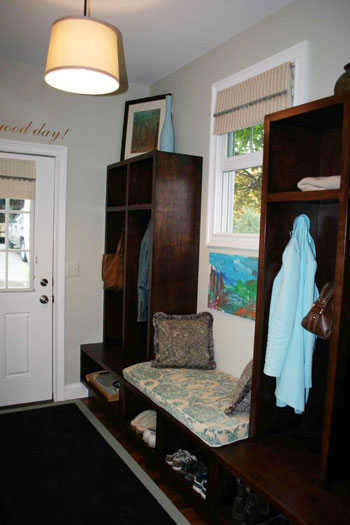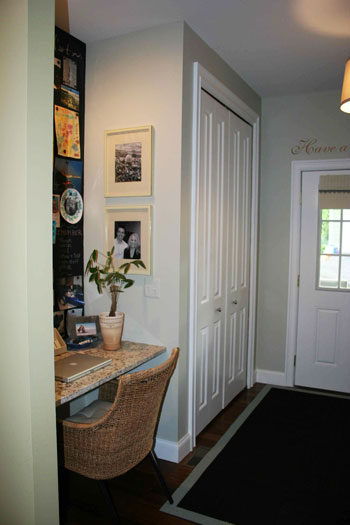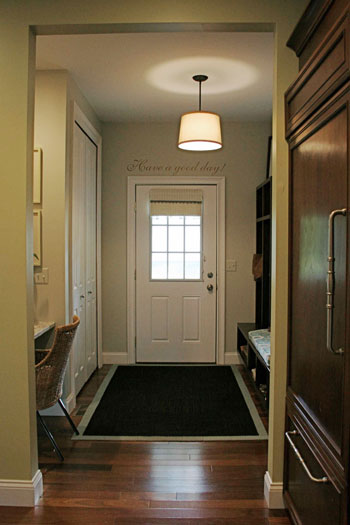 Isn't that a stunning little entryway makeover? We love how Jen and Erik were so inspired by little Jack (the quote above the door is so sweet, and we love the personal meaning behind it). What do you guys think? Isn't this a great use for an old hallway that needs to step it up in the function department? And the fact that they made those lockers is beyond amazing. Thanks so much for sending your fab before and afters our way Jen and Erik! And be sure to give your little guy a high five for his awesome art work.
Psst- Don't forget to check out Jen and Erik's brand new blog right here for more amazing eye candy…