Archive for September, 2008
Anyone who knows us knows that we're all about open living and multi-functional spaces, which is why one of the first things we did when we moved in was convert our formal dining room into a third bedroom and move our dining area out into our living room (which conveniently opens to the kitchen).
But although the whole dining room switcheroo worked for us, we wondered at the time if it would potentially turn off a large group of people who rank a formal dining room up there with hardwood flooring and a fireplace (as in it's one of their must-haves). Lately it seems like a lot more people are embracing open living, in fact, it's one of the fastest growing home trends these days. So our question is this: do you prefer a separate formal dining room or a dining area within a larger space?
It's great when inspiration comes full circle, and that's exactly what happened when we spotted this post about our use of mint in some lemonade-filled recycled wine bottles at our wedding: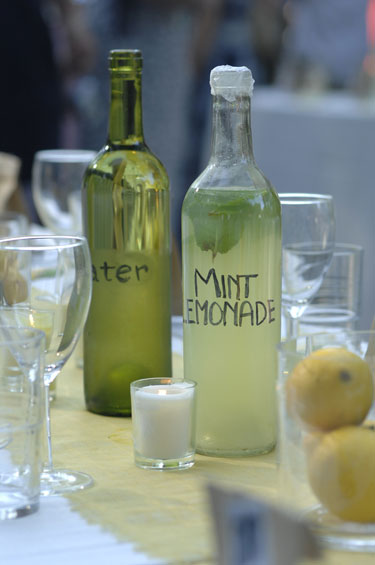 How funny is it that Katy has such a mint obsession that she couldn't wait to whip up some mint lemonade of her own? But the point at which the inspiration tables turned was when we read that she made some homemade lemonade with sprigs of peppermint in the bottle to present as a hostess gift at a swanky little soiree. What a great idea! How posh would you feel arriving at a dinner party with some freshly-squeezed minted lemonade in a darling little wine bottle? Well, according to Katy it's as exciting as I'd imagine it to be. In her words, "it looked so darn fancy I wanted to explode!"
Thanks so much for the inspiration exchange Katy. Now if only we had our own stash of mint in the backyard…
You guys know we've been on a recent kick to make our home greener, including getting rid of harmful chemicals around the house and starting a compost bin.  But somehow we failed to mention one of the biggest things we did in the name of good indoor air quality:  test our house for radon.
The deal with radon is that it's an odorless, colorless gas that comes from the ground and can leak into your home if it's built on a spot with high concentrations of this radioactive killer.  I say "killer" because radon, according to the EPA, is the leading cause of lung cancer in non-smokers (even more dangerous than second-hand smoke). Click the link at the end of this sentence to learn if your county lies in the red danger zones.
After reading about radon in a magazine, Sherry suggested we do the test almost immediately after moving in over two years ago.  I resisted at first – seeing it as a waste of time and money -  but eventually couldn't argue with buying this $15 test that actually took little effort on our part.  So we set out the little test kit somewhere inconspicuous and 3 days later sent it in for results (using the pre-paid packaging provided in the test- easy as pie).  Then we waited a few weeks for the good news that our house was under the 4 pCi/L level that's considered okay.
That news didn't come.  Instead, our house was found to have 10 pCi/L of radon present in the air.  Baaad news.  More than twice the acceptable level of radon was silently seeping into our home.  So we contacted a certified radon mitigation professional recommended by our local radon office.  After he confirmed our results, we began the process of getting a radon reduction system installed in our house.
I'll spare you the details of this, but basically it means that all the exposed earth in our crawl space was covered in an airtight plastic sheet to trap all the radon emissions before they can leak up into our home.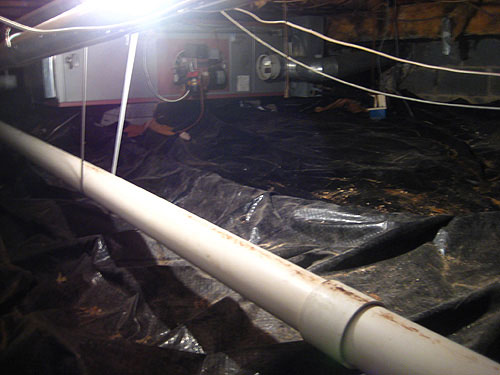 Then a newly installed piping system blows this toxic air up through our house (by way of the guest bedroom closet and the attic) and out of a new vent in our roof. Peace out, radon.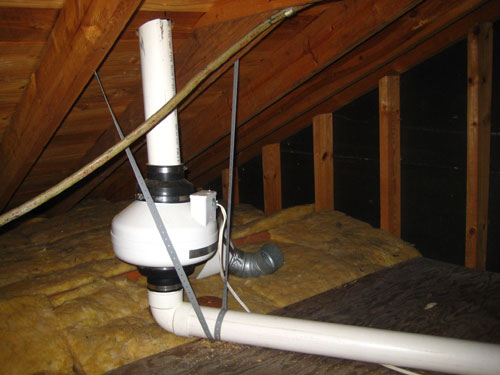 The system set us back about $2,100 (which wasn't small beans, especially right after closing) but it works like a charm. When we retested our home after the system ran for a few months we got back a reading of 1.0 pCi/L- over 10 times less radon! It was even far less than normal outdoor air (which typically registers 1.2 pCi/L). We still test our house once a year to be certain that our radon mitigation system is properly functioning, and we strongly encourage all of you to do the same.  It's only $15 and it could save your life- and anyone with pups or little people should be especially diligent in the fight against noxious (and obnoxious) radon.