Every house has a few utterly unsettling design challenges and ours is certainly no exception. And since we promised you guys the behind the scenes dirt in honor of our blogiversary week, we're gonna give you the inside scoop about our home's shortcomings (and how we went about turning a wackadoo design flaw into something a lot less visually offensive). Onward!
House Quirk #1: The window above our bed isn't centered. Not even close. In fact, it's over a foot too far to the right. So we racked our brains and came up with the idea to hang those tan curtains super wide on on either side of it, thereby cheating it to the left and making it appear centered. And that's how a $25 set of curtains negated our first seriously obvious design flaw and made our built-in wall look a lot more balanced and serene.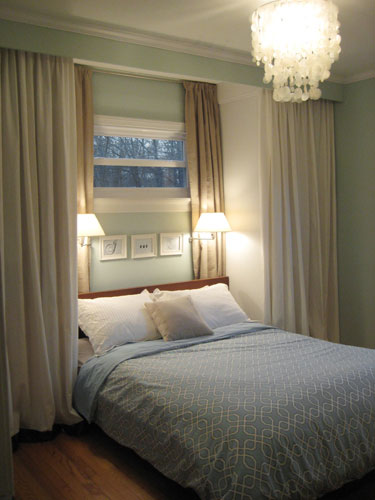 House Quirk #2: We had a crazy steel fuse box in the middle of our den. Enter our make-shift mudroom stage left. Sure it does a great job of corralling our coats and scarves, but it also hides that doozie of a fuse box which was painfully obvious when we moved in (don't mind our cute realtor below).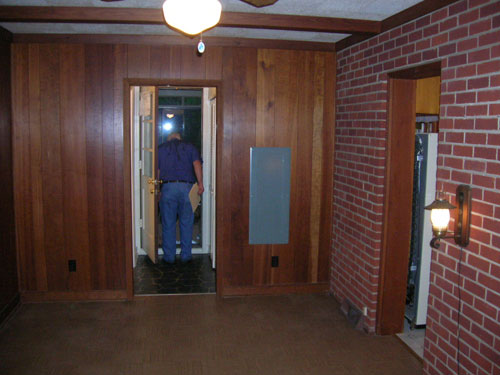 But thanks to paint, paint, more paint, and a row of hooks to further obscure the big hunk of metal in the corner of our den, now no one's the wiser. (And widening the doorway to the sunroom and the passageway into the kitchen along with laying hardwood floors throughout the adjoining rooms made the whole space a lot more open too).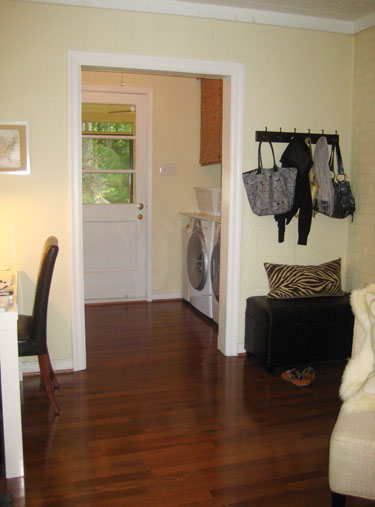 House Quirk #3: Oy. Our living room sported a weird wooden divider of sorts near the front door (check out the center panel with stained glass- so classy) along with a faux stone linoleum floor (!) in the corner. The design solution here was obvious- get 'em the heck outta our house. So when John went to work the day after we moved in, I got out my trusty hammer and…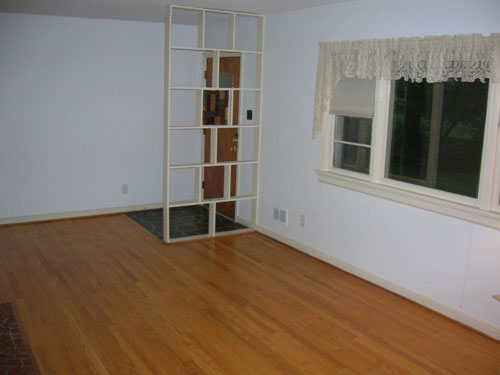 …knocked the snot out of that hideous divider (thereby making it pretty easy to carry out to the curb). But as for the "stone" linoleum, we thought our design fix would be an oversized natural fiber rug for the entryway to cover that serious faux stone fax pas. But it wasn't an easy size or shape to come by.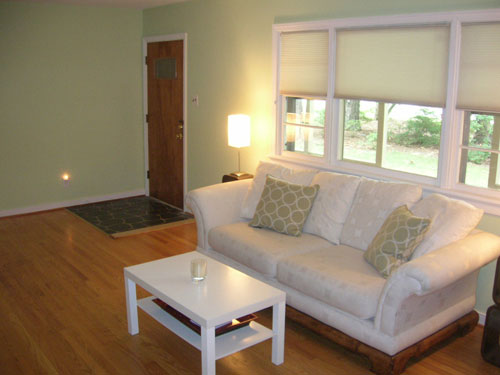 Then one strange and wonderful day I realized that the linoleum might have been installed right over our existing wood floor (instead of over the subfloor) meaning that I just might be able to rip it up to expose a perfect wood floor underneath. Of course every fiber of my being knew that this was an extremely optimistic outcome- who would cover hardwood with linoleum? And wouldn't it be coated in glue and nail holes if it was? But I pried up the linoleum and discovered flawless wood flooring that was living in secret underneath that hideous fake stone! And even though a tiny welcome mat lives at the entryway for practical reasons, it doesn't have to be crazy big and square to cover anything that's pretending to be stone underneath.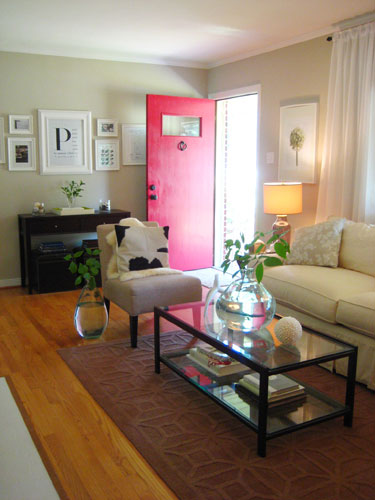 House Quirk #4: Our den was an obvious addition. That's right, it's back to our former hunting lodge for another major design flaw reveal. This room was added on (along with our second bathroom, laundry area and sunroom- thank God!) back in the 70's and while most of the space worked pretty seamlessly (there's not a step down or up, which we love), part of the den wall that used to be an exterior window was bricked over in a not-so-subtle way when they built the addition.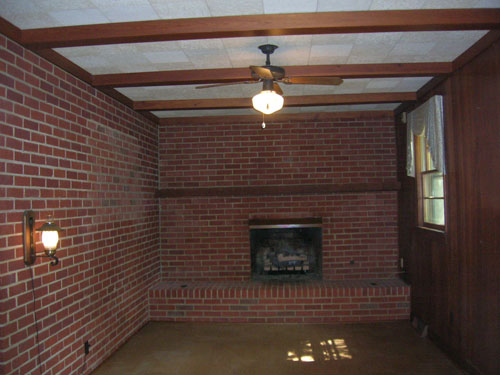 The bricks were dusty and the wrong color- in essence there was an obvious patch job going on. But since we never intended to leave any of the oppressively dark brick unpainted (or those beams and the paneling for that matter) this flaw was fixed in no time flat.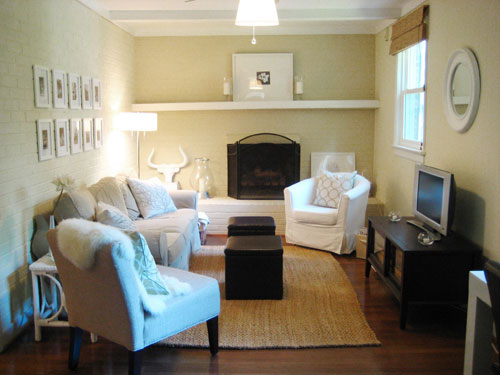 House Quirk #5: I used to have to dry my hair in the sunroom, which got pretty cold in the winter. That's right, when we moved into our house neither of the bathrooms had a single outlet in them- in 2006! Who lived here before us? Hippies with dreadlocks? Bald people? Anyway, the sunroom was the only room with an available outlet and a mirror nearby. Needless to say this was the most apparent flaw to our first few guests (sorry Cat!). But it was easily fixed the right way, by hiring a licensed electrician to pop a double outlet right next to the bathroom mirror for $65. Best 65 clams I ever spent.
What about you guys? Does your house have a design flaw that you just can't seem to conquer? Or have you remedied even the stickiest of design challenges? We showed you ours- now it's your turn.
Update – Wanna know where we got something in our house or what paint colors we used? Just click on this button: