…and filmed us for an upcoming episode of Rate My Space.
So bravo to Shaina, Layers of Meaning, Abbie in Co, Elizabeth and Heather for successfully guessing after we teased you with the news a few weeks ago. Sadly we still can't say a whole lot more about the experience without revealing details that we've agreed not to.
But we can say that it went really well. The Rate My Space crew was lots of fun and the host Angelo Surmelis was über friendly. They don't know the exact airdate of the our episode yet, but it'll be either late December or early January- and of course we'll letcha know more once we've got a firm date. Til then, just help us practice patience. And for those who don't get HGTV on your tube, you can catch full episodes of Rate My Space online. Hooray for free cable.
And since we can't even reveal which room was involved, all we can share so far is this shot of them filming our exterior. Thank goodness for good weather, eh?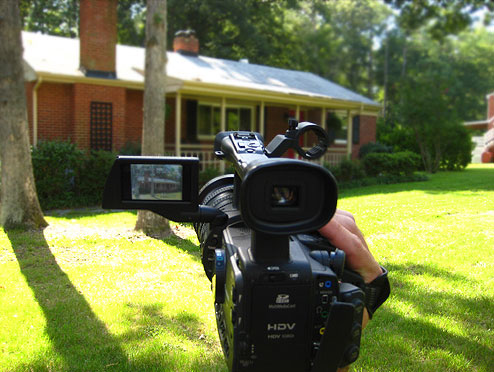 But rest assured that we have lots of juicy pics to post once we're allowed to let the cat out of the bag. Stay tuned…