We painted the back of our built-in bookcases last night! Which is totally our idea of a good time by the way. It's the equivalent of a "Date Night" for us, if you will. So we figured we should post about the pre-planning process that went on so we can share the "after" pics as closely to real-time as possible (once the paint dries and we can put the shelves back up to snap some final photos for ya). So here you go:
We decided we needed to roughly layout the objects on the built-in bookcases before painting the backs of them (we'll explain more about that in a minute). We were planning to put a lot of hardcover books along with other breakables (like my ceramic animal menagerie) up there on display since they'll be away from little hands for a while (making the built-ins one of the only spots for breakable items that will still work with a mobile bambino). But it turns out the shelves are a bit too narrow for a lot of our books which ended up hanging over the edge like toes in too-small sandals.
Not to be deterred, I stashed a bunch of the offending overhanging books in the storage cabinets under the bookcases (along with my not-in-use decor store items). We figure we'll add some kidproof locking devices to those cabinets so they won't get raided by tiny hands when Clara is in that getting-into-everything stage. Anyway, after solving the too-big book crisis that nearly brought me to my knees (ok, that's a little dramatic), I got to work trying to arrange a few of our favorite breakables… only to step back and realize that things were looking a bit too cluttered for my tastes. Yikes.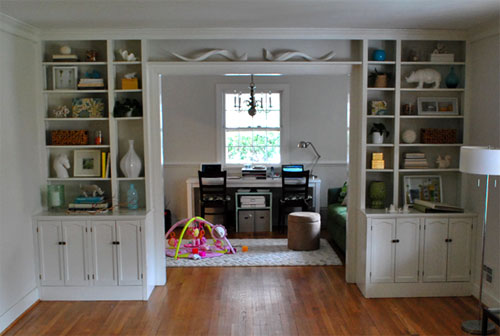 Forgive the bad picture – John is clearly superior when it comes to sweet talking the Nikon. And speaking of the hubby (who I've mentioned before is definitely the brains of this operation), as soon as he heard me moaning about things looking too crowded he walked up behind me, said "hmm" and then came up with the genius idea of eliminating one shelf in each of the four vertical rows for an airier look. This suggestion took him about .05 seconds. Don't you just hate know-it-alls? Kidding. I loved it. And sure enough, with things a bit more spaced out, we were both a lot more enamored with the new arrangement.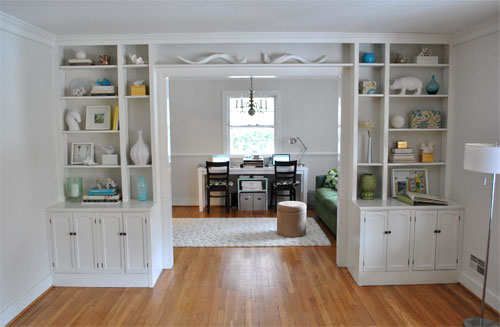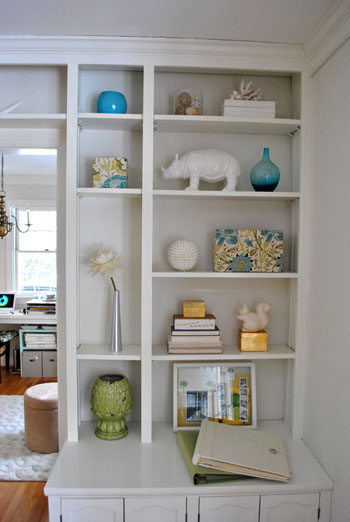 Once we had landed on the right shelf spacing and had a rough idea of what we'll be displaying, we were ready to unload everything to paint the backs of the built-ins. Why figure out shelf placement first, only to take everything down again? We learned that every time we moved the shelves around they scraped the back wall a bit, so we didn't want to be playing with their placement a lot after giving the back of the bookcase a fresh coat of paint. So we snapped a few photos to remember where things went and unloaded everything to get ready to add some serious color.
We decided to go with a deep inky blue called Dragonfly from Benjamin Moore's Affinity line so all of my beloved ceramic animals will pop and the room will hopefully come alive with some high contrast drama and fun. Besides, it's only paint. So far we love it even though it's way outside of our usual comfort zone (taking a chance = so worth it). And if we put the shelves back up and load all of our items on them only to learn that we hate it we can always give it another try. It's just paint. But we're thinking it'll all look awesome once the rest of the room (and the adjoined office) get a nice coat of soft silvery gray paint, while the trim and the not-backs (sides, faces, cabinetry, etc) of the built-ins remain the same white tone that they're already painted. Until we can stop in with those all-done bolder bookcase pics once everything dries, we'll share these terribly lit shots from last night of the taping process…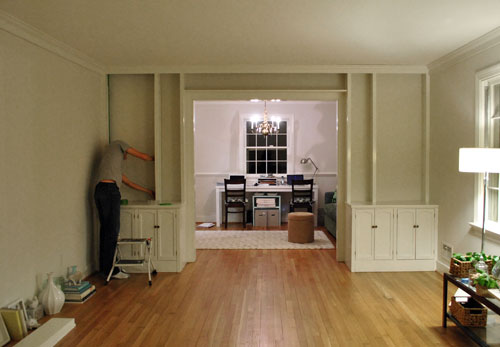 … and the cutting in process…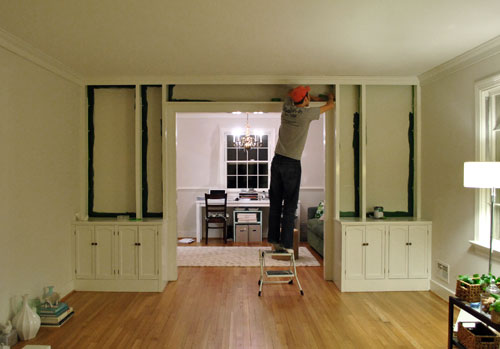 That looks pretty darn dark at night, huh? Wait til you see it in the daylight though. Woot!
Oh and can you tell I'm the cutter-inner while John is the designated taper and roller? See how the painted borders stop a foot away from the top on the right? That's because I was waiting for the stool that John was using to tape off the top portion. So I snapped this pic in the meantime…
Update: See how our built-in transformation turned out right here.