Let's talk about wood, shall we? As we mentioned on Tuesday, we decided to go with solid oak hardwoods for the four bedrooms and the hallway upstairs since many rooms downstairs along with the stairs themselves have a nice medium toned oak already (pretty similar to the hardwoods in our first house that ended up being super dog/kid friendly).
As for where to get it, first we looked on craigslist to see if anyone had a large quantity of something in the right tone/amount (no dice) and then we headed to Lumber Liquidators, since we've had luck with them when it came to buying hardwood floors for half of our first house back in 2007 and it's also where we got the cork flooring for our kitchen in 2011. They always have a ton of selection, and tend to have lots in stock along with all of the underlayment & tools in one place, so they're pretty much a one stop shop for us now that it's our third time to the flooring rodeo.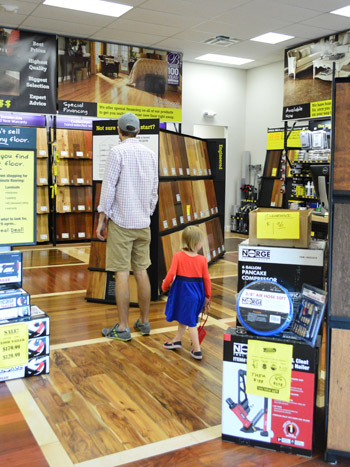 Clara walked right in and made herself comfortable (the girl's right at home on wood flooring, what can I say?) and we had a look around.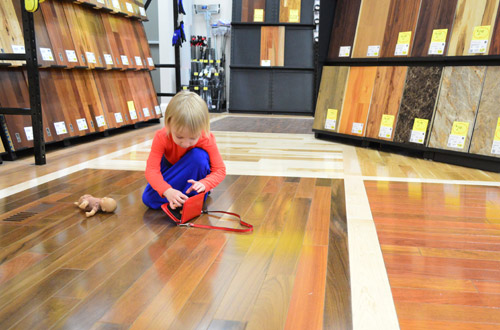 She also had some fun on the tiny set of display stairs. According to the guys who work there every kid who enters the store does that as some sort of unspoken toddler rite of passage.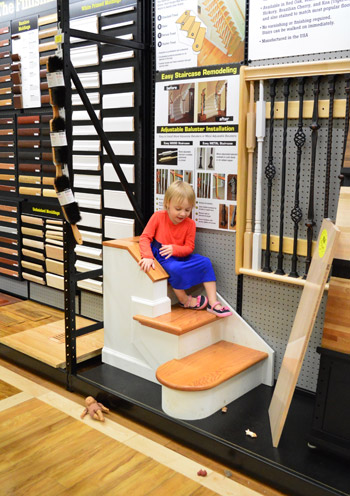 We ended up grabbing six different samples to hold up against the stairs to see which one would be the best match (we tackled this "sampling phase" right before ripping out all of that nasty upstairs carpeting). Since the sun was setting, we waited until the next morning to take them to the new house so we could judge them in natural light.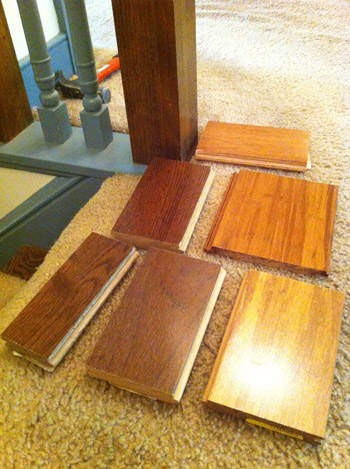 We decided to try stripping the carpet off of just the top stair so we could be sure the wood under there was still in good shape (if it was completely damaged we'd have to refinish them, which would mean that we could be less careful about picking a matching wood tone for the upstairs). Thankfully the floor under the runner was in great shape (after we pulled about a hundred staples out by hand) and we loved the medium brown tone (not too yellow, not too dark, not too light). Basically it's the Goldilocks of hard wood.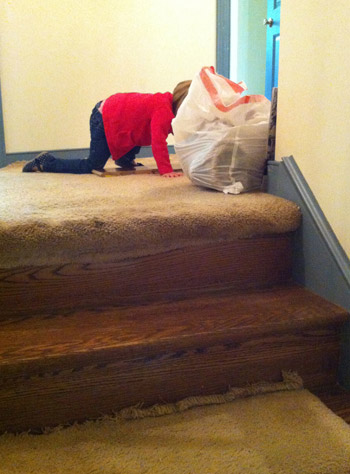 For a bit more on why we love not-too-dark-not-too-light-not-too-yellow-not-too-red-toned oak, it's probably 50% personal preference (some people love it redder or more golden) and 50% practical (if you go too dark with hardwoods we hear that every spec of dust and pet hair can be seen, and if you go too light we've heard that wear and tear is also easier to spot since it's such a light surface). And since we had practically the same tone of oak hardwoods in our first house for years (and it worked well for us – we loved how it looked with our furniture, etc) that ended up swaying us.
Can you tell from this bad iPhone picture of all the samples (sorry!) which one works the best with the stairs?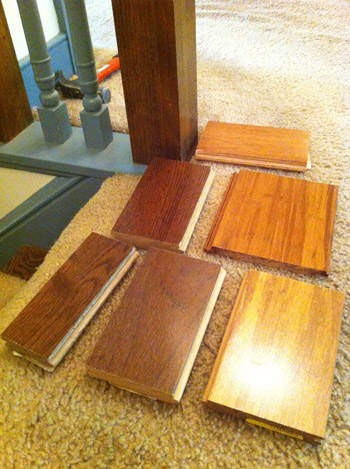 Yup, it's the bottom left guy. He was the only one in almost exactly the same color and with the same variety of grain (some dark grain and some light grain). It was also the same thickness (2 1/4″) as the hardwood downstairs. So although we loved some of the wider board options, it felt true to our house and nice and cohesive to go with the one that was the right color, had the right amount of wood grain, and was the same width as the rest of the wood flooring in the house.
It took everything in us not to keep going down each step with the crowbar and the pliers, stripping that stained old carpet as we went. But we knew we had a date with the carpeting upstairs (it's more important to rip that out and lay the new hardwoods before we move than it is to get it off the stairs, which can be done at any time). In the bad news department, that top step took us about 20 minutes to wrestle free (which means we have about three hours worth of work in our future). But stair runner, you have been warned. We'll be back.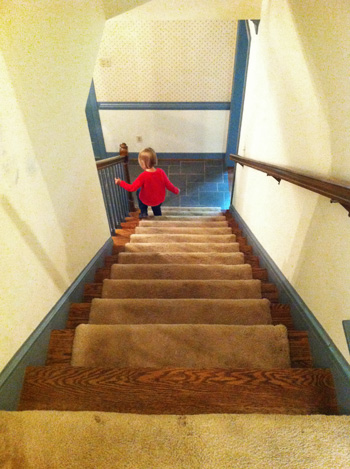 So after judging those samples in the nice natural light of the morning, we returned to Lumber Liquidators a day after our first trip to officially put in our order. We were armed with the square footage for all of the areas we needed to do, so now that we had picked our Hardwood Bachelor (he accepted our rose and everything), it was pretty straightforward.
Here's a close up of our winner winner chicken dinner. It's called Lono Oak and it's a solid wood floor (it's not engineered, and it's 3/4″ thick so it can be refinished many times) and it comes with a 25 year warranty. Most hardwood flooring is in the $4-7-ish range, but LL's list price was $3.69 per square foot.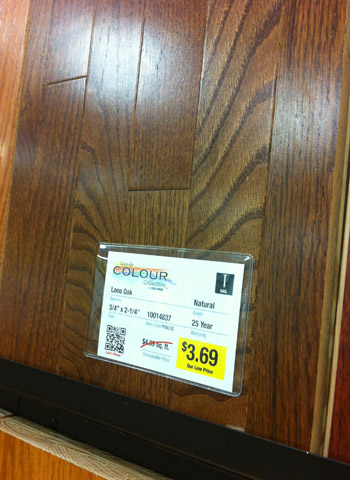 Here's where I smiled sweetly and asked my favorite negotiating question, which is "what's your best price?" Then you just stand there. Resist the urge to mumble "uh, not that I'm trying to be tough" or "I'm sorry, forget it" Just stand there in silence and wait to see what they say. If they can come down, they'll tell you. And if they can't they'll say they can't and you can smile and say "just had to ask." John hates this step, so it's always my job. And before I threw out my favorite line, I also mentioned how this was our third big order from them so we're definitely loyal repeat customers.
Boom: 10% off our entire order for those two sentences. So that took the price per square foot down to $3.29 and also scored us 10% off other things we grabbed like a special type of underlayment to work with our subfloor (more on that when we get to the installation process). Speaking of installing it, we're going to attempt to do it all ourselves, and we better get started soon if we hope to move in 2.5 weeks! Plus we want to paint all of the blue/mauve trim (and maybe even the doors?) while the carpet's out but before the floor goes down. So… yeah. Tick tock, Petersiks.
Meanwhile Clara was busy spicing up their brochure displays…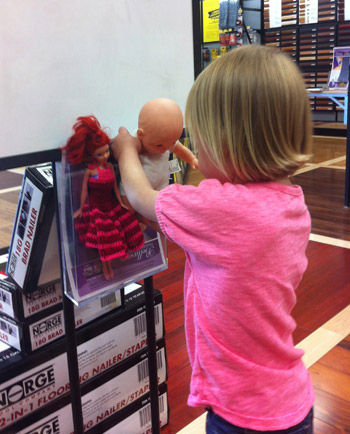 We left feeling pretty excited about our big upstairs flooring overhaul. Especially since we asked how much it would cost to hire their guys to install all the flooring and they said it would be around four thousand bucks! So assuming we can do it (knock on hardwood) it'll definitely add up to some serious money saved.
So our hardwoods are ordered and we have a whole mess of blue trim to paint. We'd like to buy a paint sprayer and try our hand at that, so we'll keep you posted. Should be interesting…