After a slew of requests, we're back to share some details about how we made our planter-turned-side table, our DIY doggy food & water station and our pooch-friendly floor pillows back when we spruced up our porch using whatever we could grab at Home Depot for Better Homes & Garden's 48-Hour Challenge.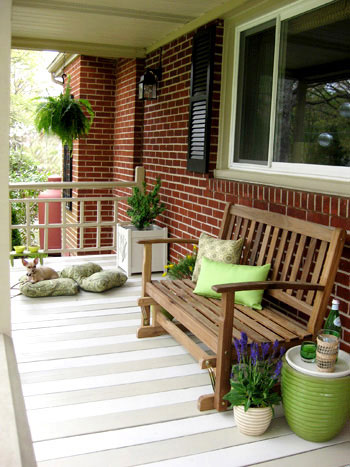 One of the parameters of the challenge was that we could only use materials that could be picked up at Home Depot, but they don't sell green ceramic side tables, outdoor floor cushions or puppy-related paraphernalia. Until now. Who knew that a tube of Liquid Nails, a plank of wood and four $1 molding-pieces-turned-legs could create something so sweet for our always-thirsty-sometimes-hungry chihuahua?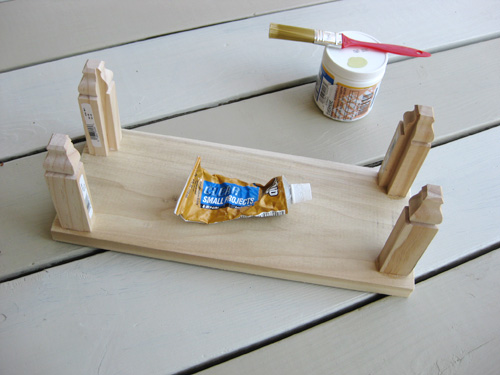 Gotta love that it was a tool-free project (no screws, nails or hammer required!) – and of course a few coats of exterior semi-gloss paint made it porch friendly in a snap (we had Glidden's Safari Green color matched to a small Behr paint test container for a super cheap transformation):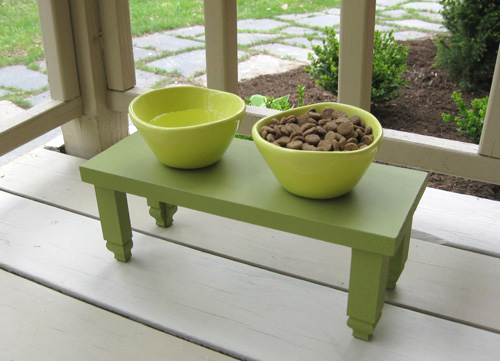 As for the bowls, they were items we already had (a few small accessories that weren't from Home Depot were permitted to "finish off the look") and we love how the yellowy-green dishes play off of the green pedestal that we made (we even got them pet-approved by showing them to Burger's vet before putting them to use). So that's the story of how Burger's $10 feeding station came to be… but what about his floor pillows?
Well, we just purchased this great $25 lounge chair cushion from the patio furniture department at Home Depot…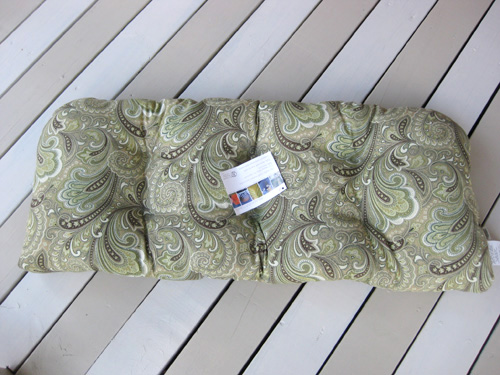 …. and cut it in half to create two floor pillows for puppy perching: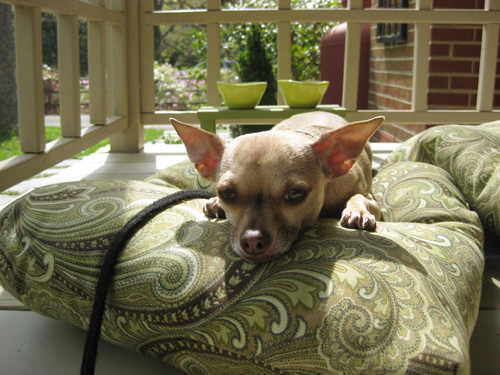 Two plush floor pillows for $12.50 a pop isn't bad at all, and cutting and hand-stitching each of them up on one side only took about 15 minutes. Needless to say, Burger appreciates our effort on a daily basis.
And then there's our little planter-turned-side table project. For a grand total of $40 we snagged a giant green ceramic planter, a terra cotta saucer and Thompson's Water Seal spray (specifically formulated for sealing terra cotta pieces). And we actually just used leftover porch and floor paint from painting our striped deck to paint the top and the sides of the saucer cream after we spray sealed the underside with Thompson's Water Seal for a weather-proof finish (now humidity inside the planter or extreme cold won't effect our paint job).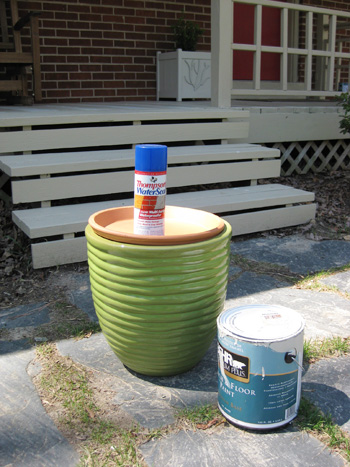 We love the pop of color that it brings to the whole porch, and now there's a spot for a book, a little drinky-drink, or even a plate full of bbq.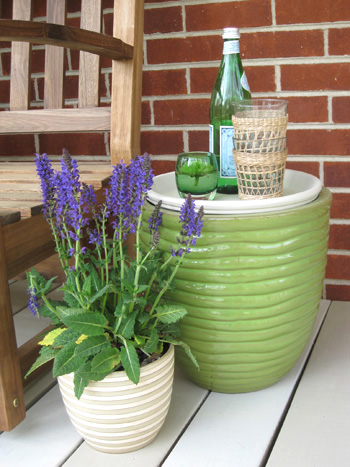 So there it is. Three simple and cheap ways to make a side table, two floor pillows and a feeding station for your pet. No hammer or screwdriver required. We also shared our little lightbulb-cover-turned-hanging-candle-holder tutorial a few weeks back…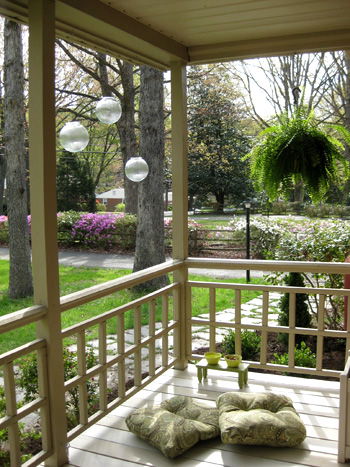 …and outlined how we painted our deck (with subtle stripes) right here. So there's really no reason why our porch can't be your porch of you so desire. Happy summer sprucing and puppy pandering, everyone!