After we picked up a giant mirror (seriously, it's huge) for $5 at a local garage sale, we thought it was about time we mentioned the incredible superpowers that mirrors possess. Yup, short of adding a window, a french door or a major addition, mirrors are the best way to visually expand your space and reflect a ton of light. And everyone knows an airy and bright room is right up there with hardwood flooring or a fireplace in the dream home department (it can even make your house sell faster and for more money). So what's the hold up, people? Let's start reflecting.
But mirrors can't just be placed willy nilly all over your home. There's a method to the mirror madness, and the main takeaway is this: be sure you're reflecting a pro of the space, and not a con. For example, if a mirror above the sofa merely reflects your giant black tv, it's not exactly something you'd like to duplicate in the space (although your hubby might disagree) and all that dark machinery might just make the room feel more cramped! The three single best things to reflect are: a pretty light fixture, a window, or some subtle and light wall art (because lord knows you don't want two Black Sabbath posters in your space either). Reflecting a pretty light fixture can mean anything from hanging a mirror on the wall of your dining room at the height of the chandelier to bounce some more light around, or even leaning/hanging a mirror behind a table lamp (for example, two matching mirrors behind your night tables with matching lamps would add so much sparkle and ambiance to your space. But enough yakking, onto the pictures.
We hit the mirror jackpot in the guest bedroom (pretty much by accident) when we brought home this beast of a mirror and propped it up on the dresser. As you enter the room, it reflects a big picture window that looks out into our backyard- so the mirror almost becomes another window (offering light and a pretty green view).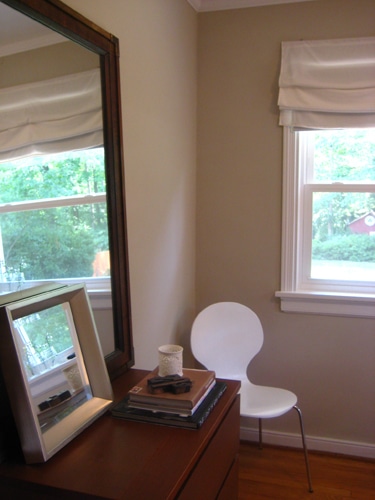 But wait, that's not all. It also reflects the smaller window above the bed when you're standing across from it, so it's like we added two windows in a room that already has two windows- it almost feels as if there's a window on all four walls.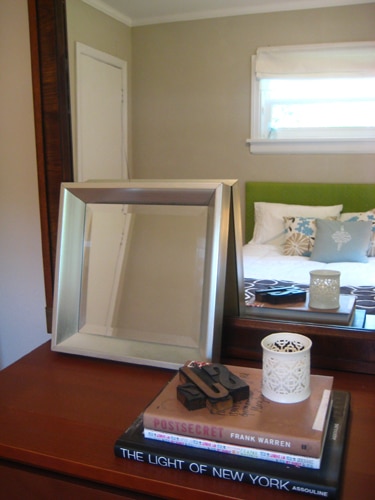 The feeling of added spaciousness is especially obvious when windows are reflected, since the objects out the window are in the distance. By duplicating the distance and depth that a window adds to a space, it feels infinitely more expansive. In short, the room feels a heck of a lot bigger than it did yesterday.
So what do you guys think? Do you have any more mirror tips and tricks, or some pretty before and afters involving the addition of a mirror? Share and share alike.