This is the story of making an old basket into a pendant light using just this $10 thrift store basket that we found along with two other simple supplies.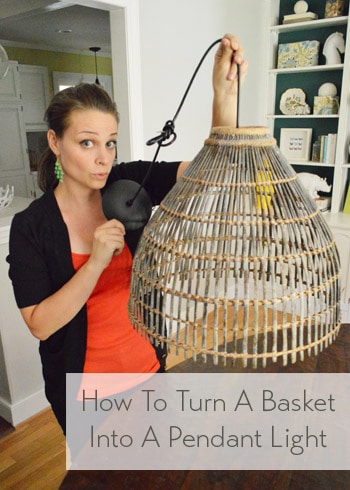 Here she is all wired up and hung in front of the fireplace.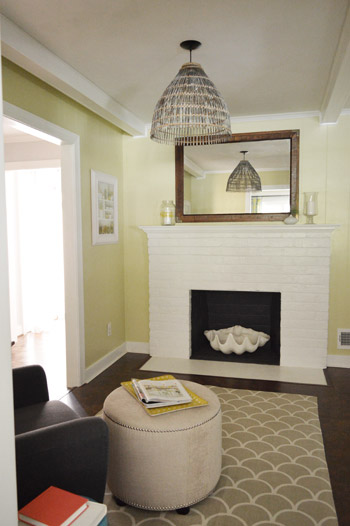 But allow me to further illuminate the basket to light conversion process. Har-har.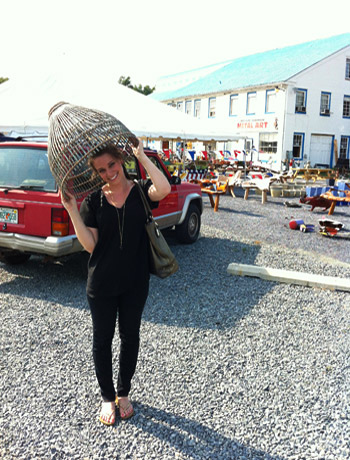 The first step was heading over to a local lighting outlet (The Decorating Outlet) to check out any existing pendant lights that they were selling cheaply (that way we could convert one into a pendant for our big basket shade). While we were there we saw this awesomesauce basket pendant that was selling for $322 (originally $460). Wowsers.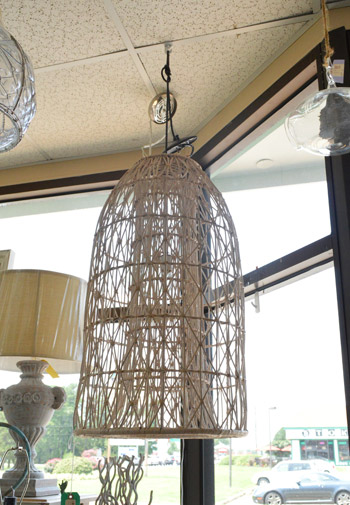 Feeling inspired, we poked around for any affordable pendant light that we thought would work with the rest of our kitchen (we wanted a simple clean-lined canopy, an oil-rubbed-bronze finish, and ideally something with a shade since that meant it would come with a piece that would hold that shade up – and therefore could hopefully be converted to hold our basket up instead).
Enter this dude, stage left (he's the one on the left with the $19 price tag). Sure he's not much to look at in this pic with that crazy yellow shade, but the simple canopy, oil-rubbed bronze finish, and the fact that it had a screw-on-shade-holder-thingie (that's a technical term) under the yellow shade = jackpot.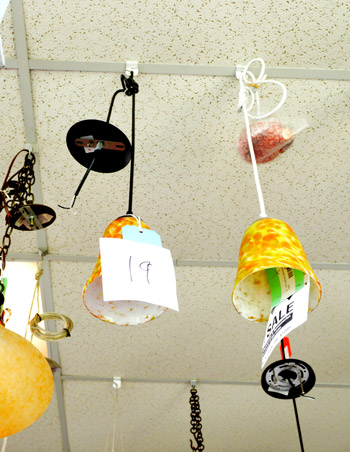 So for $19 we made him ours. Ikea actually sells light kits that we love for $6, but since we wanted something in an oil rubbed bronze finish it would have been an extra $7 for spray paint to make it that color and then we'd need to buy a canopy (which can usually be found for around $6 but sometimes they're a bit more ornate than we'd like) so the simple all-in-one-ness of the $19 pendant made it the perfect choice. Here are all of our supplies laid out on the table (total spent = $35, including the secondhand basket).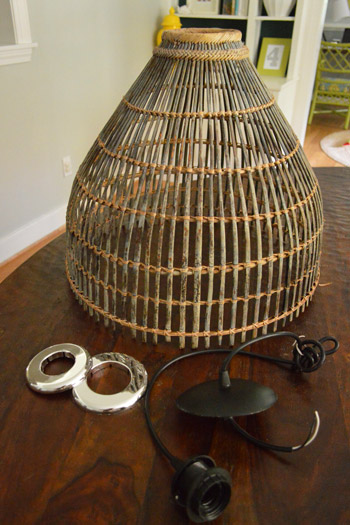 I'm sure you're wondering what those silver donut-looking things are, so allow me to explain. They're actually pipe plates from the hardware store for $3 a pop (the things you usually see at the bottom of a pipe to finish things off where it meets the floor, the wall, or the base of your cabinet). The issue was simple. We needed something round and solid to keep our pendant light from slipping through the opening of the basket…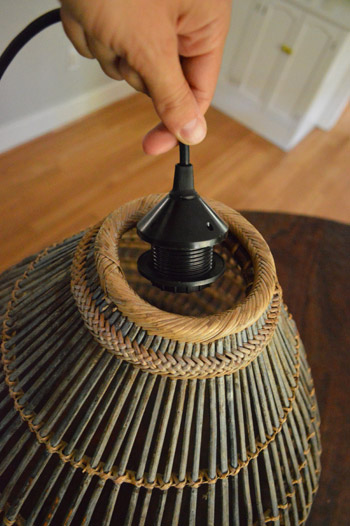 … so we bought them in two sizes since we didn't know which one would slide through and which one would hold. In other words, we needed something big enough to support the basket and not slip through the opening (the one below was too small, so it did).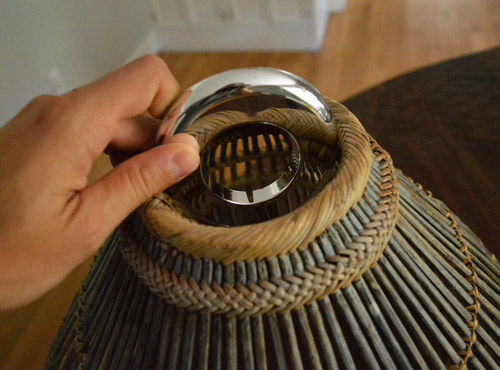 We also needed something that was the right size to catch on our light bulb part of the pendant (the one below was too big, so it didn't hold).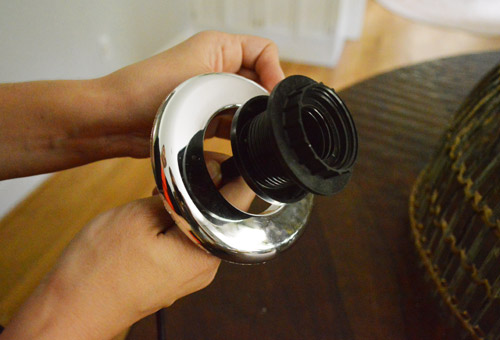 But when we swapped them and tried the bigger one on the basket, it wedged right into the hole at the top of the basket and held tight instead of sliding through like the smaller one had.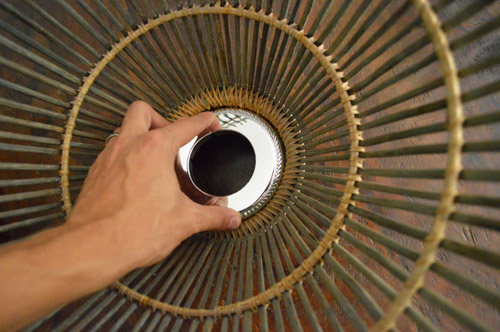 And when we tried the smaller one on the end of the pendant, it caught nicely under the piece that used to hold the old glass shade on, so we knew it should hold the basket up.
So because we needed the small one to catch on the pendant and the larger one to catch on the basket, we realized that if we stacked them and then used the plastic ring that came with the light to hold the old shade up (to hold those two pipe plates in place) it would essentially hold the basket up. So I just screwed on that plastic shade-holding ring…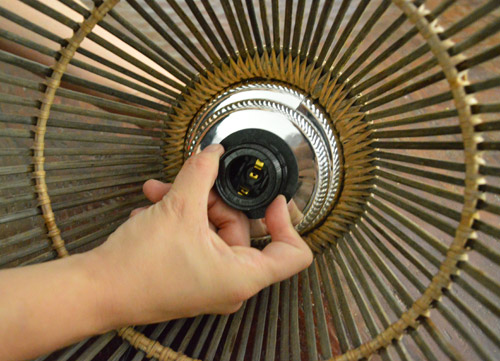 … and said a few silent prayers to the basket light gods. Then it was time to hold it up to see if it worked (while channeling Zoolander apparently). Hootie hoo, we had basket light liftoff!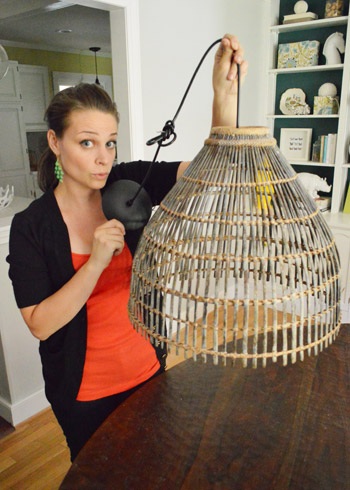 And for anyone wondering if it's a total fire hazard, thankfully paper lampshades or lanterns and other woven-ish basket lights are totally safe as long as the bulb doesn't rub against them and everything has room to vent (so it doesn't get crazy hot like it would if everything were enclosed or touching). See how the bulb hangs down and away from the shade so there's no point at which it touches or even comes close enough to get the basket hot? That's the key.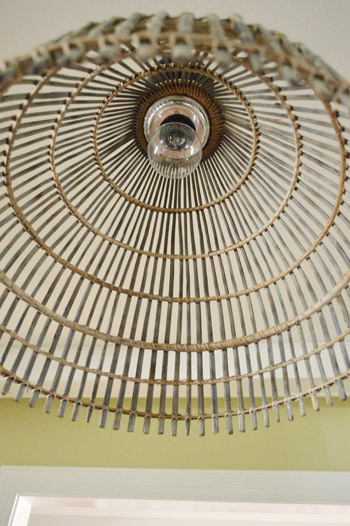 We love that it looks so clean from the underside (when we were trolling the aisles of the hardware store we were worried we might not find something quite as seamless-looking, so we're really thankful).
That whole how-we-did-it rundown probably sounded a lot more complicated than it really was, so we made this quick video of the process, which is much much easier to understand (even on mute if you're at work). It was a super quick process that took less than four minutes once we gathered our supplies.
Then it was just time to wire it up in the place of the flush mount fixture that we grabbed at Ikea a while back (which we think we'll reuse in the hallway to replace an old boob-ish light that's hanging there). Voila! Basket light in the hizzouse.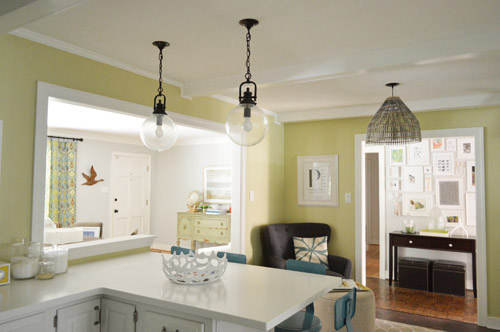 We love how it looks with our oil-rubbed bronze pendants over the peninsula. Glass and woven natural fibers are one of our favorite combinations and the simple oil-rubbed bronze wiring ties them together so they look related without being too matchy-matchy. It's amazing how much more defined the "fireplace zone" now feels with its own little feature fixture. And thankfully it's nearly seven feet from the ground, so even our tall family members can pass under it without a problem.
My favorite is getting to enjoy it twice thanks to the reflection of it in the mirror that I snatched from the guest room. It's also really pretty to see it layered in front of the hallway wall. Here's a shot from the peninsula. It's amazing how the new chair, the mirror from the guest room, and the new basket lamp completely upgraded that little corner of the kitchen. So glad we finally started paying attention to that zone (especially since Clara spends a ton of time playing on that rug or reading with us in the chair).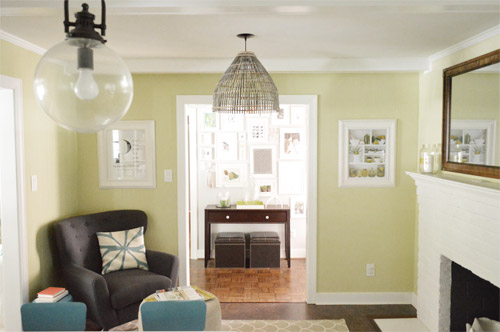 Here's the view through the opening in the dining room: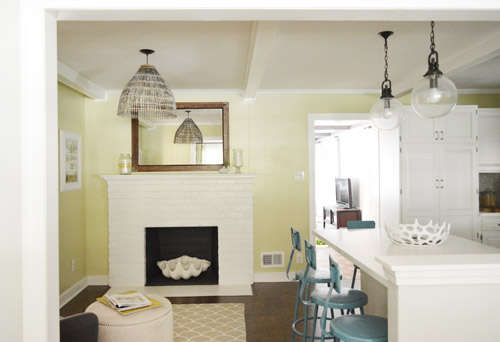 And here's the view from the cooking area of the kitchen. The layered, textured look that the basket light brings is really nice – it even ties into the dark floor and the new mirror so there's more of a "nautral" vibe going on, which is a nice foil to all the modern touches like the corian counters and the floating shelves.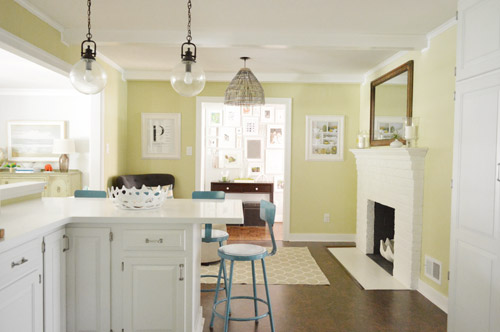 And of course it's fun to compare what the room looked like when we bought the house: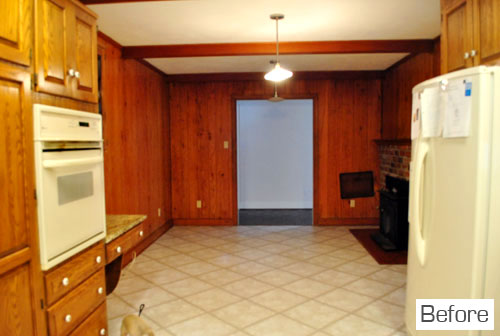 As for what our new light looks like when it's on, with a clear bulb it's a party. Check out that awesome light streaming out of it. Of course if we went with a frosted eco bulb (like an LED or a CFL) we wouldn't get those fun lines, but we'll probably upgrade when we get to the store to check out our options. For now we just popped a clear bulb in there since we had it laying around from the old light in our hall bathroom that we replaced.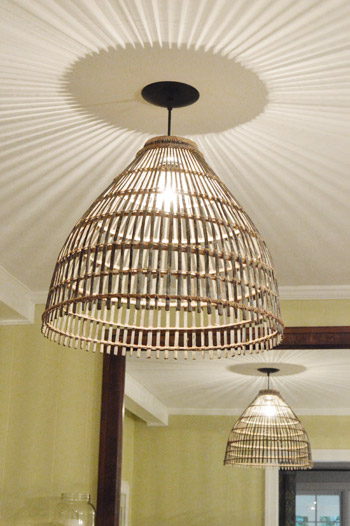 So that's the story of our $35 basket light thanks to a $10 thrift store basket, two $3 hardware store parts, and an oil-rubbed bronze pendant from a local outlet for $19. Might be our favorite light we ever made. Well, I guess it's tied with our clothespin chandelier and the office pendant. Have you guys been adapting/upgrading any lights lately? Or turning random things like a basket into a pendant? Or laying on the floor with the camera aimed at the ceiling to capture pics from below? Feels weird, right? Clara totally came up to me and laid right down beside me and said "what is we doing mommy?" Adorable.
Update #1: After hearing from a bunch of commenters that these baskets were actually used to catch fish in Asian and African villages, a reader named Elizabeth actually sent us a photo of them in action from a trip that she took to Northern Guinea where she attended a fishing festival.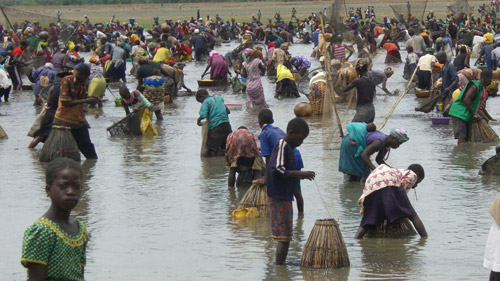 How insanely fascinating is that?! Now the hole at the top makes sense. Apparently that's how they reach in to get the fish once they trap it with the basket in shallow water.
UPDATE #2: We've finally transitioned our entire house to LED lights (they save tons of energy & money, and they're a lazy person's best friend because you never have to change them). For anyone wondering, these are our favorite interior LEDs. Their glow is warm & natural (not weird/blue like some of the others we've tried) and they use around 90% less energy.
* This post contains affiliate links