This isn't as exciting as our big laundry room reno (nothing is!) but let's talk about curtains for a second. Remember when our bedroom was all naked and afraid? (Sidenote: if you're not watching that show, you should be).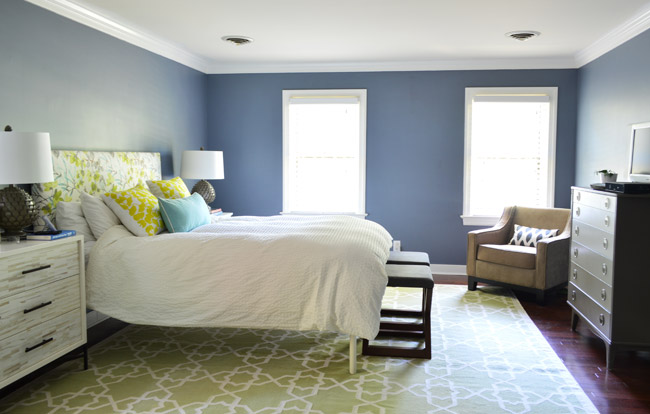 We added frames and hung curtains at the same time, but it took us way longer to actually finish said curtains. We knew we wanted nice white linen-like ones for our dark-walled bedroom, and had heard a lot of good things about the Lenda curtains from Ikea around blogland (they're their nicer/thicker white curtains with a convincing linen-looking weave, as opposed to the cheaper/thinner/breezier ones we've tried in previous houses). After seeing – and feeling – them in person, we were sold.
We also grabbed some nice substantial curtain rods from Lowe's along with some nice big ring hooks (the same ones that we used in Teddy's room).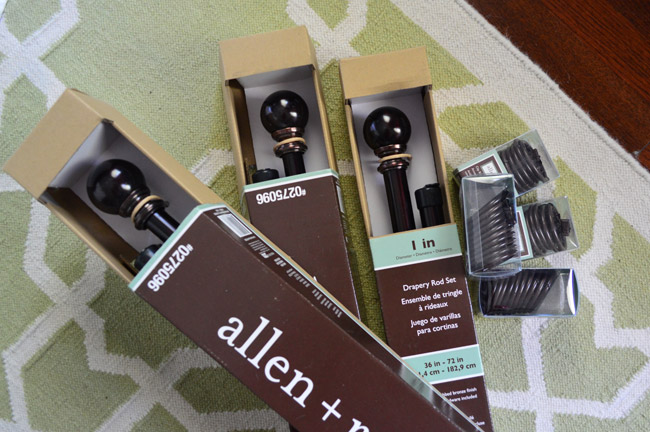 They didn't look so great when we first hung them after washing and drying them (to account for shrinkage), which is why we moved on to our little frame project (and asked you ignore the curtains while posting about that).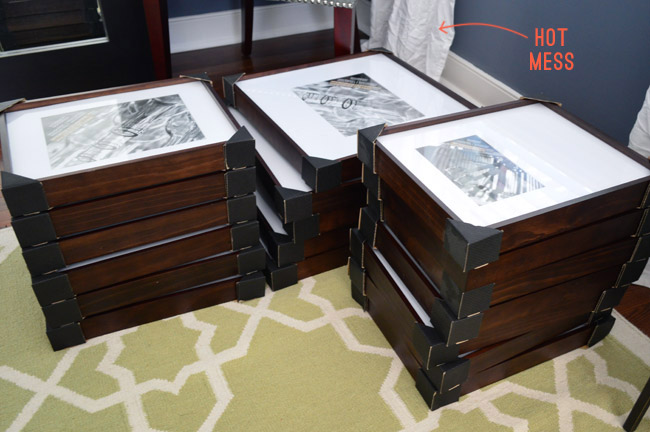 Once we finished with the frames, I turned my attention back to the curtains and slowly (as in, it took me a month to finish them) got 'em done. First I took them down one by one and ironed them. I also removed the tabs at the top, so we could clip them more cleanly to each panel. See how it looks floppy and folded over in the one that's hanging below? No bueno.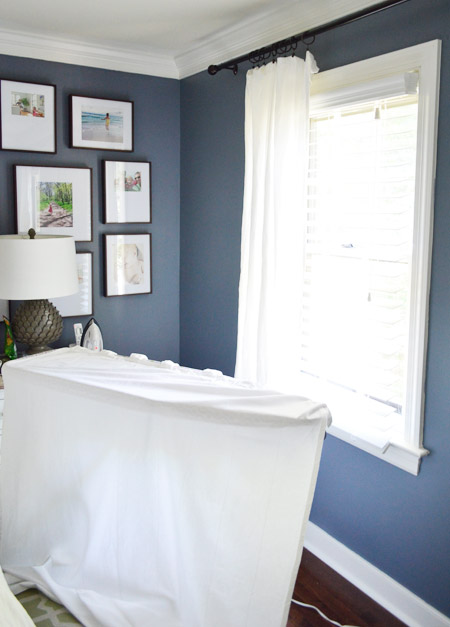 Just ironing them and removing the tab tops made a big difference. We also realized that they looked nicer when they were less pulled out/wide. That's right, after years of practicing hanging curtains "high and wide" to give the illusion of bigger windows, it felt odd to like the look of tighter, narrower curtains – but it really gave these curtain panels a cleaner and fuller look.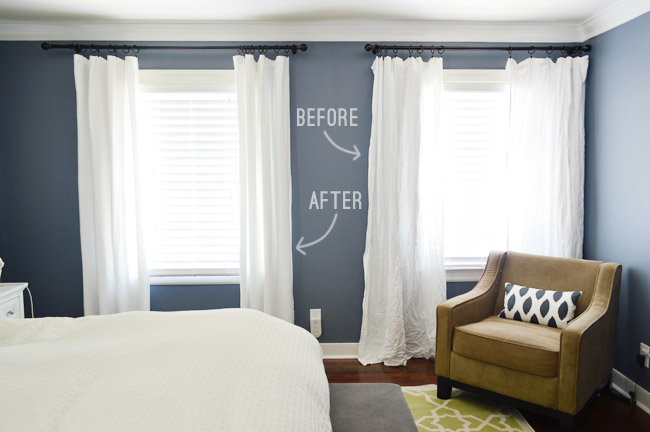 The last thing they needed was a bit of a hem on the bottom, so after three weeks or so of being almost-but-not-quite done, I took to my sewing machine to make a nice thick hem (around 4″).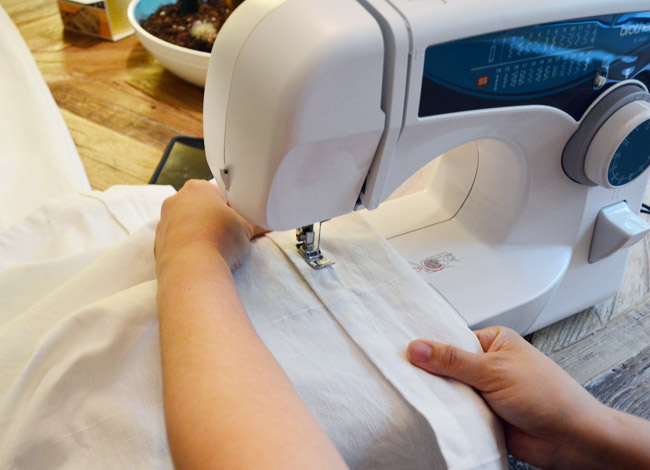 Here they are after. So. Much. Better.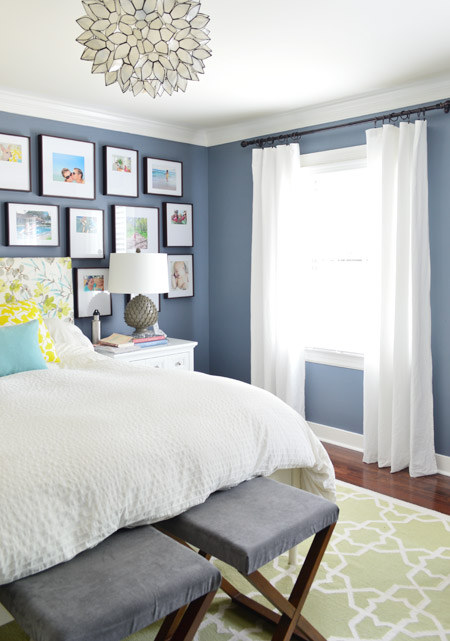 I just want to rehang the curtain rods a little closer to the windows (nothing a little spackle and paint can't solve).
Oh and one more tip is that when I hung them I sort of trained the fabric to alternate the direction of the loops with the rings (between two rings I'd train it to swoop out and between the next two rings I'd train the fabric to swoop in). That created a nice shape that I could follow down the rest of the panel for that drapey look. The professionally made curtains at the showhouse had that shape to them, and we really liked it. They felt so polished and tailored. Here we use faux white wood blinds for privacy, and the showhouse has custom white shutters, so in both cases the curtains are purely decorative (so they're not drawn closed and can keep that shape).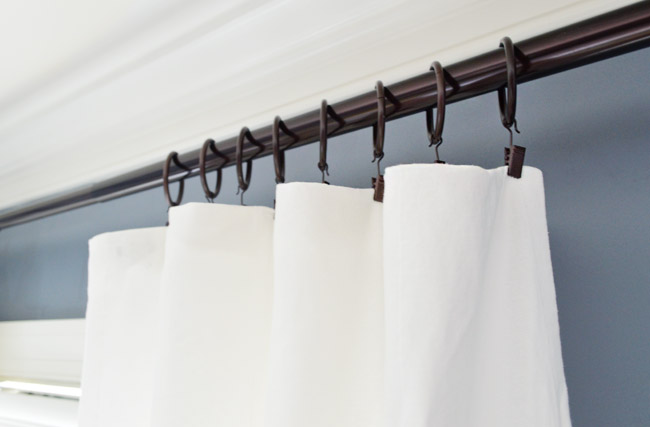 Speaking of the professionally made curtains we got for the showhouse, we're actually debating getting some made for our office. We know it won't be as cheap as buying fabric and making our own (or grabbing pre-made ones by mass retailers) but we really loved how the showhouse ones turned out, and we conveniently met a seamstress through that process that we can use. We actually debated using her for bedroom curtains, but we figured white linen looking curtains were easy enough to find, so we'll save her talents for a more not-readily-available result, like office curtains in one of these fabrics: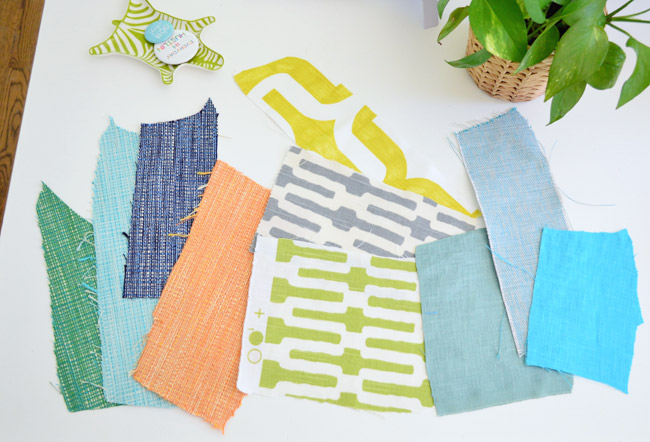 We ran through our favorite local fabric store (U-Fab) to grab these swatches. We love all of them for different reasons, so we're still simmering on which one to go with. The patterned ones feel a little busy when we hold them up, and although we thought we'd love the emerald green or the orange ones for being a little different than our usual choices, they both felt sort of thicker/heavier than we expected when we put them next to the window.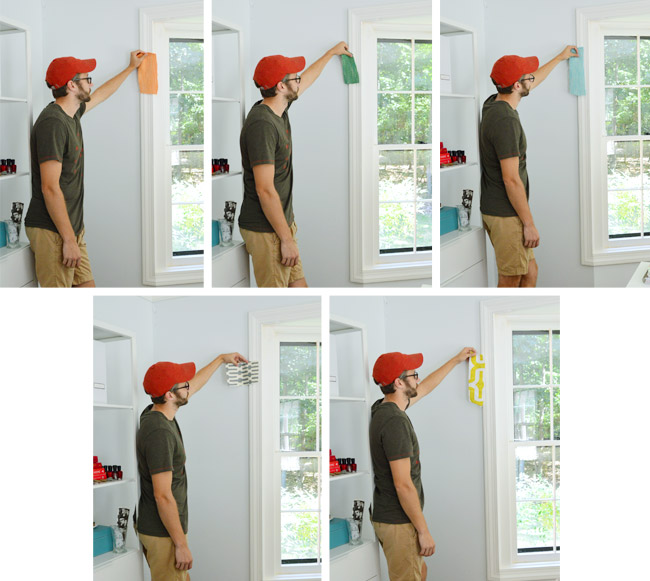 Our favorite of the group is probably the top right swatch, which we only realized after holding them all up is the same fabric we used for the window treatments in the master bedroom of the showhouse, so while it feels sort of anticlimactic to go with the same thing at home, it's also nice that they're pre-vetted and we know we love them (and that they drape beautifully).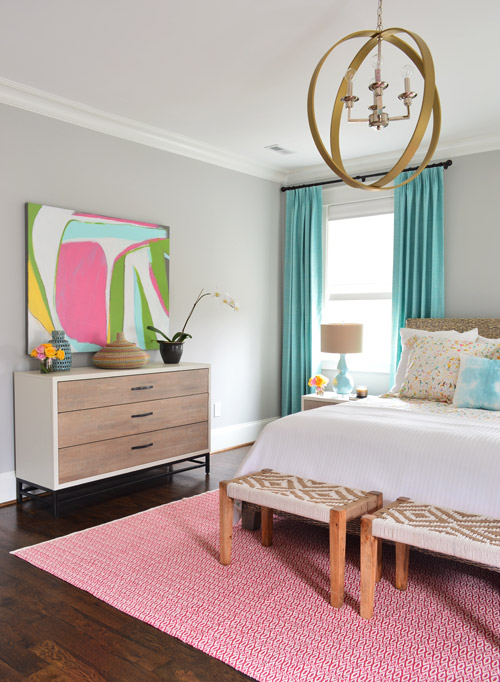 We're not 100% sold on it yet though, so we'll keep you posted when we make a decision. Sometimes I look into the office and think leaving the windows bare might actually be beautiful…
We also made a few curtain updates in Clara's room, since we both had some issues with how hers had been looking. I thought the pattern was competing a little too much with the bold rug and the playful raindrop painted wall, and Mr. Function (John) didn't like how the blackout curtains, which were clipped behind each breezy panel, made them feel a little bulky when we slid them open and closed since we hadn't ever sewn them together. Plus, the thin rod – a carryover from our last house – was starting to sag.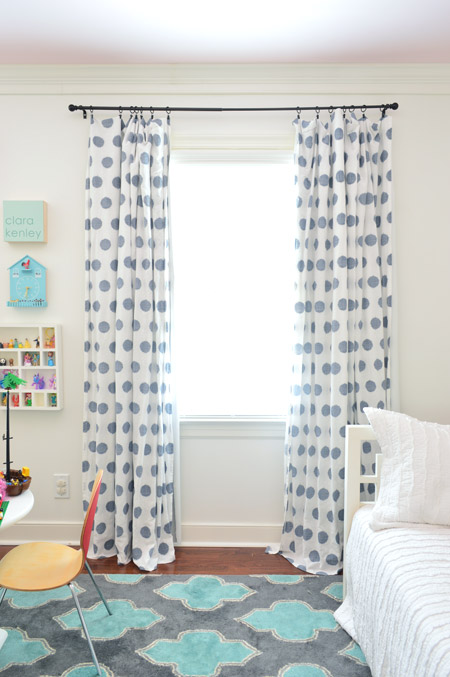 They actually photograph better than they look in person (photogenic curtains?), but in real life they felt a little more demanding and messy looking. So while in the midst of hanging Clara's new light, we tried two things: flipping the panels backwards (the pattern was more muted on the other side) and removing the blackout curtains (which we've been considering weaning Clara off of anyways). They immediately felt less bold and heavy.
So I took them down and I sewed a hem on all four sides of all four panels (16 hems!) so that hanging them backwards looked more finished. For a second I worried about how bad the bold circles might look from the street with them drawn, but realized that since we close the blinds before pulling the curtains closed, they'd never be visible from outside – and since we removed the blackout panels we probably would just shut the blinds and leave the curtains open anyway.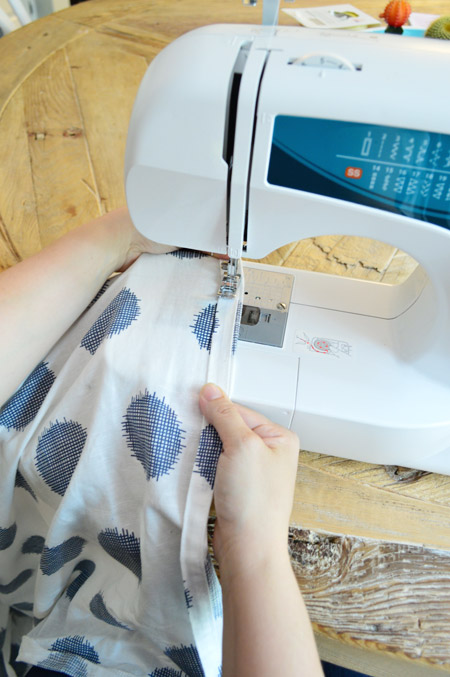 Rather than rehanging them on those thin, sagging curtains rods; we took the opportunity to upgrade those too. We went with white wood ones from Lowe's so that we no longer had a dark metal line cutting across the top of each window. That's a look that we like almost every where else, but Clara's room is so light and playful that it felt oddly heavy and out of place in here. As soon as we got the white rods up, they felt great.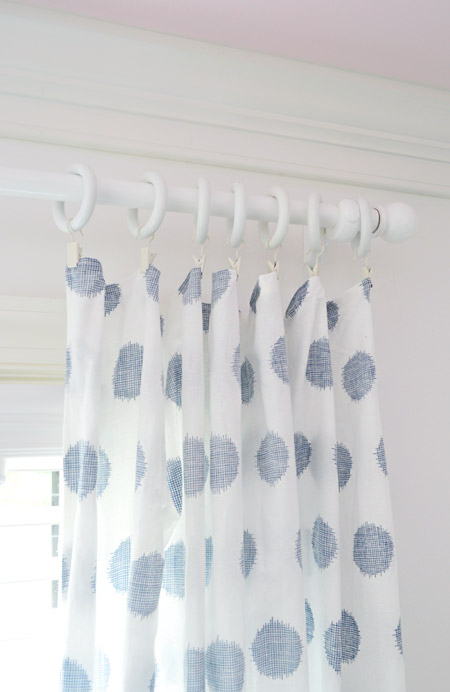 I was waiting for one of you eagle eyed readers to notice the rod change/curtain flip in Clara's light post, but nobody did! To be fair, we hardly showed them, so here's a nice full view for ya. We're still not certain they'll be Clara's forever curtains, but we're both liking them much better, and it was a zero dollar change other than the rod upgrade (they'll stay no matter what curtains end up there someday).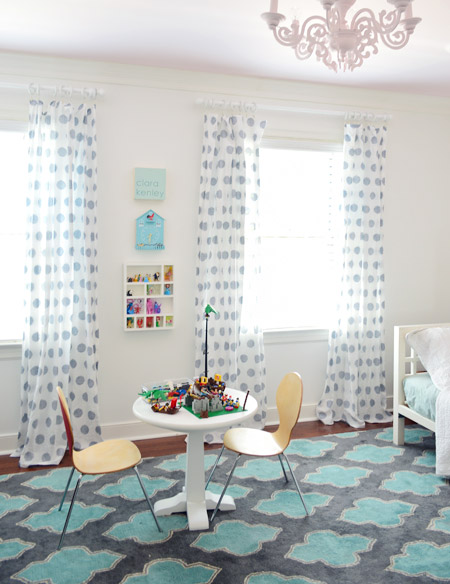 Oh and as for the length in here, John was adamant that ours be floor-length in our bedroom (he likes that look best) but agreed that a little loose pooling action on Clara's floor would be ok for these. I think that casual french vibe goes well with her Belle-looking chandelier.
The best news of all is that so far our fears of ruining Clara's sleep habits without blackouts have been unfounded. She's still taking good naps in the afternoon (which is when the sun hits her windows the most directly) and isn't waking at sunrise like we worried she would. Turns out those white faux-wood blinds do a pretty decent job at blocking light on their own, so they seem to be just fine without blackouts backing them up.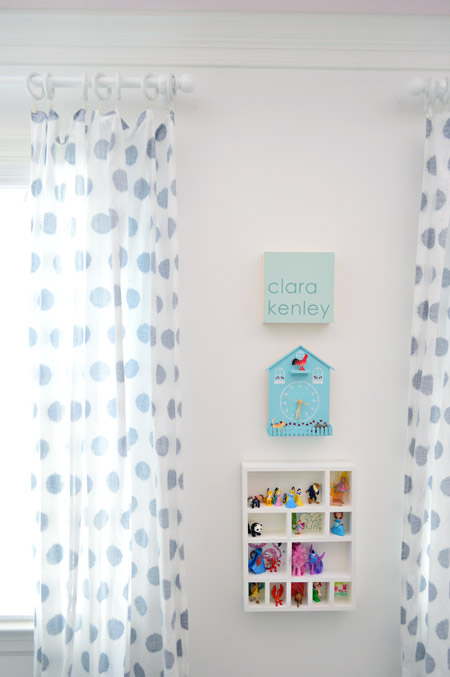 There you have it. A whole lot of hem-sewing, some new rods, and some curtain considerations for the office. Now it's back to laundry room stuff (today we're re-routing vents, which sounds about as exciting as it is – but next is drywall!). Until then I'll be daydreaming about what curtains we'll hang in the future bunk room someday and trying not to duct tape my fingers together.