First: I apologize for subjecting you to more pictures of toilets. I'm sure you don't read our blog for pictures of toilets. But on the other hand, I'm kind of excited to show you pictures of our new, distinctly not-almond toilet. Because, if you recall, this guy wasn't exactly our cup of tea. We know some folks would have been just fine with Mr Almond, but a crisp white toilet makes us very happy Petersiks. Not only to brighten things up, be more true to the mid-century age of our home, and tie into our newly white-ified trim & shower curtain, but to LOOK CLEAN. I can't explain it, but even after we scrub this baby down it never quite felt fresh and new. It's not dirty, it's just almond. So it never looks sparkling clean like white toilets do – even came-with-the-house white toilets that are ten or twenty years old. To the point that we were laying in bed saying things like "tomorrow is going to be awesome" the night before going toilet shopping.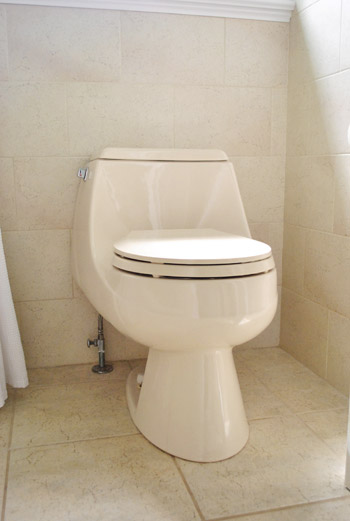 This almond came-with-the-house toilet is a bit space age looking for us (admittedly not as space age-y as the one we joked about getting on April Fool's Day), but it's actually a fairly high end fixture. According to the Kohler website, it retails at over $1,300 (click the almond box to see the price jump – it's actually more expensive than a white one of the same model)! Who the heck woulda thunk it. But ever since we moved in 15 months ago we've longed for, craved, and daydreamed about a nice traditional looking white toilet. And well, our posteriors aren't sophisticated enough to really tell the difference between a one thousand dollar toilet and a one hundred dollar one anyway.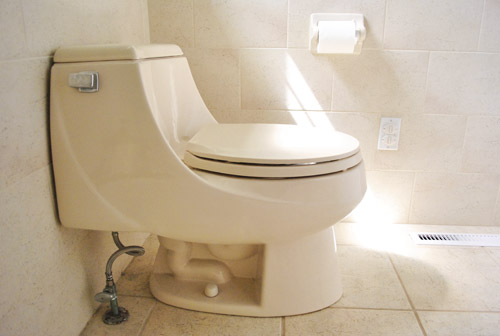 Before picking our replacement toilet, we double-checked our measurements – mainly the "rough in" measurement (i.e. how far the bolts are from the wall) and the clearance for the door. The rough-in made me nervous because it measured closer to 11.5″ (12″ is standard). But since the existing model was listed as a 12″ we figured another 12″ model should fit. Of course since this is a small room, taking note of how much space we have between the wall and the door helped keep us from buying an elongated bowl variety, which would have caused the door to slam into it. And that wouldn't be good. We've thought about switching the way the door swings, but if we switched it to swing out into the bedroom it would block half of the sink nook, which looks so nice with the chandelier reflecting in the mirror centered over the sink – so leaving that area open without any door-infringing is best for reasons of function and form.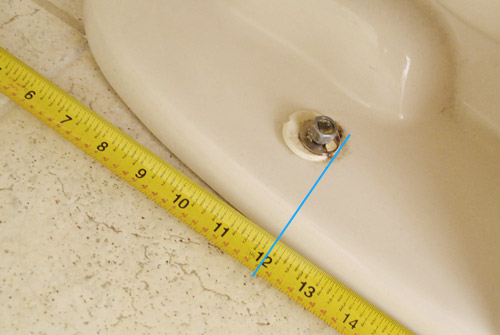 I'll skip all of the toilet removal / installation pictures because I covered them fairly recently in this post. But here's your obligatory shot of the old commode coming out. After Sherry took this picture she actually helped me carry that sucker out of the room since it's all one piece (we're used to tanks that detach from the bowl to be carried separately).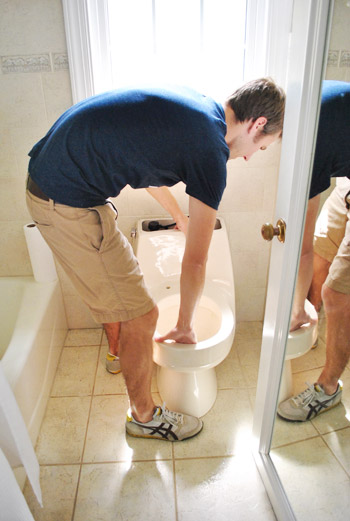 And here's the always-pleasant toilet equivalent of a chalk outline: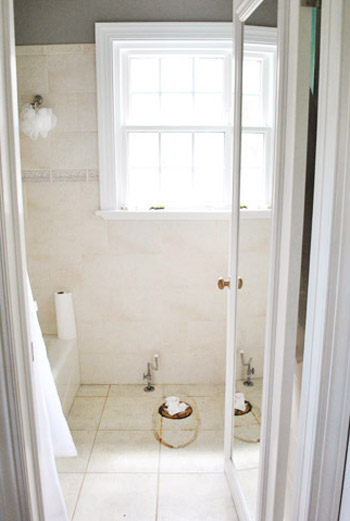 Fortunately that gunk / rust line wiped up pretty easily, so we were ready for the new potty in no time. You thought I was gonna say it was potty time didn't you? Pun narrowly averted.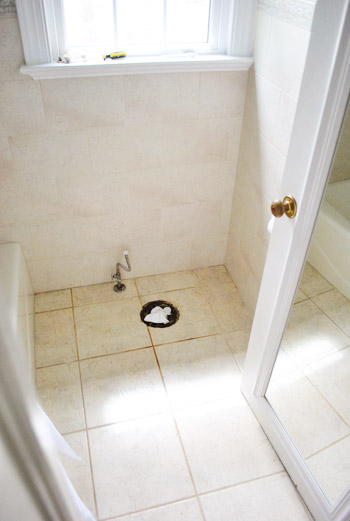 Speaking of the new toilet, here's what we got. It was this $88 model from Glacier Bay from Home Depot. I'll admit it wasn't a decision we researched like crazy – it fit our measurements, has a great "flush rating", is eco-friendly (can cut water bills by an average of $90 a year – plus we'll add our handy little dual flush feature to conserve even more), it looked good, it was the right price, and a bunch of you had good things to say about Glacier Bay in a few former toilet posts of ours.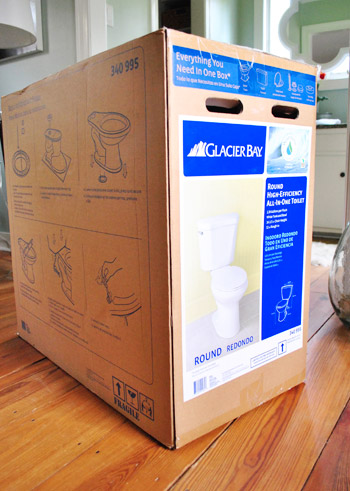 It also came with all of the pieces you'd need to install it, but we ended up having to buy a separate wax ring kit because we needed the extra thick version since our toilet flange was kinda set into the tile. No biggie, it was just a few extra bucks.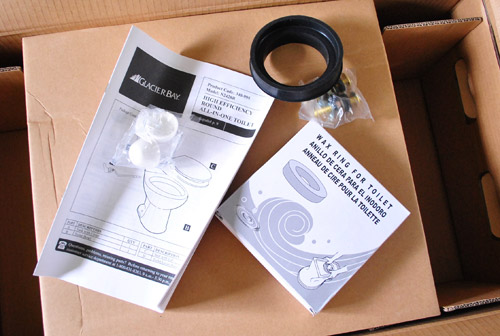 We also tried out one of the tips a few of you mentioned in one of our past toilet-related posts: placing drinking straws on the bolts to help guide the toilet bowl in for, um, a smooth landing. Oh and that stuff around the black ring isn't anything sewage-y, it's just leftover wax from the previous wax ring that we scraped up.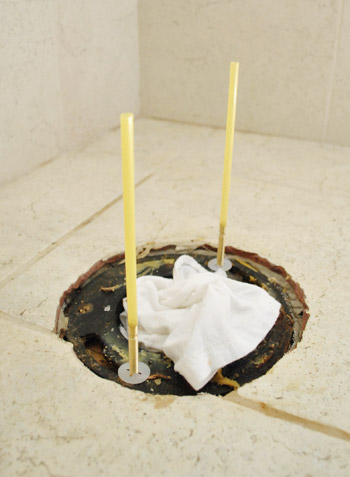 The straws were actually a big help! It was much easier to get the bowl lined up with the extra length on the bolts (although Sherry stood there tossing out hints like "a little to the left" to get things going.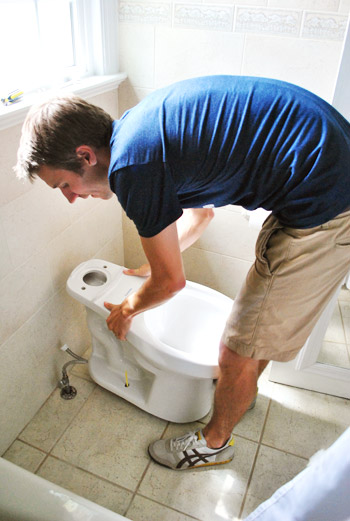 Again, I'll breeze past all of the installation details because I covered 'em here. But I just had to share this pic, since I managed to catch that special time of day when the sun shines right into the toilet bowl and makes it glow like we just opened up a portal to another dimension. Beam me up flush me down Scotty.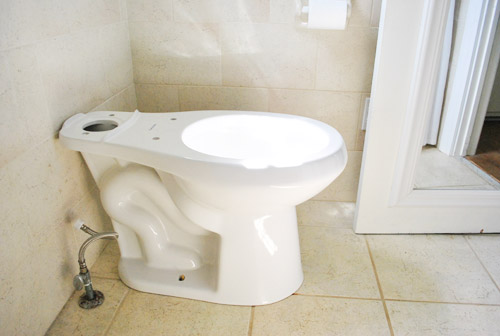 Let's skip to pictures of it installed and looking all bright and fresh up in here.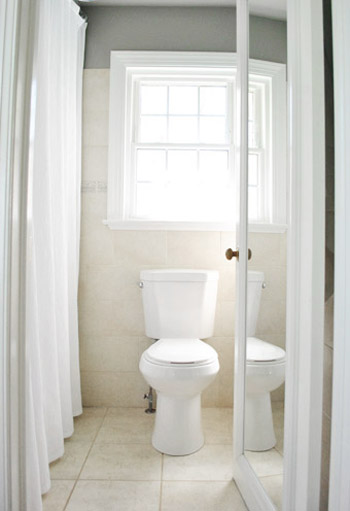 We think it helps draw attention away from the beige tile and more towards the white accents in the room (which now includes the curtain, trim, door, light switch and outlet covers, and some tones in the art). And the white roll of t.p. of course. Haha. It also feels a lot more in line with a mid-century ranch and is totally a close relative to the other two white toilets that we have in our other bathrooms, so for some reason that gives us a thrill. What's that saying? Happy wife, cohesive toilets, happy life. Oh but ignore that old brassy doorknob. It's on the list!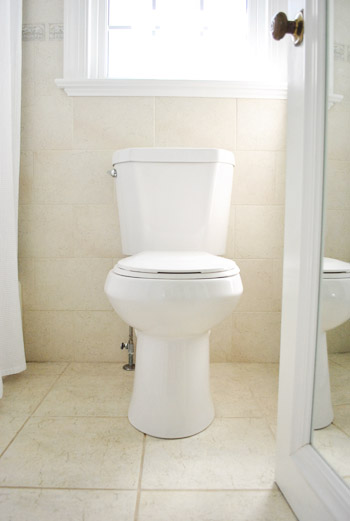 Thankfully, even though our new bathroom friend isn't quite as high end as the previous toilet – it seems to be functioning just as well. It's actually a bit taller so it's more comfy to sit down on in my honest tall-guy opinion. And even the short wife said "I feel less squaty on the new toilet" which she meant as a compliment. Plus, I can retrofit this one to a dual flush (the conversion kit wouldn't fit in the other more futuristically shaped almond one). Oh and we've purchased the kit, but just wanted to let it run as Glacier Bay intended for a few days before we supe it up to be sure all is good under the hood.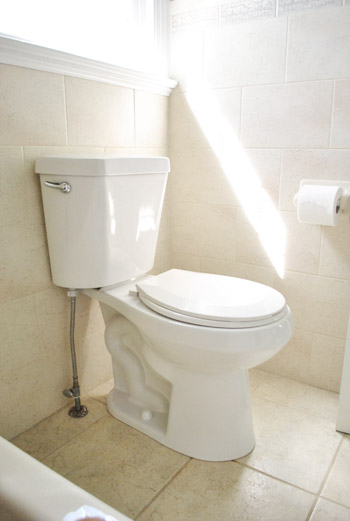 So our formerly beige box of a room…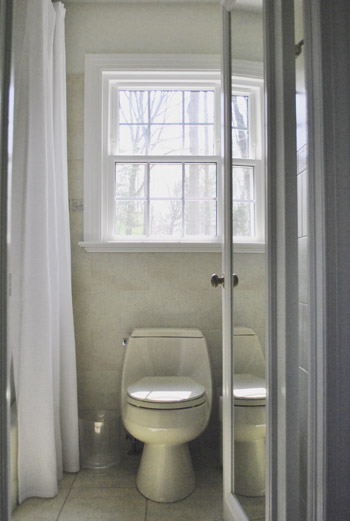 … is slowly coming along. Still have some things to do, but it's feeling more like us each day.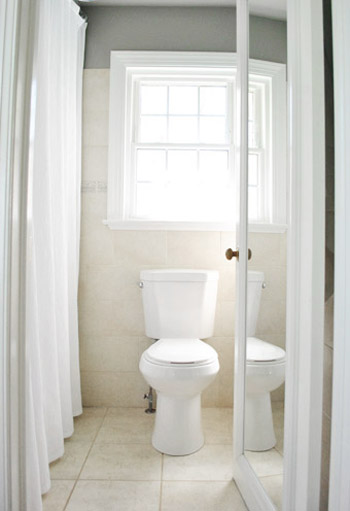 Of course some of the other angles are a little more fun. You know, since it's not always just about the toilet.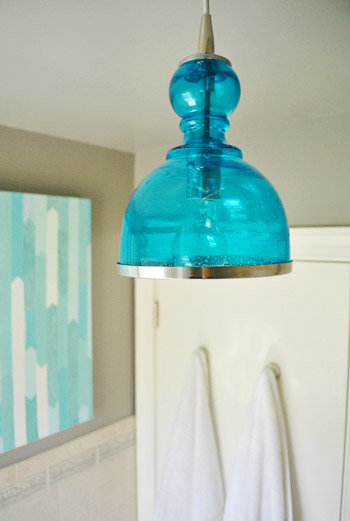 Here's our updated to-do list:
paint the walls so they have some contrast
replace the boob light
paint the cream trim white
hang some bathroom-friendly art
craigslist the toilet and replace it with a classic white one
do something to add privacy to the window
remove the door so we can shave the bottom to allow for a rug/bathmat (and add a door stopper so it doesn't squash the art)
replace the border tile around the room (maybe in phase 2?)
move the blue pendant light to hang centered in front of the window
replace the floor tile down the road (just to break things up since there's so much of it)
And here's the ol' mood board we whipped up a few weeks back (see the full breakdown here), just for reference when it comes to some of the bullet points above: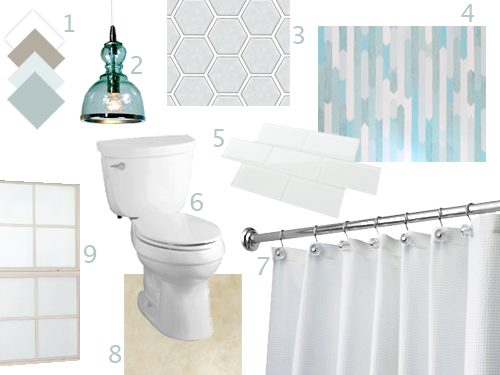 We actually have the old toilet up on craigslist. Sure, it's a gently used toilet, but it's a $1,300 Kohler toilet – so we thought it would be nice to see if we could make some money to mentally put toward the purchase of our new toilet (we had someone offer $60 for it, so it'll hopefully find a good home soon). We'll keep you posted. But enough about us and our toilets. Has anyone else posted pics of their porcelain throne on their blog lately? Please tell us we're not the only ones. Or do you have any other toilet-related upgrades (photographed or unphotographed) to speak of? Or other instances of a beige/almond/biscuit colored items that you've switched out for something white or stainless?
Psst- To follow this bathroom sprucing project from the start, check out this planning post, this painting post, this light-swapping post, and this art and trim-painting post.