Having a fireplace in the kitchen is definitely something that we think is charming (it's the heart of the home, and even though it's not functional, just tucking a basket of Clara's toys or books in there and having a spot to display stuff above the mantel is our idea of a good time). Well, maybe I should say it's my idea of a good time, since I'm pretty sure John could commit to whatever we have up there at any given time for the next ten years. I, on the other hand, like to turn surfaces like the mantel into a rotating display or sorts. Not every day or even every few weeks, but it's safe to say that around once a month I get a wild hair and decide to switch some things out. And our mantel has undergone quite the transformation since we moved in. Here are just a few "takes" on it, over the last fifteen months here:
About a week after we moved in (in mid December of 2010) we wanted to cozy up the room full of brick and paneling, so I slapped some holiday stuff up there and called it a day: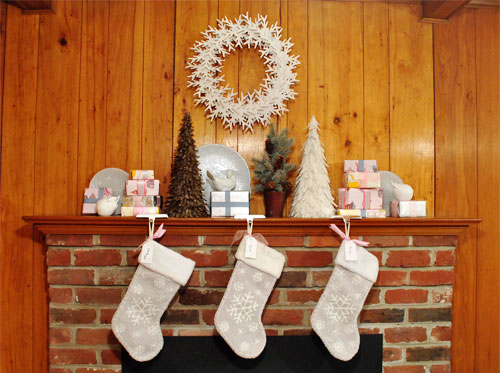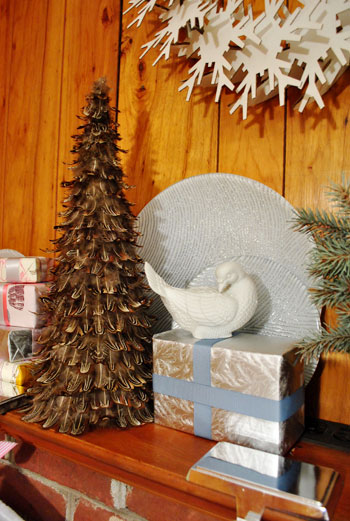 A while later (after priming and painting the brick and the mantel), I kept it simple with two fauxpiaries (faux topiaries) from Crate & Barrel and a round hanging mirror along with a mirror in the firebox, and a tray full of candles. This definitely wasn't Clara friendly, I was just having mommy fun when she went off to bed: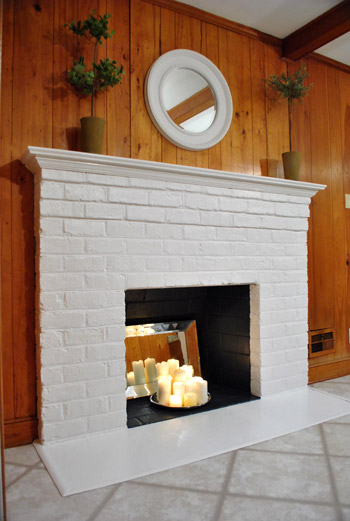 After priming and painting the paneled walls (which look extra green here since we didn't have good kitchen lighting installed yet), I added some Halloween stuff, complete with some homemade bleeding candles: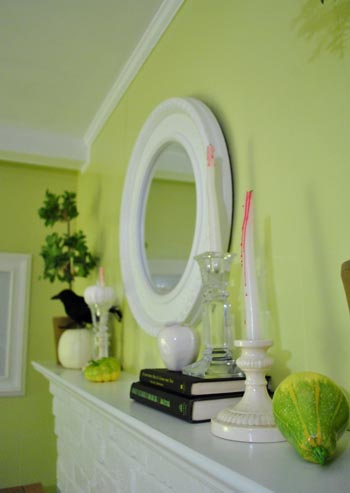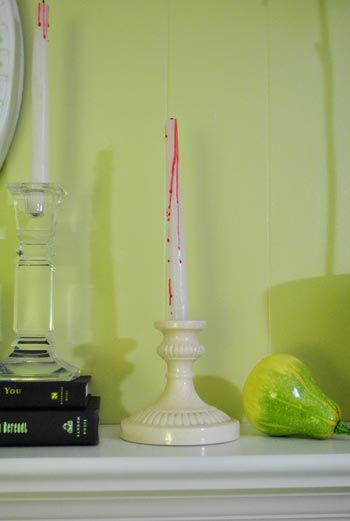 Then it was decorated for our second Christmas here, with a mirror that later moved into the living room, some stockings, a basket full of presents, and a few feather trees (eeks, the colors are all sorts of terrible in this pic, again since we didn't have our new kitchen lighting installed yet):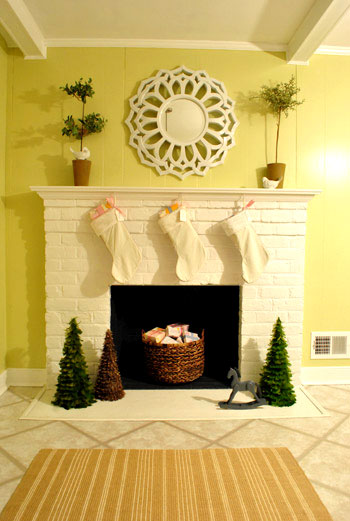 Well, now it looks like this (don't mind that one remaining broken light that we've been meaning to replace for months now):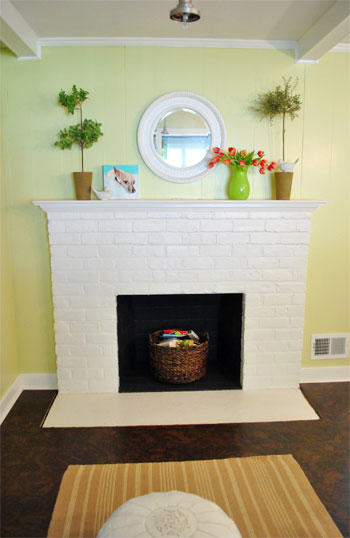 Oh yes, and we still haven't trimmed out the area where the cork meets the tile surround yet (but you know we'll share pics when we do)!
Here's a little side action: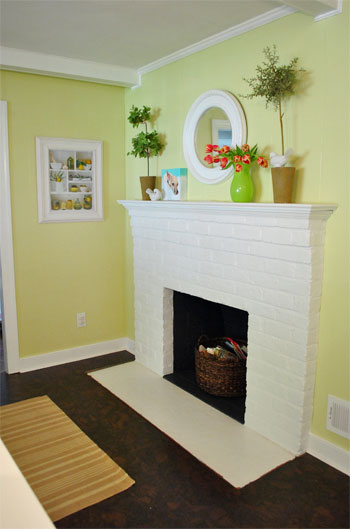 You might notice one of my favorite birthday presents ever, this little painting of Burger from my insanely thoughtful friend Lesli (who is one of the most talented painters I know). Yup, I cried when I opened it. It just captures him perfectly. I love that it's small and chunky (the canvas is extra thick and just 9 inches wide/tall). And for everyone sweetly wondering how he's doing since this incident, he's back to his usual happy self, thank goodness. We are so grateful.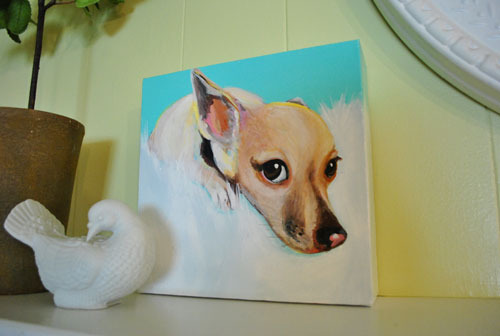 Of course these blooms won't stay up there nearly as long as my beloved Burger portrait probably will (darn you tulips, why must you die?) but for now I'm loving them in this bright green vase. It was one of those free vases that came with a birthday bouquet that a friend sent me last year (it was sitting in my little decorating cabinet waiting to get some action).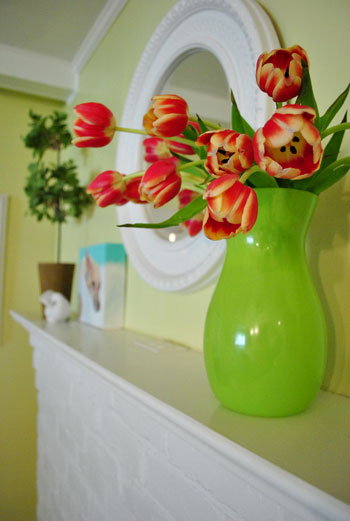 Oh and I got those tulips last Wednesday since we were hosting some Easter guests and I wanted to brighten up the house. They're still looking happy thanks to reclipping their stems and refreshing the water every few days (and dropping an old penny in the water to help keep them from getting too floppy).Yay tulips! But I think I might only get one more week out of them. Sniffle. But I guess that opens me up to a whole new mantel makeover. Haha. And so it continues…
Do you have a mantel or another surface (the top of a console, dresser, your coffee table or dining table?) that you tweak every once in a while? Can you believe we lived with that dark paneling and weird lighting that made everything look neon as long as we did? I can't either.