… birthing this book baby of ours! Seriously, somebody get us to Lamaze class. Yup, it's coming in early November (our official "due date" is the 6th, although it varies slightly depending on where you look). Excuse me while I practice my deep breathing (hee, hee, hoooooo, hee, hee, hoooooo).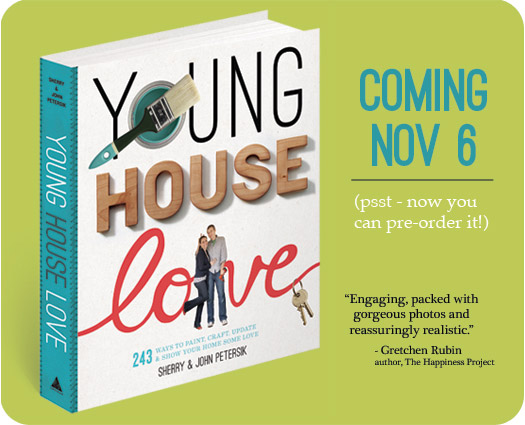 Perhaps the craziest part about it is that this might be the longest baby gestation ever recorded – over three whole years! Seriously. Labor of love could not apply more. So for everyone who has been asking about pre-order details, you can click on any of the logos below to pre-order from any of these affiliates. And of course don't forget the local guys – the book will be available at your favorite bookstore, and if you stop by, many local bookstores can pre-order it for ya too. Fun fact – pre-orders don't just score you a discounted price, they're also good for us authors too. And we hear they can show up before the actual release date, so that's another added bonus.
Speaking of a nice long gestation, this was John's Facebook status almost exactly a year ago (and yes, that's the Jamie you know from this post).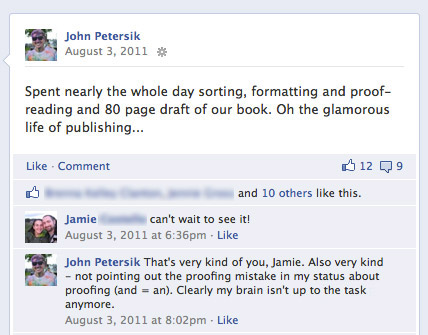 But today somehow we're holding a 336 page mocked-up book full of hundreds of house-sprucing ideas that are about to go off to the printer this week to be made into a real life book. Like one you can hold in your hands and read and put on the coffee table. Actually lots of them since it would be weird just to print one. As for what it's about, it's definitely not a formal decorating bible with designer terms and upscale rooms. Please, we're not that fancy. It's more of an idea book for folks like us. A heaping portion of doable and affordable suggestions to pick and choose from – and adapt to fit your home. Some are more involved, some are super easy. Some are free, some might be something that you'd save up for. Basically it's the blog. Only a book. And instead of getting a post or two a day, you get 243 ideas with photos, checklists, tutorials, and illustrations galore (along with bonus tips, sidebars, and added commentary). And a little dorky humor a la us.
Wait, and did we mention that we packed it with over 200 photos and 100 illustrations that have never been seen before on the blog? I guess we just did. In fact, none of the tips in this book are just regurgitated from our blog posts (zero cutting and pasting here!). Some of the general ideas and basic tutorials may be familiar (how could we not include must-have how-tos like painting furniture or upholstering a headboard?) but we wanted to present them in a fresh way. So instead of seeing the same table that I painted three years ago for the blog, you might see a brand new dresser makeover that we secretly completed back in January. Sure it was extra work, but we really wanted the book to look fresh and be full of different "takes" on a ton of decorating ideas – both classic and unexpected (and pretty much everything in between).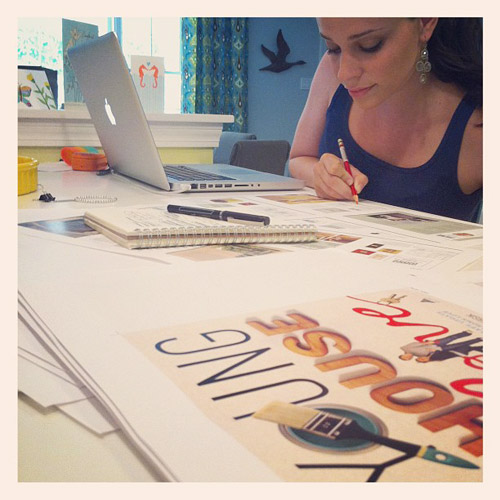 It's so funny because we distinctly remember every single phase: signing on with an agent well before Clara was born, writing a 100 page proposal in 2010, pitching it to publishers and picking the right one for the job right after moving in 2011, turning our proposal into a complete book outline and then a complete manuscript right around New Year's, shooting for three straight weeks in our house back in February of this year, and then refining and proofing and proofing some more, and finally – finally! – sending this baby off to be printed. Whew.
Whirlwind? Yes. Lots of fun? Yes. Lots of work? Yes. Still feels like it's all a dream? Yes. One big, flipping-the-house-upside-down dream…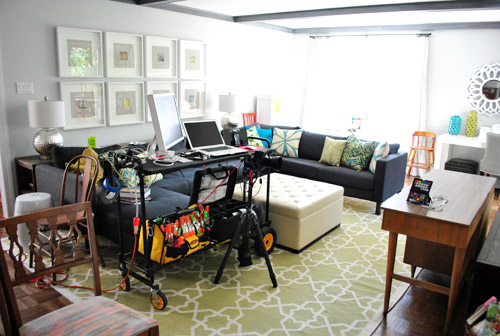 So needless to say, when we look down at the final layouts and triple check that we didn't write something like "hang your fart" instead of "hang your art" (don't worry, we have proofreaders) it really is sort of a chest-swelly moment. Not in that "we're a big deal" way, but in that "we didn't know we had it in us" way. I mean, of course when we signed on to write a book we thought we could do it, but as we went we kept saying "ooh, wouldn't it be cool if we added this too?" – and every time we did we'd worry if we had just bitten off more than we could chew. But oh happy day we didn't! We survived. We lived to tell the tale. We wrote the book we were dying to write. And I think it's going to feel even more unreal when we're actually holding it in our hot little hands. There might be tears the ugly cry.
And since the final cover has officially been pinned down, we thought it would be fun to chat about that process, since it was completely different than we thought it would be (as was almost every aspect of writing a book – did you know you edit the entire thing with a pencil on printed layouts over about five to six rounds of revisions – there's no computer involved at all?!). I'd say the two overall most surprising things about writing this book were:
how little the publishers changed the inside of the book (aka, the meat)
how much the publishers have to do with the outside (aka, the bread)
Isn't that funny? Every time we submitted outlines and even the final manuscript we expected tons of crossed out stuff and rearranged stuff and suggestions about what to move/do/change. But other than typos and grammar fixes, it was really all us. Which is kind of awesome. I mean, in the book we're the same pun-loving weirdos as we are on this blog. I guess we somehow thought they'd try to "polish us" but they totally let us be us. Our freak flag is waving, baby. And we're so grateful.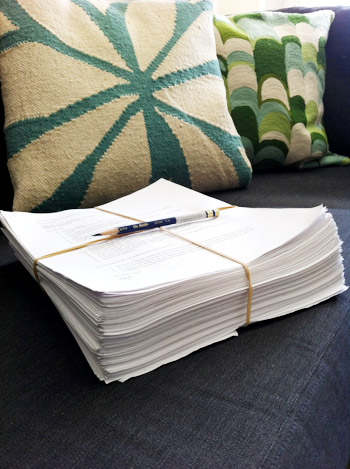 Then when it came to the cover, we learned that most authors actually only get to give "feedback" but the publisher always has the final say. Thank goodness we love our editors and they seem to like us back, so it was a pretty collaborative process in the end. First we shot some of their initial concepts amidst our three-week photography extravaganza back in Feburary, and out of all three cover concepts there was one that we did our darndest to wiggle out of: putting our mugs on the cover.
We just didn't want to be sitting there (or standing there) posing in some styled room because… I don't know… it just felt so… serious. We really wanted the cover to feel playful and happy and fun (it's not a lofty book about box pleats, it's a happy-go-lucky home idea book). So after we shot all three concepts, including some terribly awkward photos of us sitting on the sofa like this…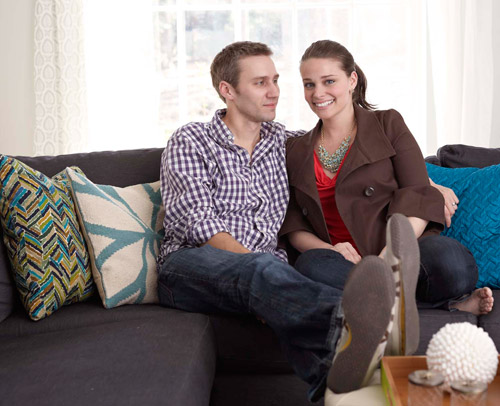 … we heard they officially weren't going with the pose-on-the-sofa idea for the cover (they agreed that it was looking really forced). Wahoooooo! We celebrated. There might have been an entire box of Oreos that were sacrificed to the We're-Not-On-The-Cover Book Gods (by way of our bellies). Then about a month later we heard they were going with a fourth concept that a new designer came up with (with us on the cover, but not as big, and not us posing in a room). Whaaaaa? Here was the very first draft they sent over just with initial ideas from their team: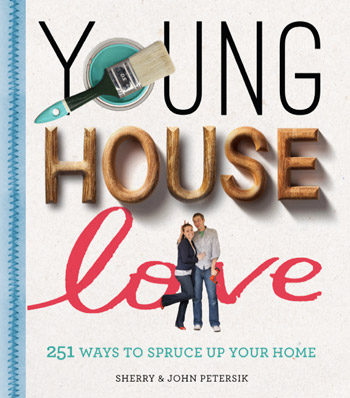 We opened the PDF while holding our breath… and then we stared at it for a while. And then we realized that we kind of liked it. Not because we're on the cover of course, but just because of the vibe. The playful look and feel of the different typefaces, the wood letters, the blue stitched spine detail, the paint can in the O – they were all fun and cheeky and definitely not stodgy or serious. Of course the designers asked us for feedback, so we gave it lots of thought, still kind of cringed at the idea of seeing our faces on the cover, and offered up a few general suggestions like:
what if we made the spine more of a teal tone and less of a baby blue?
what if we added some house keys hanging at the bottom from the "e" in the word love?
what if we used wood letters in a chunkier, more modern font?
what if we took ourselves off the darn cover? (this became a joke, how many times we tried to weasel our way out of it)
And they came back with:
Sure! Color picks are just preliminary, so you can definitely weigh in on those!
Sure! We love that idea!
Sure! We'll get them hand-carved by an artisan in the typeface that you pick and then shoot them in a studio so they look real and have real shadows (how cool is that?! they were made just for the book, and yes we have totally begged them to send them to us so we can keep them forever!)
Nope, you're staying right there. Everyone here loves that it makes it personal and it's not a giant stiff looking photo so hopefully you'll learn to love it too.
Oh and some other changes happened over those months of development. Some tips got changed to bonus tips instead of numbered tips (to help keep the page count – and therefore the price – from getting too high). So we ended up with 243 tips, which is our lucky number (it's old pager code for We Love You, which we thought was fitting). The subtitle also got more specific thanks to some focus-group feedback. So here's the final design – mocked up to look 3D: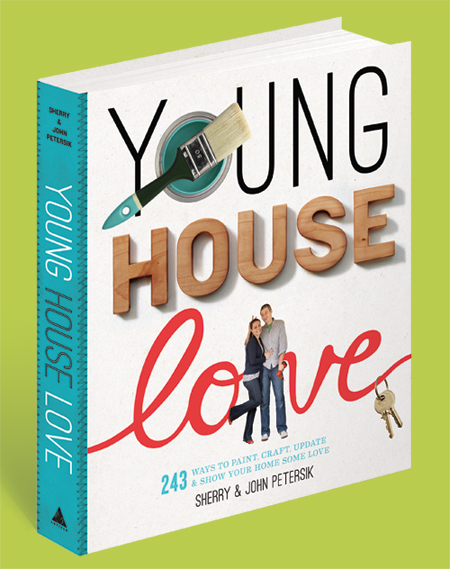 Clean and still fun. Not too kid-ish, but still playful and cheeky with that awesome zing of color down the spine and a few more pops on the front and back. We also love how there's a mixture of masculine (the wood letters) and feminine (the scripty ones). And everything from the stitched spine to the paint can and the house keys feels – I don't know – homey?
Just for kicks, here's the front, spine, and the back (the back is so much fun up close since our website's heart background is subtly worked into some of the colored boxes):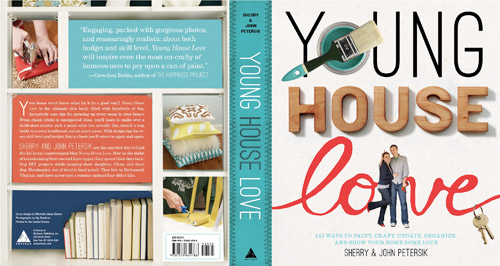 Thanks to that teal spine, we think it'll look so cute on a coffee table, or even stacked between our horse head bookends with the other decorating books that we love. Can't you picture it squished in here?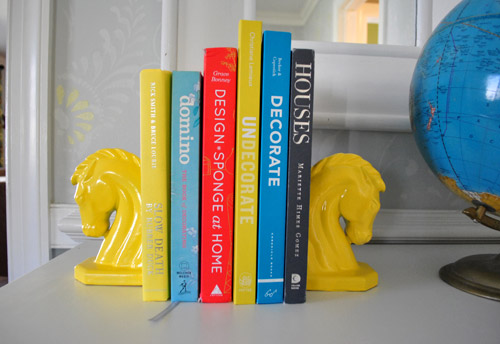 As for why the book cover doesn't look like our blog header, we actually thought that wouldn't be a good idea since:
It's kinda boring if it's a direct lift from our blog
The book isn't just repackaged blog stuff, so we didn't want the cover to look so much like our blog that people assumed it was just the same stuff (all of the projects that we photographed were secretly done just for this book, so they're all never-before-seen images)
We love to redesign the blog every few years, so we didn't want the book to look dated (to us and our readers) once we outgrew the current design
It's actually a really fun process to see what a professional book designer can do with your "look." They know what they're doing and have so much interesting reasoning behind certain choices that we never would have even thought about. And it's not everyday that you get to see yourself through a book designer's eyes.
So that's the story of being completely convinced that we had successfully weaseled our way out of being on the cover (we even said we had done it in this post) and then ended up there anyway. But at least we're not sitting on the sofa smiling. Haha. And there are bunny ears. And I'm wearing red shoes. And we're little. So if we put a cute little paper weight over that part of it when it's on the coffee table we won't even be visible. #crouchingtigerhidden$herdog
Another fun fact? That photo actually wasn't shot for the cover. It was just a random portrait that we snapped back in February while shooting all of our projects (just in case they needed an author photo for the back or something).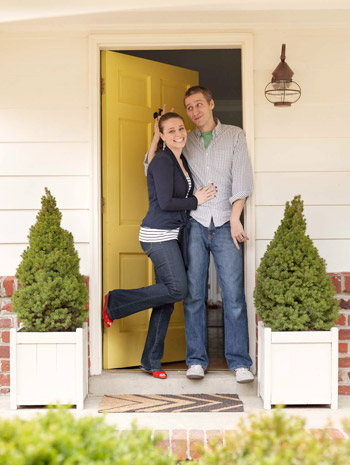 Oh, and what's the funny thing you notice about John's hand in the original pic? Yup, no drill. They cut his arm holding a drill from another process photo in the book and stuck it on there. We love that. I don't know why. It's like one of those behind-the-movie tidbits about the magic of book cover building. John's Frankensteined Drill-Arm.
Oh and while Clara and Burger pop up inside, they didn't make the cover because our editors rightfully pointed out that the Young House Love title was in danger of looking like it was some sort of relationship/family book, and not a decorating book (which is also why the designers chose to emphasize the word HOUSE with wood letters). But we made up for it inside the book. Seriously, Burger is without a doubt our favorite part of the book. He basically walks in and out of chapters and says hilarious Burger-esque things (yes, he talks to us when nobody's around) and Clara got in there more than a few times too (she even got to do a project with us).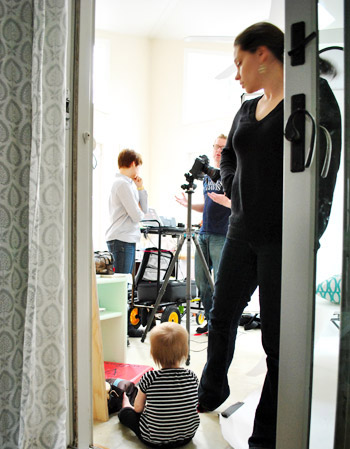 So in the end we feel like the book really represents us and our blog. There's tons more that we're itching to tell you about this, but we don't want your head (ok, our heads) to explode. So we'll occasionally be diving into more behind-the-scenes details about finishing this book of ours, sharing a video that we shot and edited with some sneak peeks, and finally dishing out the dates and cities for our book tour once that's all set in stone. For now, all of this jabbering is just to say: holy cow this book baby is actually coming out and we love you all for the amazing support and encouragement that you've shown us during this intense and incredible journey. Couldn't have done it without you. For reals, guys. Love, love, love.
Psst- You can check out a bunch of links to other book-related happenings, like when we announced that we were writing a book, how we picked a publisher, how we prepped for photo shoots, and how we shared a little photo-shoot sneak peek. Plus you can swing by our new book landing page with more info that we'll update as soon as we know more about things like book tour details (along with other fun behind the scenes stuff).