Please sing this to the tune of The Brady Bunch Theme Song.
Here's the story… of two cheap black framies…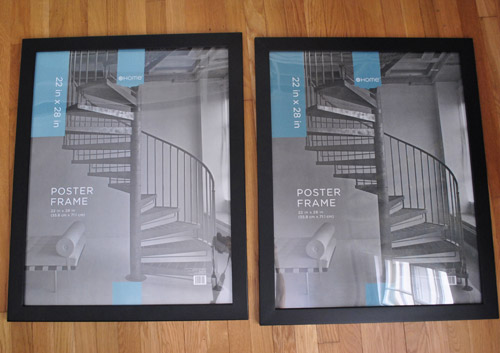 … found at Target and then spray painted bright white…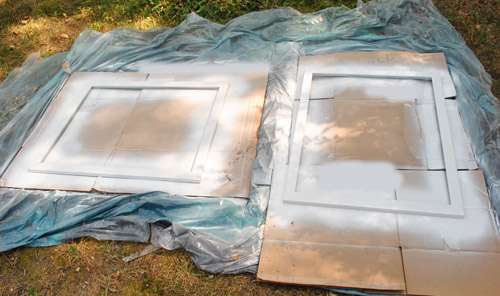 … then they both looked pretty sleek… like twin brothers…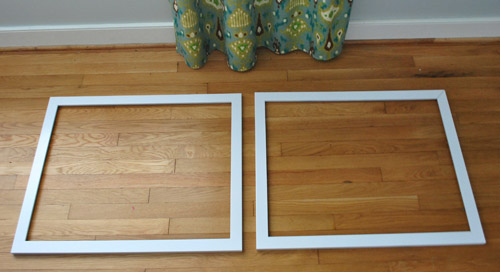 … they make me want to twirl.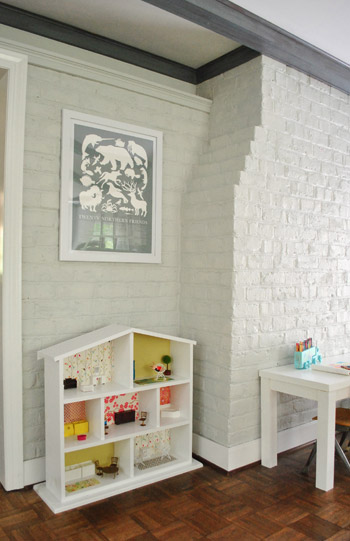 Ok, that didn't quite work out like I hoped. But I'm sure you got the crux of the story. I grabbed two inexpensive black frames at Target (they didn't come in white and I think they were $21), sprayed them with the same built-in-primer-plus-spray-paint that I always use (Rustoleum Universal in Satin White), let them dry, and then framed some prints (like the one I mentioned here) which had been sitting around giving me the stink eye for a while.
For those looking for framing specifics, I just flipped the paper that came in the frame over (so it was white) and centered the print on that, taped it down gently with loops of tape in each corner, and popped that behind glass. We've heard from framing experts that it's best to use mats so your print doesn't touch the glass (which I guess over time can cause issues) but we've used this method with inexpensive prints for the last 7 years or so and they're still going strong. But maybe if you have a super spendy item that you love (or you're framing something in an especially humid/moist room) it's probably better to do the traditional cut-mat thing instead of just the quick-fix of using white paper behind it to create a faux mat like ours.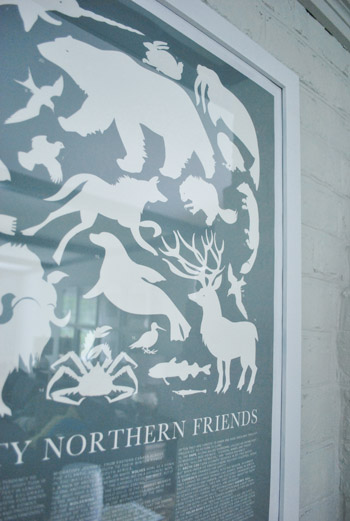 This is the other print. Forgive me for trying hard but apparently not hard enough to get a few close ups of this one (they all had crazy-weird reflections in the glass). But if you click over here, you can see it perfectly since they're pros so their shots are nicer. Haha. We got the 17 x 23″ print for $26 and the frame that we used had a 22 x 28″ opening – so it just floats in the middle.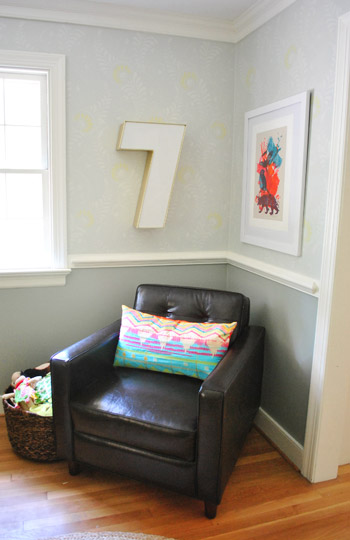 I love how both prints are animal related. Are we sensing a theme? I'm that crazy cat lady. But instead of just keeping the focus on felines I've somehow managed to work narwhals and eagles and bears and manatees into the mix. Oh yes, it's a diverse cast of animals around these parts.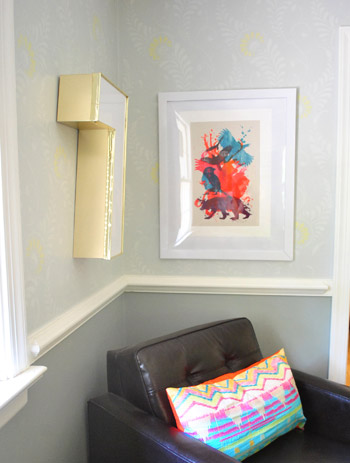 I love how it goes with my crazy HomeGoods pillow and the seven on the wall (which is actually the letter L from a Dollar Tree sign that we got secondhand).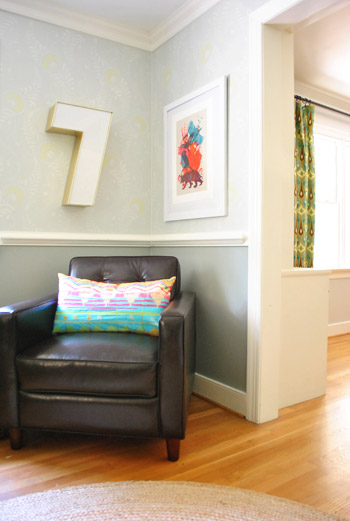 And for those asking where I hung the bee painting that I got for John… oh… a few years ago (!!!)… it finally found a home. Strike up the band. Seriously. Someone. Anyone? Can I get a little cowbell?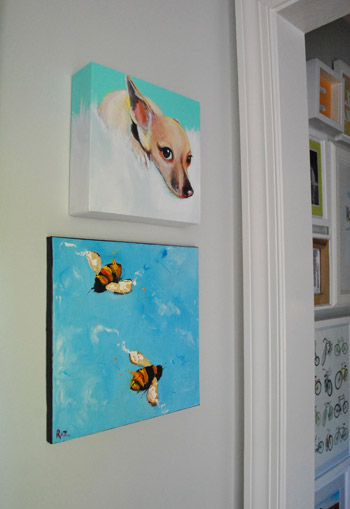 The bee painting actually now resides with the awesome Burger portrait that I got from my friend Lesli for my birthday (mentioned here). I loved it leaning casually on the mantel, but giving it a true spot on the wall with the bees was sweet. Two birthday paintings sitting together like old pals. Ohemgee and I just realized these are two more animal-related things. I officially need some sort of professional help. Am I an animal portrait hoarder? Is there some sort of county quota for how many animals I'm allowed to have in the house if they're of the painted and ceramic variety? I hope not. You guys will pay my bail if there is, right? Or are you going to give me tough love and make me sell them on craigslist to make bail?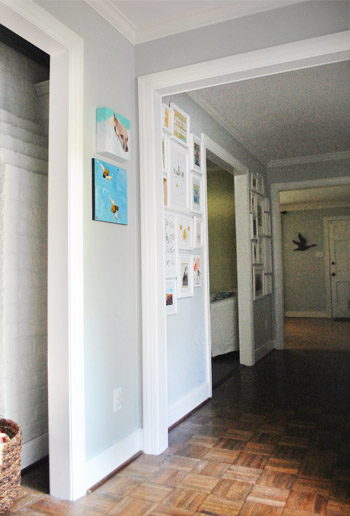 Wait, I just realized that this should be categorized as a "Dude, Get On That Already" challenge! It's definitely something that I've been meaning to get on for a few months (well, in the case of the bees, a few years). Yesssss. I did it. I actually got on that, yo. Now I only have 100 other things to paint/hang/figure out. Just sitting in the playroom. Mocking me. You know I'll keep you posted!
What have you guys been tackling that's way overdue? Any frame-spraying or art-hanging going on in your neck of the woods? Have you ever noticed some crazy theme when it comes to the subject of the art you're most drawn to? Tell us we're not alone in our Noah's-Arc-ish love of mass quantities of animals.
Psst- Speaking of updates in song, check out Clara dancing (raving?) her heart out over on Young House Life. It's official, I've been dethroned as the best dancer in our house.