That's right. I pulled a Benita Larsson. For anyone who doesn't know her, she's the mastermind organizer over at Chez Larsson and I adore how simple, functional, and beautiful her Swedish home/lifestyle is. So this quick little closet update totally reminds me of her clean/organized/wish-I-was-that-on-top-of-things house that I adore. Benita, among nine other super secret guest bloggers, actually pulls a little cameo appearance in our book, but that's a whole different story (speaking of which, a million and one thanks to everyone who was insanely sweet and made me happy-cry repeatedly after our little book announcement yesterday). But let's cut to the chase. This is just a simple tale about some simple white bins. See, thanks to rearranging things in the bedroom, it meant that I now looked directly into our unorganized closet while lying in bed.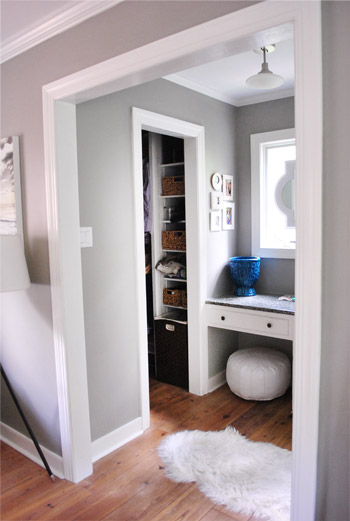 Oddly enough, the baskets and various piles of half-folded clothes never bothered me before our furniture shifting spree, but staring at them every night before closing my eyes… well, it got old.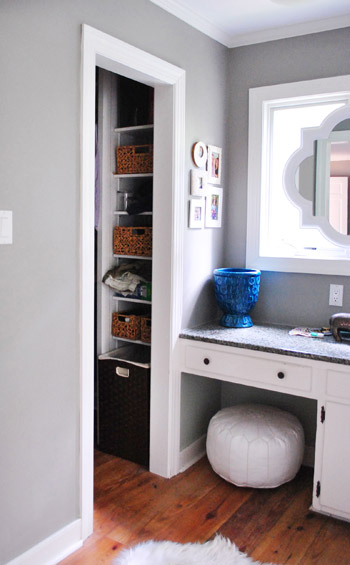 So I decided something lighter, cleaner, and more consistent (aka: the same thing on every shelf) would do the trick. Originally I was thinking white baskets, but when I glanced at these babies on a shelf in the organizing section at Ikea (they're actually meant to be "waste sorting bins") the light bulb went on. Literally, I think everyone around me saw something floating above my head go "ding!" and I ran up and grabbed six of them in about ten seconds. Although you'll notice that I turned them around so the indent for the handle isn't visible. It just looked cleaner and less busy that way (and they're still easy enough to grab and slide out like any other drawer full of socks, underwear, pjs, shirts, and shorts – all of which they now contain).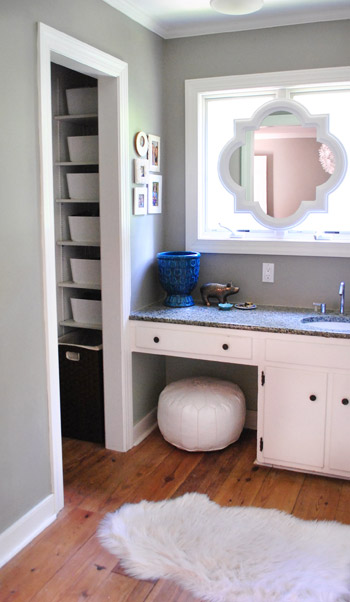 So after a little bit of closet organization (ex: donating that old shredder and putting our old booster seat up in the attic where we store other kid-stuff that Clara has outgrown), things went from looking like this…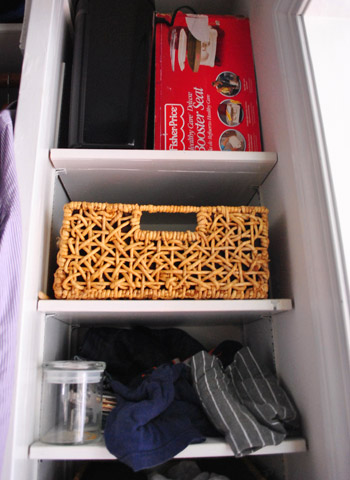 … to this…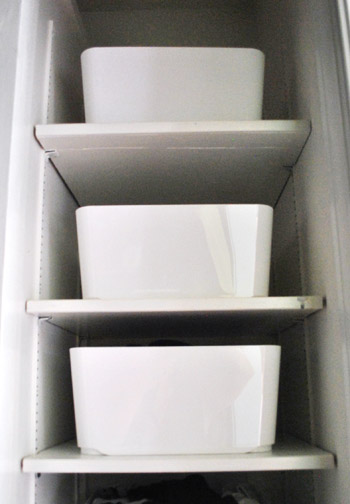 Here's the bottom of the closet before…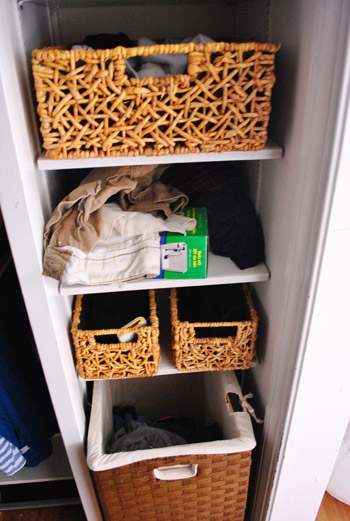 … and after…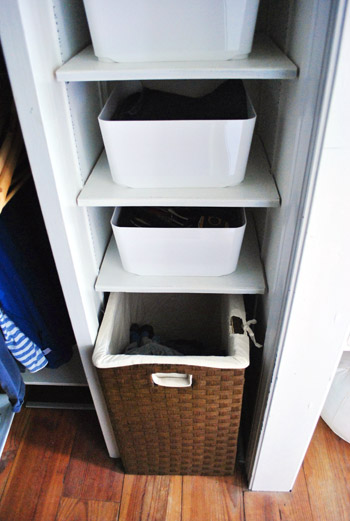 Much better, right? We also thought it could be fun to write on the containers with dry erase markers if we wanted to mark what was in each one – mehaps in a fun scripty font? – but for now John's been doing just fine locating his stuff without labels (the bulk of the items in these bins are his since my stuff is in the dresser in our room). And we're definitely loving the clean look. Luh-uv-ing it. Especially me from the bed. Our bedtime chats now go like this:
John: Goodnight Burger, goodnight lady-wife. I love you.
Sherry: Goodnight Burger, goodnight hubs. I love you.
(silence)
Sherry: Goodnight new bins. I love you.
John: (audible eye roll)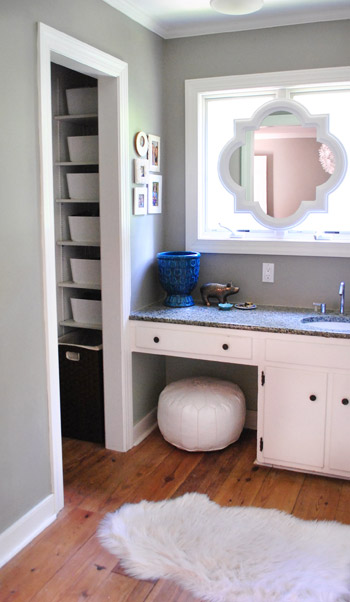 At $6.99 per bin, this quick little closet update clocks in at around $40, which isn't pennies, but could easily have been the cost of about four similarly-sized baskets at most stores (and I love that these can be wiped down/soaked since they're not woven!). So two twenties is worth the pre-zzzzzzzz serenity. And the audible eye rolls from John. Woot. Have you guys been up to any organizational upgrades? Has your view of a room changed after you rearranged it that snowballed into another upgrade because of that? Or have you found bins or boxes meant for one thing and used them for something else entirely?
Psst- In the whole trying-to-clean-slash-organize vein, here are over 50 other posts on that subject.